The list of sweet messages below will help you to please your girlfriend in the morning by sending her a morning message, to make her smile with funny cute messages and to congratulate her on a birthday, showing your love and affection.
Be original and avoid sending trivial texts, use of the one of the cute messages below.
Cute Things to Say to Your Girlfriend to Make Her Happy
We've got some pieces of advice for those of you, guys, who are looking for something cute to say to a girl. First, you need to be honest about the way you feel about this girl. Second, be creative. And third, take a look at the examples of cute things you can say to your girlfriend if you want to make her happy.
Girl, I can give up all the benefits of the world for the sake of your kisses every morning.
Sometimes words aren't enough to tell a woman how great she has been. Give me a kiss!
The most beautiful thing I have ever seen in my life is your sleepy eyes in the morning and hair, in which the sun's rays shimmer, do not deprive me of the pleasure of seeing this gorgeous picture for the rest of my life.
Continue to be the best thing in my life, please?
Good morning, my love! Today we will deal with our sweet things – kissing, cuddling and doing nothing!
I will have to arrest you for stealing my heart.
Your love makes me wake up every morning because you are the sense of my life.
I remember our first date and sweet things that we discussed, at that moment, I could not even imagine that puppy love will grow into a deep affection, which will take root in my soul forever. I love you.
Please, don't add sugar to my coffee. Just take a sip from it and give it to me; your sweet lips are all I need.
I may not be the most beautiful, intelligent, rich and kind man in the world, but as much as I love you, anyone else won't be able to love. You mean more than life for me, I love you.
God must love me very much; He sent the most beautiful angel to earth for me.
If I had to plunge into the depths of the Mariana Trench, I would do it for you. You are the woman, for the sake of whom I want to perform feats, I adore you.
It took you a while to come into my life, but you were worth the wait.
If your love was the sky, I would have filled it with joyful moments, which like the stars would give us their bright light. I love you with all my heart.
My life is so much better with you and I cannot thank you enough for it.
The Most Beautiful Things to Tell Your Girlfriend
All women are different, so that there is no a universal phrase which could impress all of them at the same time. You have to take into account your girl's likes and dislikes and stuff like this before making compliments. Still, there are some beautiful things you can tell your girlfriend. Scroll down and see.
You deserve the most sincere compliments and I am ready to tell you every morning about how beautiful you are and how much I love you.
Despite all the years we've spent together, you still make my heart skip.
When I am with you, it is hard to believe that this isn't all just a dream.
My sweet, let the bright sunlight and fill with warmth not only your room but also your life.
My knees are killing me because I fall for you every day.
There is no one as special in this world as you are to me.
Every morning for me is a boundless joy because a new day is coming and I will spend it with you. You are my ray of sunshine.
Your appearance has made the world better, you are a ray of sun.
Your beauty takes my breath away.
Honey is not as sweet as your lips, the smell the roses cannot be compared with the scent of your hair, and the stars do not shine as brightly as your eyes.
You are what I always wanted and dreamt of, but never thought was possible to find… PERFECT!
Sweetheart, you are the most wonderful person I've ever met, I'll do anything to make you happy and to give you the world.
My life is a jigsaw puzzle and you are my last missing piece.
The moment I first saw your face, I fell in love.
I wonder how I couldn't notice such a magnificent flower like you before.
Funny Cute Things to Text Your Girlfriend to Make Her Smile
What can be more beautiful than to see your girlfriend smile and understand that you are the reason for this smile? Well, actually there might be something, but that's not the point. What we want to say here is that making your girl smile isn't difficult. All you need to do is to pick the best idea among all of these funny and cute things to say to a girl.
Do you know how I realized that I love you? Only with you I forget about the Champions League, I love you to bits!
If my world was an ocean, you would be the most beautiful coral in it. I love you!
You make me believe soulmates are real, and we were destined to be together.
When God was handing out gifts, you with your adventurous character managed to get the goodness, beauty, and intelligence, and I, in turn, got you! You are the best.
They say a picture tells 1,000 words but when I see yours all I see is 3: I… love… you!
There is a fire in my heart that burns only for you.
You've seen the best and the worst aspects of my character, and in spite of this you are still with me, I guess it's because you cannot live without my lasagna. Just kidding! Love you.
I know I am not saying it as often as I should, but I need you to know that I have never loved anyone as much as I love you
Your eyes are more beautiful than the galaxies.
You're so beautiful that I can't take my eyes off you.
Our love is like the waves in the sea, sometimes calm, sometimes tempestuous but always there.
You are the only reason why I smile even on the dullest of days.
I feel 1000 butterflies running through my stomach every time I see you.
Your love melts the weight of the world off my shoulders.
I hope there is someone out there who can give you everything you want in life, and I hope that person is me.
Sweet Things to Say to Your Girlfriend
Do you have what it takes to be called a good boyfriend? To find it out, the answer to one question. How often do you say something sweet to your girlfriend? If it happens only on the day of your anniversary, we have some bad news for you. But you have a chance to make things right. Read through these sweet messages and send one to your girl right now.
You know, even the dawn on the Maldives is nothing compared to the morning, which I meet with you. You fill my gray days with joy and happiness, I love you.
If loving you was against the law, I'd be happy to spend the rest of my life in prison.
Sweetheart, you are my dream that will always be beautiful and I hope that it will never turn into a nightmare. I kiss you, my girl.
I sent an angel to look over you at night. The angel came back a minute later, and I asked it why. It told me that Angels don't watch other angels.
I wish I could just replay the moment when I first saw you…it was the most beautiful site of my entire life.
I thought that the love of my life was chocolate, but it was before I have met you, and now your kisses are sweeter than the most delicious chocolate. You are amazing.
I have always thought that the ideal relationship is a romantic love story, but our relations are more like science fiction with elements of comedy and drama. But still I love you.
You make my life worth fighting for.
Your beauty just blew me away, I couldn't even imagine that such beauty could exist. If I were a poet, I would write poems about your beauty, but all I can tell you – this is how much I love you.
You never cease to amaze me! You are the most wonderful woman ever!
Every time I look into your beautiful eyes, I melt and fall in love with you again and again and again.
The way you twist your hair when you're bored still gives me butterflies.
I don't know what I did in a past life to deserve you but I'm so glad that you are here with me now.
You make the world so much more beautiful!
Thinking of you makes my heart sing.
Cute and Sweet Things to Say to a Girl You Like
So, you have finally found the girl of your dreams, huh? You're lucky. If you want to keep the things going well, you need to put some work into your relationship. Being romantic and saying sweet things to a girl you like is first and foremost. Well, we can help you out with this.
My sweet girl, always remember how important and desirable you are for me, I won't get tired of repeating it to you every morning for at least 50 years!
We are like milk and cookies, peanut butter and jelly, spaghetti and meatballs. We are perfect together.
I wish I could stop the time so you will hold me in your embrace forever.
For the last 24 hours, 1440 minutes, and 86400 seconds, I have missed you.
I am thinking of you and the only thing I want to tell you is that I love you.
Your smile is able to change my whole world, and your laugh is able to turn my life into a fairy tale. My love, I adore you.
You are the only person I can count on. You're there when I need you most and when you're not with me, you're always deep in my heart.
I did not know that the angels are so beautiful! You're a miracle, you rock my world.
After every storm comes the calm, after every disaster comes joy, after every night comes the morning. I love you, my girl.
I have never felt so deeply connected to anyone like the way I feel when we kiss.
My peach, you have destroyed all the stereotypes, you proved that it is possible to be beautiful inside and outside.
My love for you grows stronger with each passing day, you are the one, with whom I want to share my whole life. I will love you forever.
You are the Queen of my heart, lady of my soul, the sense of my life.
When you smile my heart beats as if I ran a mile and it keeps me happy for a long while.
I went to the hospital and got my x-ray done. They were very concerned because they couldn't find my heart.  I told them not to worry because you had it.
Nice Things to Say to Your Girlfriend over Texts
Imagine, your girlfriend has just come to work and the first thing she sees is the notification that she's received a text message with something sweet in it from her thoughtful boyfriend. Isn't it nice? And the best thing is you don't have to spend hours figuring out what to say to her. All the best and sweetest words are here.
Darling, there are so many sweet things that we should do today, the first of them is our romantic breakfast together. Get ready, I'll pick you up soon.
You make me believe in miracles. How else could a guy like me end up with an angel like you?
I did not know that angels were allowed to walk on earth.
I'm blind, I cannot see other women, in my heart, in my life, and in my soul there is the only person – it's you. You are beautiful.
Just being near you makes everything a little better.
No flower in this whole world can match your beauty, my love.
Every day I am convinced that our match was made in heaven, you are everything I have ever dreamt of.
You have been the most wonderful adventure in my life.
I am very proud to have such a stunning girlfriend, your kindness, gentleness, and love just captivated me, I am immensely glad that you love me because I love you very much.
Love is the most beautiful thing in this world. And I never knew it until I met you. Thank you for showing me the beauty of love.
I will never forget our first date, I fell in love with shine in your eyes, your naivety and innocence touched my heart.
You brighten my day with the sound of your voice, so call me ASAP- I want to hear it.
When people ask me "what's the best thing that ever happened to you?" It's always so easy to tell them how you have made my life complete.
You are my exception to every rule.
You are my forever and always.
Sweetest Things to Say to Her to Make Her Feel Special
First things first, every girl wants to be a special lady in her boyfriend's life. And it's your job as her BF to make her feel this way. You know what? With this list of the sweet things to say to a girlfriend it'll be easy for you to make her feel special.
The whole world has stood in anticipation of you, you rock.
You make my sadness disappear with your beautiful smile.
I thank the universe for our meeting, you have changed me and made the happiest man in the world. You are such a catch!
I just want to thank you for letting me love you.
Even polar nights are nothing for me since my sun is you. I love you more than life, my girl.
Every year you become more and more beautiful and I love you more and more.
I have fallen so deeply in love with you that I don't think I will ever get up again.
Your extraordinary beauty intoxicates better than the most exquisite wine, years have passed, but you remain a mystery, which I want to solve. I love you.
After knowing you, I realize how empty my life was.
I look at you, and I can't help thinking what does such a wonderful woman see in a man like me?
You are the only girl I love right now, but in about ten years, there will be another. She will be calling you "mommy".
You are my dream and I've been taught never to let go of my dream.
I want us to commit the perfect crime: I steal your heart like you have stolen mine.
You understand me so well, it's like you can read my mind.
Everything you do is cute, and I love it.
Cute Quotes and Sweet Words for Her to Send in a Message
What makes a good love message? It should go from the heart in the first place. Write it as if it was the last day of your life and you wouldn't get another chance to express your feelings. The cute quotes and sweet words of love in this paragraph will help you to write something worth.
My sweet, I fell head over heels in love since I have seen your smile for the first time and your laughter has captured me.
Seeing you smile is the best part of my day.
I won't live without you, you are my heart, without you I am nothing and no one, I love you.
Your mind is sexy, your walk is sexy, your eyes are sexy! You're like an incarnation of Venus herself.
Honey, even in your fiftieth dress, that you try on this morning, you look stunning, I'm lucky to have you!
Love is sweet when it's new, Love is sweeter when it's true, but sweetest when the one loving is you.
I am drunk with love for you, and it's the best thing I've experienced in my life, even Chivas 21 cannot be compared with it. I love you, baby.
Sometimes, there are little unexpected moments where I fall in love with you all over again.
Gentle, cool, great, kind, beautiful – you are lucky to have such a boyfriend! I'm kidding, you are not less gorgeous than I am. Love you.
Our love is like coffee…sweet, hot and filled with aroma.
In my life, you taught me two things: how to trust the person and how to love someone more than yourself. You made me better, thank you for that, I love you.
You must be tired because you have been running through my mind all day long.
You are such a bright light in my life that I barely remember what my life was like before you came along.
All I ever wanted was love, and then you found me.
I would sail through the stormiest seas to see your face again.
Ideas of Something Cute and Sweet to Say to Your Girlfriend
If you think that the sweet love messages are cliché in most cases, we are happy to prove you're wrong. It is possible to write something cute and sweet to your girlfriend and this message won't look like you have just copied the first thing you came across on the internet. We have tons of creative ideas here, keep reading.
I thought that my life would change for the better after the release of the latest version of JavaScript, but I was wrong, my life became ideal only after you became my girl, I love you.
You set my blood on fire! Only you could look so sexy, even in the most regular clothes.
I did not think that there are things better than the PS4, but your love for me became the eternal dependence, from which there is no cure, and I hope it will never be.
You make my heart race without doing a thing.
Darling, you have given me so many sweet things, so many great memories, so now I don't even know how to breathe without you and to live without you. I love you very much.
I always thought that happiness started with an H, but now I see that it starts with U.
I could not understand what draws me to you, I looked on your hair, lips, eyes, and a body, and only when I saw how kind your heart is, I realized that your kindness just captivated me.
If loving you is wrong, then I never want to be right.
My dear girl, no words are not enough to express my feelings for you. I love you, adore you, I cannot live without you.
You are like a dictionary to me because you add meaning to my life.
So much has been said about love, but all words are empty compared with the strength of my love for you.
If I were asked to describe the color you represent, then I would have to go with rainbow because you are beautiful, magical and being with you is like finding a treasure.
Your smile breathes new life into every morning.
When you kiss me, I never want the moment to end.
I need you! I didn't think I would ever say this to anyone.
Cute Stuff to Say to Your Girlfriend
There are lots of cute stuff you can say to your girlfriend so that she would feel the happiest girl on earth. The examples in this article are just a tiny bit of all the possible cute, sweet and loving things you can tell your precious lady. Truth to be told, they are here just for your inspiration. It would be much better if you come up with something on your own. Just saying.
You know, I cannot think of anybody else, but you! I'm in your captivity, from which there is no escape, and even if it would have been, I would have never gone. You are my everything.
You are so beautiful; my heart aches when I look at you.
If I lived in the Middle Ages, I would have refused the title of a king in order to be your vassal because my main goal in life is to make you happy! I am crazy about you, girl.
When I close my eyes, I see you. When I open my eyes, I see you. There is nothing I can do without thinking of you.
Our journey into the world of love has just begun and I hope that it will never end. Our meeting is the best thing that happened to me in life.
I write words and I delete them. This goes on and on until I am satisfied with 'many' words that can express at least a 'little' about my love for you.
Nobody will never ruin my love for you, we were lucky enough to experience true love, so let's keep it.
Thank you for being so affectionate, sensitive, sweet and kind, thank you for sharing with me your love and your life.
Your eyes are as blue as the ocean, and I am now lost at sea.
It does not matter how busy I am and where I am. When I think of you, everything seems wonderful and just right.
I love you and I'll prove it throughout life.
The stars aligned when our eyes met…do you think the universe is telling us something?
I feel such amazing chemistry when I'm with you.
I could cuddle with you like this forever… and be the happiest man alive.
You are like a summer day – warm, beautiful, and precious.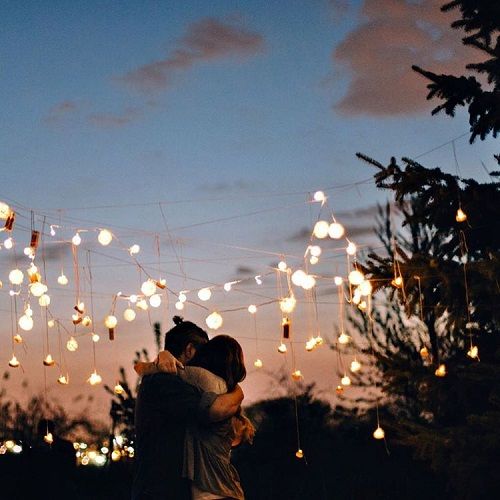 You May Also Like:
Cute Goodnight Texts
Funny I Love You This Much Meme
Romantic Text Messages for Her
Romantic Good Morning Poems for Her