Plain and simple:  everyone likes to know that their special someone is thinking of them.  Waking up to a sweet little morning message, regardless of whether your partner is near or far, is a perfect way to start the day with some positive vibes and warm emotions.
Even if your heart is overwhelmed with those tender feelings, you might find it hard to pull together just the right words to express what you're feeling.  You might feel like you're stuck in a creative rut, and "morning, beautiful," just isn't singing the song your heart feels.  In that case, check out this curated list to get your inner poet started!
Good Morning Quotes and Texts for Him:
Guys might try to deny it, but they love a good squishy wake up message just as much as anyone else.  The key is to be encouraging… and maybe a bit motivating, too.  These messages will let your special hunk know that he is on your mind before anything else in the morning!
Starting each day is easier, now that I know I get to spend it with you.
You're so cute when you sleep- I want to just smother you with a thousand kisses!
Even though I woke up thousands of miles away from you, the distance feels short because you are in my heart forever.
Good morning! Time to get the day off to a terrific start.  I hope everything falls into place, and I can't wait to hear about it later!
Dear, wake up and start your day!  You don't get to spend the whole day in bed,  just because I'm not there to spur you into action!
Good morning darling! I hope your boss is kind to you today!
Wake up! Your morning present is waiting for you in the kitchen!
Last evening you hugged me, this morning I caressed your beautiful face, and today I will strive to make you happy. Good morning!
I envy the sun; it gets to see you first in the morning.
Good morning! Today's going to be a busy day- I hope you're ready!  At 10 a.m. we are meeting with my parents, then if you are still alive, we will go shopping.  And if you're really good, you'll get a special treat!
I've told this message to go to the sweetest person in the world, and now you are reading it. Good morning!
My sweetest dream is to wake up next to you, and soon it will come true. Good morning, my love.
Attention! The sexiest man in the world just woke up! Go look in the mirror and tell him "Good morning".
I had this amazing dream last night:  I was tasked to fill your mornings with tenderness, care, love and attention from now until the end of our days.
Good morning! You are the biggest treasure I've ever won.
I just wanted to tell you that I am the person who thinks about you in the morning and before going to sleep. Good morning.
Each morning I look at your photo and each morning I fall in love with you.  You are my perfect soul mate.
Even though you wake up looking like an angry tumbleweed, still I love you. Good morning!
Hello! I want to wish you a good morning and hope that this day will be full of joy. Let God protect you!
Just now my heart skipped a beat and I felt that my other half woke up. Good morning, darling.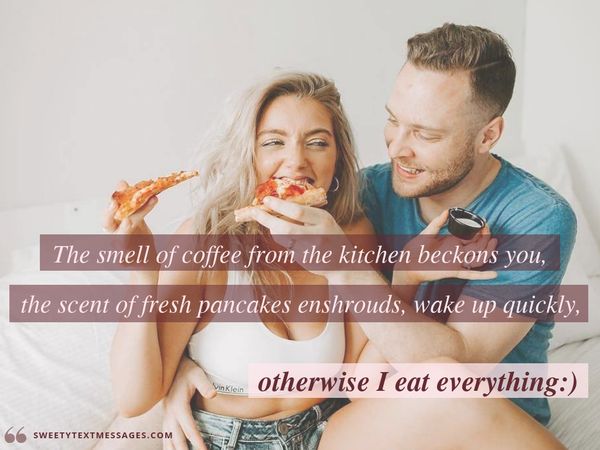 The smell of coffee from the kitchen beckons you, the scent of fresh pancakes enshrouds me. Wake up quickly, otherwise I will eat everything!
Nothing makes me happier than the way you light up my heart. Being with you is enough to make me happy.
Now you're still asleep, and a strand of your hair falls on your forehead. I gently remove it, kiss your cheek, and wish you a good morning.
Do you know what I appreciate most of all? Your first smile in the morning!
On chilly mornings like this, I hate to get out of bed.  I am your little kitty who needs your warmth! Good morning!
Good Morning Quotes and Texts for Her:
A special lady deserves a special morning message.  Sometimes, it's hard to come up with the ideal love text, especially in the morning, when we're feeling groggy and unmotivated.  Try a little blend of sexy and poetic imagery to get her heart racing first thing!  You can even accompany some of these with these good morning love images!
That wonderful bird, singing near your window?  Don't get mad at him for waking you up- he's my buddy, who agreed to help me express my feelings for you by singing his most beautiful song.
Good morning beautiful! Get up and start preparing, today is another day for being completely amazing!
Each morning, the sun rises for you, admiring your beauty and illuminating your room with its warmth. Good morning, my love.
When the first morning light falls upon your sleeping form, you are so incredibly beautiful.  All I want is to keep you in my arms and never let you go.
Do you know what I can do forever?  Wake up with you, right beside me, no matter what. Good morning, my ray of light!
You're so cute in the morning, I don't even mind the morning breath. I'm kidding, darling, you are perfect!
My secret for starting every morning off right is a kiss from you.
Good morning, gorgeous! You spoil me with your care and kindness, and now I cannot start my day without you. Let's wake up together, always.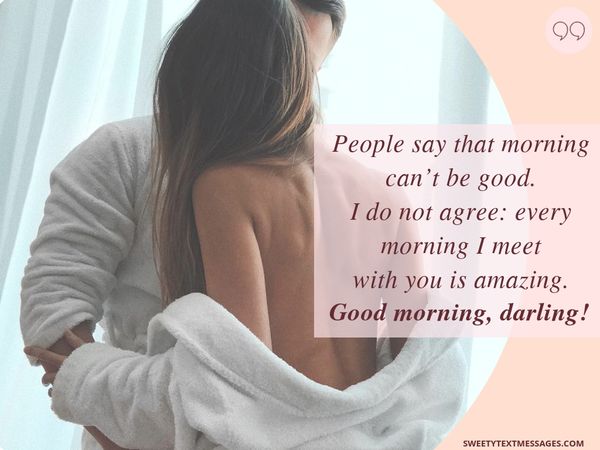 Everyone always complains about mornings, but every morning I get to see you. Good morning, darling!
The only makeup that you need is that amazing smile! Good morning, gorgeous!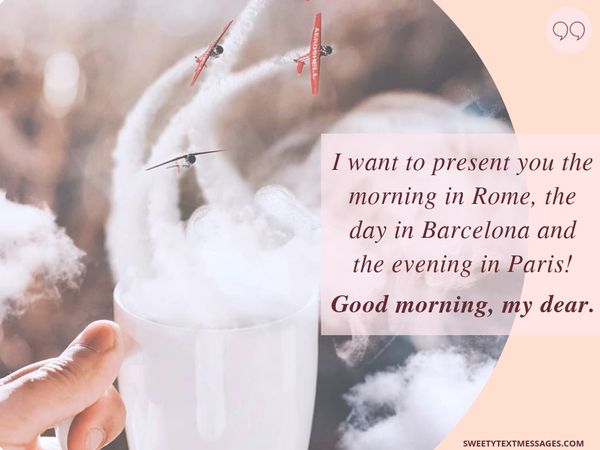 I want to spend the morning with you in Rome, the day in Barcelona, and the evening in Paris! I want to experience the whole world with you, every day, forever.  Good morning, my dear.
What could be better than a morning with my beloved woman?  How about a morning with just you and me, on a remote island, with two delicious drinks in our hands.   SOON!! Good morning!
When I picture a perfect morning, it's waking up near the ocean on a summer day, watching the sun rise with you in my arms.
Darling, none of the 7 billion stars throughout the universe can compare to your splendor. Good morning!
Let me show you the beauty of this world! Wake up and meet a new magnificent day.
This morning it is snowing outside, a blizzard is raging, and, thanks to your love, flowers bloom in my heart.
Good morning, my beloved girl! Let me present to you this stunning world.  (But first, I made you some coffee!)
Do you know why the sun shines every morning? Because it welcomes you!
Your pure and sincere love helped me to get out of the depth of darkness. I thank God every morning for you.
Good morning, my rose! Today, I shall avoid your thorns, and help you blossom with love.
Even if oxygen disappears, I will survive because my air is you.
Good morning, sweetheart! Today we will have a special day! I'll pick you up at 10 and your dreams will come true!
This morning I decided to send you this message to let you know that I always think of you.
Good morning! Your sweet teddy bear misses you, I can't wait to see you.
Do you want to know how long our love will last? Multiply all the stars in the sky by ten billion.
Good Morning Messages to Boyfriend
At every stage of the relationship, there's always time for some early morning flirting.  Here are some texts you can send at the break of dawn so the sun doesn't set on your blooming love!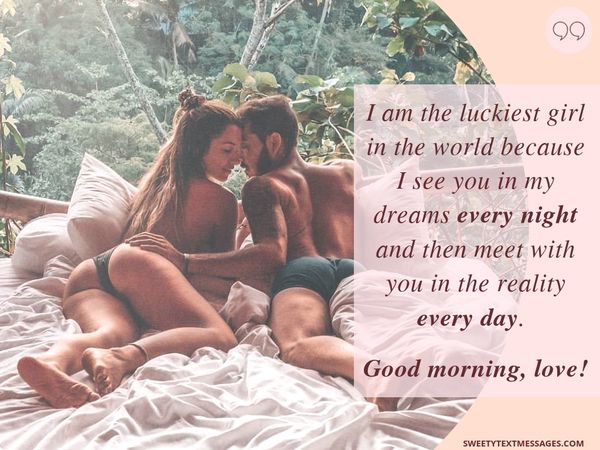 Today is another day, full of new expectations and hopes… and far too many hours before I can see you again!  I can't wait to kiss and hug you! Good morning, handsome!
I am the luckiest girl in the world; I see you in my dreams every night and then meet with you in the reality of the day. Good morning, love.
Even nasty weather can't spoil my day because your love lights everything around and warms my heart. Good morning!
Morning is my favorite part of the day because each time I open my eyes, I get to see your beautiful face. Good morning!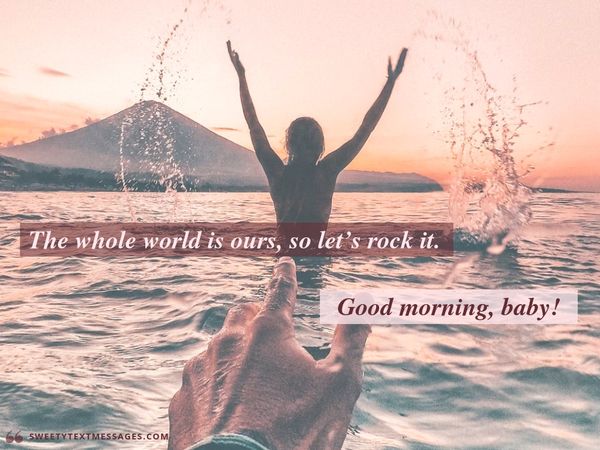 The whole world is ours, so let's rock it. Good morning, baby!
When I wake up in your arms, everything seems so right. I miss your warm cuddles. Good morning!
Romantic Good Morning Texts
Of course, if you want to turn up the heat, you've got to ignite the fire.  These texts burn a little hotter than the rest… now make sure you follow up the words with all the right actions!
The world is black and white without your dazzling smile, and my life is empty without your love. Good morning… and let's make it a good night, too!
I am so lucky. I've been given eyes to see your gorgeous smile, and a heart to love the most fantastic person I know. Good morning, my love!
I would spend every day trying to conquer your heart, as long as I got to spend sunrises and sunsets in your arms. Good morning, darling!
Every morning I thank the world for giving you to me. You are my sweetest addiction, and I can't live without you.
Meet a new day, sweetheart! I will fill it with my unconditional love, burning passion, hours of laughter and endless happiness!  And then we'll do the same tomorrow!
Every morning that I don't spend in your arms is a wasted morning. Let's not waste today. Good morning!
Good Morning Beautiful Quotes
Most of us don't wake up feeling minty fresh and delightful, but that doesn't mean we're any less beautiful!  Help the love of your life overcome their morning insecurities with these tender texts that reinforce how gorgeous you find them!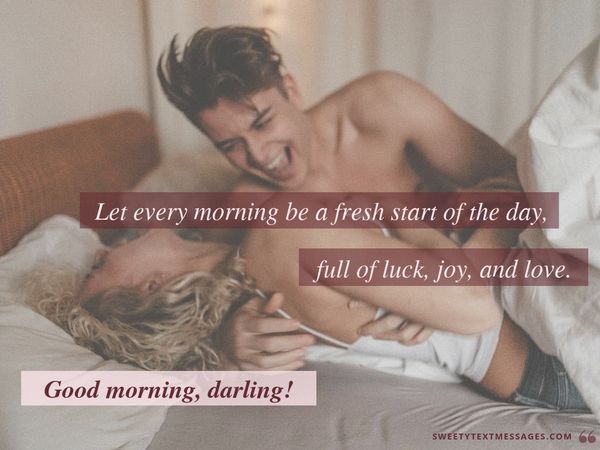 Do you know why stars stop shining each morning? Because they can't be compared to the brilliance of your eyes. Good morning!
A morning spent with your kisses and hugs is worth a lifetime! Good morning, beloved.
Good morning, sweetie! Doesn't it get tiring, waking up and making this dull world and my life so much brighter?
Baby, I am the luckiest guy on the planet because I see the same girl in my dreams every night and then see her next to me every morning. Good morning.
The smell of your skin is better than the scent of roses, I can spend an eternity in the beautiful captivity of your hands and lips. Good morning.
Let every morning be a fresh start of the day, full of luck, joy, and love. Good morning, darling.
Happiness is in simple things, so let's enjoy this morning together doing nothing! Good morning!
Sweet Good Morning Texts to Girlfriend
Here's a hint to anyone who's having trouble figuring out how to say just the right thing to their girlfriend:  be sweet.  Be cute.  Be adorable.  And just be you!
I love mornings because they mark another gorgeous day with you. Wake up, darling, I can't wait to kiss you!
Every minute without you is torture. Let's face every day together. Good morning!
Good morning, my love! Let's spend these 24 hours in irrepressible bliss and a sea of positive emotions.
My girl, your smile and gaze are my inspiration, and your love is the only motivation I need. Good morning!
Let today be a kaleidoscope of unbelievable emotions which will turn into unforgettable memories. Good morning!
Cute Good Morning Texts for Her to Wake Up
Waking up in the morning can be rough, but if you have the chance to put a smile on her face before that first cup of coffee, you know you're a winner!  These texts help warm up her heart, even if it's chilly outside the blankets.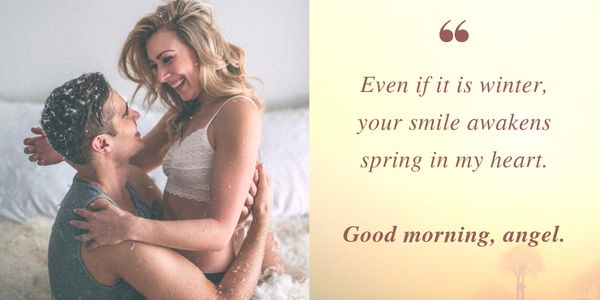 Even if it is winter, your smile makes my heart bloom eternally. Good morning, angel.
Thoughts of you overwhelm me, and I dream about you every night. Let's meet today and make my dreams come true. Deal?
If the sky represents my life then you are the sun because I am blinded by your love. Good morning!
Good morning! It's amazing to know that there's a person who also thinks of you every morning. It makes waking up wonderful.
Open your eyes and embrace this wonderful world! Welcome to another happy day!
Good morning! Yesterday's sorrows and failures won't matter today. Give yourself another chance to be happy.
Morning, darling! I wish you to get everything you want and deserve today. You deserve a lot because your kindness is endless.
Inspirational Good Morning Love Messages for Girl
Everyone goes through a rough patch here and there, so why not take the opportunity to help your girl start the day off on the right foot.  Not only will she be reinforced by your sage advice, but she'll start the day off with a smile, knowing you love her!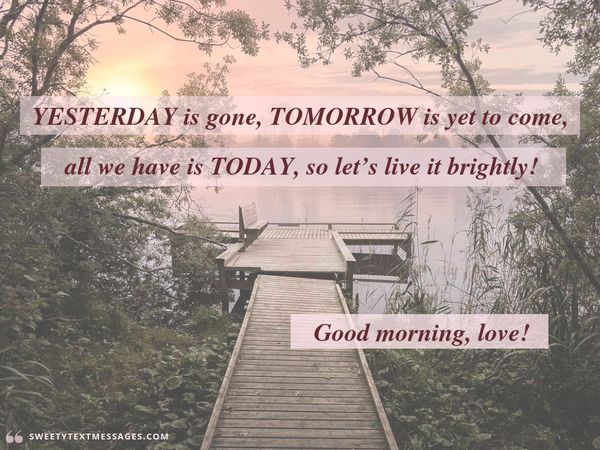 Yesterday is gone, tomorrow is yet to come, all we have is today, so let's live it to the full! Good morning, love!
The bright sun, the smell of coffee, yummy pancakes and your charming smile – this is everything I need for my perfect morning!  Today is a new day, and a new chance for perfection! Good morning, darling!
Every morning is a gift from God, so let's spend it in harmony, peace, and love. Have an amazing day!
Every day is another opportunity for us to show our love and affection. Good morning, beloved.
For me, it doesn't matter whether the morning is cloudy, rainy, or windy, so long as I meet it with you. Good morning!
I am happy to start each day because I know that I will experience your love, which makes my heart beat and the world go around. Morning, dear!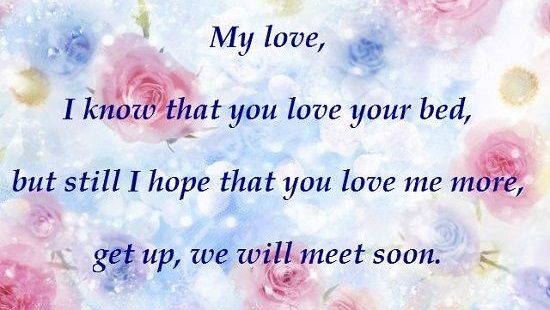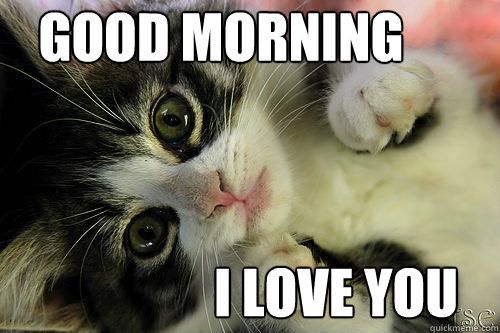 You may also like:
Cute and Funny Good Morning Memes
Romantic Good Morning Poems for Her