Isn't it amazing to know that someone thinks about you before they fall asleep? There is certainly something magical about the night, that makes people fall in love. It could be the stars, the moonlight, the chilly breeze, or perhaps the romantic words that lovers share. What can make the night more wonderful and romantic than a message from a loved one?
Cute quotes and texts below will help you to emphasize your feelings for your special girl and show that you think about her before going to sleep.
Cute Good Night Text for Her: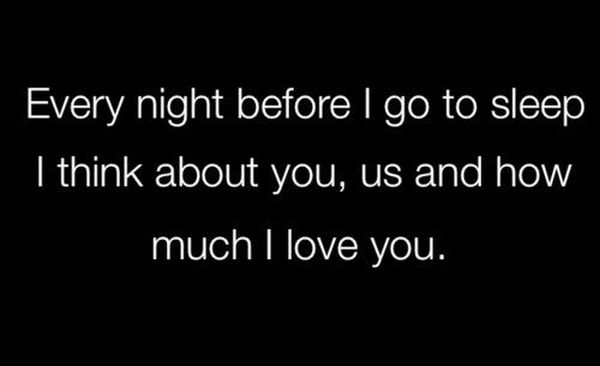 It is senseless to wish you a good night because you won't have it, as I am not with you tonight, so at least, sleep tight, darling.
Don't fear, today monsters won't visit you as I will protect your sleep. Kisses and good night.
Even if you're tired after a hard day and do not look 100 percent, I'll always love you 1,000 percent! Good night.
My favorite, I promise that this is the last night you will spend alone. We will be together tomorrow. Good night.
I know that it is tough for you to fall asleep without me, let it be the biggest nuisance in your life. Soon we will never be apart, sweet dreams.
Every night you are particularly beautiful, your stunning hair surrounds you like a nimbus. I just want to look at your beauty, but, for now, all I can do is to send you this message and my admiration. Good night.
Every night I look super cute, that is why I am sending you this message. I'm kidding, darling, you are always on my mind.
You are sleeping now and I am thinking of you. You are a wonderful person and a beautiful girl, I'm really happy that I know you! Good night.
The most handsome man wishes a good night to the prettiest woman in the world!
My dear, I hope that this night will be different from other nights and you will finally get enough sleep. Sweet dreams.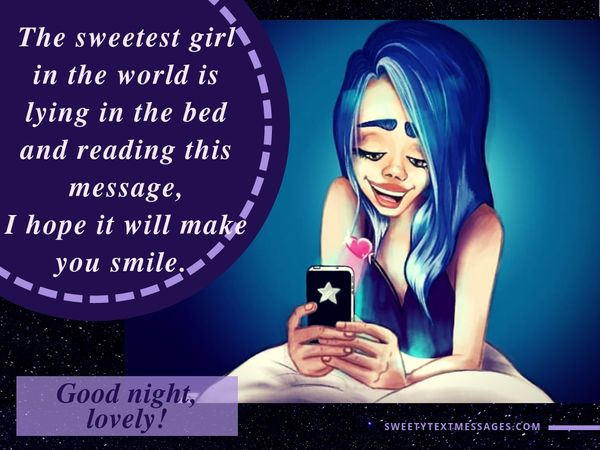 The sweetest girl in the world is lying in bed and reading this message, I hope that it will make you smile. Good night, lovely.
A human can live without water 10 days and without sleep for 3 days, but I cannot live a day without you! Sweet dreams.
You may also read:
Apologize Quotes
Strong Women Quotes For Independent Ladies
Thinking of You Today Quotes
I'm not the biggest romantic in the world and I cannot write you beautiful words, but with all my heart I wish you sweet dreams.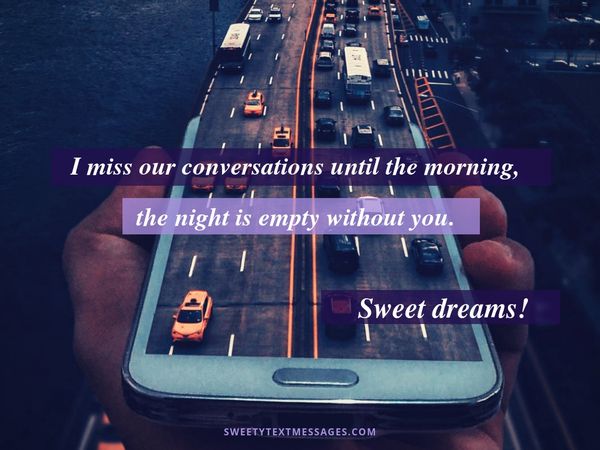 I miss our conversations until the morning, the night is empty without you. Sweet dreams.
Though I'm not Hercules, I will always be able to protect you and your peaceful sleep. Sleep tight, baby.
My dream is to create a paradise on earth for you and to fulfill all your dreams. I dedicate my life to this. Good night, sweetie.
I hope that the dream, in which you see me, does not turn into a nightmare because I plan to come to you every night. Sweet dreams, my beloved.
Let your journey today in the realm of dreams will be pleasant and interesting. Sweet dreams, dear.
In addition, to the message, you receive from me a strong hug and a gentle kiss. Good night.
Good night, my love. May you have sweet dreams about my kisses and hugs.
I wish you a sweet night's sleep my lovely! Dream of the perfect man for you – that would be ME!
Let's meet in our dreams tonight, darling! Good night, my sweetie.
As you go to sleep tonight, forget about counting sheep. Instead, count the ways I love you because they are endless!
You have no idea how much you made me happy today! I won't stop thinking about you all night. Good night, baby.
I wish I could be your pillow, so that all night I could kiss your sweet cheeks. Good night, lovely.
Romantic Good Night Quotes for Girlfriend
People who are in love can think about each other the whole day. And during the night, their feelings just seem to grow exponentially. There must really be something magical about the night! In such moments, men should not hesitate to be romantic. Women love it when their men express their feelings with words.
Go ahead and indulge your women with these romantic good night quotes and messages. Remember that your girlfriend's good mood depends on you, on your sweet words, signs of affection, and heartfelt messages. So don't miss a chance to say how much you love your woman, send her one of the touching quotes we found for you!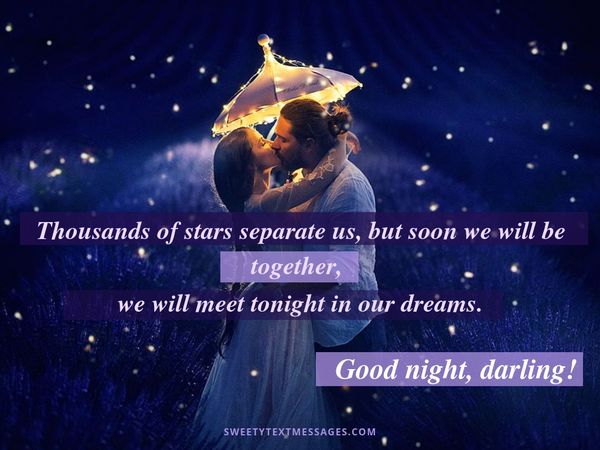 My hectic day is over, I want you to know that I was thinking about you and how I will imagine you in my arms. Sweet dreams, I love you.
Thousands of stars separate us, but soon we will be together, we will meet tonight in our dreams. Good night, darling.
Close your eyes, imagine a wonderful garden where roses are blooming and the air is filled with their scent. It is our refuge and each night I wait for you there. Sweet dreams.
I know that you might be asleep now and your silken hair is on the pillow, I will come to you in your dreams and kiss you. Sweet dreams.
Let me wish you a good night. I hope that I will soon be able to tell you good night in person.
My love, the night is a magical time when all hidden desires come true. I hope that you will see me in your dreams tonight.
Each star in the sky is my compliment to you, that is why the immense number of stars sings an ode to your beauty. Good night, my sweet.
I hate the night because it takes you away from me, but the idea that in the morning we will meet again warms my heart. Sleep tight, my love.
You are lying in your bed and are watching colorful dreams. Tonight I will guard your sleep. Good night, beautiful.
I would walk thousands of kilometers just to kiss you before bedtime and to wish you a good night.
You are sleeping in a room flooded with moonlight. I wish I could hold you close and never let you go. Sweet dreams.
Everything in this world may have its end. The day gives way to the night, summer is replaced by fall, but my love for you will last forever. Good night, my beloved.
Dear, if you sow grains of goodness in the afternoon, the next day they will grow. I wish you a good night and let all the good that you have done for the day come back to you tomorrow.
At night, a person keenly feels his loneliness or happiness. Thanks to you I always feel that I live life to the fullest. Good night, my love.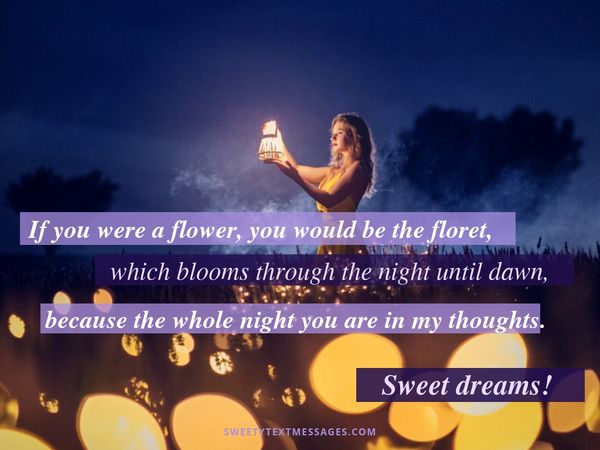 If you were a flower, you would be the floret, blooming through the night until dawn, because the whole night you are in my thoughts. Sweet dreams.
My world stops when you go to bed and it rises again every morning when you please me with your smile. Good night, my sweetheart.
I am a happy man since I have a person who I think before going to sleep, and whom I wish a good night. You are the meaning of my life. Good night, darling.
Tonight you won't be cold since the veil of my love will protect you and warm you. Good night, baby.
Every night I ask the Lord to give you a bright and happy sleep, and a good morning. Every day I thank him for having you in my life. Sweet dreams, my love.
I hope that my prayers will reach your heart and you will feel the strength of my love. Sweet dreams.
It is easy for me to survive the night because when I close my eyes, I see your beautiful face. All I want is to hold you tight in my arms. Good night.
You are my Cinderella who does not disappear at midnight. You are the love of my life. Good night, my precious.
Let your beautiful eyes rest at night, and in the morning. I will see the reflection of this beautiful world in them again. Sweet dreams.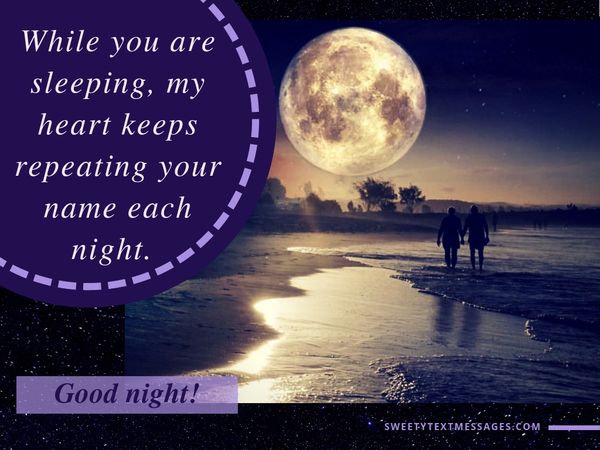 While you are sleeping, my heart keeps repeating your name each night. Good night.
Good night my sweet lady. I hope that your day was as lovely as you are, and I hope that you wake up in the morning feeling as gorgeous as ever!
I hope you know how honored I am to call you my girl. I wanted you to know this before you close your eyes. I love you.
Sweet Good Night Text Messages for Her from the Heart: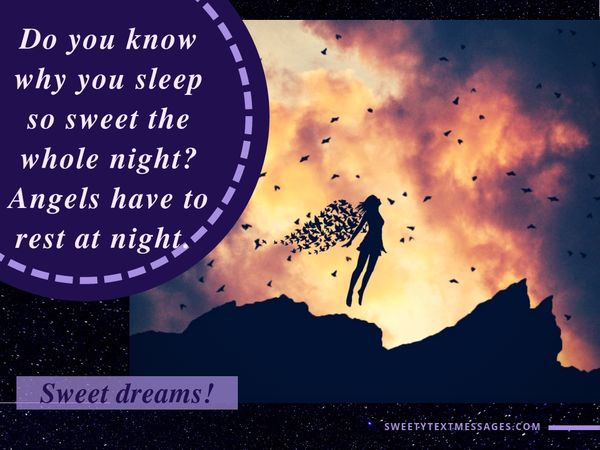 I don't want to fall asleep tonight because even the most beautiful and the sweetest dream cannot be compared with one day of real life with you. Sweet dreams.
Baby, if you want I will obscure the entire light of the moon and the stars so that they won't disturb your sweet dream. I wish you a good night, my princess.
At night, my heart beats faster if you aren't here. I need you to restore the rhythm of my heart. Good night, sweetheart.
Do you know why you sleep so sweetly the whole night? Angels have to rest at night. Sweet dreams.
If we both suffer from insomnia it is because we fell sleep in separate beds. I want to be with you always. Good night.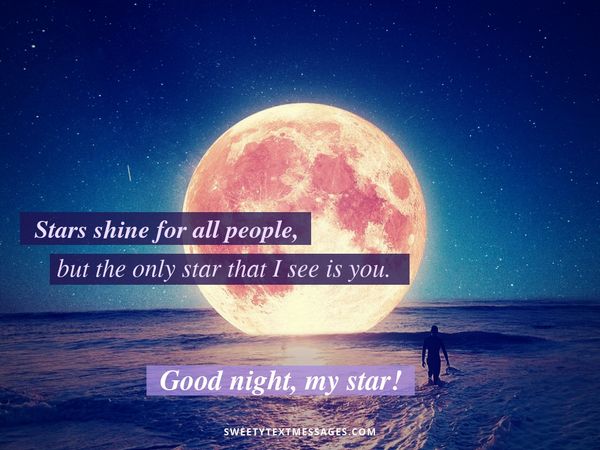 Stars shine for all people, but the only star that I see is you. Good night, my star.
Good night, sweetheart. Let the moon envelop you with warmth, and the stars in the sky will make your dreams come true.
When I see you in my dreams, I do not want to leave this sweet dream, I am in your eternal captivity. Good night, my angel.
You are far away and the only luxury I have is to see you in my dreams, every night for me is a miracle. Sweet dreams, my love.
Don't you think that today the moon shines particularly bright? This is because it illuminates the path for you, come to me in a dream tonight, sweetheart.
I feel very lonely in my bed without you, only the smell of your perfume on my pillow reminds me of you, I miss you. Sweet dreams, darling.
Let the silence of the night be disrupted only by your measured breathing, sleep well, my love.
This night is filled with scents of magnolia, jasmine and the coolness of the night, but even this lovely fragrance cannot be compared with your body odor. Good night, I love you.
The night is the magic of our love, which is reflected in the beating of our hearts, let this night be special. Good night, my love.
Every night before our meeting was so lonely that I have heard my thoughts, but now every night I hear only your sweet voice, thank you for being in my life. Good night.
I'd give all the wealth of the universe to see you before bedtime. Good night, my greatest treasure.
Your eyes shine with faith, devotion and love for me. I will try to be worthy of your love. Sweet dreams.
Our destinies are bound in heaven, I see your face in the clouds, and hear your voice in the rustling of the leaves. Sweet dreams.
Nothing in this world will destroy my love for you, compared with the eternity of our feelings all earthly riches are sand. Sweet dreams.
You are my goddess who rose to the Olympus of our love. I adore you and I am ready to kiss you forever. Good night, my Aphrodite.
You made me a sensitive, strong and confident man, with me you can afford the luxury to be a weak woman. Good night, love.
When you soar in the clouds of your dreams, do not forget to take me with you, I'll see you in a dream. Good night.
Long Goodnight Messages for Her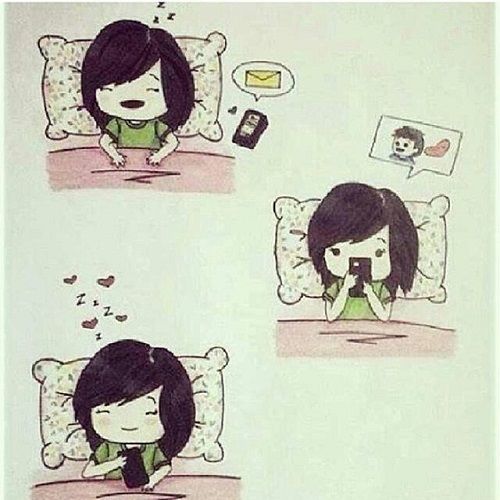 When two people are in love, sometimes words are just not enough to express everything inside. You could just go on and on and talk about how much you love each other. And why not? Love is infinite. There are no limit as to how much you can say to the woman you love. Here are some cute and sweet long goodnight messages for her that would surely warm her heart.
They say that there is no such thing as a perfect life or a perfect relationship. Well, they have no idea what it's like to have someone like you in my life. You are someone so beautiful, not only on the outside but also deep inside. You understand me like no one else ever would. You have shown me what it's like to dream, and to believe in that dream. Everyday, I thank Heavens that I have you. Thank you for loving me. Good night, my love.
Before you sleep tonight, I just want you to know that I appreciate everything that you do for me. Every single thing that you do makes me appreciate and adore you even more. Thank you for being all that you are. You mean everything to me. Goodnight my darling, and I love you.
I am missing you more in this lovely night. Nothing else would be sweeter than to have you by my side, so I could whisper in your ear how much I love you. I miss your pretty face, you lovely smile, and all that you are. I wish you were in my arms tonight. I'm sending you lots and lots of kisses, and I hope that you know how much I cherish you and long to be with you. Sleep tight my darling.
I get butterflies in my tummy when I think about you, my love. I am in love like crazy! No matter how I try to get you out of my mind, I fail helplessly each time. Everyday I love you more than yesterday. I know you are my dream come true, and there's no way I am ever gonna let you go. I love you to the moon and back!
When I say goodnight to you, what I really mean is that the day we spent together was amazing, astonishing, astounding, breathtaking, thrilling, inspiring, exciting, interesting, outstanding, gorgeous, marvelous, beautiful, majestic, grand, enticing, spectacular, extraordinary! I could just go on forever with my list of positive words, but they will never be enough to describe how happy I am to spend my days with you. I love you with all my heart.