Her Birthday is coming and you do not know what to wish? If it's about you, no problem at all. Lucky you are because you are here. Birthday is only once a year and your sister in law understands it as well. So if you want to create a positive impression about you, it would be awesome to prepare an astonishing quote. A good wish will leave her with a smile on her face thinking to thank you during Your Birthday with her whole heart. What goes around, goes back around…
These quotes and wishes are created to break the ice in your sister's heart, especially if you quarreled once upon a time. A bit of fun and joy will not bother her:

Funny birthday wishes for sister in law
Let's be honest, not all people have a good sense of humor. And if you have a sister in law who understands jokes and who likes fooling around, you just can't miss the super funny birthday wishes. Well, some of them bear a bit of seriousness and cuteness, but in general, they can teach you how to congratulate your sister in law in a funny way.
My dear sister-in-law, since my therapist prescribed me writing you something nice once a year exactly on this day, I'm doing it. Is it a coincidence that you happen to celebrate your birthday on the same day I should write you a quote? Due to this, don't you even dare to think that I won't remember when your birthday is. So here they go, my warmest wishes of happy birthday.
If I didn't have such a nice sister in law, my life would be dull because I don't think there is anyone else who would always be in a good mood and like having fun so much as you! So, don't forget to take care of yourself and don't listen to anybody else except for me! Wishing you all the best! I love you, sis!
My lovely sister in law, anyone who is going to be against you, better remember that they will have to talk with me first otherwise they face the worst. Because who the hell do they think they are when they leave my sister in scars? Whatever happens in your life, you can always count on me, because I promise to defend you till the end. Have a nice Birthday!
Sisters in law are the best, they are like the sweetest cherries on a top of a cake. They are like the dreams of unicorns, well, they are like unicorns themselves. Without a doubt, sisters in law are all different, but you, my dear, are one of a kind, you are unique and special. Happy Birthday to my most special sister in law!
My gorgeous sister in law, all these Instagram beauty queens secretly cry out at night looking your pics. The time has come for them to take off their crowns, because today is your birthday party and your selfies will just blow their mind. Happy birthday to the most fantastic sister!
People have to love you the way you are. These are people who are worth your time, effort and attention. As for those who want to change you so that you could fit their standards, don't waste your life on them. Since I know you from the time we were both children, I know everything about you and like all of your strengths and weaknesses. Sister in law, you are a tough nut to crack so everyone should better watch out! However, Happy Birthday, Sis!
I don't know what I would be doing if you didn't give me your priceless pieces of advice. You have always tried to help me and I promise that one day I will surprise you as a sign of my gratitude for all that you have done for me. Is it a sarcasm? You decide. Happy Birthday!
Don't you ever look back at your past because it's simply gone. Remember that better things are yet to come, and it doesn't matter whether you believe me or not. And you don't have to really because it's me who decided it to be like that! Happy Birthday, dear Sister in law!
The life passes so quickly that sometimes we really need to slow down the tempo and pay attention to the story that our heart is telling us right now! Life is unpredictable and you never know who's going to take the biggest piece of cake at your birthday party, so to avoid this just give the biggest one to me otherwise I will have to do it secretly myself. Happy Birthday, honey!
My sister-in-law, today is your birthday and I hope my dreams come true. May your dreams come true too, but mine first. Want to know why? Because right now my one and only dream is your happiness! Love you! Happy Birthday!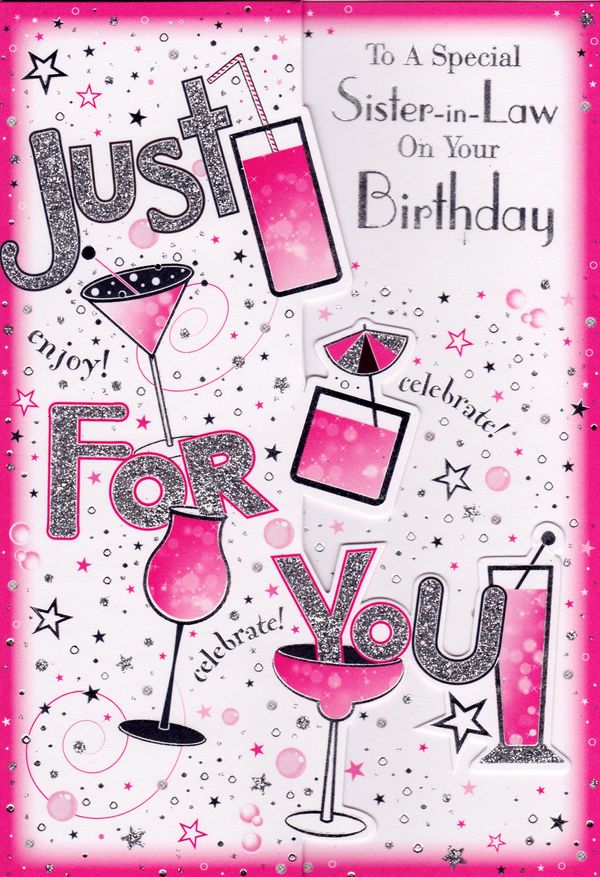 Inspirational birthday greetings for sister in law
We are well aware of how boring most birthday greetings on the Internet are, that's why we highly recommend you to come up with your own original wish. It's not as easy as it sounds, right? Of course, it's not, especially when it comes to congratulating people you love the most. However, there's a quite simple solution to this problem: you just need a little inspiration to create a perfect birthday greeting for sister-in-law by yourself. And that's when bday greetings below can come in handy.
No one can deny that there is no one like you, my dear sister-in-law! I am the happiest person on earth because life has presented me with a huge gift, and this gift is you. Happy Happy Birthday at Your Birth Day!
There have been so many words said to you today, but they are still not enough to describe you, my sister in law! You are truly the best person! There is also one thing you should always remember – I will never leave you and I will always be there for you!
It's true that you are the only person who can make me smile when I feel down. The only who cries and sobs with me over stupid things when we call each other or chat. You are not only my sister in law, you are my closest friend. Happy Birthday!
"Nice to meet you"… It seems that these words are never enough for anyone who has a chance to get to know you, because these aren't the words that could express people's respect to you. As well as that, a phrase "I love you" is not enough for me to reflect my true feelings. Happy birthday, sister in law! Just be happy!
I don't wish you wealth and money, I wish you wisdom how to spend it. I also wish you health to be able to live your life to the fullest. May all the blessings come to you this day! Happy Birthday, sister-in-law!
Don't know about you, but I am sure that you will become a successful person one day! Due to this I am super excited since I am honored to be your brother-in-law. Happy Birthday, lovely!
Your birthday seems to be the perfect time to realize the mistakes we both made and step on the new path of our relationship. As my sister in law, you have taught me a lot and I really appreciate it. I love you and sorry for not telling you this before. You have always motivated me to be a better person and I am glad I get to tell you this today. Happy Birthday!
It's sad that close people can't be together all the time. But today you are here, with your family, celebrating your birthday. And I couldn't think of a better occasion to tell you that I really like you and ask you to spend the next weekend together having a small talk over a cup of coffee! Shine bright like a diamond, Sister-in-law-of-my-life! Happy birthday!
As a candle that doesn't stop burning, your smile doesn't stop warming us every time we see you! It's great to have such a cheerful sister in law! Happy birthday!
I say, "Rejoice! Because it's my sister's in law birthday!" Come on, how old are you? 16 again? As a birthday girl you have no other options than to eat the biggest piece of a cake and go shopping with your best friends. Besides, I prepared a gift that would help you with that! Happy Birthday!
Cute happy birthday quotes for sister in laws
What to write in a birthday card for my sister-in-law? If this is a question you're asking yourself right now, pay attention to the list of super cute birthday quotes that have been designed specifically for sisters-in-law (in case you are lucky to have more than one). So, feel free to copy as many birthday quotes as you want. Your sis in law deserves only the best on her special day.
I was blessed not only with the best husband, but also with the best sister-in-law. If it's not a wonderful package deal, which a life could present me with, then I don't know what else is. Happy birthday, sweetie!
Thank you for your loving heart that knows no limits. Thank you for your caring nature that never lets us feel alone. You are such a wonderful person and I wish you a birthday you'll remember forever. Happy Birthday to my Sister-in-Law!
Everybody knows my brother for the bad choices he made in life. That's why we were surprised to see that one of his choices was not bad at all. On the contrary, the time he picked you as his wife we couldn't believe our happiness because someone as wonderful as you gave him your heart. Happy birthday, dear sister-in-law.
You are dead wrong if you think that no one loves you more than my brother does. Sister-in-Law, I have a confession to make, I love you to bits and pieces. Marrying you was by far the best thing my brother ever did. You are a very special and truly enchanting woman. Happy birthday!
You may think that I see you as only my brother's wife, but it's not so. You are a true friend who always helps me with my emotional strife and accepts me for who I am, with all my flaws and imperfections. You are my sister-in-law and I love you! Happy birthday.
Happy birthday to my wonderful sister in law. This day is another chance for me to remind you that you are like a real sister for me. I want to say thank you for being a good friend and a reliable wife for my brother. Also, I thank you for allowing me to spend so much time with your cute kids. My brother and my nieces are very lucky because you always take a good care of them. Hope you have the best birthday ever.
If it was my birthday today, I would say that you are the best gift of all, my lovely sister-in-law. But today is your birthday and I wish you everything you have long been dreaming of. May all your dreams come true and the year ahead brings all the great things your way.
If there were prizes for being the best sister-in-law, you would certainly win them all, because it's true – you are the best. Apart from being an awesome and interesting individual, you are a good friend to me. Have a wonderful birthday celebration.
On your special day, my sister-in-law, I wish you to be surrounded by love and care. And since I will be there to celebrate with you, love and care are guaranteed. I love you and it's not just because you are a part of our family, but also because you are my friend and a remarkable person.
Nice happy birthday message for sister in law
Though you aren't blood relatives, your sister-in-law may become one of the closest person in the whole world. So, if you are looking for 'you're-like-a-sister-to-me" happy birthday message, look no more, 'cause all you have to do is to scroll down this page and pick any of the bday messages for sis in law below:
Sister-in-Law, I try to never miss a chance to remind you how cool, thoughtful, generous, and awesome you are. I'm truly overjoyed that such an amazing person became a part of my family, and I wish you to have the most magnificent birthday, year, and life. Happy birthday!
Ever since you joined our family, I have tried my best to be not only a good sister-in-law/brother-in-law to you, but also a good friend. You are always welcome in our house and on your Big Day, I'd like to remind you this one more time. Enjoy your day to the max!
May today and every day bring you lots of joy and love! May your life be filled with all the beautiful and wonderful things. Happy Birthday, Sister-in-Law!
On the day of your birth, I want to thank you for being the best sister in law I could have only dreamt of. Not only are you a devoted big sister to us, but also a loving and caring auntie to the kids. We'd like to wish you a fantastic huge happy birthday from all our crazy family.
A sister-in-law like you is a real gift because how else could I find out all the dark secrets of your brother. Besides, these revealed secrets help me to tease and taunt my husband. If to be serious, thank God that I have you, my gorgeous sister-in-law. You are the best. Happy birthday.
Truth to be told, I was a bit worried when you and my big brother got married. It was because I thought that the place in his heart would be taken over only by you. Now I can see how silly it was to think that way because thanks to your love his heart got only bigger. I'd like to thank you for including me and for making me twice as loved. Happy birthday!
I am in luck to have the best friend and sister-in-law in one person. I couldn't have dreamt of a better sister-in-law. You are the dearest person to me. Happy birthday.
My dear sister-in-law, every time you smile, you make my day a bit brighter and a world a better place to live. I hope that today and always life will treat you with its sweetest surprises. Happy Birthday!
I always know that I can rely on you no matter what kind of things are going on. You have always shared your wisdom with me and made me look like I've got it all figured out. And when life throws me curveballs, you always tell me how to handle them. I truly admire you. Happy birthday to you, my sister in law!
Best happy birthday sister in law images
When the quote is chosen, it would be perfect to combine it with the appropriate image. Since the vast majority of people on earth tend to be impressed more with visual objects, this list of happy birthday sister in law images will be responding to the craziest demands of your heart in the proper way. There are plenty of them, and now you can choose the one or few of them according to your taste preferences. Go, get it now: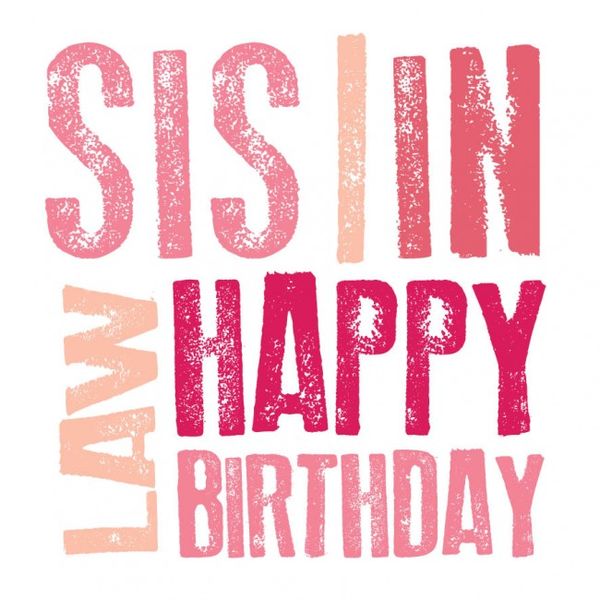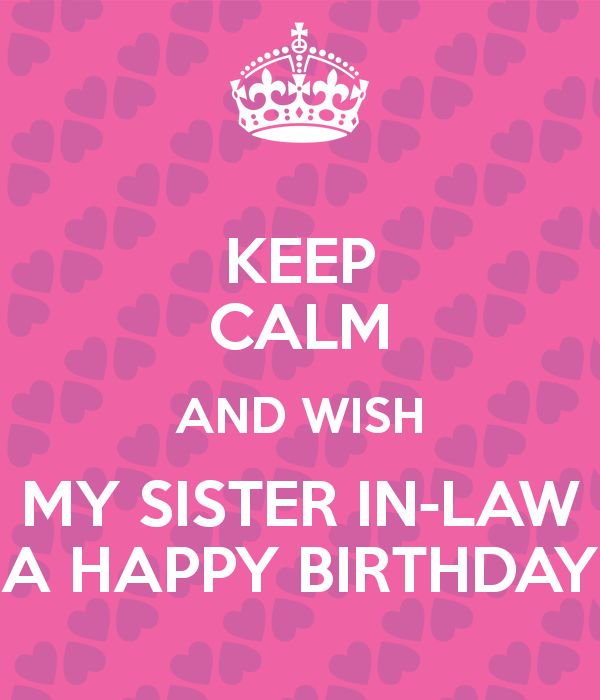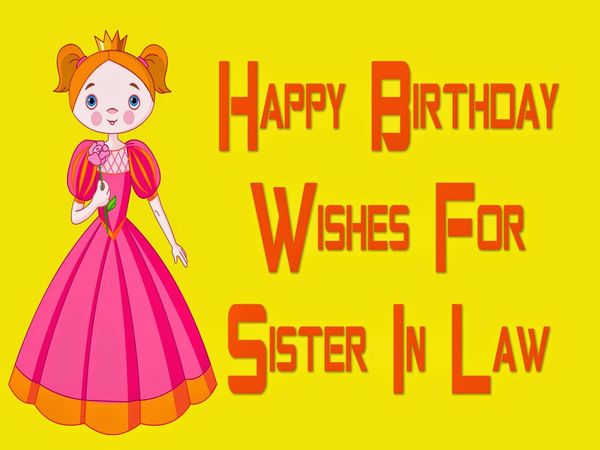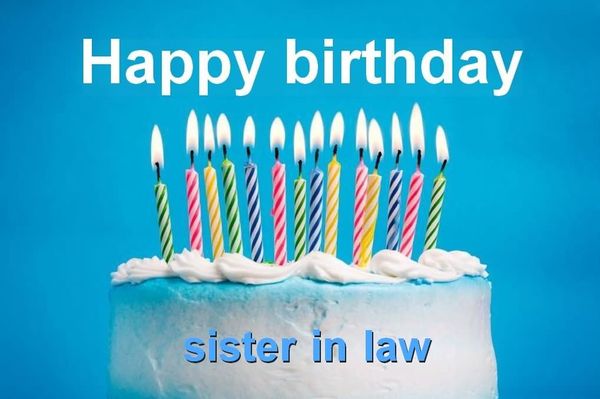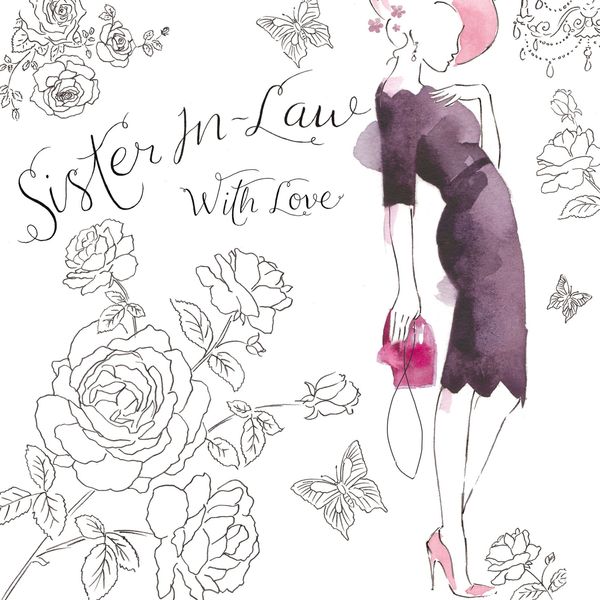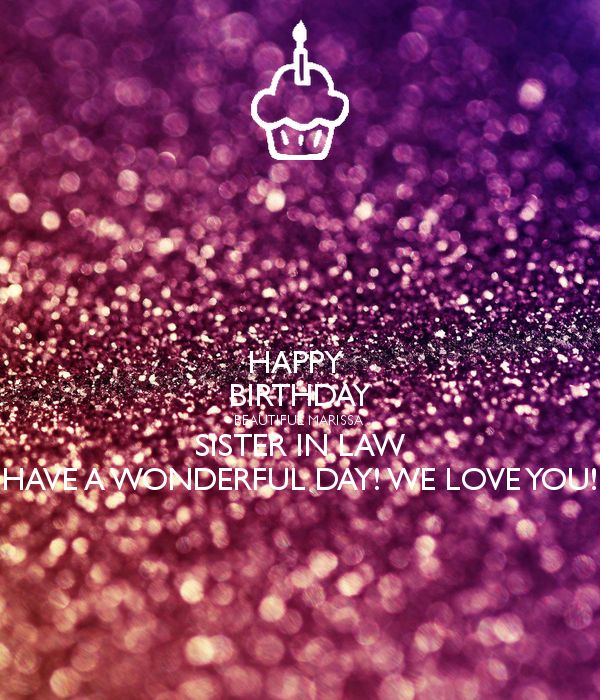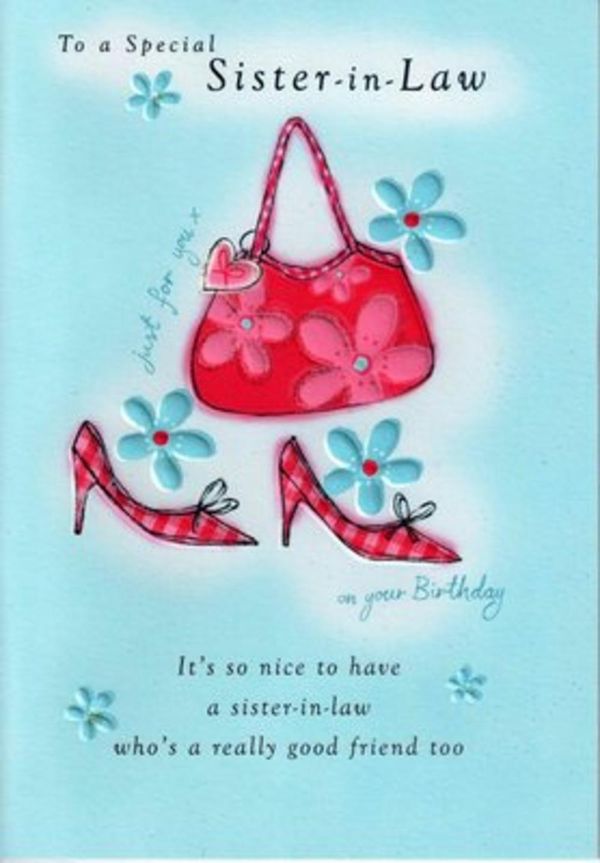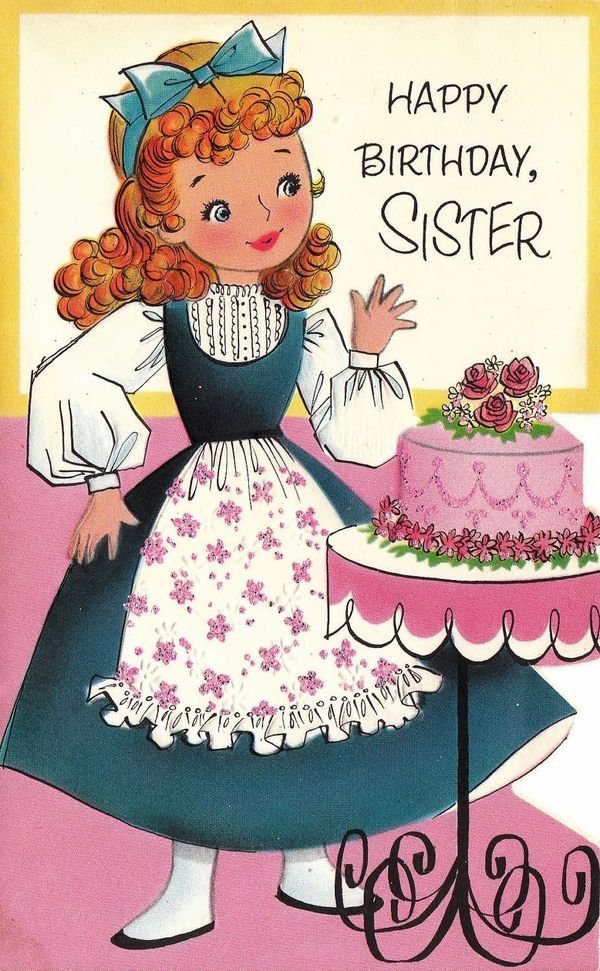 Sister in law birthday funny meme
No matter how hard you try to write a perfect birthday wish, sometimes it's better just to download some funny Bday card or meme and send it to your lovely sister-in-law. First, it saves your time, second, it's a lot more fun. Enough talk! Take a look at the funniest birthday images for sister in law ever: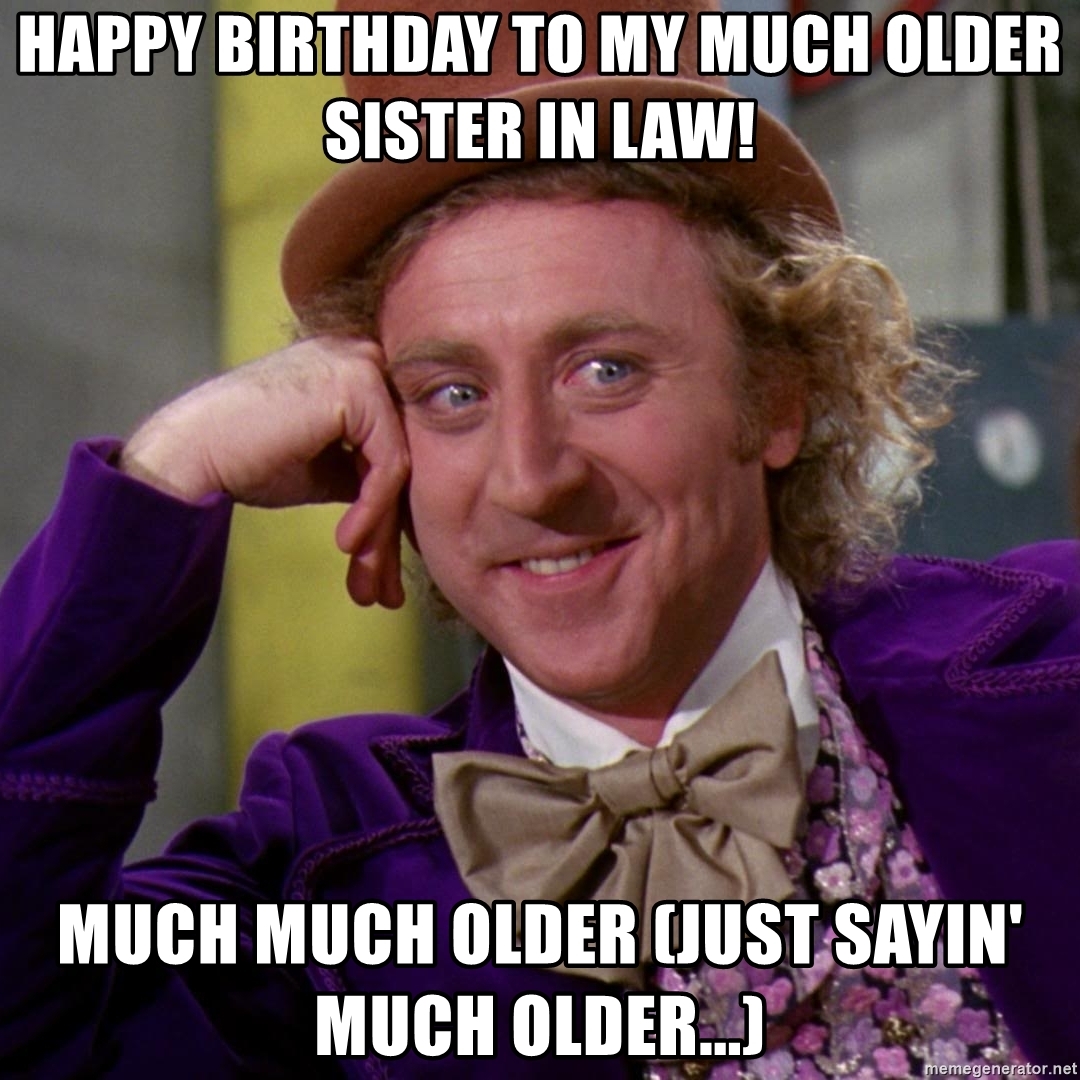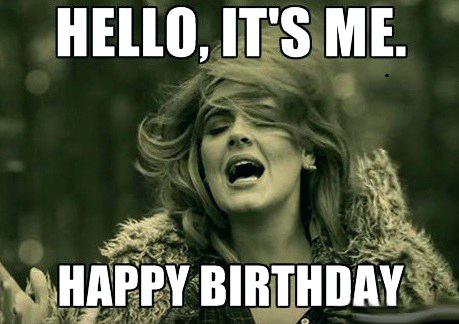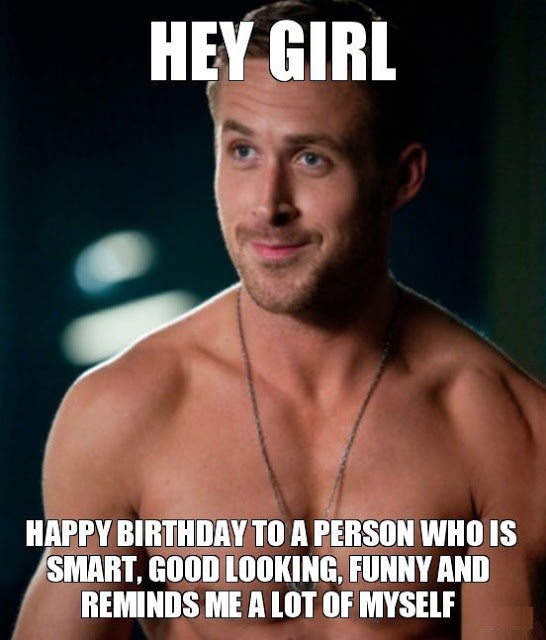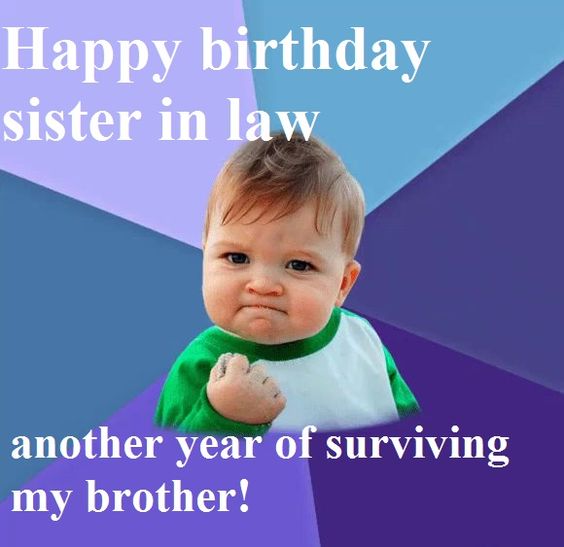 You might also read:
Happy Birthday Sister Quotes
I Love My Sister Images
First Birthday Quotes
Thank You for My Birthday Wishes
Hilarious Happy Birthday Meme
Happy Birthday Dog Gif
Happy Birthday Sayings
Funny Birthday Images for Her
Happy Birthday Pictures