There is nothing more beautiful than words of love, in which we put the most precious part of our souls. It is undeniable how powerful words are in almost every aspect of human relationship. It is through words that we express our emotions, desires, and needs. Although the old adage says, "action speaks louder than words", it doesn't make the latter any less vital.
In this era of new technology, our mobile phones are a big part of our day-to-day communication. In fact, in this modern time, keeping in touch with our special someone through text messages has become an important part of our daily lives.
Show your love, affection, and passion for your beloved with the following SMS messages. These messages are sure to touch any heart.
Love Texts for Him
Spring is beginning to fall, and the sun outside the window tells me that this spring will bring the flowering of our love.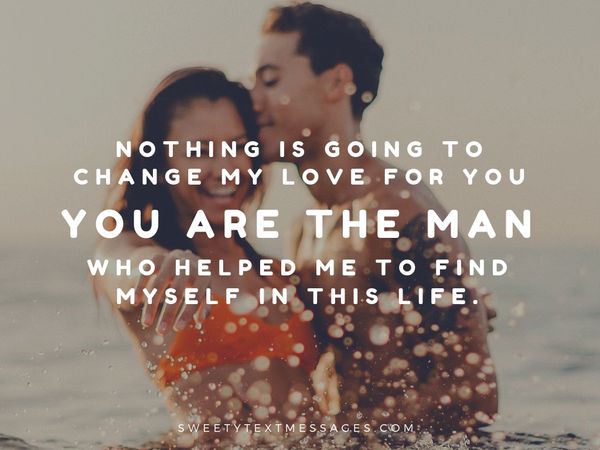 Nothing is going to change my love for you. You are the man who helped me find myself in this life.
Even the sunniest day becomes sullen without you. Only your love can paint bright colors all around.
I had never thought that three words could change my life so completely. I love you, and I am ready to shout about it to everyone!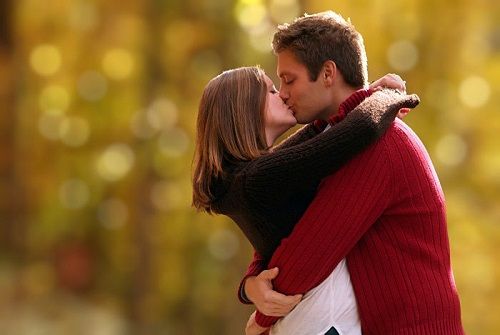 Since that evening when our eyes first met, we have connected our hands and united our hearts. I love you.
I wanted to send you a Shakespearean sonnet, but even his genius with words cannot express my love for you. That is why I will say simply: "I love you".
If I divide my love for you into equal parts and give everyone in the world their own portion, my remaining love for you will be just as immeasurable as before.
It is impossible to measure, describe, count, or portray my love. I just feel it, and I know that I love you.
We have overcome so much pain that today, we truly deserve to be happy. I adore you.

It doesn't matter how long I have to wait for you, because my love for you is eternal. I will be always here for you. I love you.
I love you, darling. Let's preserve what we have. Too many people throughout their lives are not able to build such a wonderful relationship, so let's take a moment to treasure ours.
I have loved you long before the beginning of time and I will love you even when the memories of us are erased from the face of the Earth.
The sun won't shine brighter than our love, no metal will be stronger than our feelings, and even time won't separate us. I love you.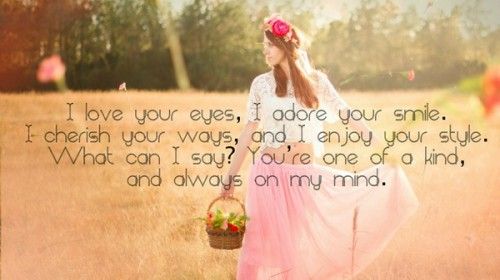 I want to be always by your side. You give me feelings of completion. I love you more than anything else in this world.
Sometimes love inspires, and sometimes it breaks the heart into small pieces. I have experienced everything with you, and I've realized that there is nobody dearer to me than you.

At this moment, everything in life has lost its value except for your eyes. You are the eighth wonder of the world for me!
How can words describe what I feel for you? In all languages of the world, I could whisper to you that I love you, but this would still not be enough to describe how much you mean to me.
I don't wanna fall asleep without you, I don't wanna eat without you, I don't wanna live without you, I love you!
The wind whispers your name, stars illuminate my way to you, we will meet soon- I love you!
It is said that only with a real man can a woman bloom and enjoy life. I feel like the most beautiful flower on the planet because I am with you! Thank you for your love.
Love for you is in my blood, it flows through my veins, and fills me with energy. I love you.
My love, you have always been what my heart needed. Now that you are mine, there is nothing I could ever ask for.
To me, you are the greatest treasure that heaven has ever bestowed upon me. Nothing else is greater than your love, and for that, I thank God endlessly for the gift of you.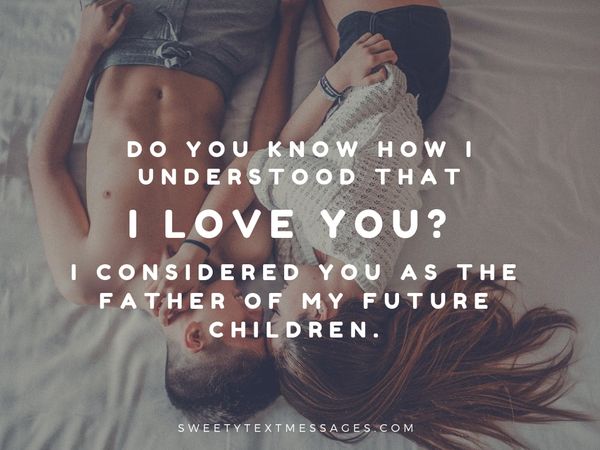 Do you know how I understood that I love you? I think of you as the father of my future children.
My love, you brighten up my day with your smile. It always takes my breath away.
'I love you' will never be enough to express how much I feel for you.
You may also like:
Strong Independent Women Quotes for Leaders
Short Sweet Love Quotes with the Deep Sense
Romantic "You are My World" Quotes
Can`t Stop Thinking About You Quotes for Him
I Love You Texts Messages for Girlfriend
When I look into your eyes, the world ceases to exist. When I touch your lips, the universe explodes into millions of colors.
Every day of my life is perfect because I get to spend it with you.
My beloved, I will do everything for you. Just tell me what you need. Nothing is impossible as long as you love me.
It is said that love lives for three years, but I do not agree with this. Amorousness lives for three years, then it turns into a deep feeling. This deeper feeling is what I feel for you.
When I look into your eyes, I see the man I want to be. I love you.
The only real thing in this world is our love. It makes me feel alive. I love you, baby.
Here I am. I may be without luxurious cars or money, but I am here nonetheless, with an open, loving heart that is totally yours. I love you.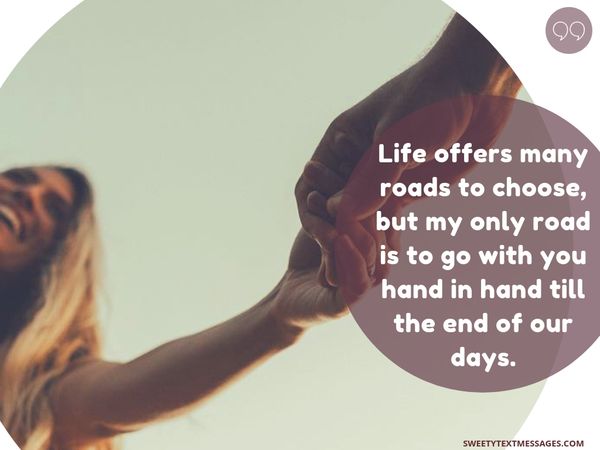 Life offers many roads to choose from, but the only road for me is to go with you hand in hand until the end of our days.
Even if I have to go through all of the obstacles in the world, if I have to sacrifice everything, I will do it for the sake of your love. Our love is my greatest wealth.
All of the songs written about love, praising this wonderful feeling, pale in comparison to the history of our love. I love you madly!

Sounds of the violin are crude compared to your voice, and the most refined silk turns into burlap when compared to your hair. You are my ideal. I love you.
Time flies when we're together. All that I do, I do for you and our future life. You are my favorite fantasy.
When I was asked what I love about you, my answer was simple – in you I see myself. This is the truth of love.
Whatever happens in this life, I know that your gentle and caring hands will be there. You're my support, my beloved woman.
I will never hurt you, we have one heart shared between two. As long as we love each other, it will continue to beat. I love you.
I want to hold you close and feel our hearts will beat in unison. I love you, my sweet girl.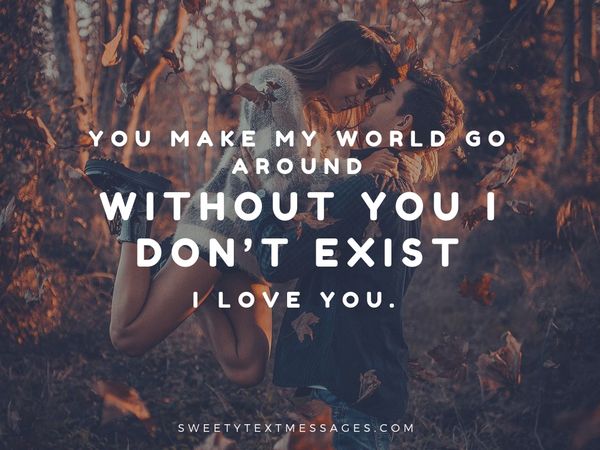 You make my world go around. Without you, I don't exist. I love you.
In tough situations, only your love inspires me to keep going. Your love brings me hope in every troubled time.
I may not be a superhero, but I will do my best to protect you the best way I can – with all my strength and with all my heart.
For the sake of your love, I will get a star from the sky and go on any deed, I will be ready to do it! I love you.
My goddess, you have captured my heart and have become its owner, I love you.
Listen to the whispers of my racing heart; every beat is yours and I will love you for eternity.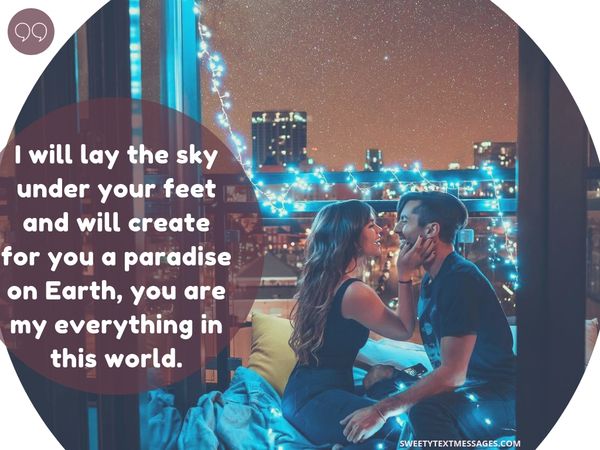 I will lay the sky under your feet and will create for you a paradise on earth, you are my everything in this world.
Do you know what could be better than a day spent with you? Only a whole life with you! I love you.
My princess! You have come into my life and turned it into a fairy tale, thank you! I love you.
The winds of change will alter everything except our love.
I love you and I want to be with you forever – that is my heart's only wish.
To love only you and to be with you alone until the end of my days is my one and only dream.
Love Texts for My Husband
The day I saw you, I realized that I would be your wife. Since then, I have been the happiest woman in the world.
You are my hero, my friend, my husband, my love. I bless the day I met you. I love you immensely.
Today is a special day for us – it is our anniversary! I want to tell you that my only desire is to have at least 50 anniversaries with you!
'My hubby' – there are only two words in this phrase, but a huge amount of warmth and love. I love you.
I don't need money or exquisite jewelry to be happy. The fact that you are healthy and in love with me makes me happy.
The happiest day in my life was the day I became your wife. I am proud that I am yours.
On our first date I read a silent question in your eyes: "Will you be mine?" and my smile answered, "I'm yours."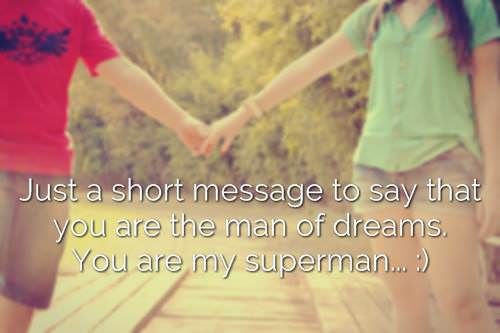 I am looking at our children now and I am so happy that God has blessed me with the chance to be your loving wife. I love you.
Thank you for sharing this life with me, you have always been with me during all up and downs, thanks to you I am alive.
Only with you, I have realized what it means to live, not to subsist. I love you.
Your love warms my heart, it is a wonderful feeling to be loved by you!
"I love you." For me, these words are very important. They mean that I am ready to give my life to you.
I thank God everyday for letting me live this life with you. With you I feel happy and loved. There is nothing else I could ever need than to spend the rest of my life with you.
Nothing is sweeter than to be loved by you. I love you more than anything else.

We have met at the dawn of our life and will live happily together until its sunset. I love you.
You have become not only a part of my life and my destiny, but you have also become a part of me, one that has brought harmony into my life.
The most precious moments of my life are the ones that I spent with you.
If you could see into my soul, you would see a heart that holds you close with tenderness and love.
Our family is our castle, nothing will destroy our world. I love you.
My love for you grows within me every single day. I love you.
Since the first day I met you, I have fallen in love with you. Now that I spend my every day with you, I am more than lucky – I am blessed!
The river of time is fleeting, but you are the person with whom I want to spend all of time, entrusted to me in this life.
Every time I look at you, I am overwhelmed with emotions. Bliss for me is just to be close to you!
My soul is full of you, my world, my friend, and my husband! I love you!
It is the greatest happiness for me to call you my husband!
My love for you is boundless and strong. Together we will overcome anything and everything.
Each morning your smile gives me positive energy, so I'm always in a good mood! I love you!
With you I am enjoying every minute of this life, you are my joy.
Our wedding was the happiest day of my life, I made the right choice, and everyday I will choose you. I love you more and more with every passing day.
Being married to the best man in the world makes me feel the luckiest woman alive. There is just nothing more that I could ask for.
For the man who holds my heart, for the man who has shown me the meaning of love, I am thankful for your love. I love you everyday.
Love Texts for Wife
Do you remember the day when I have adorned your ring finger? That was the best decision I have ever made. I love you, my precious wife!
You understand me and support me. You are my friend and my lover, my beloved mate, whom I cherish.
I have never seen your eyes shine so bright as on the day when we got married. And I promise that I will do anything to see this sparkle every day.

My wife, my love, the mother of my children, you have filled my life with sense and happiness.
Honey, I have wanted to call you mine and finally it has happened. You are my lovely wife!
I want to be a better man for you and a role model for our children, I adore you.
The color of the ocean fades next to the turquoise beauty of your eyes. I have the best wife!
I am ready to share with you happiness and sorrow. I promise, I will be with you always.
I'll wake you everyday with kisses and tell you again and again that I love you!
Each star is the sky is a compliment to your beauty, my love!
You are the woman, who is the dream of all men, and I will do my best to be worthy of you. I love you!
My precious wife, my sweet angel, I am crazy about you.
You are important to me – you are the mother of my children and my better half. I love you very much.

My eyes adore you, my heart loves you and my mind thinks only about you.
I am crazy in love with you, you are the meaning of my life.
I fell in love with you when you were 18, I married when you were 22 and I will love you even when you are a cute old lady.
This message won't express all my feelings for you. I'll just say that I am proud that I have such a stunning wife like you.
You have become my wife and I promise that our home will be full of joy, love, and laughter of our children. I love you.
It is impossible to describe the range of my feelings for you, you are my universe.
What can be better when your girlfriend becomes your wife? Only when the beloved wife becomes the mother of your children!
You are the only person who touches my heart in a very special way. I love you more than anything.
I can drown in your eyes and melt from your kisses.
You are not only my wife, but also my partner. You are the companion, who will never betray me. Thank you for choosing me.
I am completer with your love, nothing except us matters.
With you we will go hand in hand through life, even if you stumble on the road of life, I will always pick you up. I'll carry you in my arms.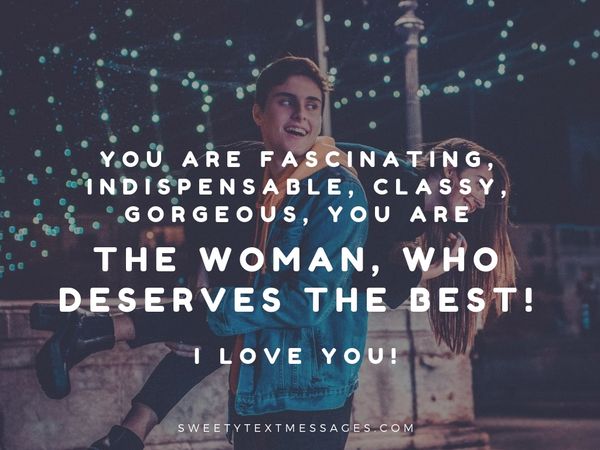 You are fascinating, indispensable, classy, gorgeous, you are the woman, who deserves the best! I love you!
More than a wife, in you I have found my best friend for life!
To the woman who has stolen my heart, my darling wife, I love you for all eternity.
All the riches of the world cannot compare to the beauty that you hold in your heart. You are my everything.
My beautiful wife, no flower compares to you. Your love fills my heart with enduring fragrance.
You are an incredible woman. I am such a lucky man!
You may also like:
Cute Good Night Quotes
I Love My Wife Memes
Sweet Messages for Her
Top Reasons Why I Love You
Sexy Quotes for Him
Best Romantic Love Poems for Her