Max Moeller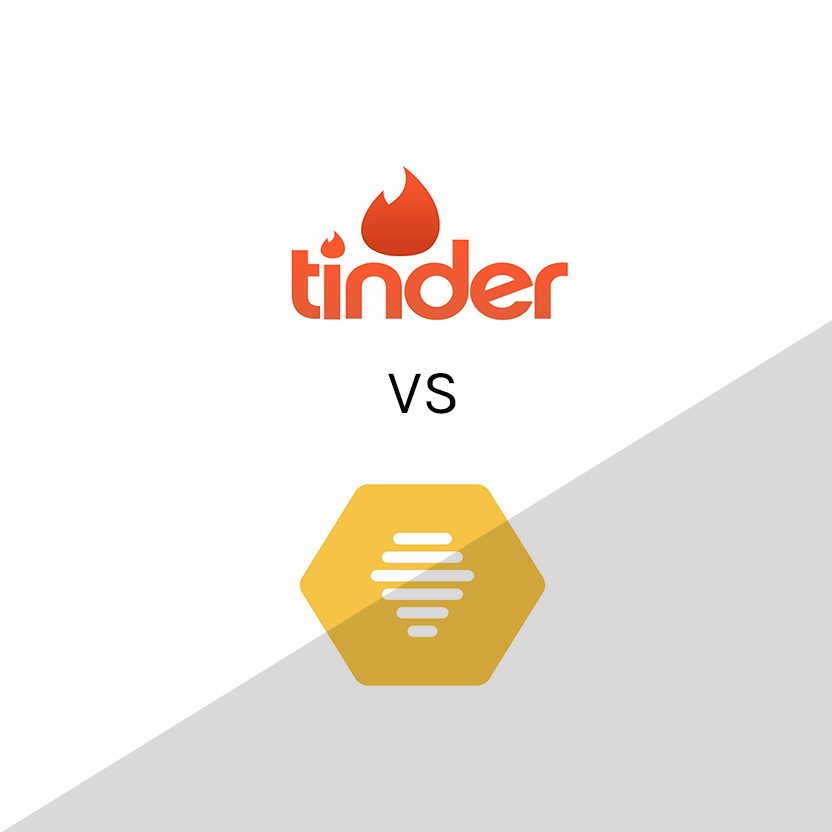 Online dating is now commonplace. Whereas before it was taboo, almost every single (and sometimes taken) person has some dating app on their phone. The two online powerhouses are Tinder and Bumble. Taking advantage of millennials short attention spans especially, these apps have given new life to casual dating.
While their basics are similar, these two applications feature some significant differences. However, over the years, Bumble and Tinder have begun adopting each other's features and improvements to the point where they are almost the same. Tinder came first but took a few ideas from Bumble once that took off.
Tinder vs. Bumble – Usability
Chiefly, both apps allow you to search for men and women. You browse through profiles and swipe right for yes and left for no. Upon swiping, you'll be notified if it's a match or move on to the next profile.
On Tinder, a match allows either person to start the conversation via text, gifs, or emojis. Bumble only lets the woman message first, with a 24-hour countdown to send the first one. If the match is about to expire, the man can extend the match for another 24 hours, giving the woman more time to send a message.
Similar to Facebook, you can "like" messages on either app. Bumble also allows users to send photos from their galleries – a nice plus over Tinder. Earlier this year, Tinder announced a "ladies first" feature that allows them to choose who starts the conversation. This feature hasn't been implemented just yet, but it will give Tinder a little more feature parity with Bumble should it work out.
Both apps give you multiple options for choosing who shows up on your feed. You can customize by distance (0-100 miles), age (18-55+ on Tinder and 18-80 on Bumble), and gender (men, women, or both). Bumble gives an additional "search for friends" or "search for coworkers "option. Each one has you create a separate profile. That said, when someone likes you, you'll be notified with a blurred out picture of their profile no matter the version.
Users want to put their best foot forward. Each app has you fill up to six photo slots, a job position, a 500-word bio, your education, Spotify, favorite song, and gives the option to connect your Instagram profile. Other users decide if they like you based on this information, and will swipe left or right.
Bumble gives you unlimited swipes. Tinder limits swipes with a refresh. Accidentally swipe left on someone? Bumble gives you three rewinds on a cool down. You can't do that on Tinder without paying for it. You can "super-like" someone on Tinder, which notifies them of your choice and moves your profile to the top of the line.
Tinder also features more men than women. That's not really ideal for the men, as there is more competition and fewer chances for a match. Women, however, benefit from more options.
Tinder vs. Bumble – Algorithm
Bumble places its most popular users first. So, those who match a lot will gain even more matches as a result. A bit unfair, but it pushes users towards paying for the app.
Tinder also scores based on right swipes, but it also factors in those who swipe you back, whether or not you message your matches, and how often you use it.
Tinder vs. Bumble – Interface
Each app is aesthetically pleasing. Tinder sports a very clean white and orange color combination, with an emphasis on pictures before profiles. Bumble is the same way, though the app blows up photos a bit too big, resulting in most looking blurry.
Unfortunately, they both have their buggy moments. Crashes are somewhat common. Tinder is known to log users out randomly with no explanation. Swipes don't always go through, resulting in repeating profiles and wasted time. Bumble can fall into a glitch where it has to reload a profile after each swipe, and location scouting doesn't work very well on either app. Spotify integration is infamously inaccurate on both, and updating pictures/job descriptions will crash either at times.
Tinder has more users due to being more popular, and as a result, has a more casual feel. You'll still find people looking for their soulmate, but don't be surprised at the amount of casual dating on there. Bumble tends to be more serious. Since females have the power, you'll find more relationship inclined matches on there.
Tinder vs. Bumble – Membership Options
Regarding free vs. paid features, Bumble easily takes the win. It gives you more freedom with unlimited swipes, free rewinds, and searching for friends. However, Tinder has a much larger pool of users and doesn't limit the first message to women only.
The paid version of each app gets a bit more tricky, so we're going to break it down so you can decide which works for you.
Tinder
Tinder has two paid modes. TinderPlus is available at $9.99/mo for one month, $5.84/mo for six months, and $4.59/mo for 12 months. A more expensive Tinder Gold comes in at $14.99/mo for one month, $9.17/mo for six months, and $7.09/mo for 12 months.
Unlimited swipes are usually the biggest draw for Tinder Plus, but it comes with a ton of extra features.
You get one free "boost" a month. A boost places you as the top profile in your area for 30 minutes so everyone will have the option to swipe. Boosts can also be purchased separately at 1 for $3.99/ea, 5 for $3.00/ea, and 10 for $2.50/ea. Plus users can decide who they want to see between app-specific recommendations or recently active users first. You can change the app so only people you've swiped on will see you, instead of the whole user pool. Paid profiles also get five free super likes a day.
Hiding your age and your location becomes available, alongside the option to swipe anywhere in the world instead of just a 100-mile radius. Lastly, Plus users get the option to rewind an accidental swipe, and ads are gone for good.
For its higher price, Tinder Gold offers all of these features with the additional feature of seeing who likes you automatically and being able to match with them.
Bumble
Because it gives you more features outright, the paid benefits of Bumble aren't nearly as high as Tinder's.
"Bumble Boost" is available at $7.99/mo for one month, $5.00/mo for three months, and $4.17/mo for six months. You can also spend $2.99 and get it for one week.
Boost users can automatically see who swiped on them, giving them the option to swipe back instantly. Expired matches stay in a queue, and paid users can rematch with them at any time. This tier also provides you with unlimited extends so that you can provide a woman with the hint.
Instead of offering free super-likes, Bumble offers "super-swipes" which are activated via "bumble-coins." 1 coin = 1 super-swipe. Coins are sold at $1.99 for 1 coin, $7.99 for 5 coins, $14.99 for 10 coins, and $24.99 for 20 coins.
Also, it is widely believed that both Tinder and Bumble "hide" users who don't pay for the apps. Free users may not show up in the rotation for an extended period of time, eventually being thrown back in for a little while. That is unless they pay for the app in which they are given priority. This is a knock for free users on both applications, so consider which is more worth your dollar. Especially if you plan on getting serious with this stuff.
Without question, Bumble offers more free features than Tinder does. For those looking to save, that's a fantastic bonus. However, those with money will gain more value from Tinder.
Tinder vs. Bumble – Other Considerations
It's worth noting how Bumble approaches conversations. By only allowing women to initiate conversation, it prevents men from communicating anything aside from their profile picture and bio. Maybe they have a great opener based on the girls' profile, but they can't use it. Men have a little bit of control, however. They can extend a match for 24 hours, but only once per day. An extension is a fairly obvious hint at the guy's interest.
Tinder has all sorts of bots and fake accounts – much more than Bumble, it seems. Ads are also reasonably prevalent, so both men and women are bombarded with annoying "profiles" that waste everyone's time.
Paid Tinder users also have a "passport" feature. This allows them to swipe anywhere in the world. While it seems useful, it's hard to imagine many people getting much use out of this. Tinder is generally used to meet people in your area, not around the world.
Tinder vs. Bumble – Conclusion
While both applications are similar, the type of person you are has a large effect on which is better for you. Due to its algorithm, Bumble is better for shyer, conventionally attractive males. Tinder caters more to the social butterfly – those who know how to hold a conversation with the opposite gender. Males also have more chances to boost their match rate.
Of course, you're probably going to download both anyways. That said, now you know which you'll have more of a chance on. Which dating app do you think is better for you? Let us know in the comments below!