Is there anywhere better than the beach? In the dog days of summer, or even in mid-winter if you're lucky in your climate choices, locals and visitors both find themselves attracted to this wonderful intersection of sand, sky, and sea. Swimming pools have their own charm, but there's just something about setting up that big picnic towel on a stretch of sand and soaking in the sun.
You can bet that come summertime, thousands of people will flock to the same beach spots, looking for a place to swim away from their troubles and get some relaxation time in. If you're looking to hang out with your friends, enjoy some time with your significant other drinking margaritas in the sun, or you just want to enjoy the view and feel the water on your feet, heading out to a day at the beach is one of the favorite pastimes of people around the world. And of course you can bet it's one of the best places to take photos of you and your friends relaxing, swimming, and having a good time.
Once you have those photos of the beach to remember your time in the sun and in the water, posting those images on Instagram is a must. However, you might worry that your caption game isn't quite on point. If you don't know what you should caption your pictures, don't worry: we have you covered. Whether you're looking for a classic joke, a pun-filled comment to accompany your statements, or something a little bit more sentimental, these are some of our favorite beach-themed captions for when you travel to the sandy shore—or for when you're missing the feeling of sand between your toes. Let's take a look.
Pun-filled Excursions
Look, not everyone loves puns, and that's okay. Wordplay that makes you roll your eyes can be hilarious, groan-worthy, or something that falls in between. Everyone reacts differently to a good pun, but almost everyone has some amount of appreciation for them, and that's what makes them work paying attention towards. Every caption below has a whimsical pun to accompany your photos, and while it may make your friends and family use the eyeroll emoji more than they'd like, it'll get a reaction—and likely a laugh—all the same.
Girls Just Want to Have Sun!
Seas the Day!
Tropic like its hot.
Resting Beach Face.
Aquaholic.
If there's a will, there's a wave.
Shell we dance?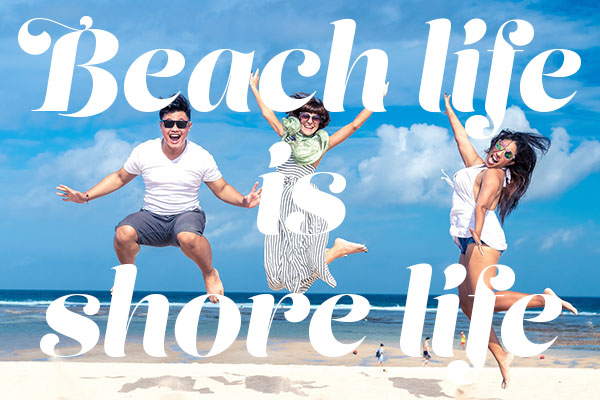 Beach life is shore perfect.
Adios beaches!
Water we doing here?
Beach you to it.
You used to call me on my shellphone.
The beach gives me porpoise.
Water we waiting for!
Beach Time Rhymes
Puns definitely aren't everyone's sense of humor, so if you're looking for something that might fit your style a bit more than these, check out some of the rhyming captions below. By using rhyming and alliteration, they serve up a sense of fun that won't have anyone sneering at your pun-fueled jokes. Plus, they come attached with a fun sense of poetry, something you can't say for every random post on Instagram. Check out some of our favorite rhyming captions for beaches below!
The lower the latitude the better the attitude.
Let the sea set you free.
An ocean breeze puts the mind at ease.
Let the waves hit your feet and the sand be your seat.
Sandy toes. Sunkissed nose.
Don't need a man if you've got a tan.
Palm trees and 80 degrees.
You, me, a drink and the sea.
Palm trees. Ocean breeze.
A pineapple a day keeps the worries away.
The sun and the sand and a drink in my hand.
Fun and Sun
If we clear the puns and we clear the rhyming, we're left with some classic humor to fill in the blanks. Sometimes you don't want a gimmick for your post; you just want some good old-fashioned humor to help people have a laugh when sliding through your feed. And that's okay too! Even if puns aren't your thing, and rhyming leaves you whining (sorry), we think you'll enjoy some of these captions below.
Gone to the beach. Be back never.
I'll have a side of beach with my morning coffee.
How to be a beach body: 1. Have a body 2. Go to the beach.
Currently pretending I'm at the beach.
Life, love, and the pursuit of the next beach trip.
Eat. Beach. Sleep. Repeat.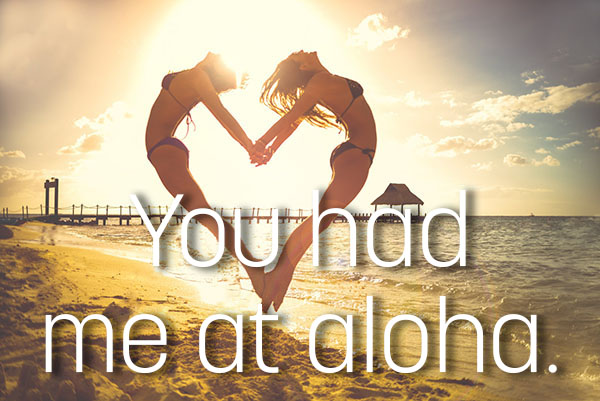 You had me at aloha.
Beach more – worry less.
Life is better in a bikini.
More salty than the sea.
I think we're all agreed: Monday out. Beach in.
Fin-spirational Quotes
Moving away from humor altogether, we have some inspirational and artistic quotes for you to consider. While posting humor may be some people's thing, adding a bit of flair to the caption or posting text within the image on the display can really help anyone looking for some calming and soothing content for their posts. Not everyone has to try and be a comedian, and if that's not your thing, here's the best way to spread some inspiration using your Instagram feed.
Life is a beach, I'm just playing in the sand.
Salt water cures all wounds.
Even filled with clouds, this beach can't bring me down.
Dreams are made of sun and sand.
Memories are made in flip flops.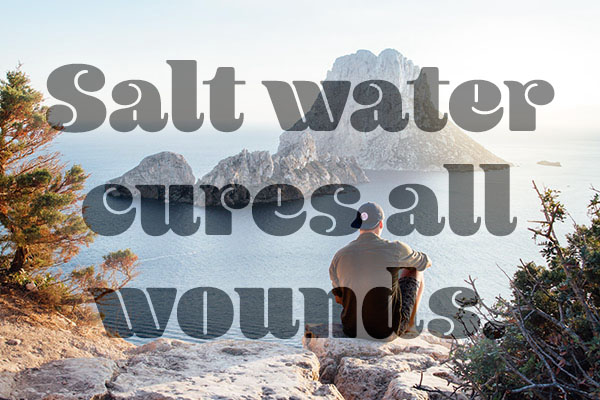 You can shake the sand from your shoes but not from your heart.
The tans will fade but the memories will last forever.
Life's a wave – catch it!
I want to run the beach's length, because it never ends.
The beach is calling, and I must go.
It was love at first sight the day I met the beach.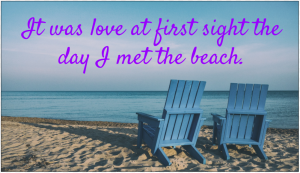 Live by the sea. Love by the moon.
B.E.A.C.H = Best Escape Anyone Can Have
Do you want to build a sandcastle?
Time seems different at the beach. All too fast, yet somehow, all too slow.
Part of Your World
Here we have something a bit unique to the beach and the joy of swimming along through the ocean. There's nothing more related to the beach and the ocean than the idea of mermaids, mythical creatures romanticized through recent history as lovesick creatures floating below the surface. Using mermaid iconography and some inspiration from films like The Little Mermaid or Aquamarine, you too can pretend to be a mermaid swimming deep below the ocean surface. So if the captions above don't float your boat (again, sorry), maybe these will help serve you just a bit better. Let's take a look.
Mermaid vibes.
Mermaids only.
There are a million fish in the sea, but me? I'm a mermaid.
Every girl deserves to feel like a princess, but I want to feel like a mermaid.
You can't swim with us.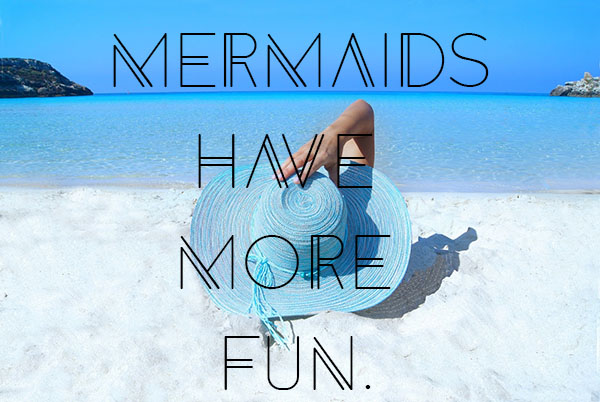 There are plenty of fish in the sea, but I'm a mermaid.
Be a mermaid, and make waves.
Someday I'll be / part of your world.
Always be yourself. Unless you can be a mermaid. Then always be a mermaid.
Mermaids have more fun.
If your thighs touch, you are one step closer to being a mermaid.
A smooth sea never made a skilled mermaid.
Literary
Lots of writers have waxed poetic about the beauty of sand and surf, and nobody will say anything if you file off a couple of serial numbers and "adapt" their words to your snaps.
Dreams are shores where the ocean of spirit meets the land of matter. Dreams are beaches where the yet-to-be, the once-were, the will-never-be may walk awhile with the still are. – David Mitchell
For me there was-is-nothing better than walking on the beach late at night. It feels like you could walk forever, like the whole night is yours and so is the ocean. When you walk on the beach at night, you can say things you can't say in real life. In the dark you can feel really close to a person. You can say whatever you want. – Jenny Han
On the seashore of endless worlds children meet. – Rabindranath Tagore
My God, if your love were a grain of sand, mine would be a universe of beaches. – William Goldman
There is no place like the beach… where the land meets the sea and the sea meets the sky. – Umair Siddiqui
I could taste the salt on her lips, each kiss like a summer wave breaking on an empty beach. – Michael Faudet
In the morning there was a big wind blowing and the waves were running high up on the beach and he was awake a long time before he remembered that his heart was broken. – Ernest Hemingway
One cannot collect all the beautiful shells on the beach. – Anne Morrow Lindbergh
It's only the sea,' said Moomintroll. 'Every wave that dies on the beach sings a little song to a shell. But you mustn't go inside because it's a labyrinth and you may never come out again.' – Tove Jansson
This time of year, I live and breathe the beach. – Maggie Stiefvater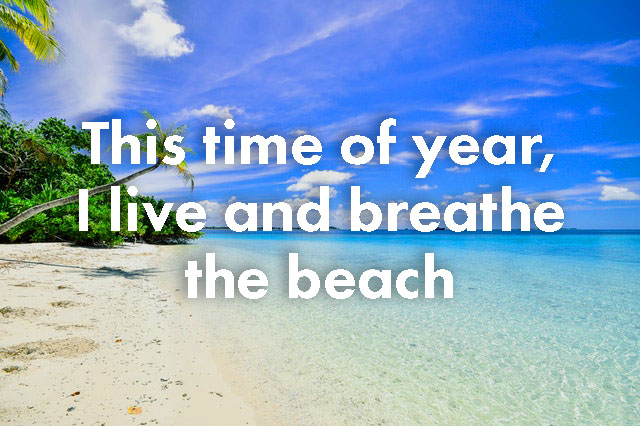 Every time we walk along a beach some ancient urge disturbs us so that we find ourselves shedding shoes and garments or scavenging among seaweed and whitened timbers like the homesick refugees of a long war. – Loren Eiseley
I bought salvation from a man on the street. He said, "Go down to the beach and let the waves wash your feet. – Gabriel Rheaume
The beach is not a place to work; to read, write or to think. – Anne Morrow Lindbergh
On these magic shores children at play are for ever beaching their coracles. We too have been there; we can still hear the sound of the surf, though we shall land no more. – J.M. Barrie
A kiss on the beach when there is a full moon is the closest thing to heaven. – H. Jackson Brown Jr.
In every outthrust headland, in every curving beach, in every grain of sand there is the story of the earth. – Rachel Carson
When you walk on the beach at night, you can say things you can't say in real life. – Jenny Han
This is how the entire course of a life can be changed: by doing nothing. – Ian McEwan
I have the world's largest collection of sea shells. I keep it scattered on beaches all over the world. Maybe you've seen some of it. – Steven Wright
To myself I am only a child playing on the beach, while vast oceans of truth lie undiscovered before me. – Isaac Newton
***
Some people simply don't like the beach, and you'll likely find that no matter how witty, hilarious, or unique your captions are that they'll be won over by the sun and surf. Hopefully your images, combined with the captions we've shared above, help to get your friends out to the beach a bit more often, even if it takes some persistence and persuasion on your part to get them there. Remember, the beach is a place of love, joy, happiness, and above all, warmth, so have an excellent time while working on your tan and remember not to let the stresses of everyday life bring you down.
See a caption you really like, or do you have a personal beach favorite? Let us know in the comments below, and check back regularly for updates with more of our favorite beach captions!
We've got lots of other caption options for your Instagram needs!
Visiting Texas? We've got Instagram captions for Texas!
There's nothing more beautiful than a waterfall – so be sure to look at our captions for waterfalls!
Memorial Day inspires a lot of great photographs – here's our list of Memorial Day captions to go with them!
When you're rocking a concert, you don't have to time to write captions, so we've got a list of captions for concerts.
Let the animal inside out and visit the zoo – and be sure to use our list of Instagram captions for the zoo!