Managing your social media presence has, for billions of people around the world, become a part of everyday life. Snapchat, Facebook, Instagram, and Twitter have all become platforms to communicate messages and thoughts, create movements, and share a part of the world around you. Photos, videos, text, captions, and posts—all of it works together to promote your thoughts, messages, and ideas across a wide spectrum of mediums. In the digital age, social connections have never been more important. These networks are all used to provoke change, push ideas and movements, break news as it happens, and send information across a variety of spectrums.
But social media's also a place where jokes and memes are born, friendships flourish, and media connections become real. Lots of individuals have a group of people they only know through social media online, be it a friendship made through collective fandom, similar interests, or through gaming, and those digital friendships can often turn real, and vice versa. The internet, and social networks in particular, have helped make long-distance friendships a bit more personal in a lot of ways. While some may decry the movement of "real-world" hangouts and meetups to the internet, others—those of us who have grown up and matured in a digital age—recognize social media and the internet for what it is: a tool for us to connect to our friends, family, girlfriends, boyfriends, anyone anywhere, no matter who or where they are. And there's something truly magical about that.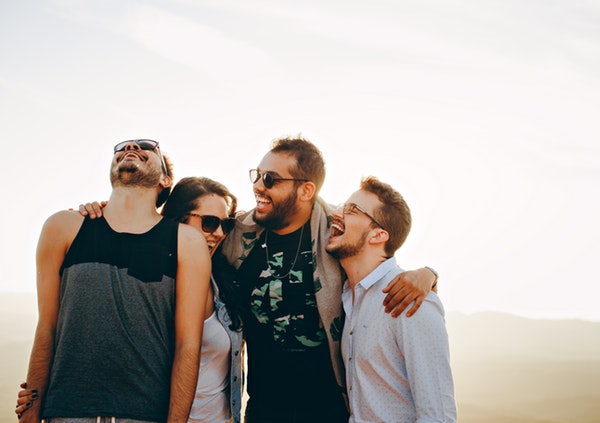 Part of that digital world is the usage of captions, hashtags and quotes, adding to posts and images created and displayed on social media. Sharing a photo on Instagram, Twitter, or Snapchat isn't enough—you have to add that distinct flavor that a caption can only create. After all, while a photo might be worth a thousand words, words themselves can add context and connotation to entirely change the meaning and message of an image. Clever comments, quotes and captions are what makes it easy to capture your audience's attention, not to mention their adoration. And while it can be easy enough to come up with your own quirky hashtags or captions, there are days where you may not feel especially brilliant or funny. And for that, we've got some inspiration for you.
We've come up with and found some ideas, posts, and quotes for captioning photos of you and your closest girlfriends. These are some of our favorite and iconic quotes for making your social posts feel a bit more alive. So when you aren't Instagramming your pet, your food, or your selfies, and you're sharing photos of your closest friends, we've got some great ideas for you.
A quick note: these quotes are great to use as captions to post with your photos. If you're going to use hashtags, those should be shorter than these quotes. Trying to fit a whole sentence into a hashtag makes it #almostimpossibletoread. It's better to choose one or two-word hashtags instead of these longer quotes, or add a short hashtag after the quotes listed below. For example, along with a photo of you and your friend, you could add the caption, "One friend can change your whole life. #bestie."
Go ahead and check out these captions and quotes touching on many levels of friendship. You're sure to find one or more that speaks to you. We've also got a few more lists of captions for other occasions.
Captioning Your Best Friends
No Instagram profile is complete without some photos of your friends, and if you happen to hang out or even share an apartment with your bestie, you're likely posting photos of them all the time. If you're looking for some great captions for your best friends, these are cute and appreciative all at once! Check them out.
A girl can survive without a boyfriend, but she can't survive without a best friend. (Try changing the genders as needed!)
One friend can change your whole life. I know (name) did.
When it hurts to look back and you're afraid to look ahead, you can look beside you and your best friend will be there.
You are my best friend, my human diary, and my other half. You mean the world to me and I love you.
Best friends believe in you when you don't believe in yourself.
God made us best friends because he knew our moms couldn't handle us as sisters.
A good friend knows all your stories. A best friend helped you write them.
Sometimes being with your best friend is all the therapy you need.
When I say I won't tell anyone, my best friend doesn't count.
You are my best friend because I wouldn't dare be this weird with anyone else.
A best friend is someone who loves you when you forget to love yourself.
Friends come and go. Best friends will always find their way back.
Best friends are the people in your life that make you laugh louder, smile brighter, and live better.
Best friends are the people you can do anything and nothing with and still have the best time.
Best friend: one million memories, ten thousand inside jokes, one hundred shared secrets.
Best friends are those who share your problems so you don't have to go through them alone.
A best friend is like a four-leafed clover: hard to find and lucky to have.
Friends listen to what you say. Best friends listen to what you don't say.
A true friend is one soul in two bodies.
In my friends, I find my second half.
Strangers think I'm quiet, my friends think I'm outgoing, but my best friends know that I'm completely insane.
Every girl needs a boy best friend.
Throughout life, you'll find one person who is unlike any other. You could talk to this person for hours and never get bored. You could tell them things, and they won't judge you. This person is your soul mate, your best friend. Don't ever let them go.
Real friends don't get offended when you insult them. They smile and insult you right back.
Things are never quite as scary when you have a best friend.
Best friends are the ones you can only be mad at for so long because you have important things to tell them.
Everything changes and nothing stays the same, but as we grow up, one thing does remain: I was with you before and will be until the end.
People say best friends are hard to find; that's because the best one is already mine.
The only way to have a best friend is to be one.
Friends never ask for food. Best friends are the reason you have no food.
Best friends are people you know you don't need to talk to every single day—but when you do talk again it's like you'd never stopped.
Looking for a Bit More Humor?
Unlike Facebook, which seems focused on the mundanities of life, and Twitter, which devolves into fights surrounding politics, video games, and other nonsense, Instagram happens to be one of the most fun communities online today. Humor goes a long way in that, making your posts feel a lot more relatable, so if you're looking to liven up the community, check out some of these funny and sarcastic captions to match both your personality and the personalities of your friends. Take a look!
When my best friend and I first met, we were both like, "You're really weird."
Your vibe attracts your tribe.
We go together like drunk and disorderly.
Having those weird conversations with your friend and thinking, If anyone heard us, we'd be in a mental hospital.
Friends knock on the door. Best friends walk into your house and start eating.
A good friend knows how you take your coffee. A great friend adds booze.
We all have that one friend who never learned how to whisper.
Finding friends with the same mental disorder: priceless!
I hope we're friends until we die. Then, I hope we stay ghost friends so we can walk through walls and scare the crap out of people together.
We will always be best friends, until we are old and senile. Then we can be new friends.
Just remember, if we get caught, you're deaf and I don't speak English.
Our phones fall, we panic. Our friends fall, we laugh.
Friendship is finding that special someone you can enjoy being a dumbass with.
We'll be the old ladies causing trouble in the nursing home.
Friends don't let friends do silly things alone.
We're more than friends. We're like a really small gang.
If I send you my ugly selfies, our friendship is real.
I'll even send you the photos I look bad in
Life is too short to be serious all the time. So, if you can't laugh at yourself, call me—I'll laugh at you.
Never let your friends feel lonely… disturb them all the time.
You drink too much. You cuss too much. You have questionable morals. You're everything I ever wanted in a friend.
True friends don't judge each other. They judge other people together.
Best friends don't care if your house is clean. They care if you have wine.
I'd take a nerf bullet for you.
Friends are like condoms, they protect you when things get hard.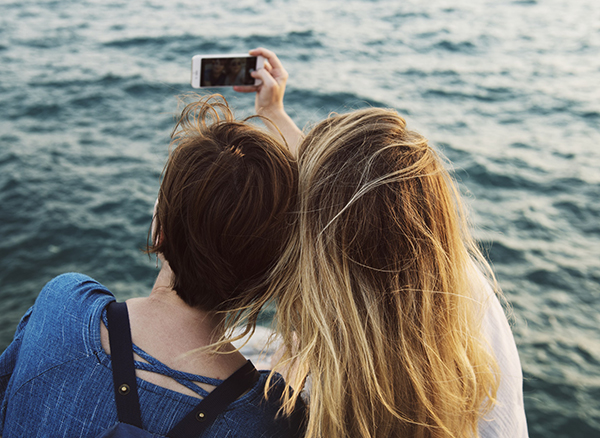 Friends come and go like waves of the ocean, but the true ones stick like an octopus on your face.
You say I'm dirty-minded, but how did you understand what I meant?
Besides chocolate, you're my favorite.
Real friendship is when your friend comes over to your house just take a nap.
I love that I don't have to act socially acceptable around you.
I'd take a bullet for you—not in the head, but like, the leg or something.
No one will ever be as entertained by us as us.
You had me at "I hate that bitch too."
If you aren't somewhat crazy in the head, I'm afraid we can't be friends.
I really love the things that you do; you're my best friend.
All you need is someone that joins in on your weirdness.
You're my Nemo. If you get lost in the great, big ocean, I'll find you.
Celebrating True Friendship
If you're taking photos with the people who stand by you all through your life, no matter what comes your way, you're going to want to celebrate that friendship with a great caption. While simplicity might go a long way, and humor can define a friendship, sometimes being deep and tender can really bring some weight to your Instagram post. Here are some sentimental sayings to use when you know you're hanging out with your true friend.
I appreciate the ones who are there at all times, not just when it's convenient.
You want to know who your true friends are? Screw up and see who's still there.
You know who your real friends are when you pull away from them and see who wonders why you are pulling away.
Some people talk to you in their free time and some people free their time to talk to you.
It's not about who's real to your face, it's about who stays real behind your back.
You might not always be next to me, but I know you'll always have my back.
You'll know the people who feed your soul because you'll feel good after spending time with them.
As we grow up, we realize it's less important to have a ton of friends and more important to have real ones.
Hard times will always reveal true friends.
And 'til the end, you're my very best friend.
Our friends are the family we chose.
Our friendship knows no distance.
My true valentine isn't my lover, but the person always right next to me.
Real isn't who's with you at your celebration; real is who's standing next to you at rock bottom.
The only people I owe my loyalty to are those who never made me question theirs.
You should never have to think twice about who your real friends are.
Fake friends believe in rumors; real friends believe in you.
If you don't own matching shirts, are you really friends?
This is the person on this earth I will do anything to protect.
If someone seriously wants to be part of your life, they will make an effort to be in it. No reasons. No excuses.
I'm not going to tell you to get over it. I'm going to help you get through it.
The most memorable people in life will be the friends who loved you when you weren't very lovable.
F.R.I.E.N.D.S: Fight for you. Respect you. Include you. Encourage you. Need you. Deserve you. Stand by you.
A friend is one who overlooks your broken fence and admires the flowers in your garden.
Friendship isn't about who you've known the longest; it's about who walked into your life, said, "I'm here for you," and proved it.
There comes a time when you have to stop crossing oceans for people who wouldn't jump puddles for you.
I don't have time for part-time people in my life.

No new friends, no new friends.
Lots of people misunderstand this word "friend;" it's a person who actually cares about you, not the things you've got or the things you can do for them.
They are not your friends until they have defended you in your absence.
Truly blessed by my best friend(s).
The one who doesn't tell you what you want to hear but tells you what you need to hear… keep that.
A real friend is like an angel who warms you by her presence and remembers you in her prayers.
Be with those who bring out the best, not the stress, in you.
A friend is someone who can see the truth and pain in you, even when you're fooling everyone else.
Friends don't leave their friends for other people.
From childhood to our twenties, one person has always been there.
No matter how big the crowd, I'll always be able to find you.
Real friends don't tell you pretty lies. They tell you the ugly truth.
"A friend is a gift you give yourself." 
Side by side or miles apart, real friends are always close to the heart.
Don't lie to people who trust you and don't trust people who lie to you. Simple as that.
Friends pick us up when we fall down, and if they can't pick us up they lie down and listen for a while.
Real friends get respected, treated, and loved like family.
Frankly, I can't imagine not being around someone as amazing as you.
It's the friends you can call at 4 a.m. that matter.
Lucky and loved.
When I first met you, I honestly didn't know you were going to be this important to me.
Nothing could ever replace my best friend.
True friendship is not about being inseparable—it is being separated and finding nothing changes.
Only trust someone who can see these three things: the sorrow behind your smile, the love behind your anger, and the reason behind your silence.
Time and good friends are two things that become more valuable the older you get.
Good friends show their love in times of trouble, not just in times of happiness.
Friendship isn't a big thing, it's a million little things.
Someday, you'll need some support in your life, and I promise I'll be right by your side.
Friends until the very end—and then some.
You drive me crazy, but I love it.
If they won't defend you at your worst and laugh with you at your best, they aren't your best friend.
Friendship is born when two people discover they aren't alone in the world.
So that's it—125 ideas to caption your photos of you and your friends on Instagram (or any other social media you choose). We hope this list is a useful resource for you when you're at a loss for words, or that it can spark some quotes and captions of your own! Be creative and bring your own personality and style to your photo captions!