The relationship between siblings is special and it is blessed by God. Siblings have a special bond as they share the same family, the same home and the same childhood. Even when years pass, they stay a reminder of happy and carefree days for each other. As children, they build up common dreams and as adults, they fulfill them together. When it comes to secrets, siblings are the first people for each other they can confide in. They will always be supportive, caring, understanding and regardless the flaws and merits, they will continue to love each other.
However, life with brothers and sisters is not a bed of roses. It may be annoying, frustrating, jealous and furious. But when you hurt each other, you will forgive each other and repair your relationship easily because you mean the world to each other.
So, if you go through tough times with your brother or sister, or if you share exciting and sentimental moments, let him or her know how important he or she is for you. Send sibling love quotes to express your love, funny quotes about siblings to cheer your brother or sister up, cute sibling quotes to make your relative smile or Bible quotes to remind each other that it is necessary to be loving, compassionate, forgiving and understanding.
These quotes will help you not to forget how happy and lucky you are to have each other in life.
Sibling Love Quotes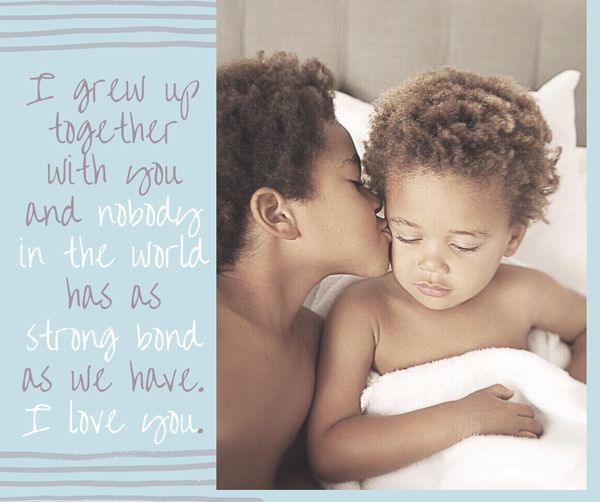 If you are lucky to have a brother or a sister, or both, you know what it's like to love each other more than anyone else and be mad at this person because of some silly quarrel. That's basically everything you need to know about love between siblings, because you'll find more in the following quotes:
I grew up together with you and nobody in the world has as strong bond as we have. I love you.
I thank God that He has given you to me as my sibling and as my best friend.
Since childhood, you've been my partner in crime, my closest person, who has known everything about me. Years have passed, but nothing has changed.
Thanks for being an indispensable part of our tightly-knit family. You taught me so many things. I can't be grateful enough for it. I love you.
I love you, my most supportive and understanding brother! Everything I have in life, I want to share with you.
You've been chosen by fate to be my sibling, but you've been chosen by my heart to be my best friend. I love you.
You are the most loyal, dependable, and honest person I've ever known. I am happy to call you my brother.
You are my amazing sister. I feel more powerful and confident because you are near. I love you.
I know that whatever happens in this stormy sea of life, you will always get my back. I love you.
There are no more similar people in the world than we are. If related souls do exist, then my soul is you.
Siblings are very important people in our lives. They teach us fairness, loyalty, and cooperation. Thank you for being my teacher, I love you.
Since our childhood, we shared the same dreams and created the same memories. When we grew up, we fulfilled all our dreams. I love you.
You are the closest person to me, who is my brother, my partner, my best friend. I love you.
You've been always my protector, my big brother, who was with me through ups and downs. I love you with all my heart.
You are unique as only with you I can be equally smart and stupid, you are one of the closest people, with whom I can be myself.
If I were to choose: to be your sister or the princess, I would choose to be your sister. It is the greatest happiness for me.
You are not only my brother, you are a superhero, who turned my life into a fairytale. I love you.
You always support me and never envy. We go hand in hand in life and I am sure that it will last forever.
We have the same family, the same blood, the same habits, and aspirations. But what is more important, we have the same strength of our love for each other.
With you, I feel great and comfortable. We can just sit, keep silent and understand each other better than those people, who talk all the time.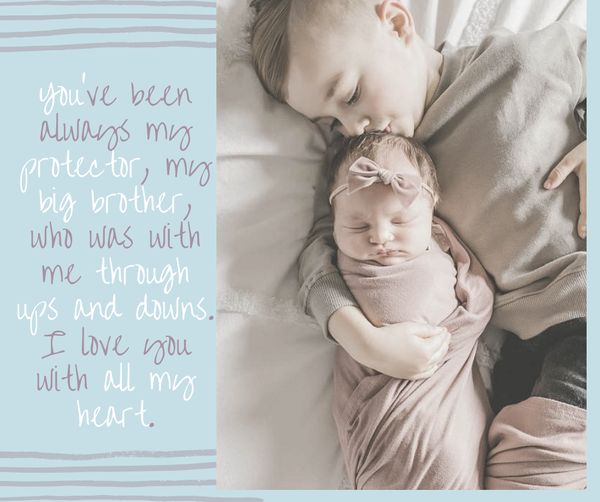 Brother and Sister Quotes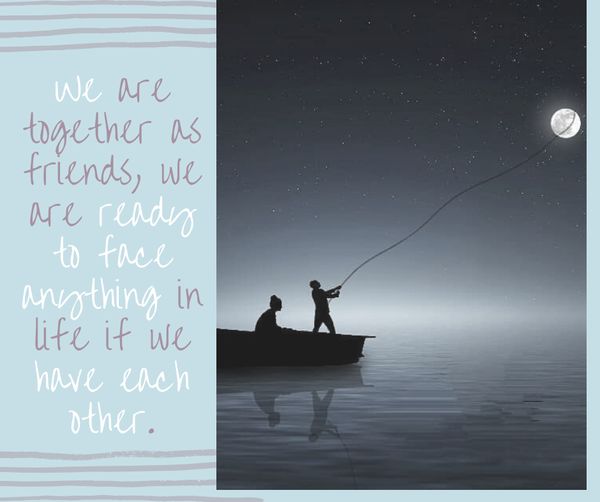 Even when it seems like brother and sister hate each other, it's not like that at all. Yes, they may not talk for days, they may make fun of each other, they may even play pranks on each other, but sooner or later there'll be only love.
We are together as friends, we are ready to face anything in life if we have each other.
You are my favorite brother, my role model. The lessons you've given to me are priceless. Thanks for being so supportive.
You are the only person, with whom I want to watch the sunset and dance under the rain. Love you, brother!
We were meant to be joined by blood, but we chose to be joined by love.
Dear sister, even if we argue, scream, and fight, still I love you and I always will.
You are a true sister, who will always support me and listen with the whole heart. Thank you for being there for me.
You know, I can endure everything in life. I can fight, overcome obstacles, grow and succeed. All I need is you by my side.
When I was younger, I didn't realize how lucky we were because we had each other. Now I value every moment, spent with you.
Secrets, tears, and giggles – we all share together and I am happy that I have such a wonderful brother.
You are not only my sister, you are my angel, who can make me laugh even if I want to cry.
Our life is a garden, which is full both of flowers and weeds. But in my garden of life, you are the most beautiful flower.
We share more than just an emotional bond, we will always have the piece of childhood for each other.
We have one heart, one soul and one memory for two. I love you very much.
Thank you for being an amazing sister. You are the only person, who can reach my hand and touch my heart.
I am the happiest brother on Earth because I have a sister, who knows all my secrets and loves me anyway.
In this chaotic and hectic life, you will always remain my nest and my quiet harbor. I love you to the moon and back.
You are my little sister. You know how to tease me, annoy me, and criticize me. But also, you know how to make me laugh and smile.
You are a unique woman. You can bring out the best in me and you see the positive anywhere. I am proud to call you my sister.
It doesn't matter how far we go and how different we become, we will always need each other.
You understand me without words and support me no matter what. Thank you for being always near.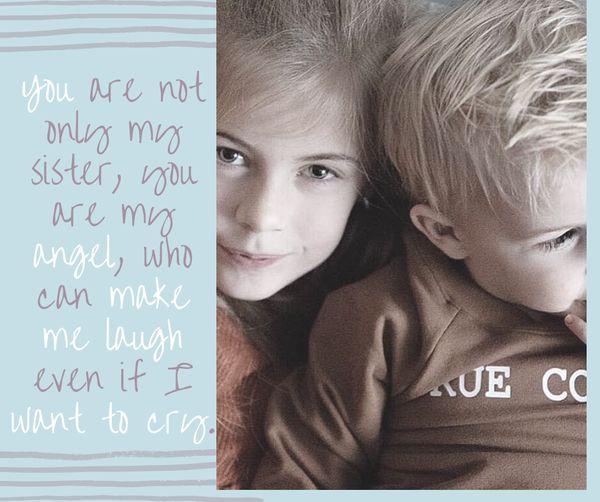 Funny Quotes about Siblings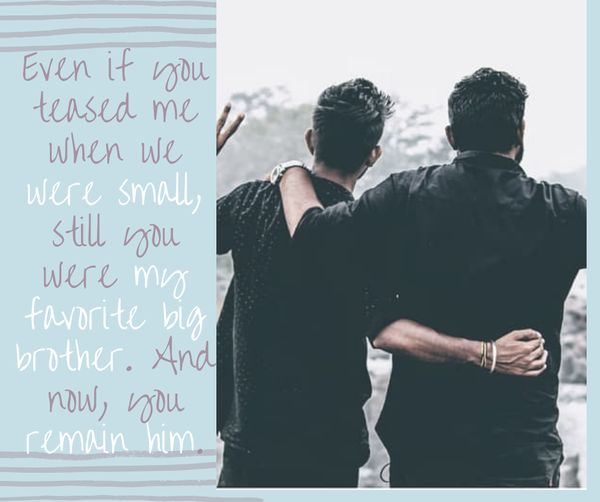 In case you want to read interesting quotes which emphasize the funny side of brother-sister relationship, the hilarious quotes about siblings are already waiting for you below:
Even if you teased me when we were small, still you were my favorite big brother. And now, you remain him.
When people say I am crazy, I tell them to go and see my brother, then they decide that I am completely sane.
Sometimes I think that we have different mothers because you may be crazy,  but I love you the way you are and I don't want to change anything about you.
It is said that brothers and sisters are God's presents. Looking at you, I can say that you are a great surprise.
You are my brother. I love the little boy, who lives inside you. The boy, who annoys me constantly.
You are not Santa Claus, but you know all the moments when I was good and bad.
You are my friend to the spirit, with you I can do silly things without being ashamed. I love you!
When I was five, I did not want to have a younger brother, but now I'm immensely happy because I have you in my life.
You are the person, with whom I do not only argue and fight but with whom I build common dreams.
Love is forgiving, immense, and all-consuming. My love for you has no limits and considering your behavior, my patience is also limitless.
Darling, you get older every year. But it doesn't matter how old you are, I will always protect you from the rest of the world.
Even if we argue often, I can't be without you. You are the part of my life and the part of my soul.
Sometimes I want to pull out your hair but most of the time I love you and cherish you.
You are not only my brother by blood. You are the person, who can catch me when I fall. But you do it only when you stop laughing.
I love that we have our own language. We use frowns, winks, smiles and snarls instead of words and that's wonderful.
You are the craziest person I've ever seen, but if you were normal, my life would be dull then. I just love you with all your merits and weirdness.
Only you know my flaw to add exaggerations to the stories I usually tell. But you will never show that you know this secret. I love you for this.
Today I love you more than yesterday because yesterday you got on my nerves.
I can always count on you when it comes to mischief. You are a perfect partner!
People say that sisters are the crabgrass in the lawn of life. But you are a beautiful flower in my lawn of life.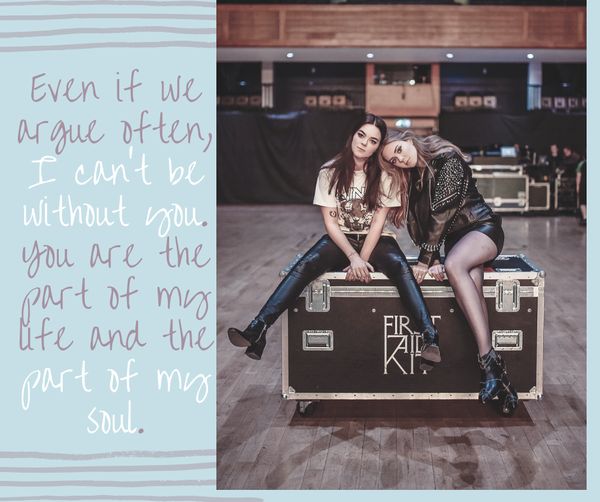 Quotes about Brothers and Sisters Bond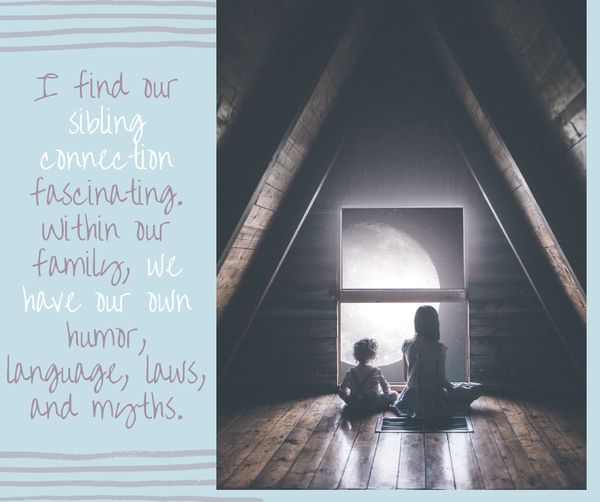 We aren't going to argue the fact that there are brothers and sisters who can't stand each other's company. But in most cases, the bond which they have is something special. Apart from sharing same genes, brother and sister are close friends who love and support one another throughout their lives.
I find our sibling connection fascinating. Within our family, we have our own humor, language, laws, and myths.
With you, we share the most amazing part of our life – childhood and it can never be lost.
Our bond is unbreakable and I am happy because this is true. But I smile because you can do nothing about it.
You are not only my sister, you are my friend, who knows my flaws and advantages and who is always on my side.
Even if we are separated by distance, our bond remains as strong as usual because we are connected by love.
Words can hardly describe what I feel for you. You are my sister, my best friend, and my honest critic. I love you!
I am happy to have the older brother. Sometimes you act like a father, care like a mother, support like a best friend and irritate like a sister.
Sister, you are incredible. For me, you will always be my best friend and the second mother.
My dear, I don't have a superhero because I have such an awesome brother like you.
God gave me you because He knew that I needed the best friend for the rest of my life.
I am so happy and proud to be your sister. If I could choose the brother, I would choose you.
I've received many gifts in life. But the most precious and important gift our parents have given to me. They gave me you.
In our life, we can have different paths, but one thing I know for sure – we will always have a strong bond between us.
You always support and help me. You can read my mind, look at my heart and hear my soul.
There's no stronger love than the love for a brother. For me, you are the most important person.
Nothing and nobody will stop me from loving you, respecting you, and helping you. Our bond is special.
You are not only my sister, you are my soulmate, the person, I can count on in any situation.
My brother is the luckiest man because he has the coolest sister! I love you.
We are connected by blood, by heart, and by the soul. You mean the world to me, I love you.
Growing up with you was wonderful and I can't wait for opening new facets of this life together with you.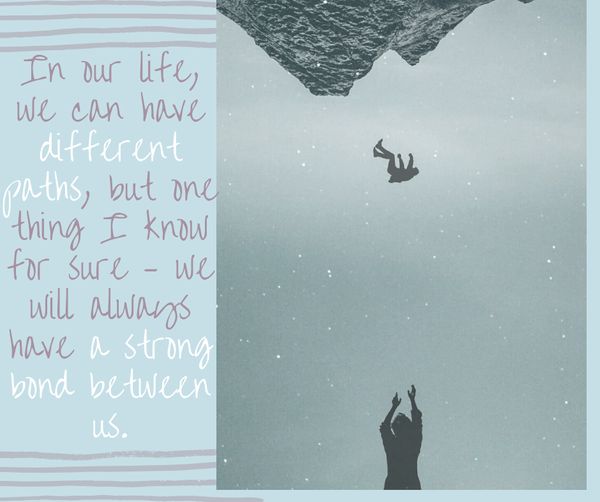 Cute Sibling Quotes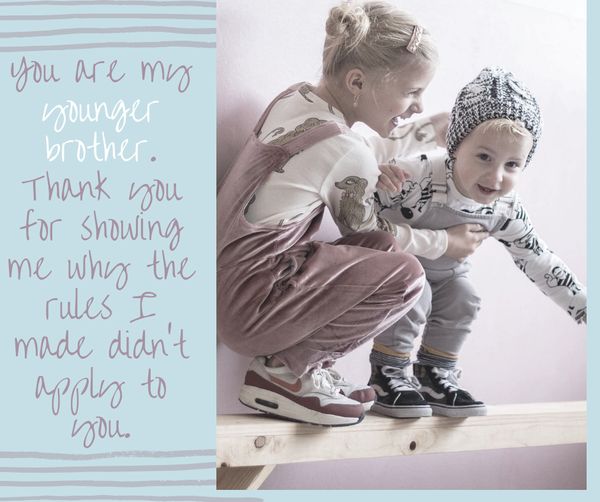 Every family has its own jokes, traditions, embarrassing stories to tell every Thanksgiving Day and, of course, sweet memories which every family member cherish more than anything. We are sure that the next cute quotes about siblings will make you want to call your bro or sis and tell him/her how much you love them.
I am proud to call you my brother. When I was little, I looked up to you and I am happy that I managed to become as responsible and honest as you are.
You are not only my brother, you are my best friend, who saw me crying, laughing, but who was always with me.
Blood made us related but only loyalty, respect and love for each other made us a family.
You are my younger brother. Thank you for showing me why the rules I made didn't apply to you.
Your simplicity, sincerity, openness, and honesty have always fascinated me. When we are together, you make me better. Thank you for that, dear sister.
Even though we grew up and went in separate directions, I want you to know that I will always take your side no matter what.
We will overcome all obstacles and fulfill all our dreams together. Because when a brother and a sister stand shoulder to shoulder, nobody and nothing will stand a chance against us.
My dear brother, even if you are not with me physically, you are always in my heart.
We are the children of the same parents, but still, I can't understand how I can be so wise and you can be so crazy. I love you, brother.
Other siblings have fought and argued in their childhood, but we always have supported each other and shared the same secrets. I love you with all my heart.
I love to be your little sister as my big brother always does everything for me.
We are united by blood, by heart, by soul and wonderful cords of memory.
We are the same branches of our family tree. Even if we grow in different directions, we will always be connected.
God has given you to me as my sister, but my heart has chosen you as my best friend.
Having you as my brother doesn't mean having a confident buddy only, it means having a soulmate for the rest of your life.
Sister, when we were children, we had a competitive relationship. But I am happy that when we became older, our relationship has become the strongest relationship.
Thank you for being my partner in crime and thank you for taking the blame when we've been caught.
We were born to be sisters, but sisterhood should be cultivated with love and respect. And only then, it remains for the rest of the life.
You have helped me to open new facets of my character. Thanks to you, I became stronger, more self-confident. I love you.
When I look at you, I can't believe how similar we are. Nobody knows me better than you do. You are my other half, my better half, dear sister.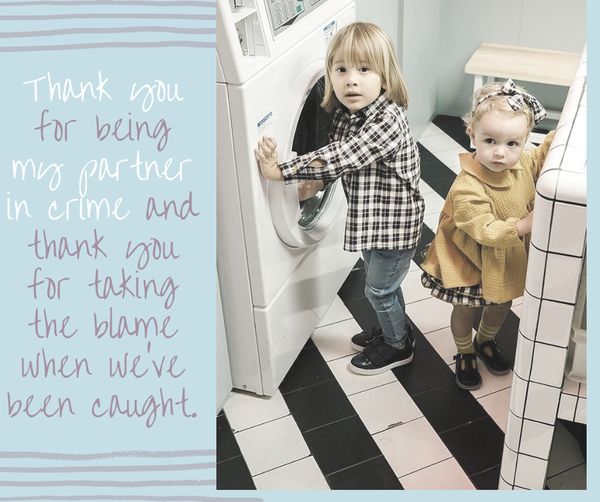 Bible Quotes about Sibling Rivalry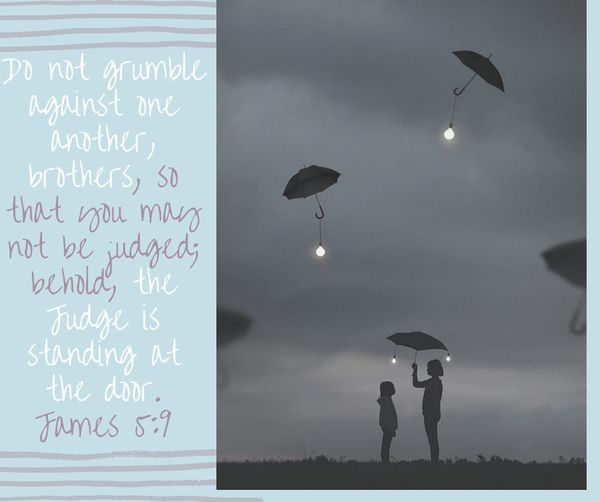 According to the Bible, the first ever siblings are Cain and Abel, the sons of Adam and Eva. Since that time the rivalry between siblings has become one of the top topics for different artists, writers and philosophers. But the Book of Genesis isn't the only part of the Bible where relationships between brothers and sisters were mentioned. Keep reading and you'll find more.
Love is patient and kind; love does not envy or boast; it is not arrogant or rude. It does not insist on its own way; it is not irritable or resentful; it does not rejoice at wrongdoing, but rejoices with the truth. 1 Corinthians 13:4-6
What causes quarrels and what causes fights among you? Is it not this, that your passions are at war within you? James 4:1
Show proper respect to everyone, love the family of believers, fear God, honor the emperor. 1 Peter 2:17
Do not grumble against one another, brothers, so that you may not be judged; behold, the Judge is standing at the door. James 5:9
Be kind to one another, tender-hearted, forgiving each other, just as God in Christ also has forgiven you. Ephesians 4:32
And above all things have fervent charity among yourselves: for charity shall cover the multitude of sins. 1 Peter 4:8
Sibling rivalry is inevitable because all men inherited a corrupt sin nature (Psa. 51: 5)
If anyone says, "I love God," and hates his brother, he is a liar; for he who does not love his brother whom he has seen cannot love God whom he has not seen. 1 John 4:20
If possible, so far as it depends on you, live peaceably with all. Romans 12:18
See that no one repays anyone evil for evil, but always seek to do good to one another and to everyone. 1 Thessalonians 5:15
Above all, keep loving one another earnestly, since love covers a multitude of sins. 1 Peter 4:8
A Song of Ascents. Of David. Behold, how good and pleasant it is when brothers dwell in unity! Psalm 133:1
But if you have bitter jealousy and selfish ambition in your hearts, do not boast and be false to the truth. This is not the wisdom that comes down from above but is earthly, unspiritual, demonic. James 3:14-15
For where jealousy and selfish ambition exist, there will be disorder and every vile practice. James 3:16
Count it all joy, my brothers, when you meet trials of various kinds, for you know that the testing of your faith produces steadfastness. James 1:2-3
Everyone who hates his brother is a murderer, and you know that no murderer has eternal life abiding in him. 1 John 3:15
A soft answer turns away wrath, but a harsh word stirs up anger. Proverbs 15:1
Rejoice and be glad, for your reward is great in heaven, for so they persecuted the prophets who were before you. Matthew 5:12
A brother offended is more unyielding than a strong city, and quarreling is like the bars of a castle. Proverbs 18:19
Some indeed preach Christ from envy and rivalry, but others from good will. The latter do it out of love, knowing that I am put here for the defense of the gospel. The former proclaim Christ out of rivalry, not sincerely but thinking to afflict me in my imprisonment. Philippians 1:15-17
Sibling Quotes Pictures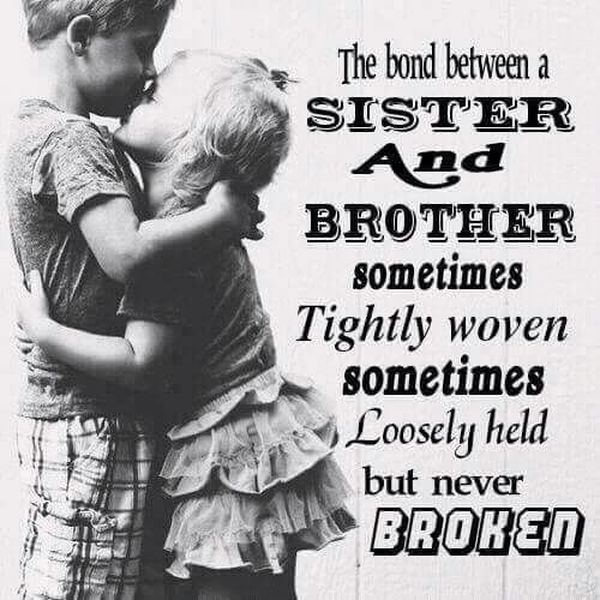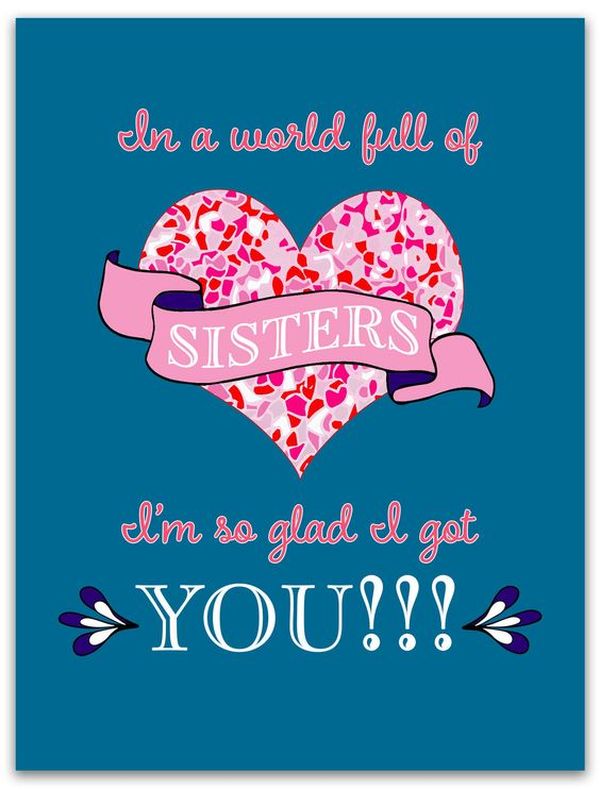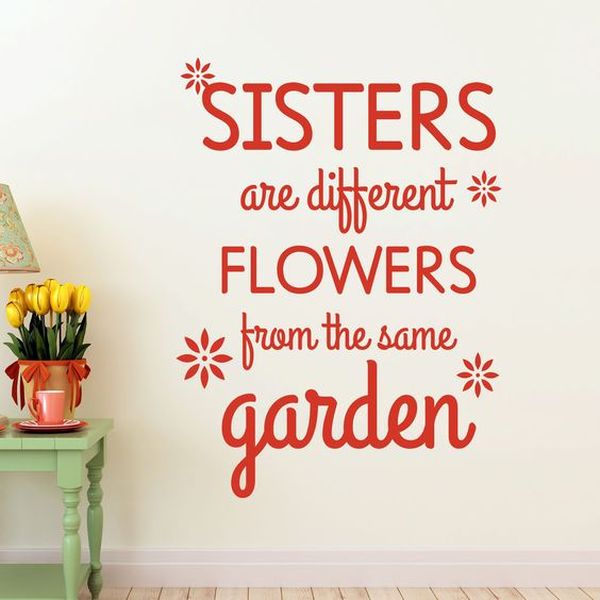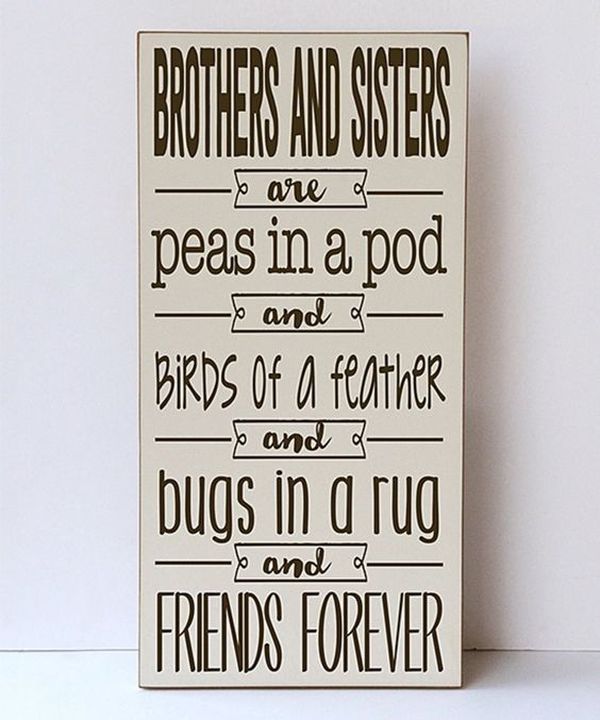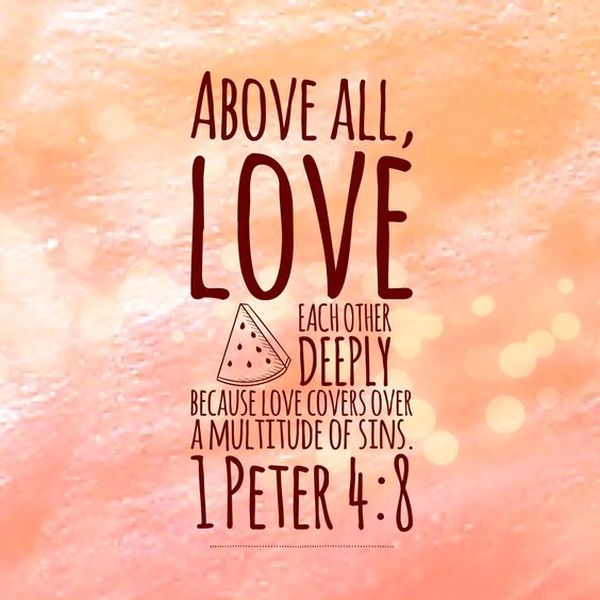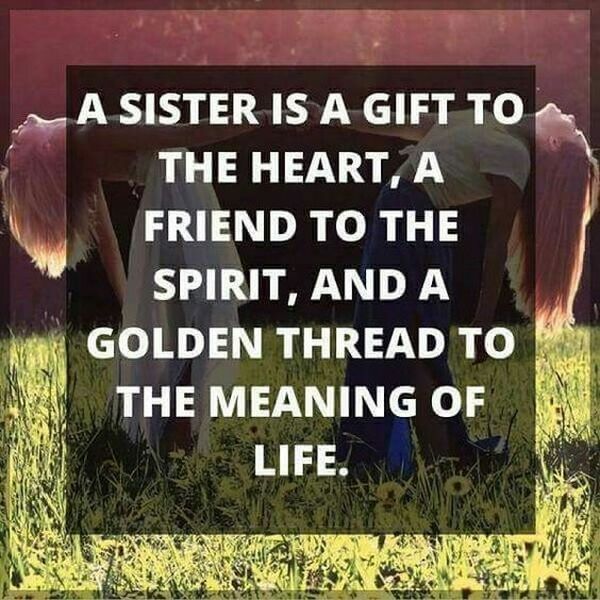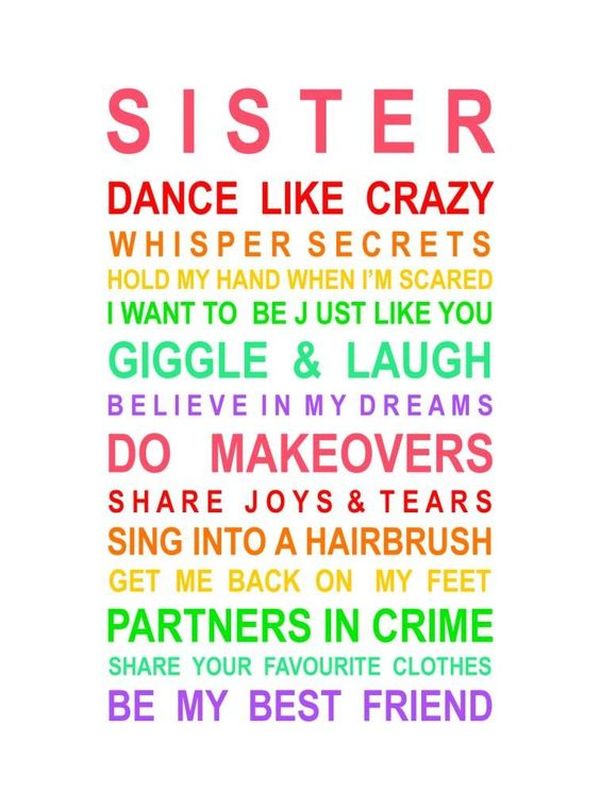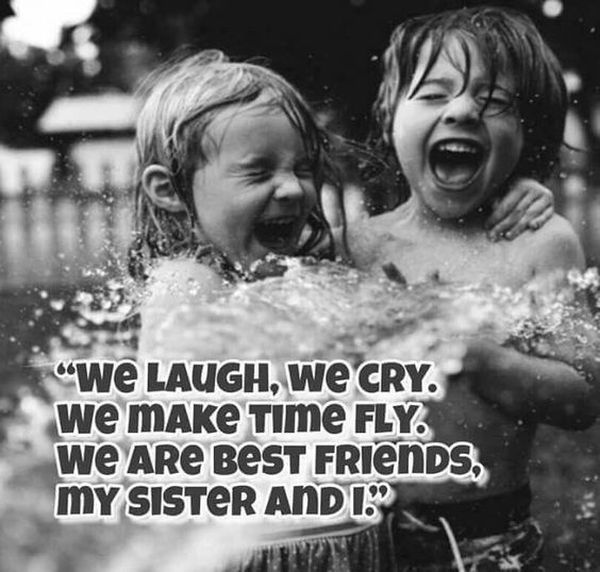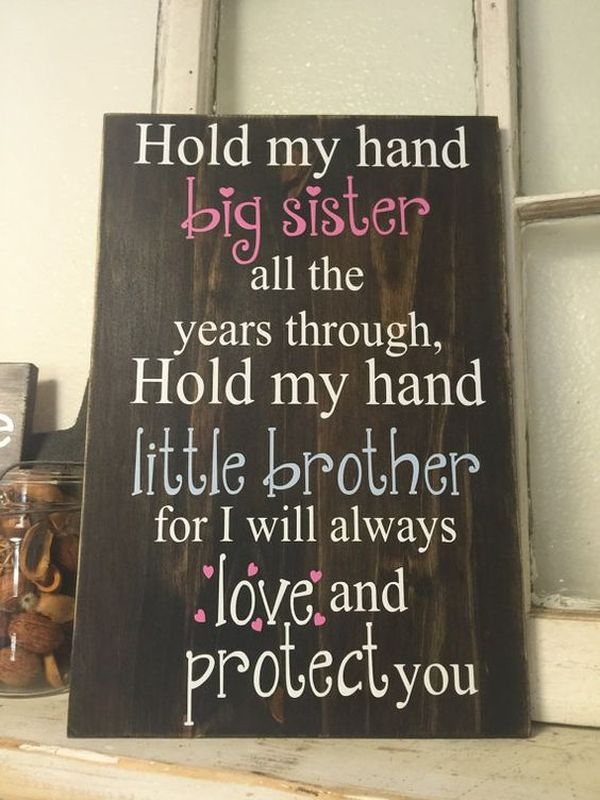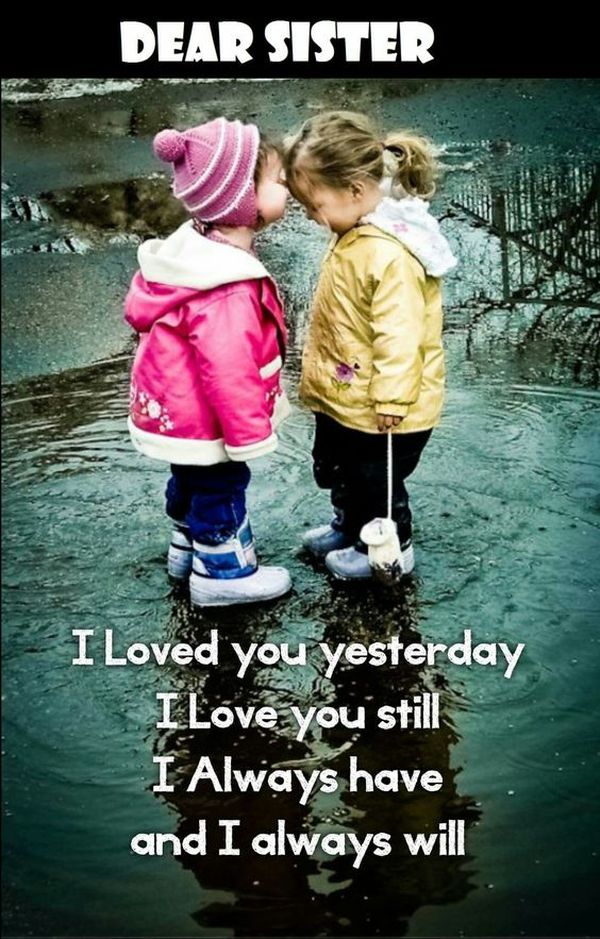 You may also like:
I Love You My Sister Quotes and Images