When it comes to a birthday of someone close we are ready to pull out all the stops just to make sure that this day will be perfect. Am I right? And if it's a husband's B-Day, his woman will move mountains.
Either you have already planned a quiet, romantic dinner in a nice restaurant, just two of you, or invited all his friends to a huge fancy birthday party, you won't do without birthday poems dedicated to the love of your life.
Here's a small tip for you. Start celebration by leaving a lovely birthday card with a heartwarming poem in it next to a bed. This will get your hubby in a right mood from the very beginning of his red-letter day.
You may like to read one of the love poems for a husband on his birthday by heart while having breakfast. Let your mate know that he is loved more than anything.
If your spouse works on his birthday, it's even more important to keep his festive mood in tonus. That's why you can send funny birthday poems for husband or flirty texts during the day.
Save most of the funny birthday poems for husband from the wife for the evening party when all the fun will just begin.
We have collected some amazing 50th B-day card verses for a husband in case your man celebrates this milestone.
All in all, you have plenty of nice poems to choose from if you want to congratulate your husband on his birthday.
Funny and Flirty Birthday Poems for Husband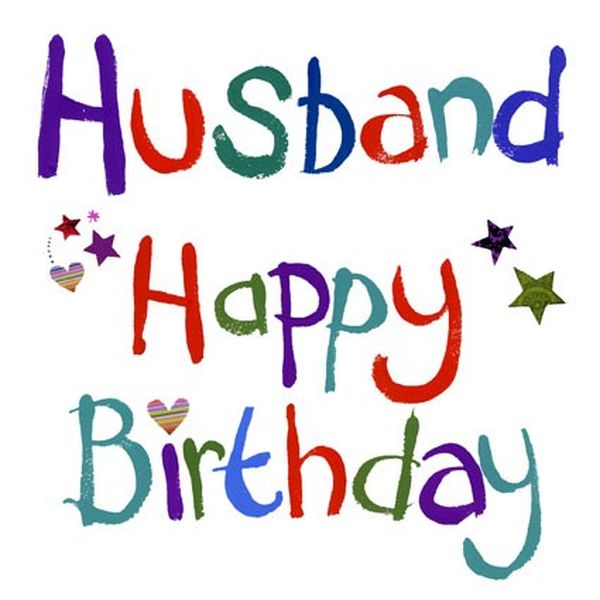 ***
Handsome, charming and hot
Is my hubby who I love a lot
Cool, smart and carefree
Is my husband with whom I want to be
Desirable, stylish and attractive
Is my husband with whom I love to live
Perfect, ideal and flawless
Is my husband, the reason for my happiness
Happy birthday, darling!
***
You're not just the man I love
you are the crazy person with whom
I feel free to be my insane self.
I don't remember being this happy
with anybody else.
On your birthday, let's promise
to make this year, even more fun
I love you so much
***
Your birthday is a sweet day
A day when you cut a sweet cake
A day when you spread your sweet smiles over me
A day when you surprisingly open your gift packs
A day when love my gifts the most
A day when you fulfill my wish
A day you like to escape
A day you never escape
***
You are my prince charming
Like a male hen in farming
You like birthday sweets
I love your way of treat
Mostly you catch boring ideas
I love to convert it in fantastic ideas
Now it's your birthday again
I got a headache and pain
***
I'm glad I married you.
And I bet the kids are, too
Happy Birthday, sweetheart!
***
Hanging out with you is STILL
my FAVORITE place to be.
Happy Birthday
My Darling Husband!
***
This gift is to attest ~
My Husband's
the world's best!
***
From the love of your life,
Happy B'day
To the love of my life
***
My handsome man
My handsome man,
On your special day today,
Many things I want to say,
To start with you have a special role in my life,
And, I feel so blessed to be your wife,
Happy birthday to you!
Have a super day so new!
***
Things untold
Hey, many things untold with you,
You get that gesture and clue,
Because I am connected to you,
From my heart and soul,
You are my destination and my goal
I so love you my hubby dear
Wish you have an amazing day!
Happy birthday!
Nice Birthday Poems for Husband: Best Kind of Birthday Wishes
***
Birthday of Love
Sometimes words do not suffice for me to say
You mean the world to me in every way.
You make my life complete
And without you my strength tends to deplete.
And on your birthday,
I am trying to make it special in every way.
***
An awesome husband like you
Is rare and uncommon
A perfect husband like you
Can be only one
An amazing husband like you
Is unique and exclusive
A wonderful husband like you
Makes life fun to live
To such a husband who is
Perfect in every way
With lots of love I wish
A fabulous birthday!
***
Life with you
It's been long and a beautiful journey with you,
My love for you only grew
All the special moments that we share,
All the secret cares,
I truly love you my hubby dear,
Coz you are my life's only cheer
Happy birthday to you
God bless you!
***
For A Very Special Husband
Hope you have the kind of day
that's filled with favorite things ..
As well as all the happiness
a special Birthday brings.
Enjoy Your Day
***
Birthday of Memories
As we walk this life together,
I pray for our love to be forever.
You give me the strength and support,
Right from the day we began to court.
Life with you is worth every second,
My love on your birthday beautiful memories I reckoned.
***
You fill my life with love
understanding and tenderness
and it means so much to share
all these things with you.
You're a wonderful Husband and
I love you, more than words can say.
***
World Class Gift
Your birthday is like a world-class gift,
Because you give me such a lift.
Sweet and tender, funny, too.
How could I ever do without you?
Happy birthday, and many more;
Who knows what our lives have in store;
Happiness and lots of fun,
Because my darling, you're the one!
By Joanna Fuchs
***
You are not like other husbands
Average and ordinary
You are above them all
The perfect one for me
For a husband so loving
And so exemplary
Happiness and joy
Is always meant to be
Happy birthday!
***
You are a super star
Happy birthday to my super star,
Be it near or be it far,
You will always stay in my heart,
I love you and will love you,
It was this way right from the start,
So, stay happy my hubby dear,
Have a lovely day ahead!
***
I wish happy birthday for the
Most perfect man I know,
It is you, dear husband,
Whose name on my heart
With love always glow,
You have become my part,
Which is inseparable by any surgery.
Touching Love Poems for Husband on His Birthday
***
You fill my life with love
understanding and tenderness
and it means so much to share
all these things with you.
You're a wonderful Husband and
I love you, more than words can say.
***
Behind every successful man
There's a woman, is what they say
But I want to add a few words
To this saying if I may
This well-known axiom
To a great extent is true
But behind every happy woman
Is a loving and caring husband like you
Happy birthday, darling!
***
Love is a beautiful feeling,
for it is you, giving it.
My heart in never reeling,
for it is you, holding it.
Every day has turned wonderful,
for they are spent with you, my love.
And today is especially colorful,
for it is the birthday of my dove.
Happy birthday!
***
Even Today
Even today, when I look at you,
I feel the butterflies dancing in my tummy.
Even today, when you look at me that particular way,
My heart starts beating twice as fast.
Even today… I would stop writing now, 'cause
I'll give you this note
In the middle of celebrations tonight,
And I want the celebrations to last…
Happy birthday to the savior of my romantic dreams!
***
To My Husband With Love
With lots of loving wishes
for your special day ..
And lots more love, is sent to you
than these, few words can say.
Because you are the person
who will always be ..
Someone who is special
in every way to me.
***
You're someone who deserves
the best that life can ever bring ..
Not just today, but every day
I wish you, that very thing.
I love you, for so many reasons
on your Birthday and every day ..
I wish you all the happiness
you have always given to me.
***
I Love Just You
Hey, birthday love, I think of you
On days both dark and sunny.
You bring me joy in every thought,
My precious, loving honey!
So be my love for all our lives,
And I'll be your love, too;
Each birthday is another chance
To say, "I love just you!"
By Joanna Fuchs
***
Even if the sun refused to shine
Even if romance ran out of rhyme
You would still have my heart
Till the end of time
I Love You! Happy Birthday, honey!
***
I'm sending you this Birthday Wish
Filled with Hugs and Kisses too.
Because there is a special place
Within my heart for you
My darling Husband!
***
Thanks for catching me
whenever I stumbled ..
thanks for giving me the
confidence to walk again ..
BUT more than that ..
Thank you for never
letting me go away
from your sight.
Love you so much sweetie
Happy Birthday!
A Beautiful Poem to My Husband on His Birthday
***
Ode to my Husband on his Birthday
Our life began together,
And we even passed some rough weather.
The love in your eyes and wisdom in your hair,
Is what appeals to me in our little lair.
Your birthday is a yet another time for me to wish,
That we together make quite a dish.
***
My Dream
You are my every dream come true,
My wish granted from high above,
Waking up every morning with you
Is like falling once again in love,
On your birthday, I want to cherish
Memories we've created till now,
As much as I plan to nourish
Our glorious dream to fulfill each vow.
Happy birthday to my husband, who keeps the romance in me alive always.
***
Happy birthday to my passionate,
and ever loving soulmate.
You have bewitched my heart,
from the very first day.
Whereas no other, handsome or smart,
could win me in any way.
Was it your eyes,
that rooted me to your soul?
Or was it your voice,
that makes me alive and whole?
Perhaps it's everything about you,
that makes me feel the way I do!
Happy birthday once again my husband!
***
Happy Birthday Darling
I fondly remember the day we met,
And our love has not seen a dip as yet.
I pray to God for keeping it alive,
For you are the reason I took a dive.
Into a relationship of bond and trust,
Happy birthday hubby, you are the best!
***
May all your wishes come true,
You have done so much for me,
None would ever do,
To God my only plea,
To keep you fit and healthy.
***
The love that is
The quality of love and care
All the things being rare,
How can you be so perfect in life?
Ah! I am so happy to be your wife
So stay blessed my dear,
Spread some cheer,
On this day of yours,
Happy birthday to you!
***
Don't let the passage of time
Change how you have been
Don't let the coming years
Blur the vision you have seen
Don't let the rest of your journey
Slow you down even once
Don't ever dwell on your mistakes
They're a part of life experience
On your birthday I wish you
The best of life yet to come
May your remainder of your
Life's journey be awesome
***
My Darling Husband
I really love you
so much more than
words can ever say ..
And I'm wishing you
with all my heart
a really special day!
You Mean So Much To Me!
***
Hard to find
A truly awesome husband like you is hard to find,
Whenever I try to unwind,
I feel so lucky to have you in my life,
Oh my hubby,
Without you I truly won't survive,
Wish you a very happy birthday!
Stay blessed in life!
***
I hope life has given you
All that you've ever asked from it
For you deserve lots of joy
And happiness to every bit
I hope that you have many more
Dreams and goals in the pipeline
On your birthday I will pray
For your life to turn out just fine
Happy birthday!!
Fantastic Birthday Poem for Husband and Father to Show Your Affection
***
Love is a beautiful feeling,
for it is you, giving it.
My heart in never reeling,
for it is you, holding it.
Every day has turned wonderful,
for they are spent with you, my love.
And today is especially colorful,
for it is the birthday of my dove.
Happy birthday!
***
Whenever Life Gets Hard
Whenever life gets hard and the road gets rough,
My eyes search for you, cause you baby make me tough.
You hold my hand firm, stand by me and show me that you care,
No matter what the case is I know that you'll always be there.
Your presence my love makes my heart feel so very light,
As long as you're there nothing in the world can give me a fright.
I wish you a very Happy Birthday to day sweetheart.
***
Happy birthday to my husband,
who is the reason behind my smile?
You are more precious than a diamond,
and you make my life worthwhile.
Meeting you was the best thing,
that has ever happened to me.
You were my prince, and now the king,
and forever will be!
I will love you,
throughout my life,
and in the hereafter too
***
Glad That You're Mine
Our memories more colorful than springs,
Our togetherness a diamond mine,
You turn moments to precious paintings,
Be it a cup of coffee, be it time we dine,
When you remember the smallest things,
When my smile makes your eyes shine,
I feel like happiness has given me wings,
That I can actually fly and be on cloud nine.
On your birthday, my heart simply sings
Songs of joy, so glad that you're mine.
Happy birthday to the most caring husband
***
With Love Husband On Your Birthday
Special thoughts and the warmest
of wishes just for you ..
There couldn't be a warmer wish
than this one, sent your way ..
May you have, all the pleasures
of a truly perfect day.
Happy Birthday My Love!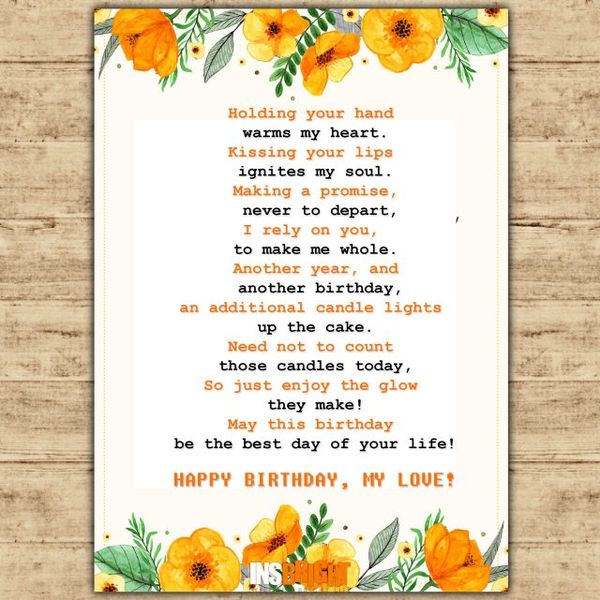 ***
Love for Eternity
You chose me as your wife,
And that's the best thing that has ever happened in my life.
I am with you and I forget about the world,
Your love for me has in many colors unfurled.
Brighter and brighter is our love glowing,
As you step into another year, our relationship is only but growing.
Happy Birthday, My Love…
***
Your Birthday is a happy time
full of things to do ..
But none that I like better
than cuddling up to you!
Happy Birthday with all my Love
***
There is no gift
In this galaxy
Which can encompass
What you mean to me
There is no present
Ever made until now
Which can describe
I love you and how
There are no words
I can use to convey
How well I wish for you
On your birthday!
***
For My Husband
A Birthday Message With Love
Every day I think about
how lucky I must be ..
To have such a wonderful Husband
who means the world to me.
From the first time that we met
you really stole my heart ..
I know our love was meant to be
right from the very start.
Profound Religious Birthday Poems for Husband
***
May God's blessings abound to you
In every little way
May you taste and see His goodness
Every time you kneel to pray
May your day be brightened more
With your Father's loving touch
And may you sense He's with you now
And loves you very much.
By M.S. Lowndes
***
The gift of life is a blessing to be treasured,
You will share your love and joy to others for sure!
Pray hard and work hard for your heart's wish
God will surely hear and grant you the strength for this!
Have a blessed and happy birthday!
***
I don't know whether you are
my better half or the worse one ..
.. but baby all I know is that you are
the half that makes me complete.
When you are around, I don't seem
to need anything else in the world.
Happy Birthday!
May God Bless you abundantly
because a sweetheart
like you deserves the best.
***
A Birthday Prayer for My Love
My Love, I pray the Lord
Will bless your special day;
Your birthday means so very much
To me, in every way.
My Love, I pray the Lord
Will hold you in His arms,
Protecting you and keeping you
Safe from any harms.
My Love, I pray the Lord
Will keep our sacred love
In place, until we reunite
With Him, in heaven above.
By Joanna Fuchs
***
As the angels sing heavenly praises for our God above,
As the dawn touches the Earth with its soft rays,
As another chapter of your life starts anew,
I wish that God will grant you your heart's greatest desire
And your presence endows peace to others as refreshing as the morning dew.
Have a blessed and wonderful birthday!
***
May God's awesome blessings
Be upon you this day
And for the future years ahead,
May His blessings never fade
In every area of your life,
May God abound much more,
So you may be a fruitful vine
With the abundance of the Lord.
By M.S. Lowndes
***
Fill the cup of your heart brimming full with gratitude,
Humbly ask for forgiveness and the chance to start fresh.
The purpose of our life is to bring love and joy to others,
God has trusted you with another chapter to fulfil this test.
Happy blessed birthday to you!
***
May your life be as colourful as Jacob's robe,
May your heart shine bright like the northern star that led the Three Kings to the manger,
May you have the strength of heart like David's when faced with challenges.
Have a blessed birthday!
***
The blessings of God
Are given to you
In the everyday things
That friends say and do
Especially today,
They abound even more
To lighten your heart
As you trust in the Lord.
By M.S. Lowndes
***
Your heart is as strong as steel, I know,
But I wish you more strength to turn it as powerful as titanium.
Your faith is as sturdy as a ship's sail, I know,
But I wish you more devotion to turn it as steady as the waves of the ocean.
Your hope is as bright as a shooting star, I know,
But I wish you more brilliance to turn it as bright as the morning sun.
Have a blessed birthday!
Wonderful Verses to Write in Husband's B-day Card on His 50th Birthday
***
You are so lucky by the way
Every year you wish
One more year
On your every birthday
Now you are going
To celebrate your 50th
Could you wish next 50 years?
All together for your upcoming bd's
So you may pray or your wife too
***
The things we feel the deepest
Are the hardest things to say
But dear husband you must know
How much I love you anyway
And now that it's your 50th
I'm hoping you'll know too
How much I'm wishing happiness
With all my heart for you.
***
You try to do the math to make it work
But you find it's your own leg you jerk
Your age is described as valuable gold
There's no denying you're getting old
You've learned a lot through the years
No time for tears while facing fears
You've aged gracefully and with style
Hoping you stay around a good while
***
Love
One word…
But so many memories.
Happy 50th Birthday!
***
Of all the words that I could find
there are so very few ..
That tell you what I want to say
Like a simple "I Love You"
***
Happy 50th Birthday!
My lovely dear husband,
I can't show my love
How many words I spend
To write a poem, a song,
An epic for you,
My love is so bold, so strong,
That even a thousand lines
Is not enough.
Happy 50th Birthday to You!
***
Make a grand wish today
I'll try to fulfill it in every way
Think of something crazy you want to do
And I will make it happen for you
Imagine the wildest thing possible
I'll do my best to make it achievable
Since it's your birthday honey
I'll do anything that makes you happy!
Enjoyable 50th Birthday!
***
***
Even though you made it to the age of 50
And everyone around you thinks it's nifty
You may not agree that getting older is all so great
You think it would be better if the big 5-0 could wait
***
When I think
When I think about the time spent with you,
I feel so blessed,
Because I am from the lucky few
To have an amazing hubby like you,
So, I just want to confess it to you,
That I truly love you,
Happy birthday hubby dear!
Keep smiling!
Nice Short Happy Birthday Poems for Hubby
***
With Love Husband
Because you are so wonderful
each day, the whole year through ..
My special Birthday message
is simply, "I LOVE YOU".
Just For You With All My Love
***
The Daily Chores Of Life
The daily chores of life, tends to get us so busy,
The tensions we face everyday gets our heads dizzy.
But even amidst all this mess I just want you to know,
Dearest husband I love you more than I may show.
I forget to remind you my darling how much I really care,
Today I want to tell you baby, that I'm always there.
Happy Birthday hubby!
***
Every morning is a feast
To see you wake up beside me
Every afternoon is a treat
To send you texts so cute and flirty
Every evening is a delight
To look forward to a sensuous night
You know there is no need to day
How you make my life worth living every day
Happy birthday!
***
You Make My Life Special
Dearest Husband, not one moment is special without you,
When you are not around me, I'm always sad and blue.
Happy Birthday to you, my beloved,
May your life always shine, be happy and pleasant.
***
Happy birthday to the best husband,
in the whole wide world,
and I would never trade you,
for any amount of silver or gold.
Still, my heart does the flip-flops,
whenever I look at you,
and I will love you for an eternity,
just like you love me too.
May this day shower you
with abundant happiness!
***
Moments of Joy
Moments of joy you've given me
Are pearls of my life's garland.
You've made things so beautiful…
Happy Birthday, dear Husband
***
Thinking of you especially
now your Birthday's here ..
Of how much, you mean to me
throughout, the whole year.
And it's hoping you know one thing
that will be always true ..
There's no one else, in all the world
who loves you, like I do.
Happy Birthday Husband
***
This Birthday wish
comes just for you
to say how much I care ..
To tell you that I'm thankful
for the special love we share.
All my Love, Happy Birthday Darling
***
I draw a circle, not a heart, around you
My husband, the one I love
Because a heart can break
But a circle goes on forever.
Happiness is being married to my best friend!
Creative and Funny Poems on Husband's Birthday from Wife
***
ROCK STAR
By Message Guy
Happy birthday to you!
You live like a rock star,
Singing songs forever sung,
You move like Mick Jagger,
But sound like William Hung.
***
Funny Little Poem
I thought, on your birthday, I should make you aware,
That species of good husbands are getting quite rare.
I've approved you as the perfect specimen:
After all, my husband loves me 24/7!
***
You're Like A Rainbow
No matter how much we fight,
Or don't get to spend together enough time.
I will never be able to explain what you mean to me,
You are like a rainbow coming from a cloud underneath.
Happy Birthday to you my love.
***
This gift of love
Will fit you like a glove!
Happy B'day, Mr. Husband!!
***
Happy birthday!
You may look a little older,
Sadly youth doesn't come cheap,
So skip all those Botox parties,
And just get your beauty sleep.
Be glad you're young at heart,
And still look as good as gold,
Too bad you're not a millionaire,
And can't put your looks on hold.
***
Once again the date has come
Which is so dear to me;
The date which saw the arrival
Of my husband, on the world,
Which he transformed into
A much better place for me,
I wish happy birthday for ye!
***
BIRTHDAYS SUCK
By Message Guy
Roses are red,
Violets are blue,
Birthdays suck,
If they're not for you.
Happy birthday!
***
Oh my hubby dear,
I'll going to make it clear,
That I wish enormous wealth,
A rock solid health,
For you on your birthday!
***
I don't want to wish you a happy birthday.
You've made my life so sweet, that I wanna wish you
A Honey B'day!
***
On this special day
My hubby, on this special day of yours,
I just want you to feel good,
Our love will grow forever with time,
And, I am really lucky to call you mine,
I love you a lot
Happy birthday to you!
Have a day filled with joy and new!
You may also like:
Happy Birthday I Love You Message