As one of the top tourist destinations in Mexico, Cancun is more than a piece of paradise for Mexicans. People from the US and all around the world flock to Cancun for a yearly dose of sun, the Caribbean, and greatly deserved smooth relaxation.
Regardless of whether you or someone else is the "photo guy/gal" in your family or crew, you can rest assured that you'll have quite the collection for your social media profiles. But what good is a ton of photos without awesome captions to enhance your posts?
Beach Captions
Let's start off with probably the largest chunk of your Cancun photos. You haven't come to take a dip in the sea, you've come to bask in the beauties of the Caribbean, so the beach is likely your hotspot here. Some say that the beauty of Cancun can't be put into words, but they sure can be.
When coming up with Cancun beach captions, always keep the summer in mind. Summer vibes are what keeps your followers hungry for more posts, and this "feel" should be reflected in your captions. Consider adding cool emojis of beach towels, sunshades, the sun, beach slippers, etc. Fun, relaxation, and sunlight are your main keywords here.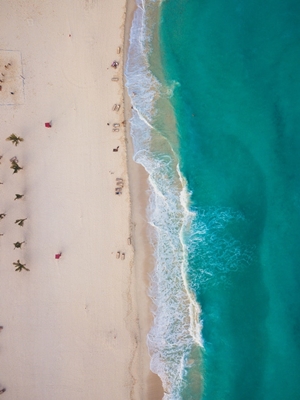 Caption Ideas:
"Welcoming the sunny Cancun. A vacay to remember!"
"Sandy beach, clear, warm seawater, sunshade, and a Corona. What good did I do to deserve this?"
"Chillin' next to the hotel pool, right after the beach. I can't get enough of the sun."
"Miles of golden sand and bronze skin. I could definitely get used to this. B)"
Shark and Dolphin Captions
This might not be everyone's cup of tea, but with sparkly clear water and fantastic organization, Cancun offers one of the best water activities on the planet: swimming with dolphins and whale sharks. Should you decide to take on this activity, you have tosnap some neat photos.
Your social media followers will definitely have their jaws drop when you upload your photos, but a witty, cool caption can go a long way in getting more likes and increasing your following.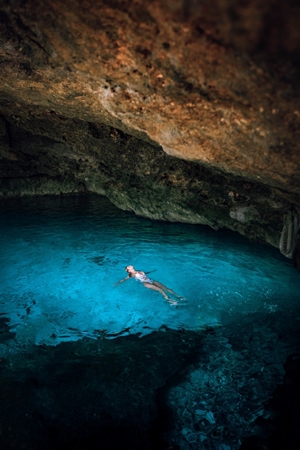 Caption Ideas:
"Tadam. Tadam. Tadamtadamtadamtadam…"
"Dolphins are literally super smart sea doggos. Coolest. Animal. Ever."
"This whale shark might look funny, but believe me when I tell you: creeeepyyyy."
"A pic of me belly-rubbing a dolphin… That is all."
Mayan Ruins Captions
Modern as Cancun is, you would be amiss to stick with the city 24/7 during your holiday. As it turns out, Cancun has a lot of history to offer, with its ancient roots stretching far into the past. The remnants of the Mayan culture won't leave you indifferent. Do not miss out on the awesome ruins of Tulum, Chichen Itza, and Coba, but don't forget to photo-document it all.
As a naturally sunny area, Cancun is a perfect place to snap pictures of the wild that meets an ancient culture. Captions, however, are almost half the job here, even on Instagram. Feel free to write down some key stuff that your guide is talking about, for inspiration.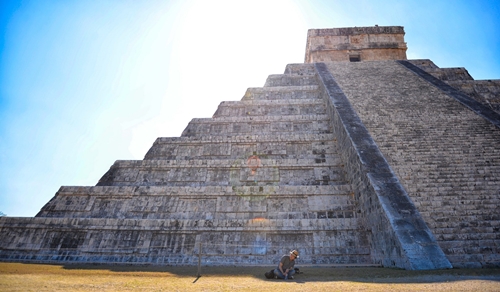 Caption Ideas:
"Finally got to see the famous El Castillo in Chichen Itza. Btw. did you know that Chichen Itza apparently means 'the mouth of the well of the Itza'?"
"Having a pretty sick time imagining what it used to be like to live here 600 AD. Yep, that's 1.5 millennia ago."
"Gotta have mad respect for Mayans. This is beautiful."
"The ruins of Coba will turn anyone into a history nut."
Eco Parks Captions
Even if nature isn't your thing, you shouldn't miss the opportunity to snap awesome shots at Xel Ha and Xcaret, the largest two eco-parks in the Cancun area. The activities here? Everything from hanging above the forest canopy and ziplining, to basic trekking through the jungle (this is not as naïve as it sounds). You can expect to get out of the parks with fantastic shots of lush plant life and amazing fauna. You may even get lucky and get a shot of a leopard or two.
Clever captions are a musthere, and when it comes to Cancun eco parks, there are tons of interesting caption ideas to explore.
Caption Ideas:
"Xel Ha makes me feel like I'm in a James Bond movie. Seriously."
"…and yep, that's a fully-grown male leopard. Xcaret is awesome. Period."
"Such a cool location to cool off. Cenotes Park in Xel Ha is a  m  a  z  i  n  g"
"This is the most in tune with the nature that I've ever been. Don't wanna go back. ☹"
Every Tourist Photo Needs a Cool Caption
Sure, you can slap on a random caption or even skip on writing anything below your photos, but that would really be a crying shame. Cancun is an infinite source of striking photo content, and in this day and age, you need nothing more than a smartphone to snap really high-quality photos for social media.
So, have you ever visited Cancun? What do you think are some neat captions for Instagram photos taken in Cancun? Share your ideas in the comments section below.