Waterfalls are one of the many wonders that our natural world holds. They are majestic and enticing; their beauty just demands to inspire awe. Being in the vicinity of waterfalls, one might feel overwhelmed by its marvelous presence.
There is no doubt that waterfalls make a wonderful backdrop for any photo or video, while also being beautiful subjects in their own right. You could be creating a spectacular GoPro aerial shot, or wading through the curtain of water. You could be standing triumphantly with your fists on your hips, or standing beneath it adoring its marvel. However you imagine your perfect picture would be with a waterfall, it would surely turn out amazing.
Being in the water, and especially being around the raw power of a waterfall is moving and sometimes difficult to capture. Luckily we have words as well as images to get our mood and feelings across.  Once you've taken the perfect shot, whatever it is, you don't want to waste it by giving it a weak caption – and now you don't have to. Pair your perfect snapshot with an ideal caption and share it over Instagram and watch the likes roll in.
Relaxed
"Just let go – and fall like a little waterfall." – Bob Ross
Get into the flow!
Go with the flow.
It's all water over the falls.
"Adopt the pace of nature." – Ralph Waldo Emerson
Paradise found.
Whatever floats your boat.
Always take the scenic route.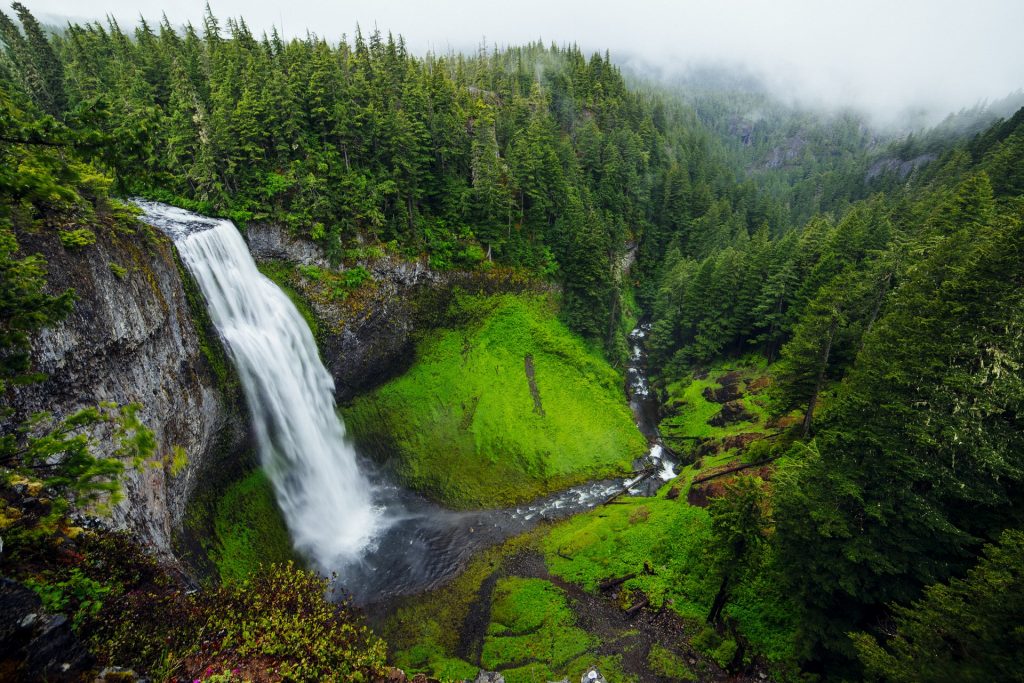 My happy place.
I am happiest when floating.
Home is where the water is.
Relax and enjoy the view.
Get lost in nature and you will find yourself.
Nature never goes out of style.
My definition of beautiful.
Grace is finding a waterfall when you were only looking for a stream.
Untamed
Life is like a waterfall – always moving.
I am like a waterfall – wild and free.
When it rains, it pours.
Happiness comes in rushes.
I am gushing with joy.
Nature's water slide.
Wild, beautiful, and free.
"No one ever steps into the same river twice." – Heraclitus
Catch me by the river.
Always on the move.
Move on.
Great things are over every fall and around every bend.
Life doesn't flow backward.
Leap of faith.
Wild like me.
All good things are wild and free.
There are no shortcuts to any place worth going.
Life is either a daring adventure or nothing at all.
The waterfall is nature's laughter.
The water is calling, and I must go.
"Run wild and free like a waterfall" – A
When water-falls, it flies.
"Do not seek water; get thirst." – 
And so the adventure begins!
Connected
Life is like a waterfall – in the end, we're all one.
"Eventually, all things merge into one, and a river runs through it." – Norman McLean
In one drop of water are found all the secrets of all the oceans.
I find myself in the water.
We start in different places, but we all meet in the ocean.
A river that forgets its source will surely dry up. – Yoruba Proverb
"When the moonlight and the waterfall come together, all other things fade from the scene!" – 
"Water does not resist. Water flows. When you plunge your hand into it, all you feel is a caress." – Margaret Atwood
"It is life, I think, to watch the water. A man can learn so many things." – 
Our lives flow like water in a waterfall.
"Praised be my Lord, for our sister water." – Francis of Assisi
Resilient
"If you are flexible, falling will not hurt you." – Mehmet Murat Ildan
"There's hope at the bottom of the biggest waterfall." – Patrick Ness
"Just keep swimming." – Finding Nemo
Water heals everything.
I'll be your bridge over troubled waters.
Water is where I regain my sanity.
Cry a river. Build a bridge. Get over it.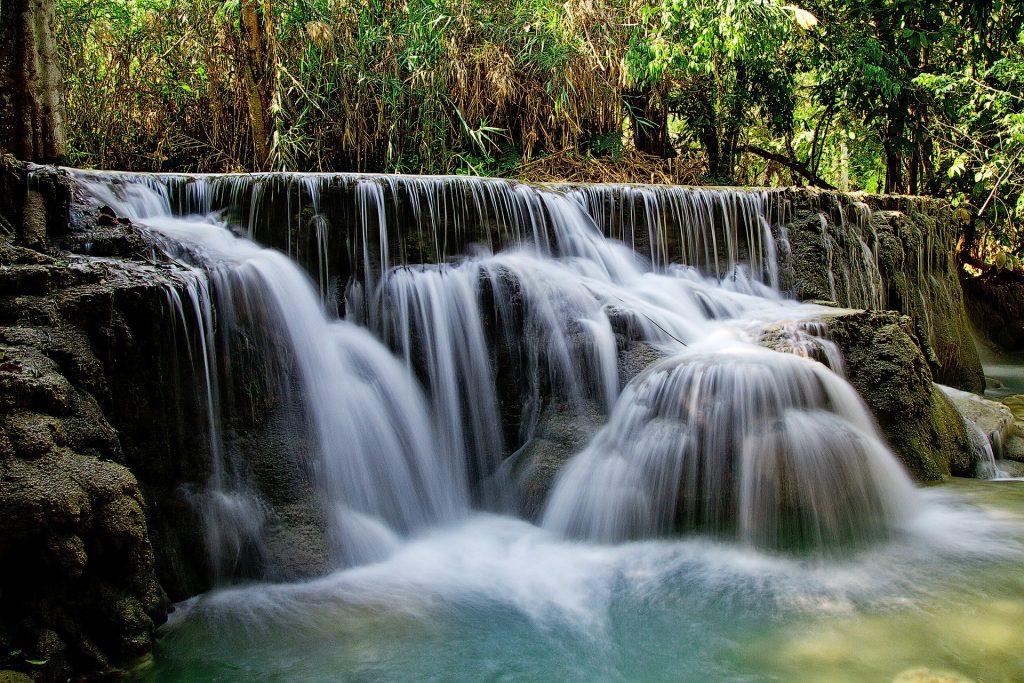 Keep moving, and you'll eventually get over it.
It's all downhill from here.
A river cuts through a rock, not because of its power but because of its persistence. – Jim Watkins
A river always knows where it's going.
I have a therapist; her name is NATURE.
Nature is cheaper than therapy.
"Do not feel sad for your tears, as rocks never regret the waterfalls." – M
"Water is the driving force in nature." – 
Water is the most perfect traveler because when it travels it becomes the path itself.
Humorous
Water you looking at?
I'm falling for you.
Get over it.
Canoe + waterfall = I don't go camping anymore. – Demetri Martin
Hey, water you up to?
You are mist!

Watery waiting for!
This river is too mainstream.
I'm not going to water this down for you.
Aquaholic
Nature's shower.
Good to the last drop.
I really have to get my plumbing fixed.
You don't always get the waterfall shortcut in Mario Kart. That's life. – Jack Barakat
Nature
"You can't cross the sea merely by standing and staring at the water." – Rabindranath Tagore
"Water is the driving force of all nature." – Leonardo da Vinci
There is a waterfall in every dream.
"Water is the perfect traveler because when it travels, it becomes the path itself!" –
"Look with open eyes, and you will see the beauty of the waterfall." – 
"Mist to mist drops to drops. For water thou art, and unto water shalt thou return." – 
Literary
Nature is the art of God. – Dante Alighieri
There's music in water. Brooks babbling, fountains splashing. Weirs, waterfalls, tumbling, gushing. – Julie Andrews
A waterfall is concerned only with being itself, not with doing something it considers waterfall-like. – Vernon Howard
As long as I live, I'll hear waterfalls and birds and winds sing. I'll interpret the rocks, learn the language of flood, storm, and the avalanche. I'll acquaint myself with the glaciers and wild gardens, and get as near the heart of the world as I can. – John Muir
With meditation, I found a ledge above the waterfall of my thoughts. – Mary Pipher
Romance often begins by a splashing waterfall and ends over a leaky sink. – Ellen DeGeneres
Experiencing the present purely is being empty and hollow; you catch grace as a man fills his cup under a waterfall. – Annie Dillard
Young leaves, the sound of a waterfall, heard from far and near. – Yosa Buson
A strong person and a waterfall always carve their own path.
The waterfall winks at every passerby.
Once we have tasted far streams, touched the gold, found some limit beyond the waterfall, a season changes, and we come back changed but safe, quiet, grateful. – William Stafford
You don't have the power to make rainbows or waterfalls, sunsets or roses, but you do have the power to bless people by your words and smiles You carry within you the power to make the world better. – Sharon G. Larsen
My mind is a raging torrent, flooded with rivulets of thought cascading into a waterfall of creative alternatives. – Mel Brooks
God is discovered entirely through creation – the brilliance of a sunset, the powerful roar of a waterfall, the symphony of sounds you hear in the heart of the forest, or the vastness of space and its countless stars. – Benjamin F Sullivan
More Literary
"Once we have tasted far streams, touched the gold, found some limit beyond the waterfall, a season changes, and we come back changed but safe, quiet, grateful." – William Stafford
"Sometimes, it's hard to tell how fast the current's moving until you're headed over a waterfall." – Kimberly McCreight
"… the river is everywhere at once, at the source and at the mouth, at the waterfall, at the ferry, at the rapids, in the sea, in the mountains, everywhere at once, and that there is only the present time for it, not the shadow of the past, not the shadow of the future." – Hermann Hesse
"They say that people who live next to waterfalls don't hear the water." – Jonathan Safran Foer
"There is a waterfall in every dream. Cool and crystal clear, it falls gently on the sleeper, cleansing the mind and soothing the soul." – Virginia Alison
"Water is the perfect traveler because when it travels, it becomes the path itself!' — Mehmet Murat ildan
"Emerald slopes became so tall they touched the clouds, and showers painted diamond waterfalls that sluiced down cliff sides." – Victoria Kahler
"And when you hear the sound of the waterfall coming nearer and nearer, tidy up the boat, put on your best tie and hat, and smoke a cigar right up till the moment you go over. That's a triumph." – Ray Bradbury
"As long as I live, I'll hear waterfalls and birds and winds sing." – John Muir
"I shift an infinitesimal movement towards him. It is like the leap from a waterfall. I do not know, until then, what I am going to do." – Madeline Miller
"Then something Tookish woke up inside him, and he wished to go and see the great mountains, and hear the pine-trees and the waterfalls, and explore the caves, and wear a sword instead of a walking-stick." – J.R.R. Tolkien
"Many a calm river begins as a turbulent waterfall, yet none hurtles and foams all the way to the sea." – Mikhail Lermontov
"For an instant, silence, noisier than a waterfall." – Salman Rushdie
"Mountain-rose petals, Falling, falling, falling now…Waterfall music — Matsuo Basho
"I need waves. I need waterfalls. I want rushing currents." – Tahereh Mafi
"Do not feel sad for your tears as rocks never regret the waterfalls — Munia Khan
My desert soul erupts with turquoise water, floods and cascades and waterfalls rushing in around my rocky parts, pushing and reshaping and filling every hidden dark spot." — Kiersten White
"There is a hidden message in every waterfall. It says, if you are flexible, falling will not hurt you! — Mehmet Murat ildan
"I feel like water that transforms from a flowing river to a tranquil lake to a powerful waterfall to a freshwater spring to a meandering creek to a salty sea to raindrops gentle on your face to hard, stinging hail to frost on a mountaintop, and back to a river again." — María Virginia Farinango
Waterfall Thoughts
"I keep my kindness in my eyes
Gently folded around my iris
Like a velvety, brown blanket
That warms my vision
I keep my shyness in my hair
Tucked away into a ponytail
Looking for a chance to escape
On a few loose strands in the air
I keep my anger on my lips
Just waiting to unleash into the world
But trust me; it's never in my heart
It evaporates into words
I keep my dignity upon my chin
Like a torch held up high
For those who have betrayed me
Radiating a silent, strong message
I keep my gratitude in my smile
A glistening waterfall in the sun
Gently splashing at that person
Who made me happy for some reason
I keep my sensitivity in my hands
Reaching out for your wet cheek
Holding you, with all the love
The love I want to share and feel
I keep my passion in my writing
My words breathing like fire
Screeching against an endless road
As I continue to be inspired
I keep my simplicity in my soul
Spread over me like a clear sky
Reflecting all that I am
And all that's ever passed me by
And I hope you will look
Beyond my ordinary face
My simple, tied hair
My ordinary tastes
And I hope you will see me
From everyone…apart
As I keep my beauty
in my heart."
― Sanober Khan
Hashtags
Here are some popular and relevant waterfall hashtags for your perfect waterfall caption, which can help increase your followers and number of likes.
#chasingwaterfalls
#wanderlust
#waterfallphotography
#waterscape
#waterfalllovers
#travelphotography
#naturelover
#adventuretime
#scenic
#naturelovers
#beautifulnature
#adventurer
#earthoutdoors
#explorenature
#naturevibes
#waterfalling
#waterfallhunting
#naturejunkie
#bestwaterfalls
#waterfallselfie
Now, if only you could find a caption that says you're carefree but determined, spirited but zen, and wild but responsible. I guess you'll have to post a few more pics to get the message across.
You can't have a waterfall in your home – or can you? Check out this beautiful and highly-reviewed cascading tabletop fountain – a classy way to bring the beauty of the waterfall to your table, desk, counter, or shelf.
We've got the nature-themed captions you need for your Instagram feed!
If you're a water lover, you'll also enjoy these beach captions for Instagram as well as these swimming and pool captions!
Are you going to see the animals? You'll want our list of Instagram captions for the zoo.
If you're pining for the fjords, it's our list of Iceland captions for Instagram that you want.
As the sun goes down, check out our list of Instagram captions for sunsets.
It's a winter wonderland with our list of Instagram captions for wintertime.
If you're 'gramming for the holidays, be sure to see our list of Instagram captions for Memorial Day.
Here we have some beautiful happy Sunday quotes for your family.
Of course, we have a lovely collection of mountain captions for Instagram.
Are you getting Fido his 15 minutes of fame? Be sure to capture that with Instagram captions that capture your dog's personality.
Running fans will love our Instagram captions for runners.