Everybody loves to rock out to some live music, whether that means diving into a mosh pit at the club or singing along to your favorite folk artist at the outdoor amphitheater. When you're a music fan, nothing is better than spending time with your fellow fans at a show listening to your favorite artists perform. There is nothing like living in that moment and, of course, you're going to want to take some snaps and videos to immortalize your experience…and then you're going to want a perfect caption to put the final touch on what you're sharing on Instagram. That's where we come in! We've created or found a huge collection of music-themed captions for you to enjoy. You can use these as-is or take them as inspiration for your own musings.
For the Love of Music
We drift deeper into the sound.
It's more than just music.
When the whole crowd sings to the band in unison.
Music is the strongest form of magic.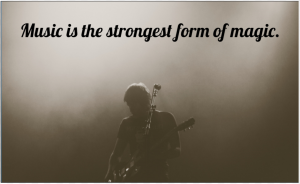 Exist loudly.
Feeling the bass pounding in your chest.
Why be moody when you can shake yo booty?
Music is life. That's why our hearts have beats.
Life every day like its a Warped Tour.
I believe in using songs to say things.
All it takes is one song to bring back a thousand memories.
Long live rock n' roll.
For the Love of the Moment
Life is made of small moments like this.
Good music. Good Friends. Good Vibes.
Always find time for the things that make you happy to be alive.
I wish some nights lasted forever.
Three minutes of music. Years of memories.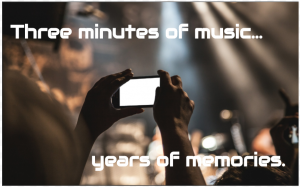 This is where I feel alive.
Breath and ask yourself if it will ever get better than tonight.
Let it all out.
You can't download a live musical experience.
Just the Ticket
Life is short. Buy the damn concert tickets.
Shortest horror story ever: Sold Out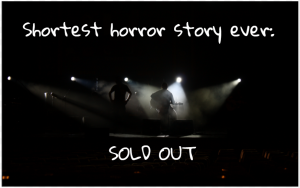 I just want money for plane tickets, concert tickets and clothes.
I want a boyfriend that will buy me concert tickets….or maybe just the concert tickets.
A moment of silence for all the concerts we miss because we can't afford the tickets.
Money can't buy you happiness, but it can buy you concert tickets.
Lyrical Sentiments
"It's only rock n'roll, but I like it." – Rolling Stones
"We will rock you." – Queen
"One good thing about music – when it hits you, you feel no pain." – Bob Marley
"Only the good die young." – Billy Joel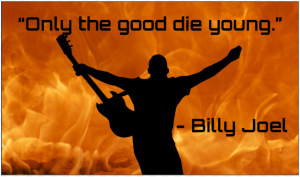 "Give me the beat boys to free my soul." – Doobie Brothers
"Oh my my, oh hell yes – honey put on that party dress." – Tom Petty
"It's a beautiful day. Don't let it get away." – U2
Non-lyrical But Famous Nonetheless
"It's a place where we can forget about our problems for a little while." – Vic Fuentes
"As long as we don't die, this is going to be one hell of a story." – John Green
"Music gives a soul to the universe, wings to the mind, flight to the imagination, and life to everything." – Plato
Love is All You Need
I want to meet someone who makes me feel the way music does.
Turn up the love.
I just want someone who will take me to a concert instead of a fancy dinner.
It's crazy how music can connect souls.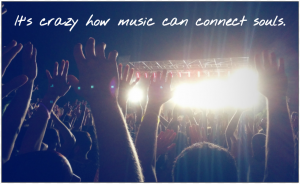 Ultimately, I just want someone who knows which songs not to talk over.
Behind every girl's favorite song is an untold story.
Feeling Like a Lone Wolf
Where the dreamers go.
I don't follow the crowd – I move through them.
Music is the only way to run without leaving home.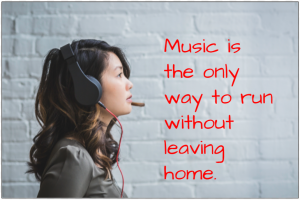 Here's to the kids who care more about music than popularity.
When you get really excited about a concert but no one else cares because they haven't heard of the band.
Sometimes I need to be alone with my music.
Concert Junkie
There is no such thing as going to too many concerts.
I used to sleep at night.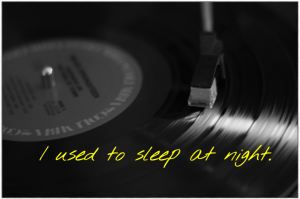 If you can't get up the next morning, you know it was a good show.
I got the mic and you got the mosh pit.
It's more than just a band.
You can't overdose on music.
Music Quotes
"Music is the strongest form of magic." – Marilyn Manson
"Because when he sings…even the birds stop to listen." – Suzanne Collins
"Everything in the universe has a rhythm, everything dances. " – Maya Angelou
"Music is the universal language of mankind." – Henry Wadsworth Longfellow
"Music, once admitted to the soul, becomes a sort of spirit, and never dies." – Edward Bulwer Lytton
"The music is not in the notes, but in the silence between." – Wolfgang Amadeus Mozart
"It is said by the Eldar that in water there lives yet the echo of the Music of the Ainur more than in any substance that is in this Earth; and many of the Children of Ilúvatar hearken still unsated to the voices of the Sea, and yet know not for what they listen." – J.R.R. Tolkien
"We are the music makers, and we are the dreamers of dreams." – Arthur William Edgar O'Shaughnessy
"I like beautiful melodies telling me terrible things." – Tom Waits
"Without music, life would be a blank to me." – Jane Austen
"If I should ever die, God forbid, let this be my epitaph: THE ONLY PROOF HE NEEDED FOR THE EXISTENCE OF GOD WAS MUSIC" – Kurt Vonnegut
"We should consider every day lost on which we have not danced at least once." – Friedrich Nietzsche
"All the good music has already been written by people with wigs and stuff." – Frank Zappa
"People haven't always been there for me but music always has." – Taylor Swift
"Music in the soul can be heard by the universe." – Lao Tzu
"Life is like a beautiful melody, only the lyrics are messed up." – Hans Christian Andersen
"One good thing about music, when it hits you, you feel no pain." – Bob Marley
"Music is my higher power" – Oliver James
"Where words leave off, music begins." – Heinrich Heine
"If music be the food of love, play on." – William Shakespeare
"Music is the wine that fills the cup of silence." – Robert Fripp
"Jazz isn't dead. It just smells funny." – Frank Zappa
"The only truth is music." – Jack Kerouac
"Without music, life would be a mistake." – Friedrich Nietzsche
"And, in the end, the love you take is equal to the love you make." – Paul McCartney
Lyrics About the Power of Music
We've included some song lyrics in the sections above…but here some lyrics that are about music itself.
"I was just thinking how we don't have a song" – Taylor Swift, Our Song
"It's a world that is always within" – Abbey Lincoln, The Music is the Magic
"I was raised on rock, I got rhythm in my soul, I was born to love the beat, I was made for rock and roll" – Elvis Presley, Raised on Rock
"And here's to my new song I'm singing loud" – Leaf, New Song
"I believe that I, was born with a song inside of me" – Zac Brown Band, Day That I Die
"Old does not mean dead, new does not mean best" – Slipknot, All Out Life
"Now there are things that I believe in, I'd never sell my soul" – Joan Jett, Good Music
"Because I fell in love with the girl at the rock show" – Blink 182, Girl At The Rock Show
"You drive us wild, we'll drive you crazy" – Kiss, Rock n Roll All Night
"You can still rock in America" – Rock in America, Night Ranger
"Now, I've heard there was a secret chord, That David played, and it pleased the Lord" – Leonard Cohen, "Hallelujah"
"We'll be happy, and we'll dance, we're gonna dance our blues away" – The Doobie Brothers, Listen to the Music
"So listen to the radio, remember where we used to go" – The Corrs, Radio
"Guess there are times when we all need to share a little pain" – Elton John
"Music is the universal language, and love is the key, to peace, hope and understanding, and living in harmony" – Mac Davis, I Believe in Music
"They say one time around is all you get, but I'm still dancin' so you lost your bet" – Aerosmith, Let the Music Do the Talking
"Oh you will set the world babe, you will set the world on fire" – David Bowie, Set the World On Fire
"We learned more from a three-minute record, baby, than we ever learned in school" – Bruce Springsteen, No Surrender
"The power of a love song, it can change everything" – Tate Stevens, Power Of A Love Song
"I'll sing you one more song for keeping us going on" – The Kelly Family, One More Song
"With my arms out wide I open my eyes and now all I wanna see, is a sky full of lighters" – Bruno Mars and Eminem, Lighters" – Bad Meets Evil
"It don't mean a thing, if it ain't got that swing" – Duke Ellington, It Don't Mean a Thing
"I like to dream, yes yes, right between the sound machine, On a cloud of sound I drift in the night, any place it goes is right" – Steppenwolf, Magic Carpet Ride
"Adios rock band that we loved the most, this is a toast to what you did" – Weezer, Eulogy For a Rock Band
"Music makes the people come together" – Madonna, Music
Now if you're ever lucky enough to get pulled up on stage or to support your favorite singer as he rides the waves of the crowd, you'll know exactly what to say to help others understand the moment that you and so many strangers shared.
Of course we have a lot more articles full of great Instagram captions! Here are our funny and witty captions and some captions that are musical lyrics. Country music fans should look at our captions for Nashville, or maybe you're more of an Elvis fan and want to Viva Las Vegas!