The entertainment industry has its name for a reason. Sometimes, after having a hard day at work, all you need is your favorite film or series and a box of salty popcorn. Right?
It happens that we can watch the same movie over and over again just to hear that one line we simply adore. Have you ever caught yourself standing in front of the mirror doing your best to mimic the famous quote 'You talking to me?' from 'Taxi driver'? Or maybe you've been hitting up on cute girls using the priceless quote 'How you doin'?' by Joey Tribbiani? Well, these are just a few random examples.
There is an endless number of great movie lines that can easily reduce stress and elevate your mood in a flash. Do you want to read the complete lift of hilarious phrases and quotes from classic films and series? We bet you do.
If you are too busy to watch the entire film, at least take some time to enjoy the funniest movie lines of all time. Not only do they bring you enjoyment and laughter, but also make all the worries disappear without question.
Do you want to become the life and soul of the parties? Everybody like funny guys. Short funny movie quotes will definitely come in handy.
Provided all of your friends are cinemaholics and you obviously want to keep up with them. Witty, funny quotes are exactly what you need.
No matter what your reason is for visiting our website, be confident that you will find a movie quote or saying that will surely bring a smile to your face.
The Most Famous Funny Movie Quotes
"Just when I think you couldn't possibly be any dumber, you go and do somethin' like this – and totally redeem yourself! Ha Ha!" Dumb & Dumber
Jerry: "I'm a man!"
Osgood: "Well, nobody's perfect."  Some Like It Hot
"Gentlemen, you can't fight in here! This is the war room!" Dr. Strangelove or: How I Learned to Stop Worrying and Love the Bomb
"I am serious. And don't call me Shirley." Airplane
"It's just a flesh wound." Monty Python and the Holy Grail
"I don't have to take this abuse from you; I've got hundreds of people dying to abuse me."  Ghostbusters
– You actually were telling the truth
– I do that quite a lot, yet people are always surprised.
Pirates of the Caribbean
"Truth hurts. Maybe not as much as jumping on a bicycle with a seat missing, but it hurts." Naked Gun 2½: The Smell of Fear
Ron Burgandy: "You stay classy San Diego."  Anchorman
Carrie Bradshaw: "New York Magazine says Brooklyn is the new Manhattan."
Miranda Hobbes: "Yes, but whoever wrote that lives in Brooklyn."
Sex and the city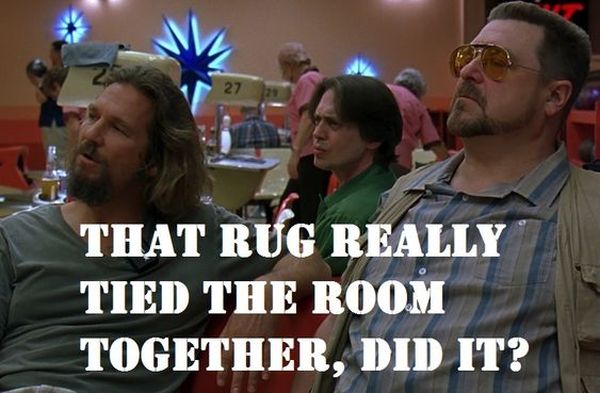 Clever and Hilarious Movie Quotes
Dave: "You're living the dream, Mitch. Having children, it's…it's like, it's living with little mini-heroin addicts. You know, they're laughing one minute and then they're crying the next. And then they trying to kill themselves in the bathroom for no good reason. They're very mean and selfish and burn through your money. And they break shit…"
Mitch: "Got it! Got it! Got it! Come on!" The Change-Up
"I'm the Dude. So that's what you call me. You know, that or, uh, His Dudeness, or uh, Duder, or El Duderino if you're not into the whole brevity thing." The Big Lebowski
"I have nipples, Greg. Could you milk me?" Meet the Parents
"Stop trying to make fetch happen. You can't sit with us. I'm not like a regular mom, I'm a cool mom."  Mean Girls
Montana Grosso: Be careful, he'll try to get inside your head.
Derek Zoolander: Don't worry, it's closed for business.
Zoolander 2
"Don't point that gun at him. He's an unpaid intern." The Life Aquatic with Steve Zissou
"My Mama says that alligators are ornery because they got all them teeth and no toothbrush." The Waterboy
"I see you're drinking 1%. Is that 'cause you think you're fat? 'Cause you're not. You could be drinking whole if you wanted to." Napoleon Dynamite
Meg: You know how men are. They think 'No' means 'Yes' and 'Get lost' means 'Take me, I'm yours.'  Hercules
[to Ralph]
King Candy: You wouldn't hit a guy with glasses, would you?
[Ralph takes the glasses from his face and smashes it over his head]
King Candy: You hit a guy with glasses! That's, that's well played.
Wreck-It Ralph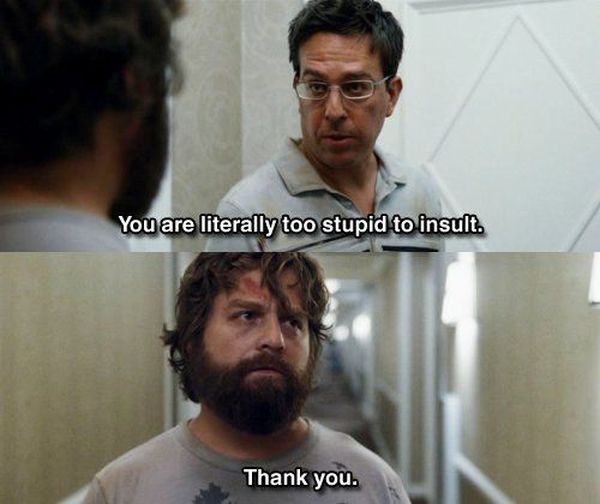 Do You Know These Funny Movie Quotes About Life?
Stu: "Am I nuts, Edith?"
Edith: "Are you asking me as a therapist or as a wife?"
Stu: "Which one is cheaper?" The Big Year
"My mom, a strange creature from the time when pickles on toothpicks were still the height of sophistication." Bridget Jones's Diary
"My husband and I fell in love at first sight… maybe I should have taken a second look." Crimes and Misdemeanors
"Marriage is like an unfunny tense version of Everybody Loves Raymond, but it doesn't last 22 minutes. It lasts forever." Knocked Up
"Life moves pretty fast. If you don't stop and look around once in a while, you could miss it." Ferris Bueller's Day Off
"I love you girls. Y'know, somewhere out there are four terrible fathers I wish I could thank for this great night!" Ted
"Yeah… you're a legend in your own mind." Dirty Harry
Deacon: I'll kill you!
Nick: I'm already dead!
What We Do in the Shadows
"I learned a long time ago that worrying is like a rocking chair. It gives you something to do but it doesn't get you anywhere." National Lampoon's Van Wilder
"There are only three ages for women in Hollywood: babe, district attorney, and Driving Miss Daisy." The First Wives Club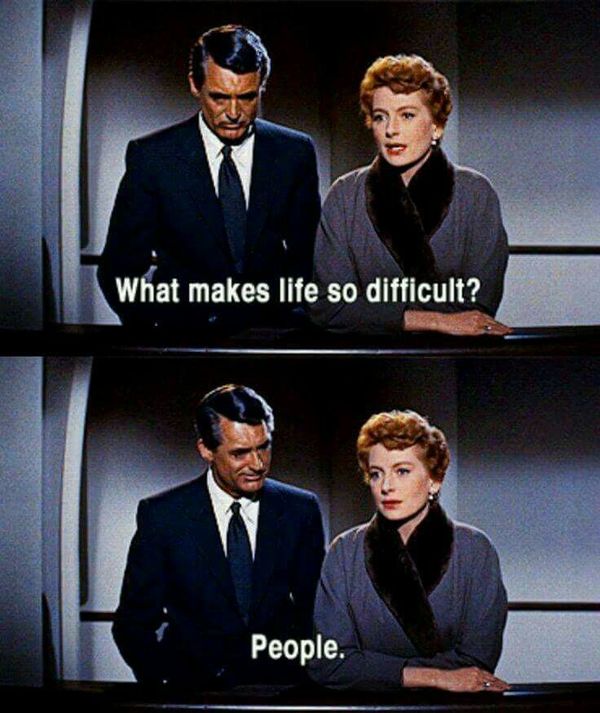 The Funniest Movie One-Liners Ever
Sheldon Cooper: "…I'm not insane. My mother had me tested." The Big Bang Theory
Bob: "Is that everything? It seemed like he said quite a bit more than that." Lost in Translation
"I'm in a glass case of emotion." The Legend of Ron Burgundy
"They sound like a baby blowing out birthday candles." The Other Guys
"Did Doogie Houser just steal my … car?" Harold and Kumar Go to White Castle
"Yeah, well, you know, that's just like, your opinion, man. The dude abides." The Big Lebowski
Alan: "It's not a purse. It's a satchel. Besides, Indiana Jones has one." The Hangover
"If I'm not back in five minutes, just wait longer." Ace Ventura: Pet Detective
"All I've ever wanted was an honest week's pay for an honest day's work." Sgt. Bilko
"Guns are for show. Knives are for pros." Lock, Stock, and Two Smoking Barrels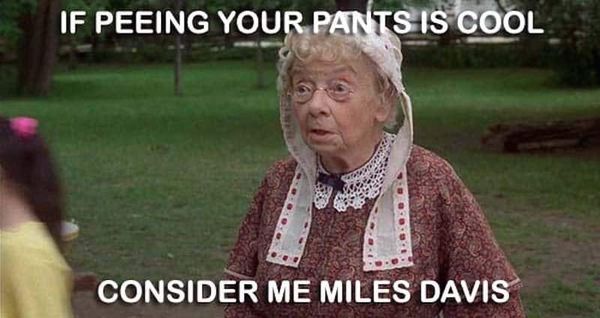 The Best Funny Movie Quotes To Share With Friends
"I'm just one stomach flu away from my goal weight." The Devil Wears Prada
"Leave the gun, take the cannoli" The Godfather
"I'm not bad. I'm just drawn that way." Who Framed Roger Rabbit
"That rug really tied the room together." The Big Lebowski
"Do you understand the words that are coming out of my mouth!?" Rush Hour
"Gentlemen, I wash my hands of this weirdness." Pirates of the Caribbean: At World's End
My momma always said, "Life is like a box of chocolates, you never know what you're gonna get."  Forrest Gump
"Ned, I would love to stand here and talk with you – but I'm not going to." Groundhog Day
"Oh for goodness sakes, get down off that crucifix, someone needs the wood!" The Adventures of Priscilla: Queen of the Desert
"Is there any way you could lend me some money? Maybe twenty million dollars." The Dictator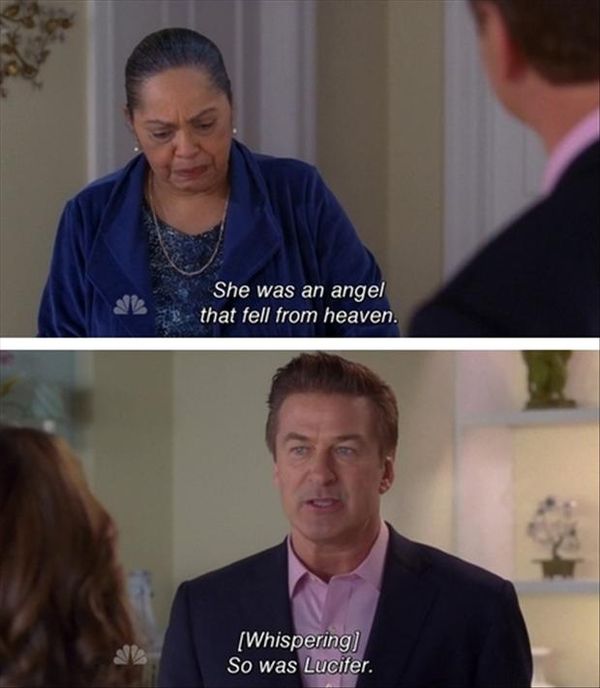 Top Funniest Movie Quotes Of All Time
"When women go wrong, men go right after them." She Done Him Wrong
"Roses are red, violets are blue. I'm a schizophrenic and so am I." What About Bob?
"This is not 'Nam. This is bowling. There are rules." The Big Lebowski
"Gentlemen, you can't fight in here. This is the War Room!" Dr. Strangelove, or: How I Learned to Stop Worrying and Love the Bomb
"I'm so rich, I wish I had a dime for every dime I have." Arthur
"Insanity runs in my family. It practically gallops." Arsenic and Old Lace
"Kirk Lazarus: Me? I know who I am! I'm a dude playing a dude disguised as another dude." Tropic Thunder
"It's the first time I've ever seen you look ugly. And that makes me kind of happy." Bridesmaids
"Show me the money. You complete me. You had me at hello." Jerry Maguire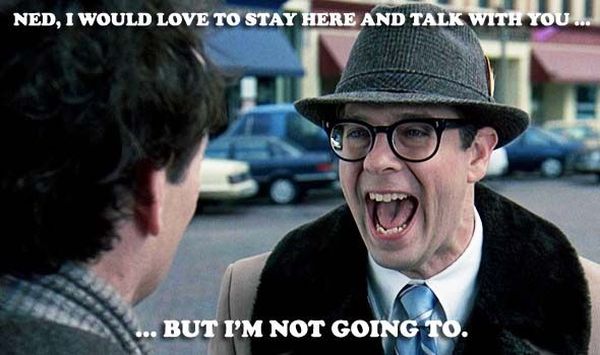 Short Funny Movie Quotes You Will Never Forget
"If I'm not back in five minutes, just wait longer." Ace Ventura: Pet Detective
Walter Sobchak: "Shut the f*ck up, Donnie!" The Big Lebowski
Melvin: "Sell crazy someplace else. We're all stocked up here." As Good As It Gets
"I am serious. And don't call me Shirley." Airplane
"After a while, you learn to ignore the names people call you and just trust who you are."  Shrek
"That's what I love about these high school girls, man. I get older, they stay the same age…Yes, they do."  Dazed and Confused
"The key here, I think, is to not think of death as an end. But, but, think of it more as a very effective way of cutting down on your expenses." Love and Death
"What's the difference between a wife and a job? After 10 years a job still sucks." What Women Want
"Mr. Potato Head: Did you all take Stupid Pills this morning?" Toy Story
"Excuse me. I believe you have my stapler." Office Space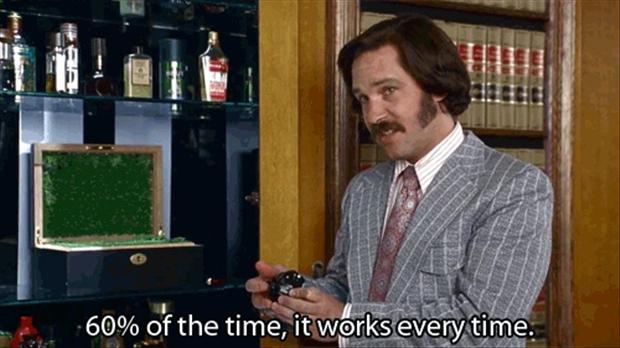 The Best Comedy Movie Quotes
Dory: I remember it like it was yesterday. Of course, I don't really remember yesterday all that well. Finding Dory
Finn McMissile: "Finn McMissile, British intelligence."
Mater: "Tow Mater, average intelligence." Cars 2
"The last time I was inside a woman was when I visited the Statue of Liberty."  Crimes and Misdemeanors
"What happens in Vegas, stays in Vegas… Except for herpes. That shit will come back with you." Hangover
"So you're telling me there's a chance!" Dumb and Dumber.
"Real nice party, Hapsburg… I see a lot of familiar face-lifts." Naked Gun 2½
"There's no crying in baseball." A League of Their Own
"I am your father's brother's nephew's cousin's former roommate." Spaceballs
"The eyes are the nipples of the face." The House Bunny
"Two thousand dollars for ice? I can get an Eskimo for two hundred dollars and make my own ice." Horse Feathers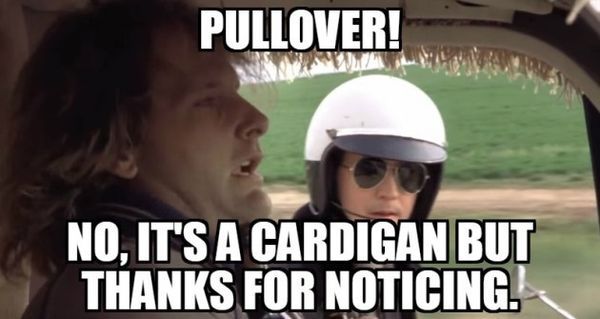 A Short List Of Really Funny Movie Sayings
"What did one shepherd say to the other shepherd?  Let's get the flock out of here." Lethal Weapon
Jerry: "Don't analyze me, Phyllis, okay? You know, many have tried and all have failed. My brain doesn't fit the usual id-ego-superego model!"
Phyllis: "No, you have the only brain with three ids." To Rome with Love
Jill: "Are you going bald?"
Jack: "Huh?"
Jill: "No! No! No! You're getting fatter and your hair doesn't realize it needs to cover more face." Jack and Jill
Nick: "We're looking at some sort of mental Hunger Games against a bunch of genius kids for just like a handful of jobs." The Internship
You'll live to be a hundred if you give up all the things that make you want to. Interiors
Samantha: Do I have "Fuck me" eyes?
Ted: No, you have the "Give us the ring, my precious" eyes.
Ted 2
"I'm in a glass case of emotion!" Anchorman: The Legend of Ron Burgundy
"The plot thickens, as they say. Why, by the way? Is it a soup metaphor?" The Grand Budapest Hotel
"See, women need a reason for having sex, men just need a place." City Slickers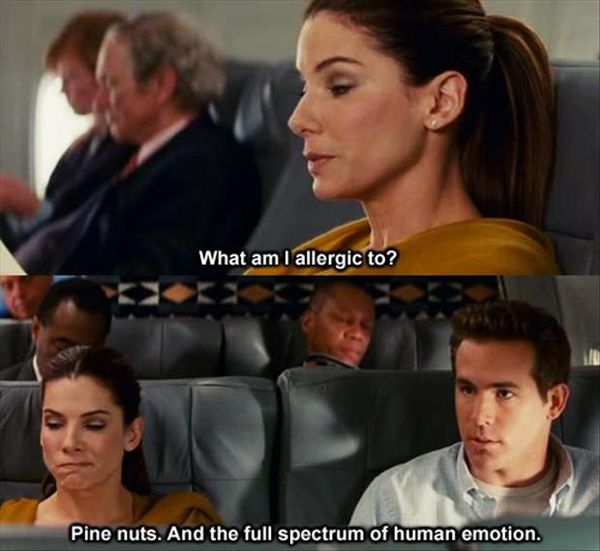 Movie Quotes That Are Weird And Stupid Yet Brilliant
"Never do anything out of hunger. Not even eating." True Detective Season 2
"I mean, that's what life is: a series of down endings. All Jedi had was a bunch of Muppets." Clerks
"I love rumors! Facts can be so misleading, whereas rumors, true or false, are often revealing." Inglorious Busters
Austin Powers: "Mole! Bloody mole! We aren't supposed to talk about the bloody mole, but there's a bloody mole winking me in the face! I want to cut it off, chop it off, and make guacaMOLE!" Austin Powers in Goldmember
Rick: "Weddings are basically funerals with cake." Rick and Morty
Riddick: "It's been a long time since I smelled beautiful." The Chronicles of Riddick
Bob: "Is that everything? It seemed like he said quite a bit more than that." Lost in Translation
"You taste like a burger. I don't like you anymore." Wet Hot American Summer
"Hello? Hello? Anybody home? Hey! Think, McFly. Think!"  Back to the Future
"You know, it takes two to get one in trouble." She Done Him Wrong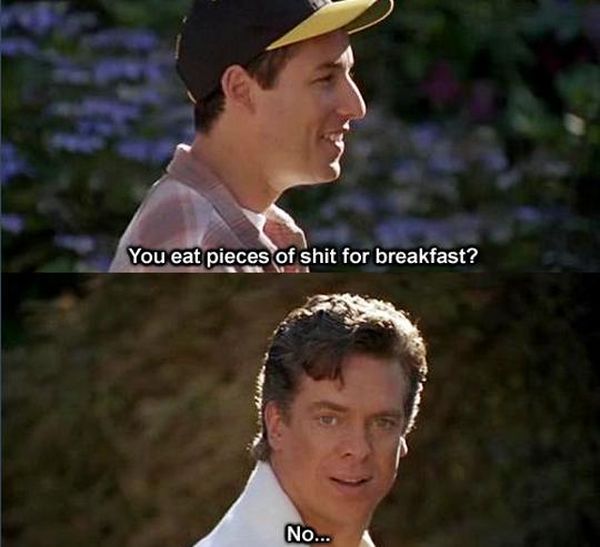 Funniest Movie Quotes Ever