To wish anything on the 30th Birthday might be sometimes such a big deal. On the one hand, the person looks mature, but on the other hand, he or she is a little child deep inside their heart. A person in their thirties is the one who has already had some life experience, however, often these people have little courage to begin something new in life.
It's a time of stepping up to the other stage with wisdom to apply all they have gained before practically. Therefore, such people need some inspiration to break through, which you can give them through sending 30th birthday sayings. These happy quotes and wishes are devoted to the 30th Birthday of your friend, brother, sister, daughter, son, colleague, boss, sister-in-law or brother-in-law, etc:
Happy 30th Birthday Funny
We all remember Friends TV show and Joey's reaction to his 30th birthday. His famous, "Why god, why? We had a deal!" has become an epitome of what all 30 year olds feel on this day one way or another. Well, let's be honest, when you are turning 30, it means that you reach one of the tipping points of your life, but it doesn't mean that you have to be sad over this. We hope that the funny messages collected below will make any 30th birthday happy and joyful.
You are just in the beginning of an average time of your life and you have enough intelligence in your brain to complete each your goal. But I wish you smile more often! Happy 30th Birthday!
When you were a child, you probably thought that being a 30-year-old is like being an old woman. It's totally wrong. You are very beautiful! My congratulations!
This day is special for you: you are now in an age of becoming a wife and mother. No matter if you are afraid of children. Don't be scared for I know that you can handle it! Happy 30th Birthday!
I am so glad that I met you. Let this day be like no other day. I love you being near to me. Happy 30th Birthday!
Kisses and hugs are not enough to express how I adore you. My gift to you will speak louder than words. Happy Birthday, dear!
They say 30 is the new 20. They say a lot of things…
The best part about being thirty is that there are no uncertainties in life. You are sure that it's all going to go downhill from here. Happy 30th birthday.
I guess you never thought you'd someday be 30! Happy birthday
Turning 30 Quotes
Let us guess. You're being puzzled by what to write in a 30th birthday card? Is it so? Since turning 30 years old is kind of a big deal, ordinary wishes like "Wish you all the best" won't work. We recommend you to pay your attention to the following birthday quotes:
You turned thirty today. My congratulations! Let the joy and happiness settle down in your home.
Turning 30 is a reason to have a great party. You are becoming more and more smart and mature. Happy Birthday, my friend!
God has created you a person of the kind heart, generous soul, and presentable appearance. Enjoy it with all of your passion! Now you turned 30 and that's awesome. My congratulations!
Best wishes from me to you, my son. You know that you will always be young and sweet for me because you are my child. I love you and may your dreams come true! Happy 30 Birthday!
All the best time in your life is only beginning. Never regret about the past, enjoy your present moment. Have a brilliant Birthday!
Turning 30 is a milestone that allows you to feel more confident in your abilities and continue to go after what you want. My wish for you, dear friend, is that your worth is acknowledged and the drive that you have never ceases!
Thou shalt not stress over becoming 30 years old today, for there are other ages worse than 30 such as 40 or even 100. Happy birthday 30th birthday!
Life is too short to be spent worrying about fears and insecurities. Now that you're 30 years old, just enjoy the ride and take it one day at a time. Make the best memories with your loved ones and look forward to the future. The best is yet to come! Happy 30th birthday, hon!
30th Birthday Message for a Friend
When you wish a happy 30th birthday to your friend, it's important to find a happy medium between a heartfelt message and a joke. Besides, who will understand a birthday joke better than a friend, right? That's exactly what we've got in this part: a bit of good humor and sweet messages packed in one.
Hello, friend! Today you became richer in one year. I am so happy that we have been friends with you for such a long time. Congratulations to the 30th Birthday!
Sorry for letting you think that I forgot about you, but my heart never did. I still want to talk with you today like 5 years before. Congratulations with the fact you are 30!
Come on, friend, relax: life is only beginning. All the good things are about to come. Hope that you feel well. Congratulations with your 30th Birthday!
Isn't it a miracle that our friendship has survived in such a hurry-scurry of life. Wish you surround yourself only with good things, and of course, with good people. Happy 30th Birthday!
You and I, we're like stars in the sky: we shine bright! It's you who helped me with my stuff and it's me who helped you with your. You are the one to permanently rely on! Congratulations with your Birthday!
Happy 30th birthday to a wonderful man/woman who belongs to the generation whose baby pictures were never taken on phones.
Age is only a number. You still look as sweet and as young as ever. Happy 30Th Birthday.
At thirteen, you were officially a teenager. At twenty one, you were officially an adult. But at thirty, you are unofficially old. Happy 30th birthday.
Happy Dirty Thirty
We are sure that there's no need to explain you what the phrase "dirty thirty" means. It has naturally become an inevitable part of congratulating someone with 30th birthday in a funny way. Well, you may add "Happy dirty thirty" at the end of your birthday wish or slightly make fun of a person who turned thirty and is still unmarried.
Happy dirty thirty! Fortunately, you are old enough to create your own family. I wish you, dude, look only positively into your future with a smile on your face.
Today you became one year wiser. Wish your dreams come true and your goals to be achieved! Happy dirty thirty!
Try the best things in this life because it's only given once. Celebrate your Birthday like you never did! Happy dirty thirty!
Now you are not a teenager, and you are allowed to do a lot of things, but you would better think twice before you do them. Happy dirty thirty!
God has given me you and I am very happy that we are friends. But let's meet up more often. Happy dirty thirty!:)
Your 30's will be an exciting time of your life…if you allow it to be. Treating it like a death sentence is no way to live your life. Happy dirty thirty!!
I have a strong feeling that this new age is going to be the happiest age of your life so far. Happy 30th birthday, buddy!
At thirty, you are not too young nor too old. Make the most of this delightfully confused stage of life before you finally get older and weaker. Happy 30th birthday.
Happy 30th Birthday Wishes for Husband
Now let's talk about those who could make it and got married till thirty years old. A 30th birthday of your spouse is a great chance for you to express how much you appreciate his presence in your life. We've found the best birthday wishes which are filled with love and gratitude, so that your husband could celebrate 30th birthday with a smile on his face and happiness in his heart.
Oh, honey! You make me feel the most loved wife in the world. Thank you for being my husband. Happy 30th Birthday!
Every day with you is an another gift. My love for you is endless and unconditional. Have the brightest Birthday!
Some people are kind, some are handsome, some are sincere, some are smart…You are all of them in one, hubby. May your dreams come true! Happy 30th Birthday!
It will take a life just to know you who you really are, but it takes just a moment to see how beautiful your heart is. Thank you for all these years! Happy Birthday!
Your eyes, your voice, your attitude to me – these are the things which make you so handsome. Love you, honey! Wish you a great Birthday!
Thank you for being the darling man in my life all these years. Happy 30th birthday.
Turning thirty is life's way of telling you that the most beautiful phase of your life has just begun. Happy 30th birthday, darling!
Chase after your dreams as though your life depended on it, and no dream will be ever too big for you to achieve. Happy 30th birthday!
Birthday Wishes for 30-year-old Daughter or Son
Any parents who get to celebrate their children's 30 birthdays know how important it is to pick the right wish. Even though your son or daughter will always be a child in your eyes, your birthday wishes shouldn't be too childish. What is more, try to mention how much you are proud of them and their achievements while making a birthday speech. It'll help you to make a congratulation more personal.
Dear, daughter! I asked God to give me a daughter, but I never expected that my daughter would be such a brilliant. Love you, sweet! Happy Birthday!
Dear, son! Now when you turned thirty it's just time to settle down. Let all the blessings of God come into your life! Happy Birthday!
Daughter, I bless you with all of my heart to love the life you have now and keep on moving forward. Happy 30th Birthday!
Some people would be drunk if they were you today, but I am sure you, dear, will be wise. Have fun and receive a miracle in your life today! Happy Birthday!
Dear, son! I can tell how hard the life might be, but I will do my best to protect you as much as it's possible because I am your ever-loving mom. Thank you for being my son! My congratulations to both you and I with this special day!
The road might be tough, but you have to keep moving in order to achieve your goals. Have a truly blissful 30th birthday celebration
I hope that this day turns out to be more wonderful than you expected, that you are surrounded by people who love you, and that you will receive the best birthday surprises. I wish I was celebrating your birthday with you. See you soon, sweetie. Happy 30th birthday!
For 3 decades you have beautified this world with your presence. If the world had more people like you in it, nobody would crave for paradise because we would have had paradise right here on earth. Happy 30th birthday to the most loving and caring person.
Make yours beloved feel you care about them. Send your wish now!
Happy 30th Birthday Images
Of course, we couldn't miss an opportunity to give you the best examples of birthday images designed specifically for 30 bday. Bright, colorful and cheerful – these pictures will make a great addition to a birthday party. You can print them and put them on the walls, create a DIY birthday card, send any of the following images via email to wish happy 30th birthday or save any pic and use it as a background on your desktop computer or mobile phone. As you can see, a choice is wide. The point is, these birthday pictures will make this day more special and festive.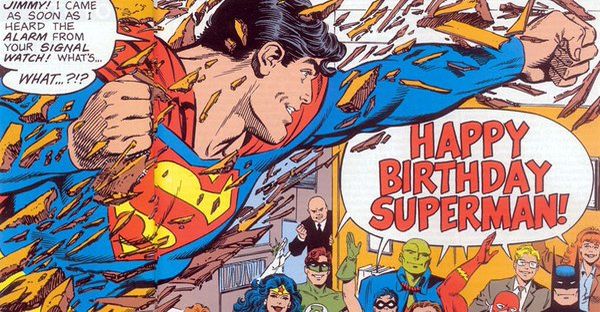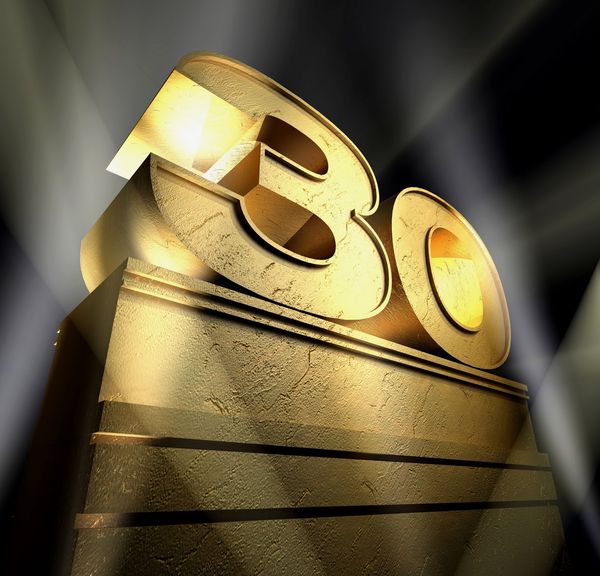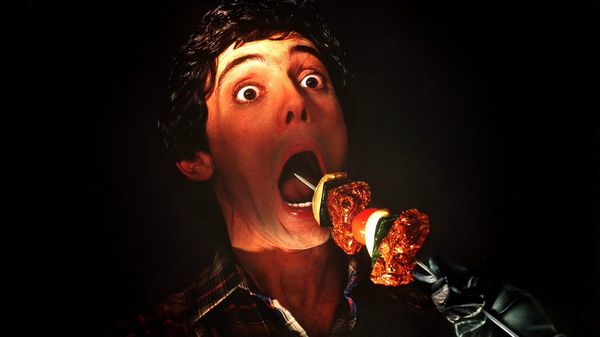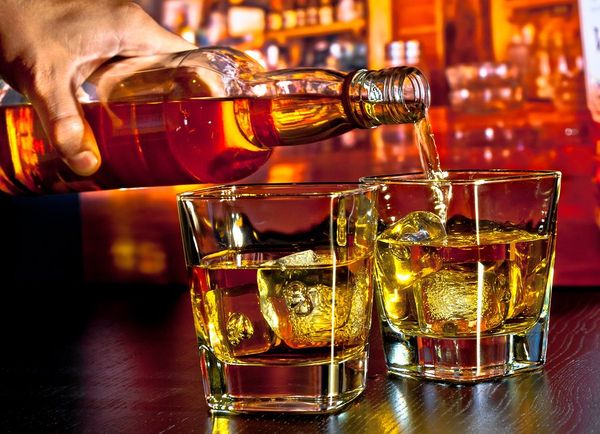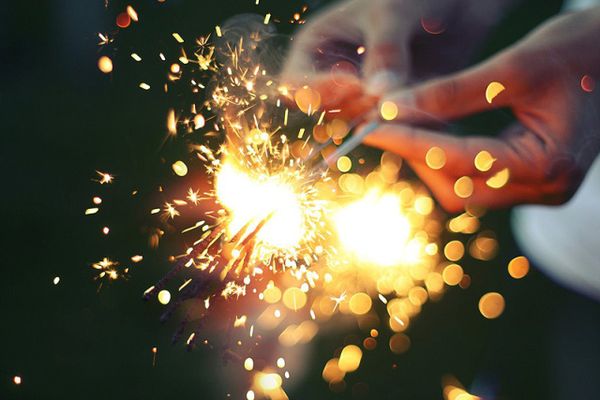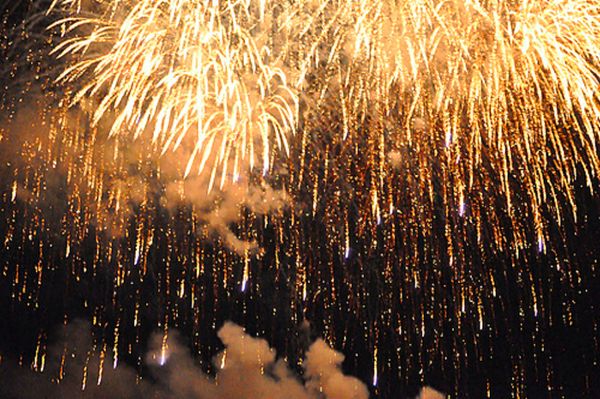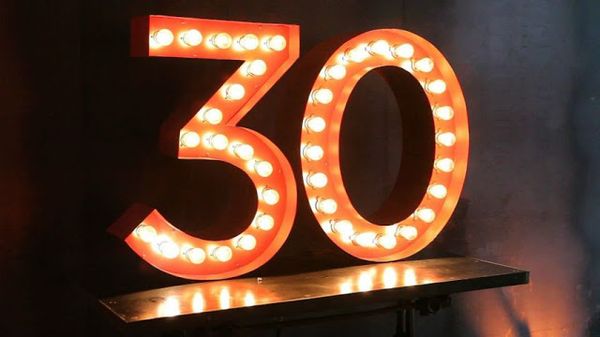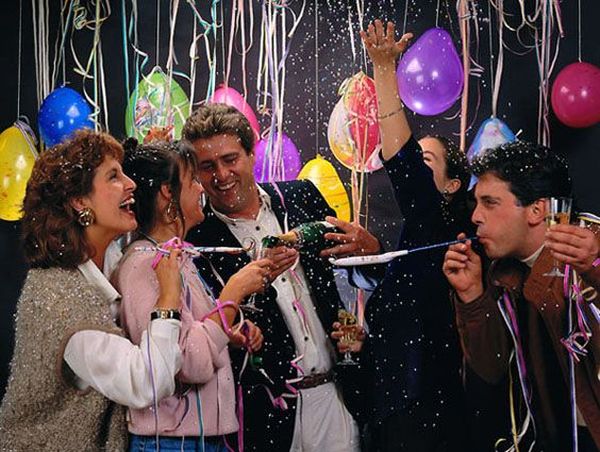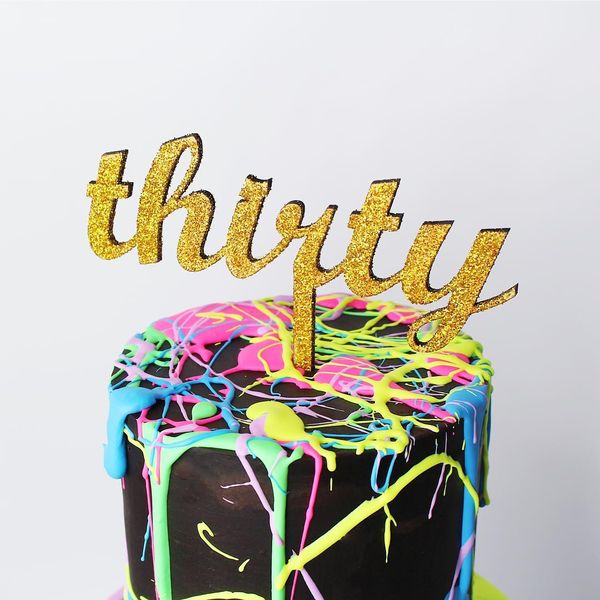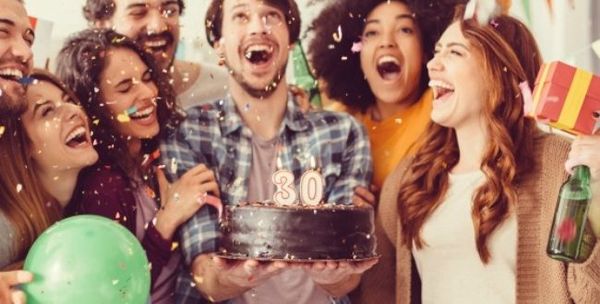 Funny Happy 30th Birthday Meme
There's no way you can ignore funny birthday memes when it comes to your or someone else's 30th birthday. The reason why these memes are so popular is simple. Basically there are quite a few people who find it hard to cope with their thirties birthday, an so there's an endless number of jokes and memes depicting this problem in a funny way. Perhaps, there's only one age that could beat memes about someone turning 30 by popularity. We're talking about 50 years. But we'll talk about this later.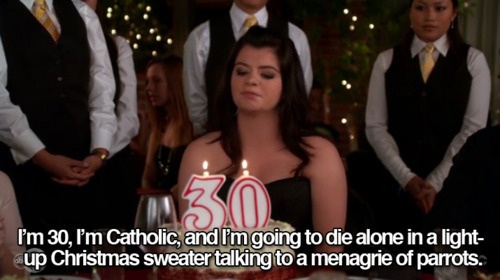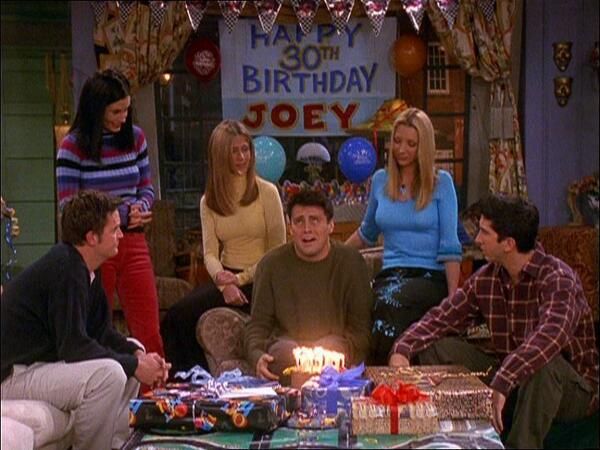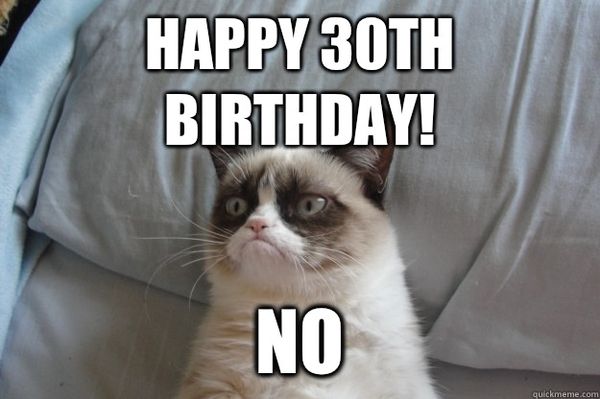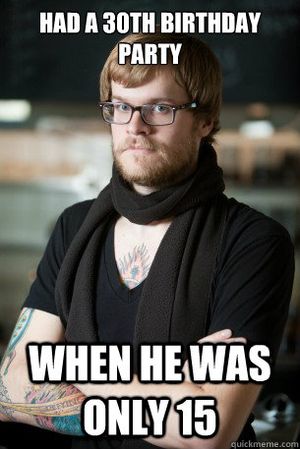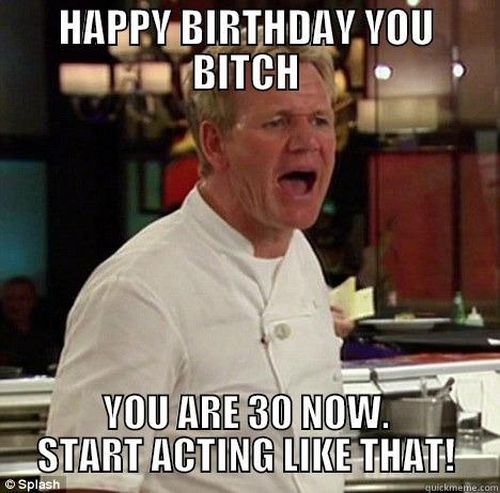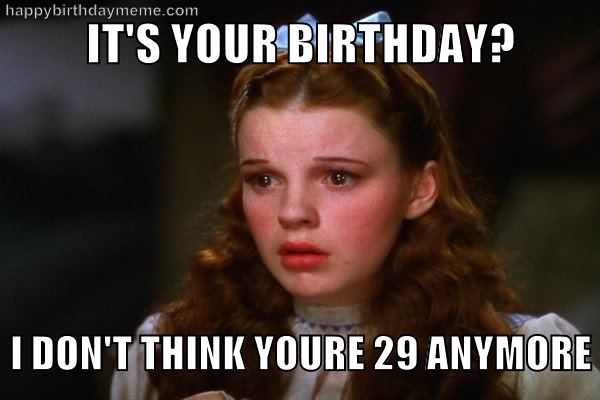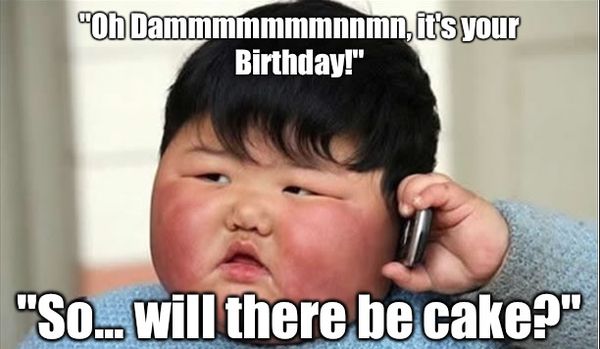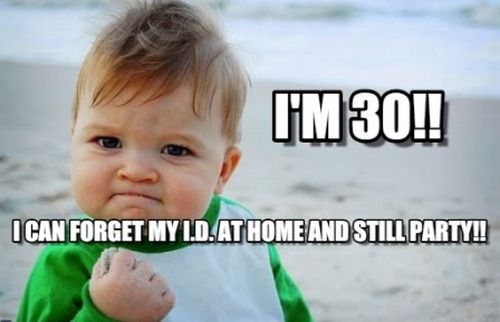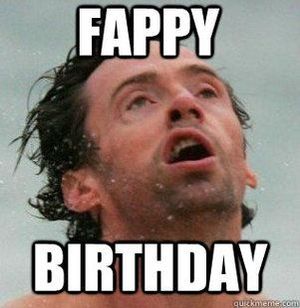 You might also like:
I Love My Sister Images
First Birthday Quotes
Happy Birthday Big Brother
Happy Birthday Mom Quotes
Happy Birthday Sister Meme
Happy Birthday Minions Gif
Happy Birthday Messages
Happy Birthday Images for Her
Happy Birthday Images for Her