How do I say happy birthday to my son?
Is your son turning 8 soon? Or maybe your son's turning 16, 21, 30, or 50 years old. No matter which birthday your son's celebrating soon, for you, he will always be your little boy, the most precious gift of your life.
You'll always remember the day your son was born and you want him to have the best birthday ever. And we are going to help you say happy birthday to your son with some inspiring quotes to help you express how you feel on your son's birthday. Change these quotes as you see fit to make them your own.
Creative Happy Birthday Quotes from Father to Son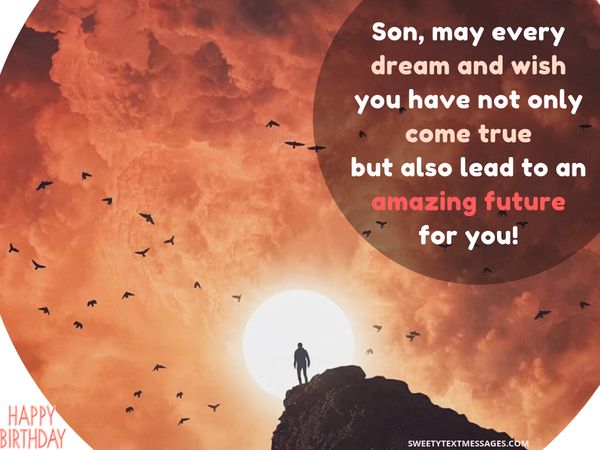 There's a special bond between a father and his son. We believe that it should be reflected in birthday wishes.
These creative quotes to wish 'Happy B-day, Son' is exactly what a father needs to help express how he feels:
Having you as my son is the greatest joy of my life. Being with you is what I look forward to the most. Have a wonderful birthday!
I am grateful every single day that you came into my world. Your smiles and laughter touch my heart. You have brought happiness and joy into my life. Happy birthday, son!
Stay happy, healthy and blessed on your special day…and every day of the year. Happy birthday, son!
You are God's greatest gift to me. Have a wonderful day! Happy birthday, son!
We are so lucky to have such an amazing son. Happy Birthday, kiddo!
Son, may every dream and wish you have not only come true but also lead to an amazing future for you!
There are so many things I want to say to you on your birthday but, more than anything, I want to say how much I love you!
At twenty years of age, the will reigns; at thirty, the wit; and at forty, the judgment. Happy birthday!
Every year on your birthday, you get a chance at a fresh start and a new beginning! Happy Birthday, son!
Funny Birthday Message for Your Son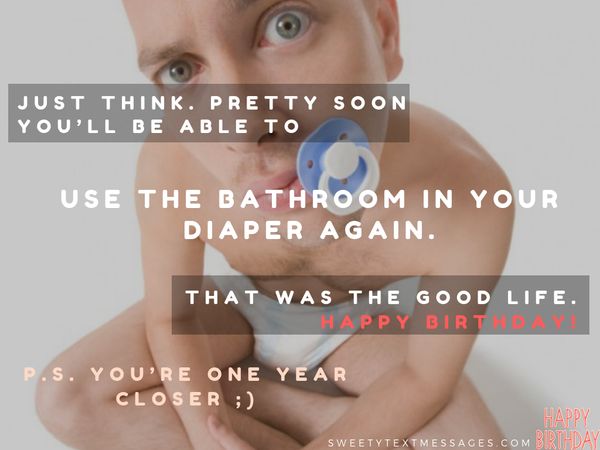 Planning to throw a party on your son's birthday? You won't do without some really fun birthday messages to a son.
Birthdays are nature's way of telling us to eat more cake. Happy Birthday and have some more cake!
Your birthday should be a national holiday. I'll get things starting by taking the day off from work in your honor!
Did you know that science keeps proving again and again that people who celebrate more birthdays live longer than those who don't?! Happy birthday, dear son!
I've decided to switch my political party to a party that's a lot more fun: Your Birthday Party!
Happy birthday, son. As you commemorate the day you came to this world, I can't help but remember how when you were a child you didn't like taking naps. At this point, I bet that is all you ever dream of. Have a great one!
Shouldn't you get your mom something on your birthday? It's your birthday, but it's her Mother's day!

Just remember that you are unique. Just like everyone else… Happy Birthday!

As you get older, you can look forward to looking as good as your parents. Happy birthday!
Age is an issue of mind over matter. If you don't mind, it doesn't matter! Happy birthday, son!
Great Rhyming Birthday Poem for Son from Mother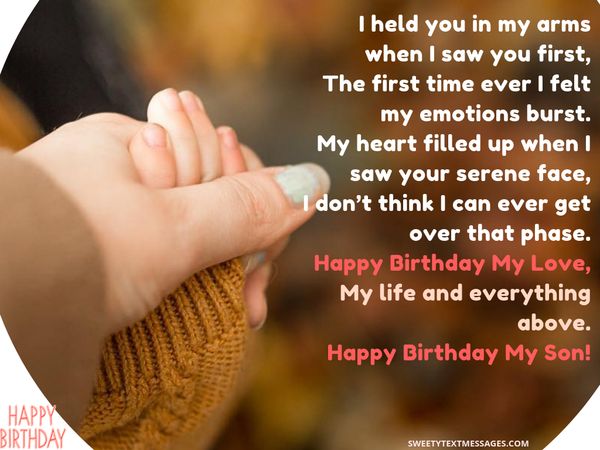 A mother's love for her son knows no borders. Show your love through these great birthday poems for a son from a mother.
I'm So Lucky To Have You
You are colorful like the rainbow,
You are bright like the sun,
You are sweet like chocolate and candy,
You're so good to each and everyone.
I'm so lucky to have you as my son.
Happy Birthday!
For my Son on his birthday:
I wish you strength to face life's challenges;
Knowledge to achieve your desired successes;
Hope to get back up when life knocks you down;
Good family and friends to share your accomplishments with;
New adventures to greet you at every turn;
And love to fill your heart so big there is no room for negativity.
Happy Birthday to the greatest gift I have ever received. I love you, my sweet boy.
Gift Of Happiness
Dearest son, you are a miracle by God,
You are a gift to us from heaven above.
Even if at all, I forget to remind you what you mean to me,
Remember you are the one who fills my world with glee.
Happy Birthday to my little one!
Sticky fingers and dirty toes,
Lots of laughter as he grows,
Trucks and wagons,
Blocks and bugs,
Precious little kisses and hugs.
Happy Birthday to my most precious treasure!
Precious Birthday Wishes for Son
I held you in my arms when I saw you first,
The first time ever I felt my emotions burst.
My heart filled up when I saw your serene face,
I don't think I can ever get over that phase.
Happy Birthday, My Love,
My life and everything above.
Happy Birthday My Son!
For your Birthday,
Dear Son, You are my precious gift,
Time with you passes swift.
One year has gone by
Today is your birthday and I'd try,
To make it special in every way,
So that you never forget this special day.
And here's a short poem for your son on his birthday: Sixteen candles make a lovely light But not as bright as your eyes tonight.
Fantastic Birthday Quotes from Mother to her Son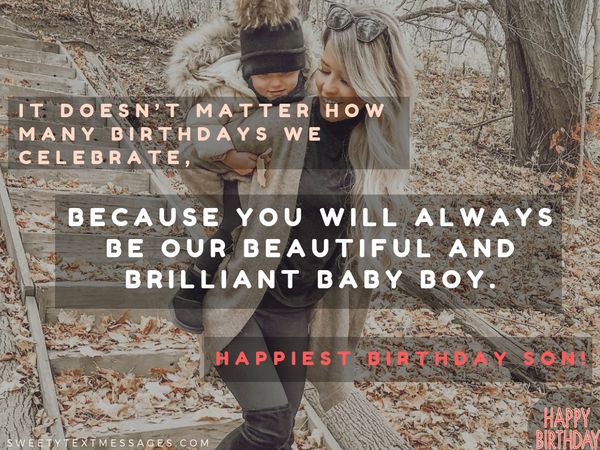 It's crucial for a mother to show her son how much she values his presence in her life. Be confident that your son's birthday will be perfect thanks to these birthday quotes for a son.
My son, I will love you always and forever! Happy birthday!
I love you to the moon and back, I will always love you no matter what! All the best for your birthday!
Son, may you have an incredible birthday. Even if it's only half as wonderful as you, it will still be the biggest birthday celebration of the year. Happy birthday!
All of it – is the only place you have in my heart. Happy birthday, son.
I hope that this year your birthday is just the beginning of an unforgettable journey that will lead you to an even more amazing future. Remember always to continue to wish and dream.
It doesn't matter how many birthdays we celebrate, because you will always be our beautiful and brilliant baby boy. Happiest birthday son!
We always believe that miracles happen to one in a billion. But we have never thought that we would be among the lucky ones until we have you, our beloved son. Wonderful Birthday!
Remember, it takes a long time to grow young. Happy birthday!
Happy birthday to the sweetest kid in the world. I'll love you always and forever!
Sweet Message for Birthday Boy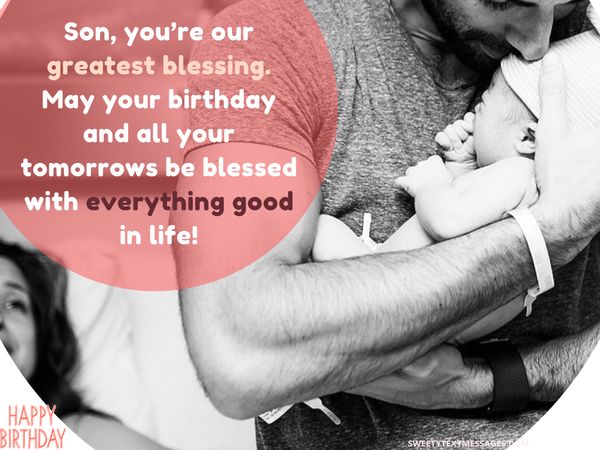 Looking for a cute birthday message to congratulate your boy on his special day? Then don't miss these sweet messages for a birthday boy.
Thanks, son for giving us the opportunity to become the best parents that you will ever have. May you have a great birthday celebration and a wonderful year ahead!
Thank you for letting us be the best parents we can be, just by being yourself — a wonderful, wonderful boy.
Many years ago on this day, our journey began, when you came into my life. It was then, that everything became meaningful! I wish you a life full of joy and meaning, my dear son! Happy birthday!
Son, I am happy to say that I see a little more of me in you every single day. Best birthday, my little boy!
My son… your eyes give me the will to fight back, even when everything goes off-track. Your hugs give me a reason to smile, even when problems pile. Your love is what keeps me going, it is what keeps my heart beating. Happy birthday.
Son, you're our greatest blessing. May your birthday and all your tomorrows be blessed with everything good in life!
Heart-melting Birthday Sayings from Mother to Son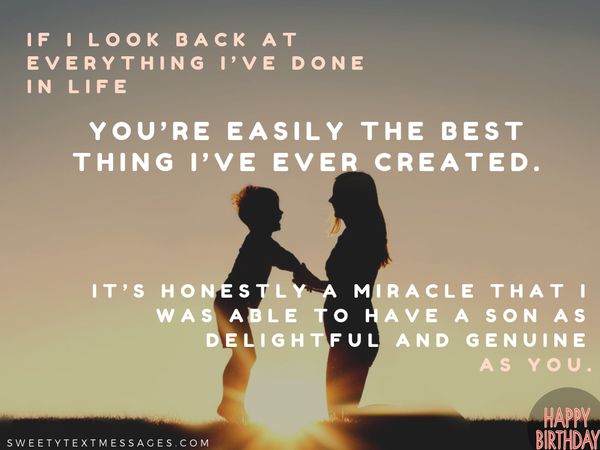 Mothers simply adore their sons. We've tried to single out only those birthday sayings for a son from his mother which would show the endless mother's love.
There have been times I have worried when you were far from me. A mother's job is sometimes full of worries. But above all a mother's job is full of love and joy! Happy birthday, my sweet son!
Today is your birthday, son. Go and have a lot of fun! Happy birthday from your mom!
Let's wait until the party to find out what I got you for your birthday! Love & kisses, my beautiful son!
Whenever life throws you a curve ball, I'll give you a hug. No matter what you do or how many birthdays pass, for me you'll always be my little boy. Happy birthday!
If I look back at everything I've done in life, you are the best thing I've ever created. It's honestly a miracle that I was able to have a son as amazing and genuine as you.
Dear son, as you blow the candle in your cake, always remember that your love is like a candle that will forever burn in our hearts. Wonderful Bday!
Thoughtful Birthday Sentiments for a Son by Parents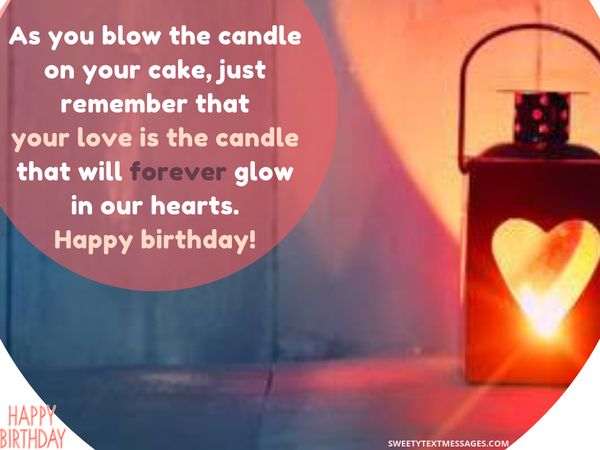 Having a hard time coming up with a thoughtful birthday wish? We hope these sentiments help you find the right words to say to your son:
When you were born, I couldn't even fathom how much you'd come to mean to me. You are my everything. May your special day be filled with untold splendor. I love you always and forever. Happy birthday!
Every day, we thank our lucky stars that you came into our world. You are the sweetest boy ever. Happy birthday, son!
Happy Birthday, my son! We both love you very much!
What's important in this world can be summed up in just three letters: SON. Happy birthday, son!
As you blow the candle on your cake, just remember that your love is the candle that will forever glow in our hearts. Happy birthday!
Regardless of how many birthdays you have, you will forever remain our little bundle of joy. We love you always and forever. Happy birthday, son!
Amazing Quotes to Say 'Happy Birthday to a Wonderful Son!'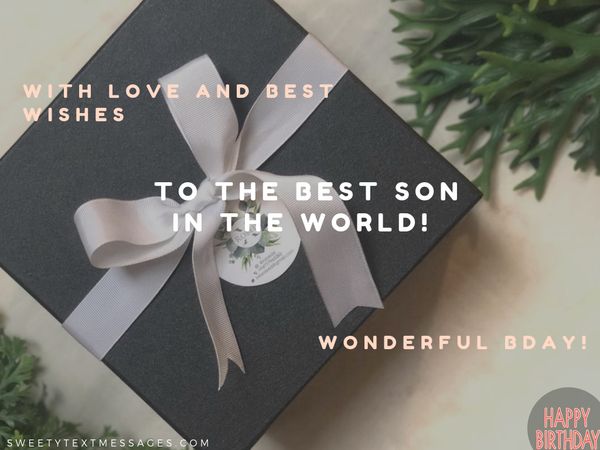 Show your son just how much he means to you by saying his 'Happy Birthday to a Wonderful Son' with these amazing quotes.
Our beloved son, thank you for bringing a smile to our face every day. We hope that your birthday will bring a smile to yours as well! Best Bday!
Dear son, you make smile. We love you so much. Happy birthday!
Sons like you should be called Suns because you are the bright light that has shined from the day you were born! Happy birthday.
My dear son, while you are off enjoying the freedoms of adulthood, remember me. While you are off achieving your goals and living out your dreams, remember me. Remember that you always have a warm bed to come home to, a shoulder to lean on, and two listening ears. We are here for you. Happy Birthday!
Sometimes I wonder what I did to deserve a son so wonderful as you. But most of the time, I just thank God that He blessed my life and gave it meaning by giving me you. Happy birthday, my dear son.
With love and best wishes to the best son in the world! Have a wonderful birthday!
Cute Birthday Greetings for Your Son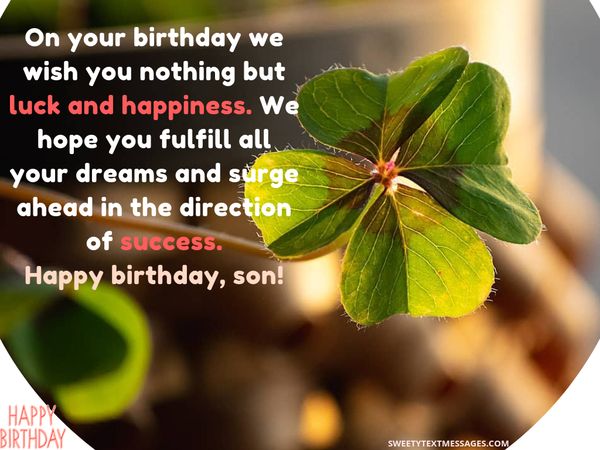 If you feel like it's impossible to think of a nice cute birthday greeting for a son, we are here to give you a helping hand.
Thanks for giving me the opportunity to feel such an all-encompassing love. You fill my days with warmth, wonder, and joy. I hope your birthday is filled with the same.
I have such sweet memories of you as a child, but I have faith that your future will hold even sweeter ones. I hope your cake is half as sweet as you are. Happy birthday, son!
Loving you, son, is our greatest joy. You make it so easy. Happy birthday, dear boy!
On your birthday we wish you nothing but luck and happiness. We hope you fulfill all your dreams and surge ahead in the direction of success. Happy birthday son.
On your birthday I wish that I could stop time. Not only to keep you with me forever but so that I can stop feeling so old! Happy birthday to my son who at least makes me feel young at heart.
Wonderful Birthday Card Sayings for My Teenage Son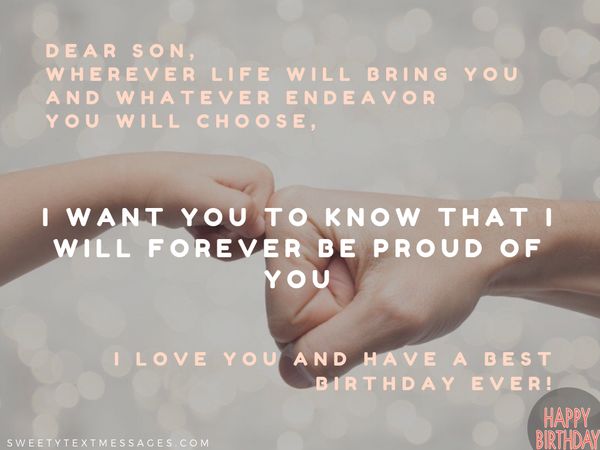 No one wants to drop the ball in front of a son and his teenage friends on his birthday. Make sure that your birthday card wish is appropriate and fits your son's personality and age.
You have made the past few years so happy and beautiful. I wouldn't have it any other way. May all your wishes come true, because your heart is in the right place. Happy birthday my son, with love.
To my pride and joy, you are the reason I wake up with a smile every morning. Have a wonderful birthday, from my heart to yours.
We've always been proud of you. Now more than ever, our hearts are bursting with pride, because you've grown into a remarkable person — so full of love, caring, and joy. Happy birthday, dear, dear boy!
I can still remember the first time we laid our eyes on you. Our hearts have been full of love and joy ever since. Happy birthday to you, dear son.
Dear son, wherever life will bring you and whatever endeavor you will choose, I want you to know that I will forever be proud of you. I love you and may you have the best Birthday ever!
When you have a son as wonderful and responsible as you, there's no need to stay up late worrying. Thank you for being the best son ever! Happy Birthday.
Beautiful Birthday Wishes for an Adult Son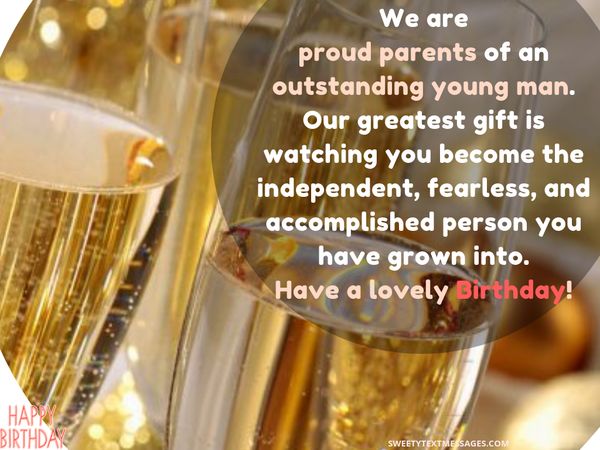 A birthday is a big deal no matter if your child is 6 or 60 years old. Even if your son has already his own children or even grandchildren, he still will be thrilled to hear a beautiful birthday wish from his parents.
"Eat your dinner", "wash your teeth", "go to bed"! I was full of instructions, you once said. Now all grown up and away, free to live your every day as you wish, you make me proud of who you are. Thank you! Happy birthday!
When times are tough, all it takes are thoughts of you to pull me through. Your hugs and kisses nourish my soul, and I'm so grateful that I have a son as precious as you.
These are the moments I feel the time is flying by so fast. You have grown from a baby to a young man in a blink of an eye. Wishing I could slow time down and wishing you a happy birthday. I'm so proud of you!
We are proud parents of an outstanding young man. Our greatest gift is watching you become the independent, fearless, and accomplished person you have grown into. Have a lovely birthday
My lively son, you have always been the life of the party… especially when the party is all about you. Happy birthday to you!
Happy birthday, Son. You may be too old for a curfew, but don't let that go to your head.
Inspirational Birthday Wishes for a Son
When it comes to birthday wishes, nothing will compare with these inspirational birthday wishes for a son. Change these quotes as you see fit to make them yours.
Son, we think the world of you and love you very much. We hope you have the happiest birthday and an even happier, healthy future.
You're a one-in-a-trillion miracle to us. You have blessed our lives with your funny, kind and caring ways. Happy birthday!
I hope that you always look ahead in life with a smile on your face and look back with fondness in your heart. I wish you endless joy in life on your birthday, and may it be filled with wonder and delight this year.
We are very happy and excited to have a wonderful son like you. You have indeed brought so much pride and joy to us. As you mark another year on earth, may God fill your life with all the good things that exist in this universe. Happy birthday, dear son
We love you so much. May your birthday be blessed with everything that God wants for your life! Happy Birthday!
My joy in having you as my son is something that can't be measured. It can only be felt through lots of hugs, kisses, and adoration. I'm so happy I was blessed with a son as outstanding as you.
Nice Birthday Wishes for Son from Mother for Facebook with Images
If your son happens to live far from you, one of the best ways to congratulate him, except by calling on the phone, will be writing a birthday wish on his Facebook wall.
Son, no matter how old you get, you'll always be our little prince. Hope you have a truly wonderful birthday.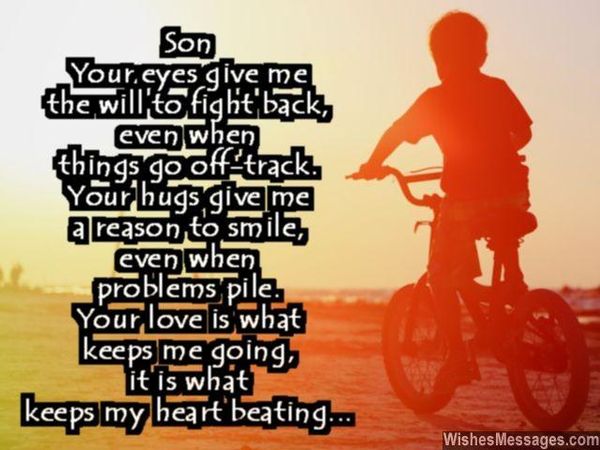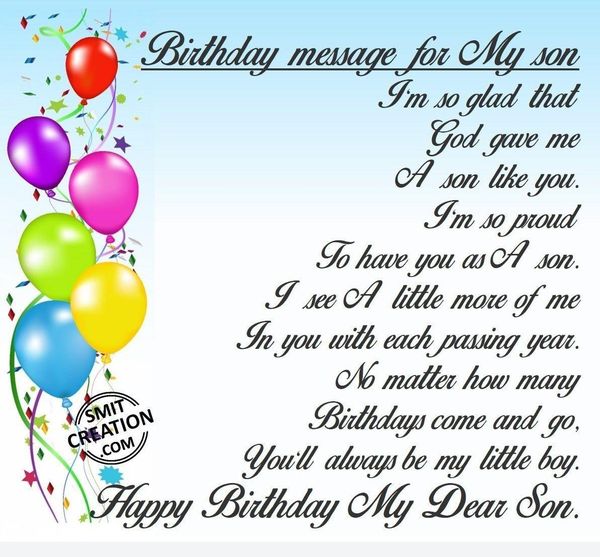 No matter how many years have passed, you will always be my little one. Happy birthday, my beloved son.
We love you so much! Have an amazing birthday!
You are the reason why my smile is brighter and my heart is lighter. I thank God every day for giving you to me. Happy birthday with love son!
Cheerful Birthday Images for Son
Birthdays and cheerful birthday images are inseparable. Don't be the only one without a nice colorful birthday card on your son's birthday.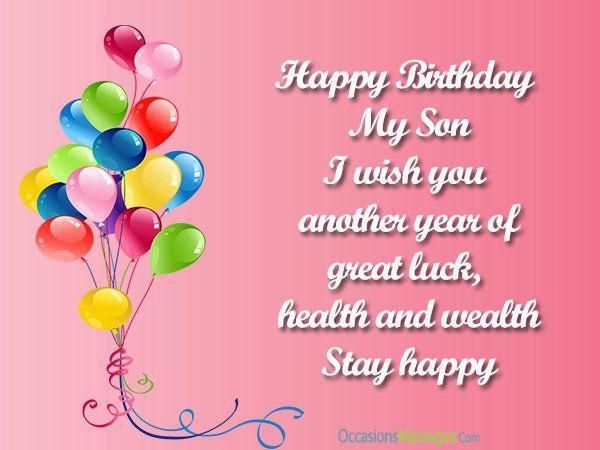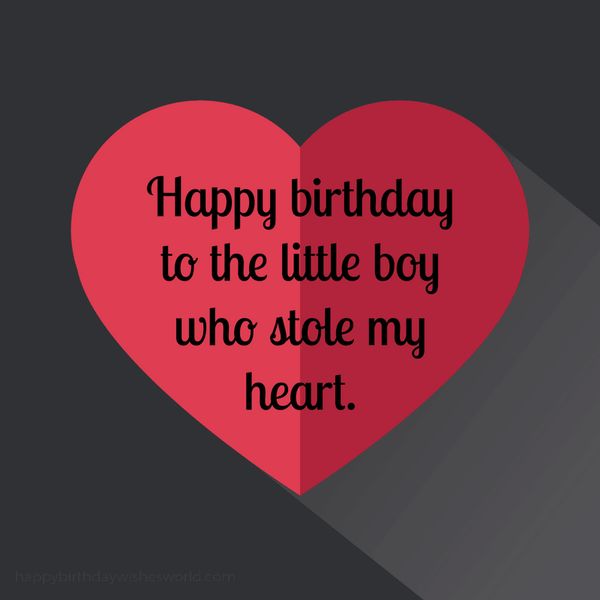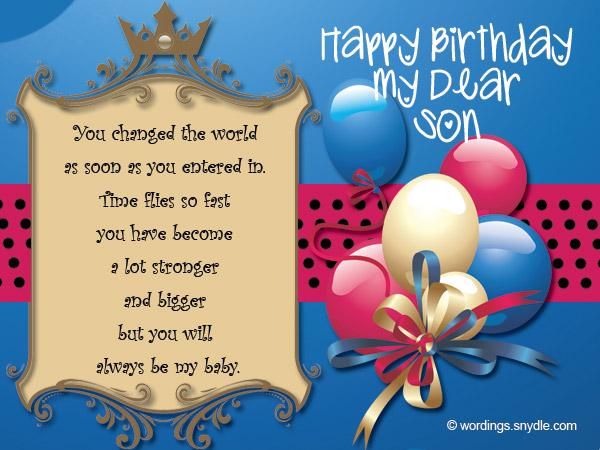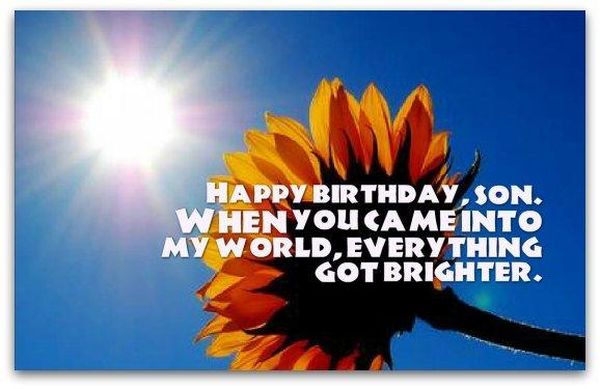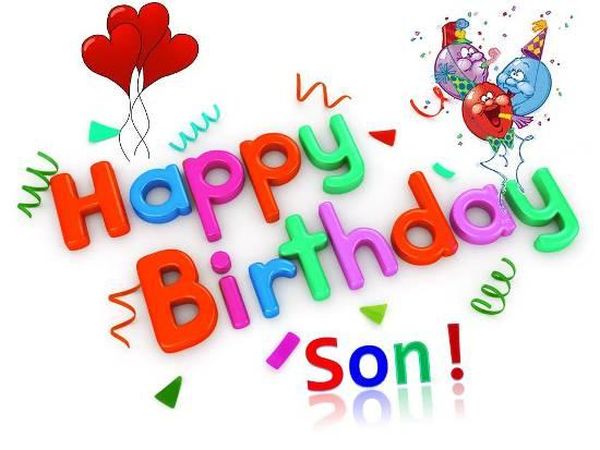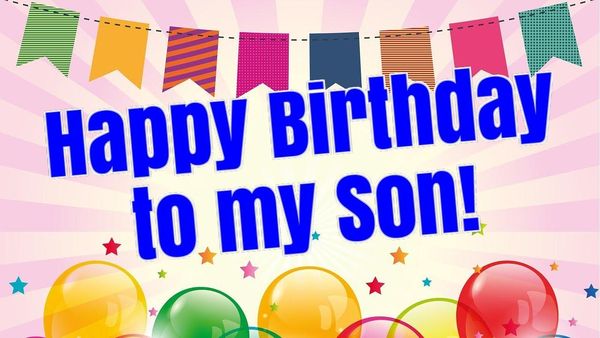 If you found this article helpful in inspiring you to find the right words on your son's birthday, you might also like Happy Birthday Son in Law and Happy Birthday Wishes for Your Grandson.
Do you have any favorite quotes that have helped you wish your son a happy birthday? If so, please tell us about them in the comments below!