Tuesday, of course, is not such a popular day of the week, like Monday or everyone's favorite Friday. But, nevertheless Tuesday quotes as well as quotes about other days of the week, become popular every seven days. Tuesday is definitely the most working day – the weekend is left behind and we have a lot of work ahead.
If you are willing to create more cordial and friendly atmosphere among your co-workers, you can send them messages containing funny Tuesday quotes or pictures. They'll read it and appreciate your humor and desire to cheer them up. Such Tuesday sayings sound really interesting and aspirational, so they can motivate your team to do their best, be fully functional and keep all the deadlines. Small breaks in order to laugh at a picture or a quote will bring benefit to the work environment and increase effectiveness of the work.
Look at our collection of motivating, funny, amusing, and cool quotes collected by us from a variety of sources. Regardless of whether you want to put your colleagues or schoolmates in the good mood, you may use following quotes and images to lighten up somebody's day.
Funny Tuesday Quotes
Tuesday as any other day of the week can bring you both pleasant and unpleasant surprises. But the point is, if you have a positive attitude, there won't be any challenges which you can't overcome. Well, humor is the best thing you can rely on when having bad times, agree? Remember that Tuesday is just a start of the week. Inspire your friends and team members with these funny Tuesday quotes. When people around you smile, you'll work with great pleasure.
Tuesday is Monday's ugly sister.
Tuesday is just another word for Monday.
I went out there for a thousand a week, and I worked Monday, and I got fired Wednesday. The guy that hired me was out of town Tuesday.
Ahhhhh Tuesday. The day to remember all the things I didn't get done on Monday- and push them off until Wednesday.
Tuesday is my second favorite day of the week to put off everything until later in the week.
If each day is supposed to be a gift, then I would like to know where I can return Tuesdays.
If you wake up on Monday and you do not have a headache, then it's Tuesday.
We have Tuesday, but we'd rather have money.
Tuesday isn't so bad…It's a sign that I've somehow survived Monday.
Tuesday is the new Monday.
Tuesday: The day after Monday that reminds you that you still have four more days of not trying to slap a fellow co-worker.
I showed up for Tuesday… Didn't say I'd participate.
Tuesday Sayings
When you have a typical schedule and you work Monday through Friday, Tuesday is definitely not your favorite working day. Let's face the truth, it seems that since you survived Monday you already deserve a day off. Or at least you want it to be Thursday, right? Yet life is unfair and four work days are left. Don't get upset too soon. Even the beginning of the week can be successful and pleasant. Get up and enjoy reading following Tuesday sayings.
Nothing messes up your Friday like realizing it's only Tuesday.
Tuesday! Worry less, live more.
Tuesday's are really just Monday's dressed in their Sunday best.
Today is Thoughtful Tuesday. Try doing something nice for someone else whether it is a kind gesture or a positive remark.
Tuesday is the day I actually start the week, Monday I just deal with the depression of the weekend ending
Today is Tuesday. Give thanks for another terrific day full of many possibilities.
Three horrible facts: 1. Today is not friday 2. Tomorrow is not Friday 3. Even the day after tomorrow is not Friday.
TUESDAY I can't even see the weekend from here.
Tuesday is the affirmation that my goals are being moved another step forward. – Byron Pulsifer
There isn't a Monday that would not cede its place to Tuesday. – Anton Chekhov
A Tuesday after a three day weekend is like a double-whammy Monday!
Three positive facts are obvious on Tuesday: Tomorrow allows me another day to demonstrate my worthiness to my employer; it is yet another day to influence those around me with encouragement to handle their own trials; and, it is my day to celebrate each small victory of yesterday.
Good Morning Tuesday Quotes
Provided you are one of those 'life-is-good-so-smile-every-day' people and the thing that today is only Tuesday doesn't bother you, our congratulations. But believe us, there are quite a few of your colleagues who are having a hard time staying as positive as you. What should you do? Wish your colleagues and friends good morning! Send them a cool quote about Tuesday and improve on this day not only for them, but for yourself as well.
Good morning Tuesday! Monday is over, so let's enjoy the rest of the week in peace.
Good Morning Tuesday! Wishing you a blooming great day!
Happy Tuesday. Don't worry Friday is coming.
It's TUESDAY! And since its CHOOSEDAY: Choose to Smile Choose to be Happy Choose to Love Choose to Bless Choose to be a Blessing Choose t be Humble Choose o be Patient Choose to be Kind… and above all Choose God to guide your Life.
A fresh start, a clean slate, and a lot of potential for great things to come. That is what Tuesdays really are.
Coffee is the best Tuesday motivation that exists.
Today will be a GOOD TUESDAY and this morning is going to be an awesome one!
Good morning Tuesday! I hope you won't pretend that you are Monday today.
Good morning Tuesday! Today I promise not to stress over things that I cannot control.
May it be the best Tuesday ever! Good morning Tuesday! I'm ready for great things to happen.
Good morning and have a blessed Tuesday!
Think about the dreams you had last night to make your lazy Tuesday morning a beautiful one.
Transformation Tuesday Quotes
It's not a secret that every day is a new day, which gives us lots of opportunities for self-development and improvement of skills you already have. If you have been dreaming of changing something about your life, why not to start right now?  Did not start a new life on Monday? Tuesday is a great opportunity to do something different. Inspire with our transformation Tuesday quotes and change your way of life for the better!
Today is not just Tuesday, it is Transformation Tuesday. That means that success does not just come to you, you have to go out and get it. So what are you waiting for?
If this country wants to elect someone with no political experience who is racially insensitive and golfs… In my first 100 days, I will make Taco Tuesday the law.
You may have heard of Black Friday and Cyber Monday. There's another day you might want to know about: Giving Tuesday. The idea is pretty straightforward. On the Tuesday after Thanksgiving, shoppers take a break from their gift-buying and donate what they can to charity.
This Tuesday, choose to make a difference. Every little action counts.
After a Saturday game, we're in on a Sunday to cool down and make sure we're fully back at it again. But it doesn't really affect things too much. It's basically like you've had a game on the Saturday, and then you're in the cup on a Tuesday.
If you had a serious story to run, if you thought there was serious misconduct, you don't wait until the Thursday before the Tuesday. You run it early.
We are in a constant state of transformations. And Tuesday isn't an exception.
To improve is to change, so to be perfect is to have changed often.
If the plan doesn't work, change the plan but never the goal.
Progress is impossible without change, and those who cannot change their minds cannot change anything.
If it is important to you, you will find a way. If not, you will find an excuse.
When you become the image of your own imagination, it's the most powerful thing you could ever do.
Tuesday Inspirational Images
If we are constantly whining that a working week is too long, it will seem even longer. But if you enjoy your job, if you like you co-workers, if you truly happy to get out of the bed each day, you won't need to work a single day in your life. What's more, you definitely won't care what day of the week it is today. Do you want to become this kind of person? We suggest starting your working week with a portion of inspiration and motivation. To this end, we have collected for you a number of Tuesday inspirational images.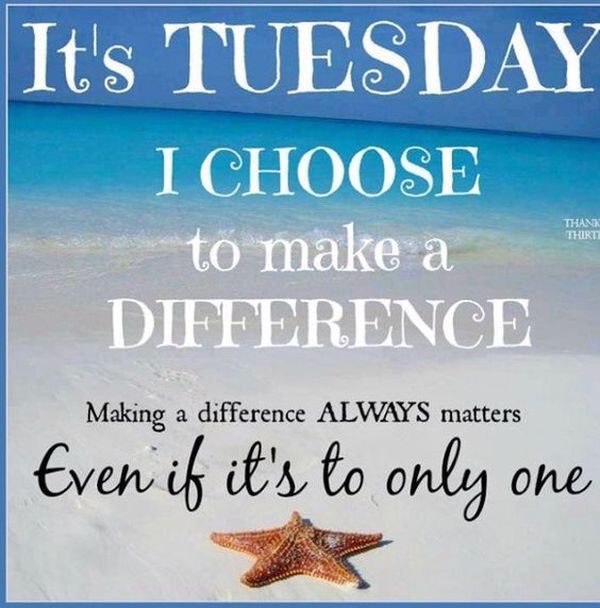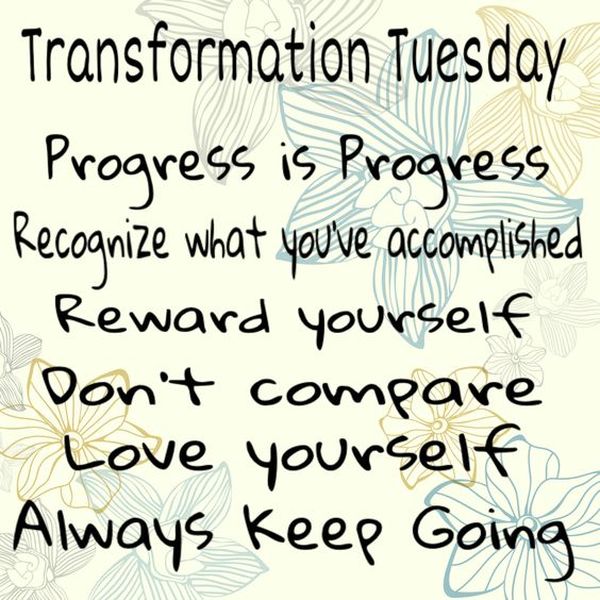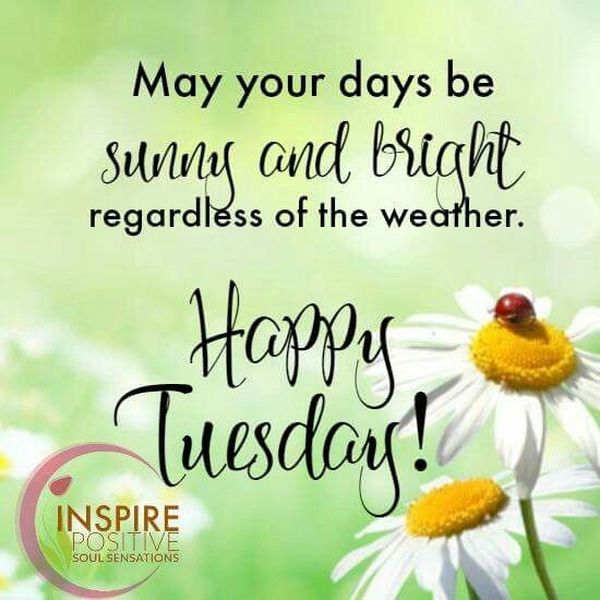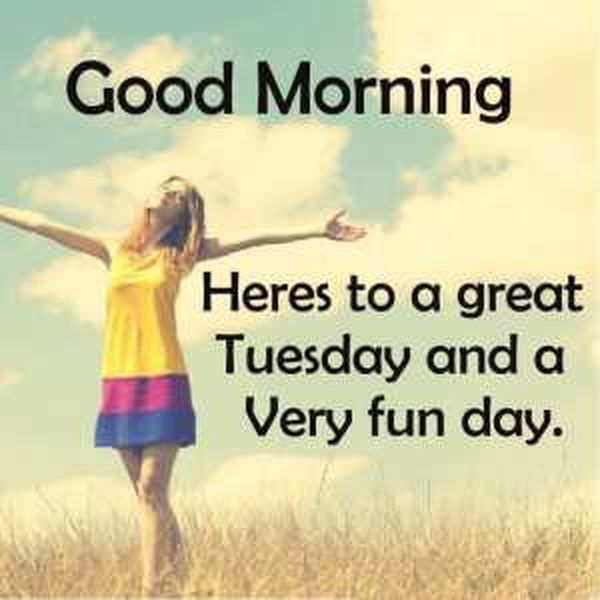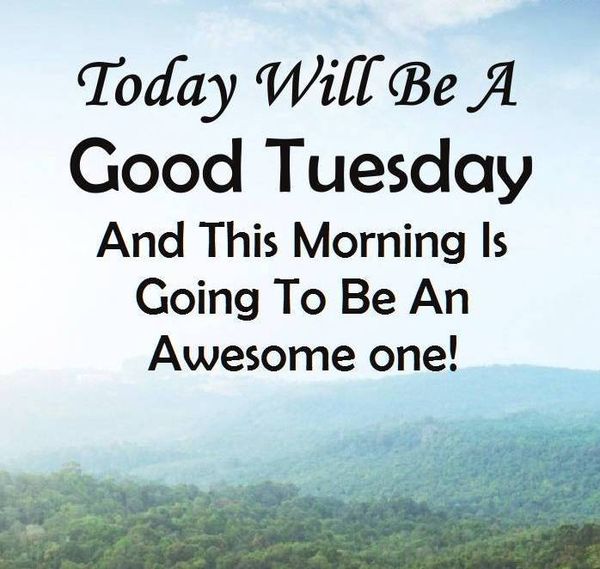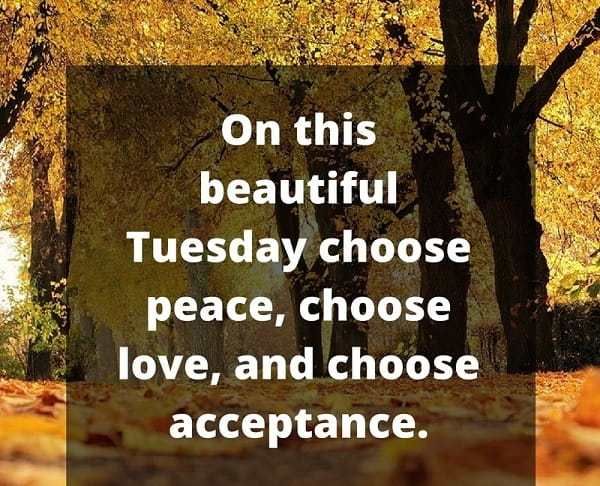 Tuesday Motivational Quotes
In practice, every day is another challenge. Very often we look for a push to start working. And since Tuesday hasn't gone far from a weekend, the memories of all the fun you had during Saturday and Sunday get in the way of working well. What you really need right now is a little bit of motivation. These Tuesday motivational quotes will provide you with inspiration and just the impetus you need get down to business.
Tuesdays are a chance for a new beginning and a new perspective, so make them count.
Today is "Take a Chance Tuesday". Take a chance and don't be afraid to jump. Don't hold yourself back. You will never know if unless you try.
Tuesday is a huge day.
One small, positive thought in the morning can change your whole day.
When you feel like stopping, think about why you started. Have a good Tuesday!
Tuesday is a terrific day because it means that I got through Monday.
When I lost all of my excuses, I found all of my results. May it be a productive Tuesday!
I never regret it when I do it, but I always regret it when I don't.
The question isn't CAN YOU? It's WILL YOU? May your Tuesday be awesome!
Small progress is still progress. Tuesday means that we are closer to Friday.
Don't judge each day by the harvest you reap but by the seeds that you plant.
We each need to fill our minds and hearts with positive and joyful reinforcement each day.
Tuesday Love Quotes
We know working weeks may be hard.  Well, no matter what day it is, we are ready to make you feel better. Read these Tuesday love quotes and share them with your friends and peeps to cheer them up as well.
Dear Tuesday, nobody likes you either. You're just Monday's ugly cousin.
I am having Monday feeling towards Tuesday.
On this beautiful Tuesday choose peace, choose love, and choose acceptance.
Sending you the best wishes on this lovely Tuesday.
Tuesday is the day for love and hugs.
Happy Tuesday may bring love and happiness to those around you today!
Have a beautiful day! Take time to enjoy the wonder and beauty of each moment. Happy Tuesday!
Sending out some Tuesday Love.
Tuesday's hugs and kisses from me to you. Have a good day!
Tuesday I love you so much I could squish you!)
Every time I look at the keyboard, I see that U and I are always together. Happy Tuesday, my love!
How would your Tuesday be different if you conducted yourself with complete love and consideration?
Positive Tuesday Quotes
Looking for a way to get inspired and become positive for the whole day? Start your Tuesday with reading ridiculous and positive quotes. Don't forget to send them to your friends to share a good mood!
Tuesday isn't so bad…It's a sign that I've somehow survived Monday.
I don't want it good. I want it Tuesday.
Tuesday is just another word for Monday.
Why does February feel like one big Tuesday?
If you do not want to go to work the second day in a row, then today is Tuesday
On Monday, it's impossible to start a new life, and on Tuesday it's too late.
Keep grinding! Stay persistent! One day you gonna wake up and be exactly where you dreamed you would be.
Tuesday's child is full of grace.
My feelings of accomplishment left over from the day before allow my Tuesdays as a testament to my children that each day brings its own rewards for a job well done.
You can't change what happened then. But you can change what is going to happen in the next minute, hour, day . . .
It's coffee and I need some Tuesday.
Words have the ability to shift your mindset, change your perception, and even create the world that you live in.
Tuesday Quotes for Work
Sometimes being the last is a lot better than being somewhere in the middle. This statement gets more sense when it comes to working days. Of course, on Tuesday you don't hate every creature on this planet like you do on Monday, but your mood is still too far from the Friday mode. Each of us has days when there is no desire to go to work. Do you have problems with getting started? In this situation that motivating Tuesday quotes for work will come to the help.
Creativity is a highfalutin word for the work I have to do between now and Tuesday.
On this Thoughtful Tuesday, think about what you need to do to get what you want and to succeed.
Hard work keeps wrinkles out of the mind and spirit.
Everything yields to diligence.
On this Tuesday, do something today that your future self will thank you for.
Tuesday is the best day for a new job.
Tuesday morning is a time to reflect upon what to include in your team meetings; it is your time to deliver words of passion that speak to the dazzling new roads ahead where each person is accountable for their own actions and behaviors; where each day represents a fresh start to be a positive influence; and, where self is expressed as unselfishness with each person you meet.
Tuesday is a day to remember that you are responsible and accountable for each word you speak so make each expression one to be celebrated not castigated.
Is it the dreams that inspire us to new places or do we limit the scope of our work to what we believe we can achieve?
Hello Tuesday! Monday was good, Tuesday will be even better.
If you are currently struggling with self-doubt, know that success and great things will only come your way if you start believing in yourself.
Middle of the Week Quotes
It's only the middle of the week and you still have long working days before the weekend? Humorous sayings from our collection will help you to go through this thought. It can be a hard day, but you're already through half of the week.
A Tuesday after a three day weekend is like a double-whammy Monday!
Today is Tuesday! Tomorrow is Wednesday and you can say, "The day after tomorrow is Friday."
Tuesday, I can't even see the weekend from here
What good is Tuesday or Thursday if I'm in the middle of Wednesday? Then is not it a softer word to say no or never again
Tuesday is the day after Monday that reminds you that you still have four more days of not trying to slap a fellow co-worker.
Tuesday means we're a day closer to a weekend spent dreading Monday.
It's only Tuesday?  Monday took so long that I thought it was Wednesday.
Tuesday would be a lot cuter if it were Friday.
"It's been a long week." Me in the middle of Tuesday.
Be Positive! Tuesday is almost the middle of the week.
Keep calm. It's Tuesday, which means you're one step closer to the middle of the week.
Tuesday is almost Wednesday which is not so far from Thursday which is a big brother of lovely Friday.
Tuesday Quotes of the Day
Do you know the thing that could possibly make your Tuesday any better? We do know! Just keep in mind that Tuesday is still better than Monday. Also, read our quotes that will charge you energy and good temper for the whole day.
Tuesday's child is full of grace.
Silence is the invisibility of talking. I'd take half an argument over half a silence any day. And I'd take peace and quiet over a full-blown argument any other day, unless it's Tuesday
There is a breed of Tuesday in January in which time creeps and no light comes and the air is full of water and nobody really loves anybody.
On this Thankful Tuesday, don't forget to be thankful for the great qualities that you have.
This Tuesday with a nice, reasonable chill I can only watch a movie under the covers.
I hate when it's Tuesday, not the best day of my life.
You've to think positively; you've to think affirmatively, because the way you think the way you can execute in your life.
"I hate how many people think "glass half-empty" when their glass is really four-fifths full. I'm grateful when I have one drop in the glass because I know exactly what to do with it."
"It's hard to beat a person who never gives up."
"I have not failed. I've just found 10,000 ways that won't work."
I challenge you to let every day be a Friday. Give yourself permission to be happy every day.
"Hard work keeps wrinkles out of the mind and spirit"
Tuesday Inspirational Sayings
It's often hard to find the strength to do anything on Tuesday. You feel like a squeezed lemon. Our Tuesday inspirational sayings will help you gain energy and inspiration so you can go through your to-do list! After all success doesn't come to those who do nothing.
Monday always passes and there will always be a Tuesday with a beautiful blue sky with few clouds.
Tuesday wrapped the sun and brought a gray day … Perfect for coloring with a smile of yours.
It was one of those Tuesday afternoons that I let go of the collar of my thoughts and let him revise my longing.
Good morning Tuesday! Please enter and pour out that shower of blessings into our lives, renew our spirits, our strength, our faith and our hope.
No matter how good you might be in a movie, you'll never be any better. But in a play, I can be better next Tuesday. That's the thrill of it.
Happy Tuesday! Having even one, small positive thought can change the rest of your day for the better.
Live every day like it's Taco Tuesday.
Be unto Tuesday in expectation and commitment as unto Monday when vigorousness abounded.
Happy and blessed Tuesday! Thank you LORD for another amazing day. A day full of Your love, mercy, kindness and grace.
Happy Tuesday! May peace find you, and joy be with you today and always.
Happy Tuesday! May all of your days be touched by the gentleness of love and happiness.
You may also like:
Inspitarional Good Morning Tuesday Memes
Funny Thursday Sayings and Quotes
Positive Wednesday Work Quotes