Everyone wants to have a little bit of excitement in their lives. If you're looking to get the sparks flying and meeting some lovely ladies on Tinder, you're going to have to put the work in. The app has been downloaded over one hundred million times on Android phones alone, which means that you are literally just one fish in a big ocean.
So, what can you do to make your profile stand out from the crowd? How can you get potential matches to swipe right with a smile, rather than left while rolling their eyes?
First Impressions Are Key
Imagine a session of swiping on Tinder as being like when you first walk into a packed bar when you're single. Your eyes will roam the room, stopping on faces briefly to judge whether or not they look interesting or attractive enough to actually catch your full attention. When you find someone you like the look of, you'll look more closely, try to assess them a bit, and then maybe even think about how to approach them.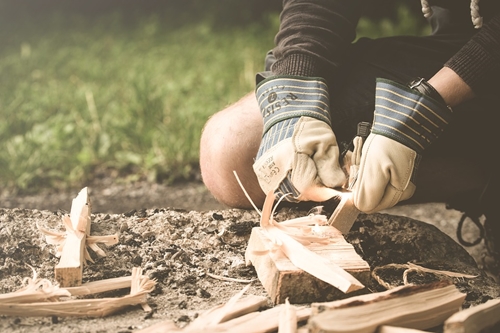 This process is very similar to how Tinder works. One of the reasons it exploded in popularity is that it doesn't pretend to match you with a soulmate based on a form you filled in. If you aren't drawn to someone physically, if they don't pop out at you from the crowd of faces, then you're unlikely to want to engage them.
This is unfortunate of course, because most of us aren't models. Having compatible personalities is important for the long-term success of a relationship, but if you're not putting your best foot forward with an attractive photo, you'll never even get the chance to display your winning personality.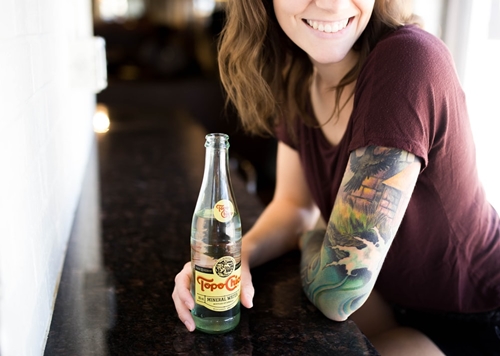 Choose Your Pictures Wisely
A picture speaks a thousand words, as the old saying goes, and this is certainly true in the high-speed dating world of Tinder. The first picture on your profile is all that most of the women who look at it will ever see, as women are far less likely to swipe right than men are on any given profile.  Most women will first look at your eyes and your smile, so try to choose a photo that shows these at their best.
The first picture on your profile is how you sell the brand that is you. Steer away from obviously professionally shot photos, don't look too serious, and keep in mind that what is going on in the picture can potentially tell the person looking at it something about who you are. Consider what it is you want your picture to say about you.
If you love reading, you could use a picture where you're looking up from a book and smiling. If you're an avid hiker, a candid shot of you half-turned, looking back at the camera while grinning will showcase this side of your life. Sure, those travel shots are fascinating, and show your adventurous side, but what are you like day to day? Potential matches appreciate seeing you doing things that are a normal part of your life, and most people appreciate having a full body picture to go by.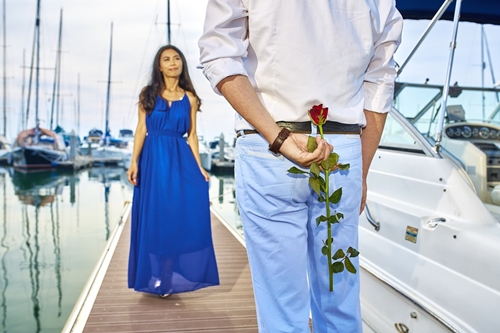 One Good Picture Isn't Enough
A good picture can be a fluke, as anyone who has a friend that likes to take photos on drunken nights out can attest. For every soft-lit, flatteringly angled image that makes you look like a glittering Adonis, there can be ten of you dripping sweat, half-way through spilling your drink on a passer-by, while singing "Take Me Home, Country Roads."
Pick out the best pictures of you that you can, and try to imagine the person looking at it. Would the kind of girl you'd like to meet want to be at your side in that picture? Does it show you at your best?
A Man of Your Word
A lot of left or right swipes are made on the basis of pictures alone, for better or worse. Even so, having an interesting, witty, or downright mad Bio on your Tinder profile can be the clincher one way or another. This is an opportunity to let your personality shine, but can also see you sinking back into obscurity.
There are myriad approaches you can take to writing your Bio. You can take the short and punchy approach with a clever one-liner, your most hilariously cheesy pick-up line, or even a quote that's an obscure reference to something you love. Most people don't have the time or interest in reading a wall of text, so keeping it brief can definitely work in your favor Also, laughter is a powerful aphrodisiac.
If you're looking for a bit more depth to your potential relationships, you can always go for a bit of a longer bio. Perhaps tell a good anecdote about something you love to do, like the hilarious thing that happened at your last swim meet rather than just saying "I like swimming." Or you could give a list of things that you enjoy and include some surprising, bizarre, or untrue things you think will catch people's attention.
Don't Just Be Another Brick in the Wall
The important thing is to present yourself at your best, while sharing a bit about what makes you tick. Looking all broody and mysterious can be great for a picture or two, but if that's all you have in your arsenal, it doesn't matter how sexy you think that pout makes you. And don't be discouraged if it takes a while to get anywhere. After all, women are four times less likely to swipe right than men are.
Just keep at it, keep refining, and if you're really struggling, maybe ask a female friend to cast an eye over your pictures and Bio, to see if it comes across as you're hoping it does.