Instagram is for many things.  Obviously, it's a great place for pictures of cats… and other pets, sure.  It's great for collecting killer selfies, too.  Vacation pictures make for some excellent posts, as well.  But no one who has been in a relationship can resist posting some cute pictures of lovebirds doing lovebird things.  Whether you see those pictures and smile, laugh, get sad, or want to throw up, you know they're a thing. Happy couples always seem to jump at the opportunity to share photos of themselves with the world, whether it's to share happiness with their followers or just to brag a little bit (hey, there's no harm in letting your ex know you're off the market!).
In any case, posting your couples shots to Instagram is a great way to share your love and your life with the people who follow you. Of course, every great photo needs a great caption, and for some of us, that's where the trouble starts.  Getting a great photo of two people in love is easy, but what should you say about it? And that's where we come in.  Behold a list of helpful captions for your most adorable, hilarious, and cozy couples pictures on Instagram.
We've previously offered up a ton of ideas for your best friend captions and selfie captions, and we've got a list of "I love you more than" captions as well, and if you end up in front of that romantic waterfall we have captions for that as well. Now you and bae can choose the perfect words to adorn your Instagram couple selfies. (If you're no longer with your special someone, then maybe this list of captions for your ex-boyfriend or ex-girlfriend will be more your speed.)
Obviously, it's important to think about what kind of couple you are, so your Instagram couple selfies actually seem genuine to your personality. We've broken down our caption ideas into categories, based on your couple personality, or just the mood of your selfie. No matter what category fits you and your boo, we've got the phrases and captions you need to keep your Instagram posts great, so bookmark this page and keep referring back to us for more quote and caption ideas.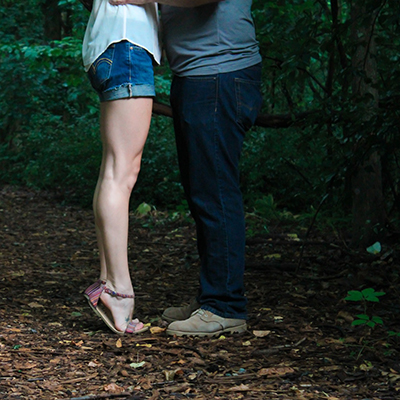 "Too Cute" Captions for Cutest Couple
There's always that couple- they're just "too cute together."  If that sounds awfully familiar to you, then we've got some great ideas for your couples captions. You're the couple who is constantly happy and sweet to each other. Your friends may say, "You guys make me want to throw up!" but secretly, they're just jealous that they don't have the kind of relationship you do. Here's the list of captions we've got for all you cutesy-type couples.
We go together like cupcakes and frosting.
You are my favorite distraction.
Some people are worth melting for.
I like when you smile, but I love when I'm the reason.
I know they say there's plenty of fish in the sea, but I think I've found my Nemo.
Can I tie your shoes? I don't want you falling for anyone else.
I don't care if it's rude to stare—you're too cute for me to look away.
I fell in love with you because of a million things you never knew you were doing.
Life is not measured by the number of breaths you take but by the moments that take your breath away.
Every time my phone goes off, I hope it's you.
I'm in love with you and every little thing about you.
I think you're lacking vitamin ME.
I thought I was normal until I met you. Then I realized I'm crazy… for you!
Can I borrow a kiss? I promise I will give it back.
You don't love someone for their looks or their clothes or their fancy car, but because they sing a song only you can hear.
Let's be weird together forever.
Love is a friendship set to music.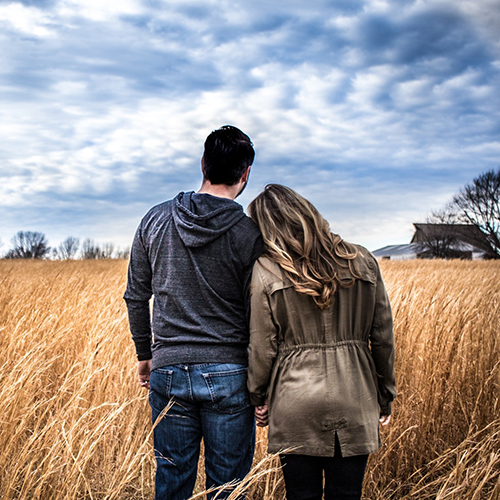 Silly Couple Captions
Silly couples are loads of fun.  While each partner is great on their own, together, they make magic.  Are you that couple that's the life of the party and the goofiest ones in the room?  Do you make each other laugh? More often, do other people find themselves laughing and joining in on the fun when they're around you two? You might be a silly couple if you've ever ruined a romantic moment with an ill-timed joke. You're like the class clown times two. If this description fits you and your significant other, we've got some silly captions for you to add to those goofy Instagram pictures—you know, the ones where you're making the kind of faces that only the other can love.
Haters gonna hate, and players gonna play.
Everything you've ever wanted is one step outside your comfort zone.
I tried to be normal once—worst two minutes of my life.
Most of the time she's a lady, but every once in awhile, a dirty old man with a drinking problem comes out.
I'm not so sure about an inner child, but I have an inner idiot that surfaces every now and then.
Sometimes you just have to throw on a crown and remind them who they're dealing with.
I came. I saw. I made it awkward.
You've stolen a pizza my heart.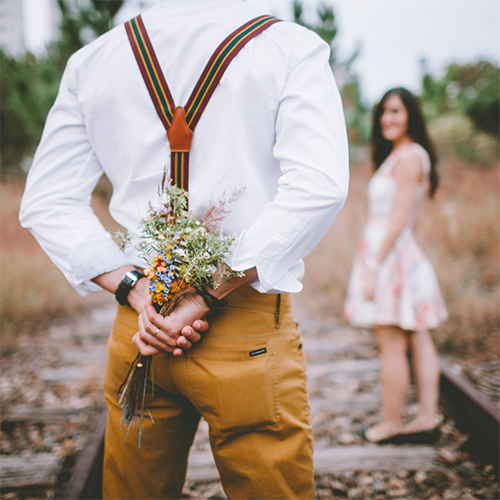 Despite the contradictory advice circulated in the late '90s, if you want to be my lover, please do not get with my friends.
It's funny how when I'm loud, people tell me to be quiet—but when I'm quiet, people ask me what's wrong.
If she's honest, funny, laid back, can hold her liquor, has a dirty mind and an even dirtier vocabulary, eats pizza, and lets you touch her butt… marry her yesterday.
I'm willing to risk the cooties if you are.
Can't keep calm when I'm crazy for you.
If you're lucky enough to find a weirdo, never let them go.
Here is my heart, accept it please, because I am so clumsy and I am afraid I just might lose it.
Sometimes I look at you and I wonder how I got to be so damn lucky.
Instagram Caption Ideas for Couples
Have you finally found the love of your life and know it's true? You're the couple who's done playing around, and done playing the dating game.  In fact, you're even done looking for "the one," because you've found your "one" and can't imagine spending the rest of your life with anyone else. You may be 16 or 160, but you just know that this is your person, your true love, your lobster, etc. If you are the couple who wants to proclaim that your love is true, sincere, and lasting, these are some perfect captions to express the sentiment.
It's amazing how one day someone walks into your life and you can't remember how you ever lived without them.
You are my today and all of my tomorrows.
By the way, I'm wearing the smile you gave me.
What I have with you I don't want with anyone else.
I love you because the entire universe conspired to help me find you.
Your arms feel more like home than any house ever did.
I wish I could turn back the clock—I'd find you sooner and love you longer.
The best love is the one that makes you a better person without changing you into someone other than yourself.
You're my favorite place to go when my mind searches for peace.
In case you ever foolishly forget, I am never not thinking about you.
You have this incredible way of making my heart happy.
That person who enters your life out of nowhere and suddenly means the world to you.
All that you are is all that I'll ever need.
You're my favorite daydream.
All you need is love—and all I need is yours.
I have found the one to whom my soul belongs.
I want to be with you until my last page.
Every day with you is a new adventure.
Love is friendship that has caught fire.
Forget the butterflies, I feel the whole zoo when I am with you.
You don't cross my mind—you live in it.
The first time I saw you, my heart whispered, "that's the one."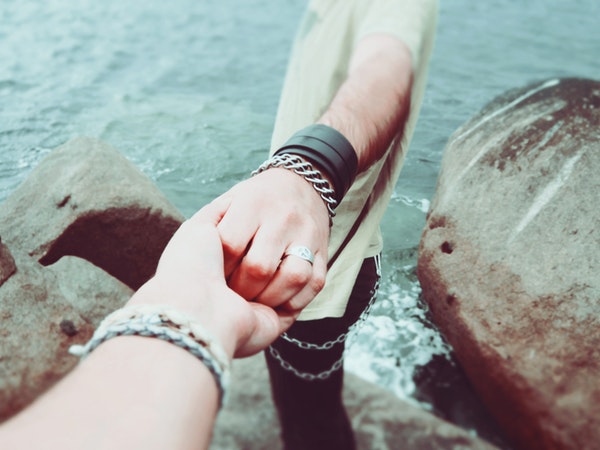 I fell in love with you because you loved me when I couldn't love myself.
I fell in love with the way you touched me without using your hands.
She knew she loved him when "home" went from being a place to being a person.
You are my sun, my moon, and all of my stars.
Before I met you, I never knew what it was like to look at someone and smile for no reason.
When you can't look on the bright side, I'll sit in the dark with you.
Maybe I'm too late to be your first, but right now I'm preparing myself to be your last.
If you're alone, I'll be your shadow.
Never give up on something you can't go a day without thinking about.
To love is nothing. To be loved is something. But to love and be loved, that, my dear, is everything.
Thick and thin is nothing when I have you by my side.
I don't remember the exact moment I fell in love, but I'm going to make sure I remember every moment from now on.
Nothing heals my wounds faster than the love I receive from you.
Love is that condition in which the happiness of another person is essential to your own.
Being deeply loved by someone gives you strength, while loving someone deeply gives you courage.
I love you and that's the beginning and end of everything.
The best and most beautiful things in this world cannot be seen or even heard, but must be felt with the heart.
You know you're in love when you don't want to fall asleep because reality is finally better than your dreams.
Love grows by giving. The love we give away is the only love we keep. The only way to retain love is to give it away.
New Couple Captions
Young love is a volatile thing. When nurtured, it can bloom and blossom into something incredible, something that can keep the darkness away and truly warm even the coldest of hearts. When mishandled, it can damage even the toughest among us. If you're finding yourself in a new, unfamiliar relationship and you're looking for some captions and quotes that can help describe the feeling of early love, here are a few quick ideas for your early-couple captions on Instagram.
I'm suddenly reminded of what butterflies feel like.
Take a chance on romance. You never know what might happen.
Sometimes you find what you were looking for all along when you least expect it.
I like you. You're funny, cute, and you make me a little bit happier every day you're in my life.
The greatest relationships are the ones you never saw coming.
First date, first coffee, first kiss.
Still crushing on you, even though we're together.
I'm a mess, but I'm your mess.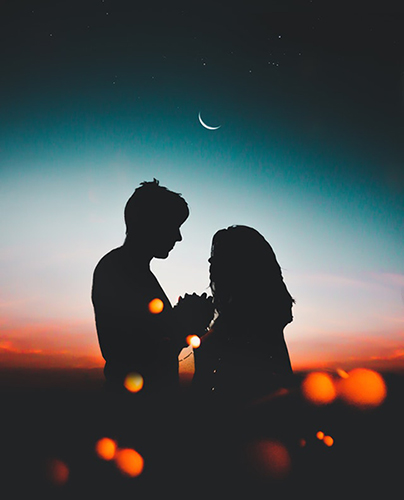 This thing we're doing here, you, me. I'm in. I'm all in.
I want to believe in romance again.
I thought I'd be better off alone. I was wrong.
You made me smile again.
Little do you know how much I think about you.
Put on a slow, dumb show for you and crack you up.
I can't fall asleep without a little help.
It's so wonderful to know I'm on your mind as much as you're on mine.
We can talk it so good, we can make it so divine.
You get in life what you have the courage to ask for.
The best thing to hold onto in life is each other.
I need you like a heart needs a beat.
Every time I see you, I fall in love all over again.
The most important thing in life is to learn how to give out love, and to let it come in.
I've fallen in love many times…always with you.
At the touch of love everyone becomes a poet.
If I had a flower for every time I thought of you, I could walk in my garden forever.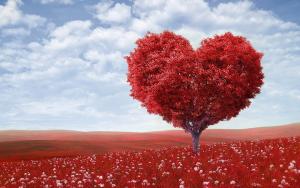 How Should I Caption My Boyfriend on Instagram?
Sometimes love is just an overpowering feeling, something that lasts forever and ever. When you take a picture of that special someone, often times you can see that feeling in the way they look at you, even through the lens of your camera.  When posting pictures of that special guy, it's hard to ignore that special feeling shining through.  These are the captions that capture that feeling.
If I know what love is, it is because of you.
The first time you touched me, I knew I was born to be yours.
There are only two times that I want to be with you. Now and Forever.
You may hold my hand for a while, but you hold my heart forever.
I will love you until the stars go out, and the tides no longer turn.
You are nothing short of my everything.
Everywhere I look I am reminded of your love. You are my world.
You are every reason, every hope and every dream I've ever had.
You are my paradise and I would happily get stranded on you for a lifetime.
Seasonal Captions
Love is a 24/7/365 thing.  Come what May, June, July and beyond, your love is here to weather the years. When the days turn cool, but your love burns strong, you'll need just the right caption to capture the feeling.  Check out these fall, winter, and spring-related seasonal captions for couples down below!
The tans might fade, but our summer memories will last forever.
You, me, pumpkin spice and everything nice!
I still fall for you everyday of my life.
I'm going to ask the Great Pumpkin to grant me more time with my Sweet Babboo.
You're the apple to my pie.
I love him a latte.
Baby, it's cold outside, but it's warm here with you.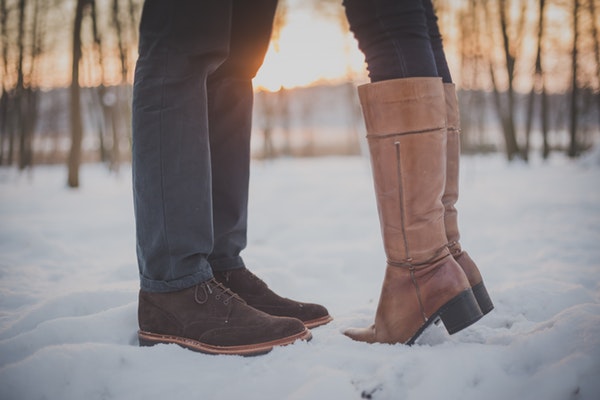 Life starts again when fall hits, but I'm so glad it's with you.
It's snuggle season!
October is when the trees burst into their true colors. You're my October.
Fall is when I fall in love again.
The leaves might fall, but you'll be in my heart forever.
The air might be cold but our love will keep us warm.
Some people are worth melting for.
We go together like winter and a sweater.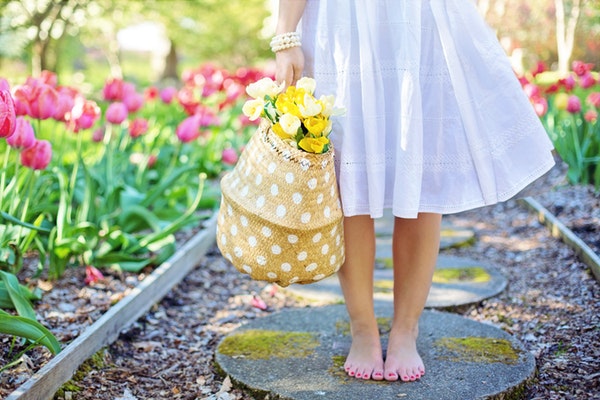 The only place I want to be in the cold is wrapped in your warm arms.
If my kisses were snowflakes, I'd send you a blizzard.
Cold nights, warm blankets, cozy days.
Baby, it's cold outside.
Your love keeps me warm all winter.
Somebunny loves me.
Love is in the air.
The rebirth of spring brings some brand new love along with it.
Pop Quotes for Endless Love
Love is one of the most widely-written about things there is – from romance novels to the serious stuff, everyone writes about love. Here are some great couples and love quotes from literature and love songs, too.
Even before we met and long after we're both gone, my heart lives inside of yours. I'm forever and ever in love with you. – Crystal Woods
Real love means seeing beyond the words spoken out of pain, and instead seeing a person's soul. – Shannon L. Alder
Take my hand and we'll make it – I swear. – Jon Bon Jovi
A great marriage is not when the 'perfect couple' comes together. It is when an imperfect couple learns to enjoy their differences. – Dave Meurer
I want to be someone's forever. – Rachel Gibson
You never lose by loving, you lose by holding back. — Barbara De Angelis
Relationships dont always make sense. Especially from the outside – Sarah Dessen
A couple of times in your life, it happens like that. You meet a stranger, and all you know is that you need to know everything about him. – Lisa Kleypas
I wonder how many people don't get the one they want, but end up with the one they're supposed to be with. – Fannie Flagg
He is the cheese to my macaroni. – Diablo Cody
One's not half of two; two are halves of one. —   ee cummings
I say, "I think I missed you before I met you even. – Francesca Lia Block
There are bridges you cross, you didn't know you crossed, until you've crossed. — Stephen Schwartz
We fit, you and I," he whispered looking into that haunting gaze. "Two broken pieces making a whole. – Nalini Singh
The moment you put someone on a pedestal they will look down upon you. The trick is respecting each other equally. – Teresa Mummert
When I cry, he wipes my tears. When I feel lonely, he makes me feel loved. And who needs Paris, when you can get a hug? – Cecelia Ahern
love liberates it doesn't hold. thats ego. love liberates. – Maya Angelou
Loving a man shouldn't have to be this rough — Tim McGraw
Our true destination's not marked on any chart, we're navigating the shores of the heart. – John McDermott
We should meet in another life, we should meet in air, me and you. – Sylvia Plath
You've got to jump off the cliff all the time and build your wings on the way down. – Ray Bradbury
I love you all so much, I just wanted you to know. – Taylor Swift
I'm oxygen and he's dying to breathe. – Tahereh Mafi
Even on my weakest days, I get a little bit stronger. – Sara Evans
There's always a place they haven't gone yet, always something about the other still to be discovered. — Esther Perel
All my adult life I've felt drawn to ask long-married couples how they were able to stay together. All of them said the same thing: "We worked hard at it." – Randy Pausch
Laying Down the Literary Love
Here are a few more quotes from a literary vein.  When you can write the perfect caption, why not look to the words of an actual writer?
"At your absolute best, you still won't be good enough for the wrong person. At your worst, you'll still be worth it to the right person." — Karen Salmansohn
"So we fell asleep holding hands. If married couples got to do this all the time, shit if I could understand how there were ever divorces, or even fights." — John Barnes
"And wheresoe'er we went, like Juno's swans, Still we went coupled and inseparable." — William Shakespeare
"The most important quality in the man you decide to marry should be the ability to make you laugh. Beauty fades, careers end, money comes and goes, religions change, children grow up and move away, spouses get sick, struggles happen, family members die, senility sets in when your older, but the ability to make you giggle every day is the most precious gift God can give you to get through all of it." — Shannon L. Alder
"Being a successful couple was learning what you were willing to compromise on, and what you weren't." — Laurell K. Hamilton
"I envy the music lovers hear." — Charles de Lint
"Love. I sigh. Love is joy coupled with misery, elation bound to despair. It is a fire that beckons me gently and then burns when I get too close. I hate love. I yearn for it. And it drives me mad." — Sabaa Tahir
"Living as a couple never means that each gets half. You must take turns at giving more than getting." — Marlena de Blasi
"Hormones are nature's three bottles of beer." — Mary Roach
"Love is the bee that carries the pollen from one heart to another. – Slash Coleman
Love enjoys knowing everything about you; desire needs mystery." — Esther Perel
The strongest relationships are between two people who can live without each other but don't want to." — Harriet Lerner
You have no choice. You must leave your ego on the doorstep before you enter love." — Kamand Kojouri
Every couple has two stories – the edited one to be shared from the couch and the unabridged version best left alone." — Emily Giffin
I want all of you, forever everyday. You and me everyday." — Nicholas Sparks
***
So, what category do you and your love fit into? Chances are, you can fit yourself into one of the above categories. Some of these captions could be the perfect caption your couple selfies, whatever your mood or personality. Whether you're seeking silly, cute, or true love captions for your Instagram photos, you're bound to find one from our list that suits you, so post away!