Can you imagine your life without music? It's almost impossible, isn't it? When we get bored, tired or excessively happy, we often listen to some songs with beautiful lyrics because a few words or lines can make a huge impact on our mood. Love, passion and affection are the most popular emotions in songs of completely different genres, such as pop, rock, R&B or folk music. A great number of sweet and romantic lyrics has given rise to love song quotes. They express the beautiful feeling of being in love in the cutest way. This post includes the quotations from the most beautiful love songs, which you can send in a handwritten note through messages or create a post on social media. Share the most exciting ideas with the one you love to tell your sweetheart how much you love and care!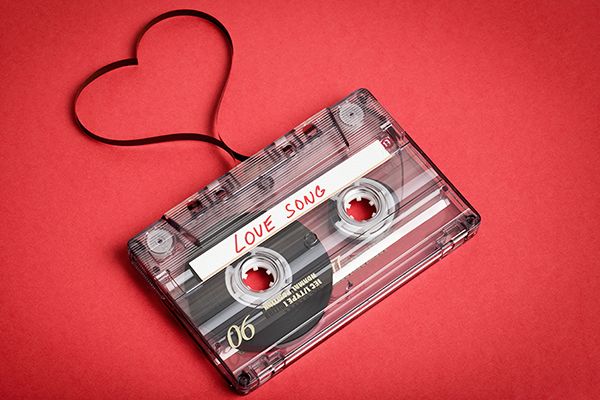 The Best Love Song Quotes to Text Someone
We often associate songs with some events and memories that are significant for us. Here are a few song lines that are taken from the best love songs ever. Love is a powerful feeling that can bring out the best and worst in you, and these greatest quotes also evoke both sides of the same coin. Choose the best love song quote to text someone who occupies a special play in your heart!
***
"The first time ever I saw your face
I thought the sun rose in your eyes"
Roberta Flack–First Time Ever I Saw Your Face
***
"Oh, thank you love
With all my heart and soul I thank you love
Each day that comes and goes I thank you love
I thank you 'cause you gave me true love"
Stevie Wonder – Thank You Love
***
"I love you always forever
Near and far closer together
Everywhere I will be with you
Everything I will do for you"
Donna Lewis – I Love You Always Forever
***
"You know our love was meant to be
The kind of love to last forever
And I want you here with me
From tonight until the end of time"
Chicago – You're The Inspiration
***
"I promise that I'll hold you when it's cold out
When we lose our winter coats in the spring
'Cause lately I was thinking I never told you
That every time I see you my heart sings"
Gavin James – Nervous
***
"A falling star fell from your heart and landed in my eyes
I screamed aloud, as it tore through them, and now it's left me blind"
Florence And The Machine – Cosmic Love
***
" 'Cause all of me
Loves all of you
Love your curves and all your edges
All your perfect imperfections
Give your all to me
I'll give my all to you
You're my end and my beginning
Even when I lose I'm winning
'Cause I give you all of me
And you give me all of you, oh oh."
John Legend  – All Of Me
***
"Come to my house tonight
We can be together in the nuclear sky
And we will dance in the poison rain
And we can stay a while in heaven today
Let's stay together"
Suede – Stay Together
***
"You're still the one
You're still the one I run to
The one that I belong to
You're still the one I want for life
You're still the one
You're still the one I love
The only one I dream of
You're still the one I kiss good night"
Shania Twain – You're Still The One
Romantic Lines from Love Song Lyrics for Him
Are you looking for any wonderful songs to tell him how much you love him? You have an amazing chance to surprise your loved man by sending some inspirational and romantic lines from a love song. It will be quite fast and enjoyable to do with our lovely collection of song lyrics quotes below. Remember that your care and attention will be incredibly rewarding!
***
"You don't need a lot of money
Honey, you don't have to play no games
All I need is all your loving
To get the blood rushing through my veins"
Ariana Grande – Tattooed Heart
***
"If we hold on together
I know our dreams will never die
Dreams see us through to forever
Where clouds roll by
For you and I"
Diana Ross – If We Hold On Together
***
"And when you smile, the whole world stops and starts for a while, cause you're amazing, just the way you are."
Bruno Mars – Just The Way You Are
***
"Love is a thing, well, its kind of like quicksand:
The more you are in it, the deeper you sink.
And when it hits you, you've just got to fall."
UB40 – Guilty
***
"It's always been about me, myself and I
I thought relationships were nothing but a waste of time
I never wanted to be anybody's other half
I was happy saying I had a love that wouldn't last
That was the only way I knew til I met you"
Colbie Caillat – I Do
***
"I look and stare so deep in your eyes
I touch on you more and more every time
When you leave, I'm begging you not to go
Call your name two or three times in a row
Such a funny thing for me to try to explain
How I'm feeling and my pride is the one to blame
'Cause I know I don't understand
Just how your love can do what no one else can"
Beyoncé – Crazy in Love
***
"I am thinking of you in my sleepless solitude tonight, if it's wrong to love you then my heart just won't let me be right."
Mariah Carey – My All
***
"At last,
My love has come along
My lonely days are over
And life is like a song…
For you are mine
At last…"
Etta James – At Last
Cute Song Quotes about Love for Her
If you are in the romantic mood, why not share your feelings and emotions with your girlfriend or wife? Crafting a heartwarming message is a good way to please your beloved. In case, you need a little help, pay attention to these cute song quotes about love for her.
***
"Your skin, oh yeah, your skin and bones
Turn into something beautiful
Do you know?
You know I love you so"
Coldplay – Yellow
***
"I don't wanna wait in vain for your love;
I don't wanna wait in vain for your love.
From the very first time I rest my eyes on you, girl,
My heart says follow t'rough.
But I know, now, that I'm way down on your line,
But the waitin' feel is fine:
So don't treat me like a puppet on a string,
'Cause I know I have to do my thing.
Don't talk to me as if you think I'm dumb;
I wanna know when you're gonna come – soon."
Bob Marley – Waiting In Vain
***
"Show a little faith, there's magic in the night.
You ain't a beauty but, hey, you're all right"
Bruce Springsteen – Thunder Road
***
"And I can't help but stare, cause I see truth somewhere in your eyes."
Justin Timberlake – Mirrors
***
"I've got sunshine on a cloudy day
When it's cold outside, I've got the month of May
I guess you'd say
What can make me feel this way?
My girl, my girl, my girl
Talkin' 'bout my girl
My girl."
The Temptations – My Girl
***
"I love you so, But why I love you, I'll never know."
Jay Z – Why I Love You
***
"I can be your hero baby,
I can kiss away the pain…
I will stand by you forever,
You can take my breath away."
Hero – Enrique Iglesias
***
"Cradle me I'll cradle you
I'll win your heart with a woop-a-woo
Pulling shapes just for your eyes
So with toothpaste kisses and lines
I'll be yours and you'll be…"
The Maccabees – Toothpaste Kisses
***
"Well I found a girl, beautiful and sweet. I never knew you were the someone waiting for me, 'cause we were just kids when we fell in love, not knowing what it was. I will not give you up this time."
Ed Sheeran – Perfect
***
"Some try to hand me money, they don't understand
I'm not broke I'm just a broken-hearted man
I know it makes no sense, but what else can I do
How can I move on when I'm still in love with you?"
The Script – The Man Who Can't Be Moved
Great Quotes from the Most Famous Love Songs
Do you know that one of the main reasons why relationships end is a lack of communication? However, sometimes it's so difficult to put into words what you feel towards your partner. We've rounded the great quotes for lovers from the iconic love songs, which are bound to bring pleasure. These lines from the most famous songs are known and loved by all of us.
***
"Maybe I don't know that much but I know this much is true,
I was blessed because I was loved by you."
Celine Dion – Because You Loved Me
***
"If tomorrow is judgment day
And I'm standing on the front line
And the Lord asks me what I did with my life
I will say I spent it with you."
Whitney Houston – My Love Is Your Love
***
"There's nowhere you can be that isn't where you're meant to be
It's easy
All you need is love, all you need is love
All you need is love, love, love is all you need"
The Beatles- All You Need Is Love
***
"Love me tender, Love me long,
Take me to your heart.
For it's there that I belong,
And we'll never part."
Elvis Presley – Love Me Tender
***
"I want to kiss you in Paris
I want to hold your hand in Rome
I want to run naked in a rainstorm
Make love in a train cross-country
You put this in me
So now what, so now what?"
Madonna – Justify My Love
***
"Something in the way she moves attracts me like no other lover. Something in the way she woos me."
The Beatles – Something
***
"I promise you,
From the bottom of my heart…
I will love you,
Til' death do us part…
As a lover and a friend,
I will love you like I never love again."
Backstreet Boys – I Promise You (With Everything I Am)
***
"I could stay awake just to hear you breathing
Watch you smile while you are sleeping
While you're far away and dreaming
I could spend my life in this sweet surrender
I could stay lost in this moment forever
Where every moment spent with you is a moment I treasure"
Aerosmith – I Don't Want To Miss A Thing
***
"Somebody, somebody
Can anybody find me somebody to love?"
Queen – Somebody to Love
The Sweetest Love Quotes from Songs
The songs with the word "love" belong to the most popular ones because everyone has experienced this powerful feeling. The chances are you are in love right now. Being a real music fan, you may realize that it's hard to find the love song that can fully express your relationship. If you need a dash of inspiration, here are the love quotes from the sweetest songs for couples.
***
"And your heart's against my chest,
your lips pressed to my neck
I'm falling for your eyes, but they don't know me yet
And with a feeling I'll forget,
I'm in love now"
Ed Sheeran – Kiss Me
***
"Even if the sun refused to shine Even if romance ran out of rhyme You would still have my heart until the end of time You're all I need, my love, my Valentine"
Martina McBride – Valentine
***
"Thank you for loving me
For being my eyes
When I couldn't see
For parting my lips
When I couldn't breathe
Thank you for loving me."
Bon Jovi – Thank You For Loving Me
***
"I'm so in love with you
And I hope you know
Darling your love is more than worth its weight in gold
We've come so far my dear
Look how we've grown
And I wanna stay with you until we're grey and old
Just say you won't let go"
James Arthur – Say You Won't Let Go
***
"There used to be a graying tower alone on the sea.
You became the light on the dark side of me.
Love remained a drug that's the high and not the pill.
But did you know,
That when it snows,
My eyes become large and
The light that you shine can be seen."
Seal –  Kiss From A Rose
***
"When we collide we come together
If we don't we'll always be apart
I'll take a bruise, I know you're worth it
When you hit me, hit me hard"
Biffy Clyro – Many Of Horror
***
"Nobody told me it feels so good,
Nobody said you would be so beautiful,
Nobody warned me about your smile,
You're the light,
You're the light,
When I close my eyes,
I'm colourblind."
Colourblind – Darius Campbell
***
"I may not have the softest touch. I may not say the words as such. And though I may not look like much….I'm yours."
The Script – I'm Yours
***
"Heart beats fast
Colors and promises
How to be brave?
How can I love when I'm afraid to fall?
But watching you stand alone,
All of my doubt suddenly goes away somehow.
I have died every day waiting for you
Darling, don't be afraid I have loved you
For a thousand years
I'll love you for a thousand more."
Christina Perri – A Thousand Years
***
"For you and I have a guardian angel
on high with nothing to do
but to give you and to give to me
love forever true
love forever true"
Cole Porter –True Love
Meaningful Song Lyrics about True Love
Love makes us a bit crazy in a good way. There are numerous love songs which can help you to express yourself more eloquently. Whether it's a modern song or an old one, it can remind how committed you are, especially if you deal with some meaningful song lyrics about true love.
***
"I want to stand with you on a mountain
I want to bathe with you in the sea
I want to lay like this forever
Until the sky falls down on me"
Savage Garden – Truly, Madly, Deeply
***
"When the rain is blowing in your face and the whole world is on your case, I could offer you a warm embrace to make you feel my love."
Adele – Make You Feel My Love
***
"You're still the one that can make me laugh.
Still the one that's my better half.
We're still having fun and you're still the one."
Orleans – Still The One
***
"There was passion, there was laughter
The first morning after
I just couldn't get my feet to touch the ground
Everytime we were together
We talked about forever
I was certain it was Heaven
We had found."
LeeAnn Womack – Why They Call It Falling
***
"No matter where you go, you know you're not alone. I'm only one call away, I'll be there to save the day. Superman got nothing on me, I'm only one call away."
Charlie Puth – One Call Away
***
"I thought love wasn't meant to last,
I thought you were just passing through
If I ever get the nerve to ask
What did I get right to deserve somebody like you?"
Jamie Lawson – Wasn't Expecting That
***
"Close your eyes, let me tell you all the reasons why, think you're one of a kind. Here's to you, the one that always pulls us through, always do what you gotta do. You're one of a kind. Thank God you're mine."
Michael Buble – Close Your Eyes
***
"You are the light that's leading me to the place
Where I find peace again
You are the strength that keeps me walking
You are the hope that keeps me trusting
You are the life to my soul
You are my purpose
You're everything"
Lifehouse – Everything