What woman doesn't dream of being a mother? A child is always a blessing for a woman. Life always changes with the appearance of a desirable child, especially if it's a son! To hear a precious «it`s a boy!» can become the greatest present! A mother's love for her son is something transcendent for other people. Only those women, who have a son, can understand how important a man can be! A deep connection, which exists between mothers and son, can be seen in different Mother and Son Quotes.
As a rule, mothers play an important role in the life of their sons. Sometimes they are even more important than fathers! Someone can say that fathers are closer to their sons.
Maybe, it's true, but a mother is the only person who can understand all their problems. She knows everything about him since the first moment he began to grow inside her!
While fathers are somebody like teachers for their sons, mothers are their advisers. Even without words a mother and son can understand each other! She is his confidante, his patroness.  He is her hope, her protection, her courageous support!
Do you have a son? Loving Mother and Son Quotes are exactly what you need to explain your importance to him! Do you want to please your mother? Sentimental Mother and Son Quotes will become an excellent choice to express your thanks for her care and help! Both mother and son can use different Mother and Son Quotes to tell about their love or apologize for something (if it`s necessary). Don't wait for a special occasion to put your love into words!
Emotional Mother and Son Love Quotes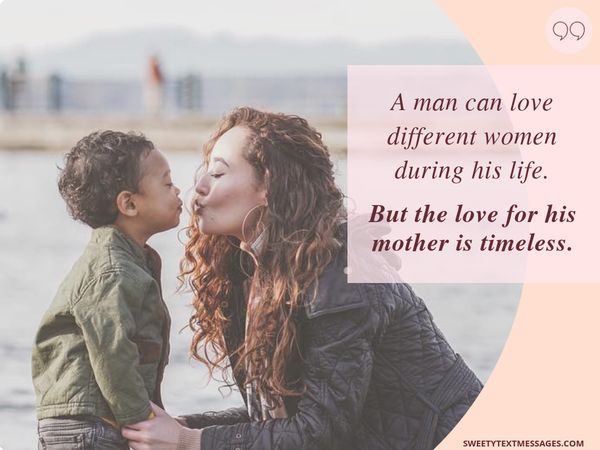 A man can love different women during his life, but the love for his mother is timeless.
When a woman gives the birth to a son, she doesn't have free space in her heart for other men.
A son will surely outgrow his mother's lap. But he will never outgrow his place in her heart.
Mother gives her hand to her son for a while, but he has her heart for life.
Fathers force their sons to practice, while mothers force them to achieve greatness.
A son doesn't need to deserve his mother's love; he doesn't need to ask for it. A mother's love for her son is always unconditional.
Only one woman is able to love a man more than she loves herself. It's his mother.
The eternal love between man and woman really exists! It's the love between mother and her son.
A son will always need his mom. Even if he has a wife and children, his mother's hugs will always keep him warm.
Only a mother is able to teach her son how to love.
Maybe your mother isn't able to give you everything you want, but she is able to give you even more – her love.
Only a really great woman is able to make her son a real man.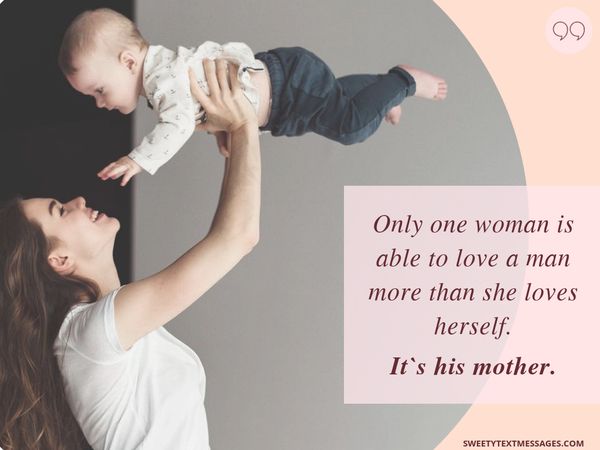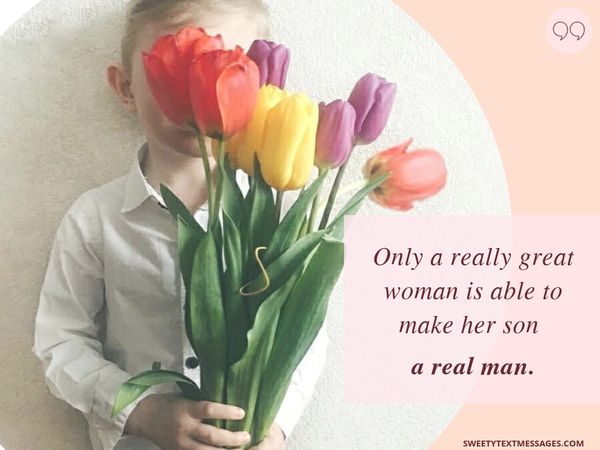 Inspirational Mom and Son Quotes and Sayings
There is nothing more inspirational than the words of love, especially said by mom. They give us the strength to live and to become kind people. If you want to motivate your dearest child, check the texts below!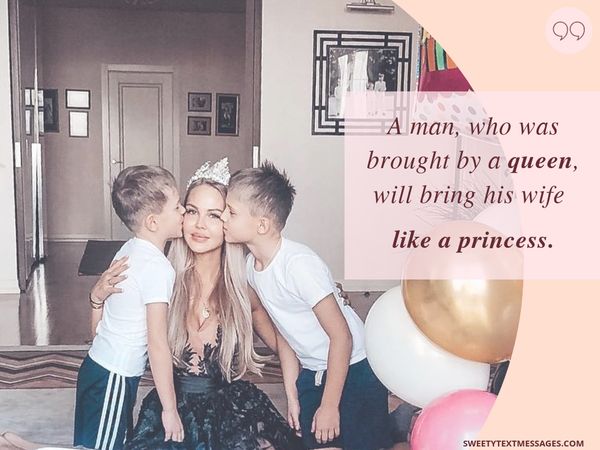 A woman is not able to re-educate any man, but she is able to create one.
A mother is the first love of her son, and a son is the whole world for a mother.
A mother is the main pillar of her son's future.
A man, who was brought up by a queen, will treat his wife like a princess.
When a woman gives birth to a son, she has a chance to give the world a real man.
The best way for a woman to get away from her problems is to see her son's smile.
A mother is always proud of her son… Not because he has achieved something, but because he has become her son.
A mother of a boy often lives her life through her son's eyes.
A man, who has managed to become great, was brought up by a woman, who made him believe himself.
The hardest thing for every mother is to teach her son to bite the bullet and keep going ahead.
If you want to remember your childhood, don't forget that it was your mother, who gave it to you.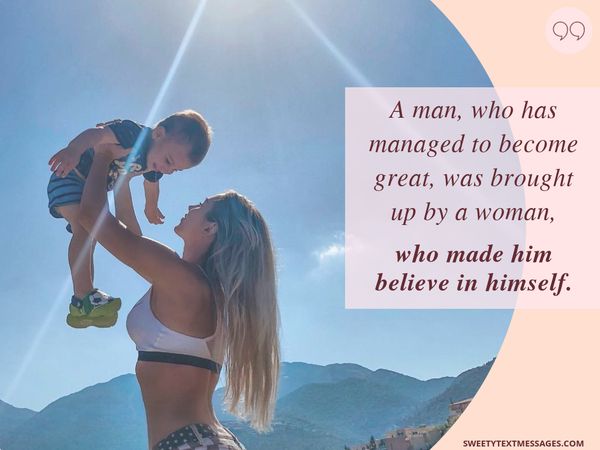 Heartwarming Mommy and Son Relationship Quotes
Mother-son relationship is really special. Moms invest in their children everything: their love, respect, strength, knowledge, etc. Boys, in turn, give them the feeling that life is worth living, and we think this is beautiful!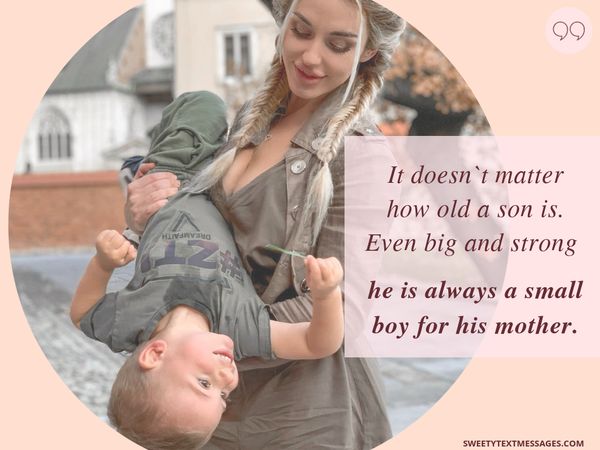 It doesn't matter how old a son is. Even when he is big and strong he is always a small boy for his mother.
Every mother wants her son to find a wife just like her. She is sure that no woman can take care of her little boy.
Bringing up a daughter, a mother pours a part of her soul. Bringing up a son, she gives him her whole soul.
A good mother knows if her son becomes a soldier, he will be a general.
If the family is a constitutional monarchy, then a father is a monarch for a son, and a mother is a Constitution.
A man is not able to understand how important a woman is if he didn't have a mother.
Sometimes a mother wonders if her son could have a better mother, but she knows for sure that she knows that there doesn't exist a better son.
It doesn't matter what problems follow a man; he always knows that he is the best for his mother.
A dad for his son is always caring, while mommy is always loving.
A son is the only man who can complete his mother's womanhood.
You may take offense at your mother. But always remember: your mother is the only woman who will love you in spite all your disadvantages.
A mother is the only woman who is able to understand your tears without judging you.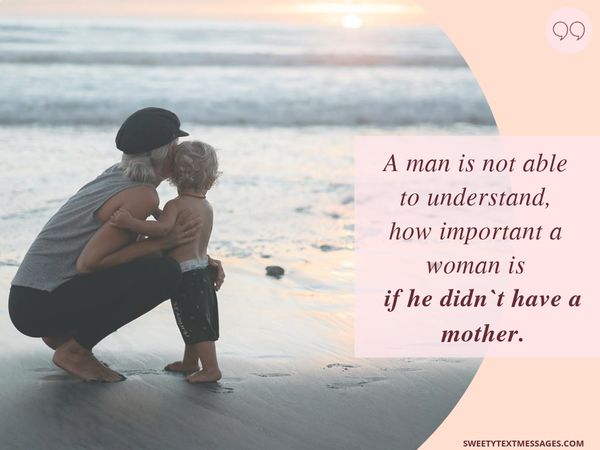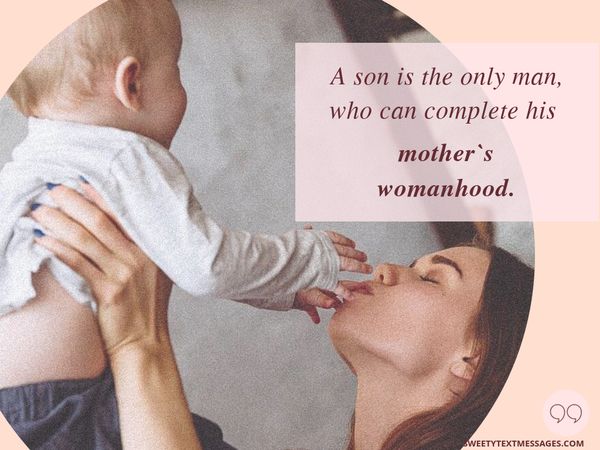 Quotes about Loving Children
Undoubtedly, all parents want to raise loving children, but this is the most complicated work in the world. The first and the most important thing we all should remember about is that love gives birth to all good traits of human character. Consequently, care and pure mother's love is what can turn boy into a real man. They are indescribable, but these quotes reflect exactly how moms feel about their kids!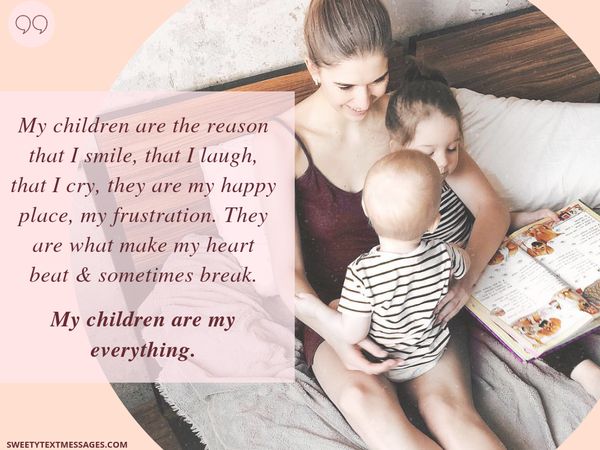 My children are the reason that I smile, that I laugh, that I cry. They are my happy place, my frustration. They are what make my heart beat and sometimes break. My children are my everything.
In my Husband, I know true love, in my Children, I know pure love.
If I had to choose between loving my child and breathing, I would use my last breath to tell you I love you.
A child makes love stronger, days shorter, nights longer, bankroll smaller, home happier, clothes shabbier, the past forgotten and the future worth living for.
Let me love you a little more before you're not little anymore.
I may not be perfect, but when I look at my children I know that I got something in my life perfectly right.
I'll love you forever. I'll like you for always. As long as I'm living, my baby you'll be.
I love My Son Quotes
It is impossible to describe the feeling that occurs in mother's heart when she sees the eyes of her beloved son. Any woman knows that the moments like this are the most precious minutes in life. Even the phrase "I love you" said to him does not reflect the wide range of these emotions, but they should be expressed. These quotes can help you tell your dear boy how much he means to you!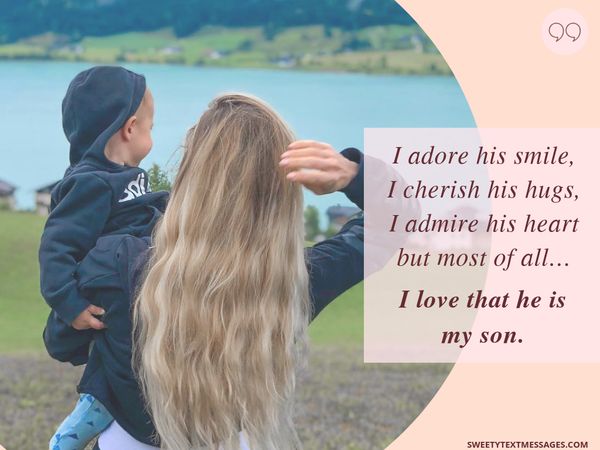 My son is super awesome and I am the lucky one because I get to be this mother.
My son is my baby, today, tomorrow, and always. You hurt him, I will hurt you. I don't care if he's 1 day or 50 years old, I will defend and protect him all of my life!
I adore his smile, I cherish his hugs, I admire his heart but most of all… I love that he is my son.
I'm thankful for my son's laughter. It's the sound of all that's right in the world.
I love my son more than anything. I will do whatever it takes to make sure he is raised the right way.
Sometimes when I need a miracle, I look into my son's eyes, and realize I've already created one.
I constantly go between wanting you to be my baby forever, and being excited about all the amazing things you'll do in this life.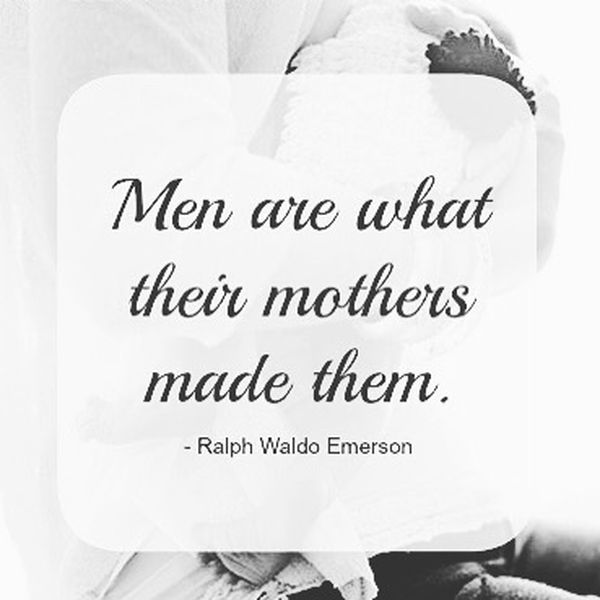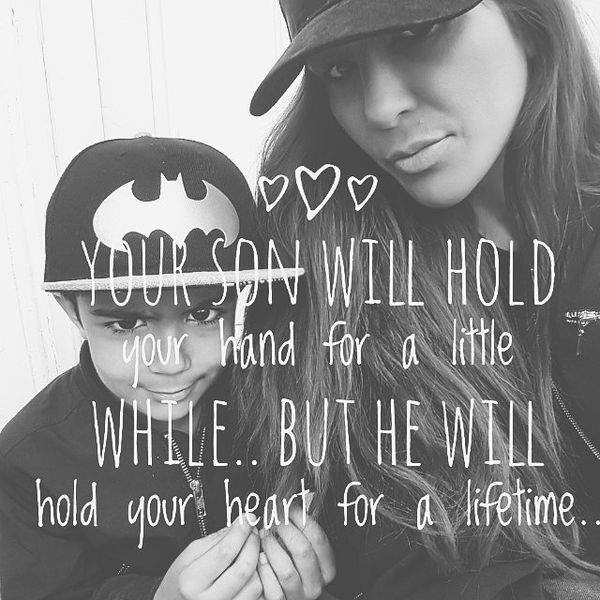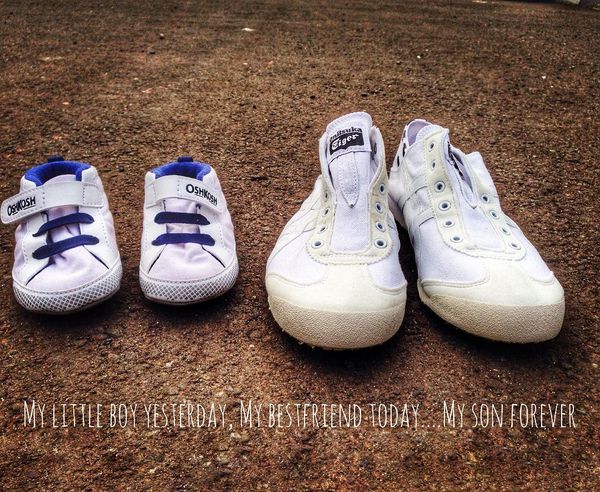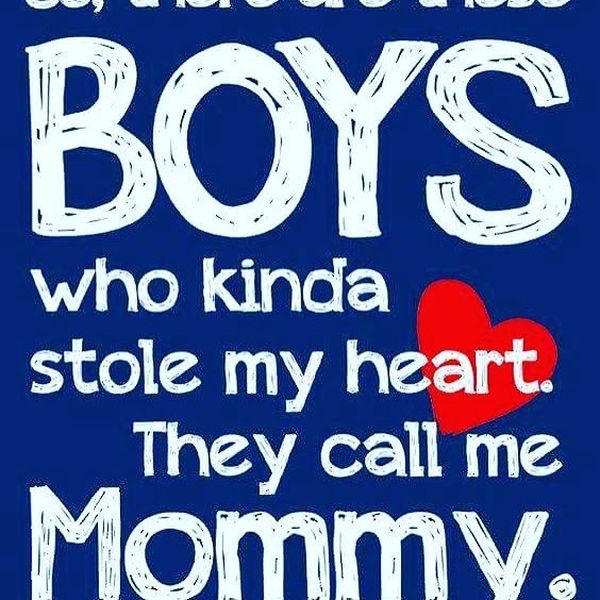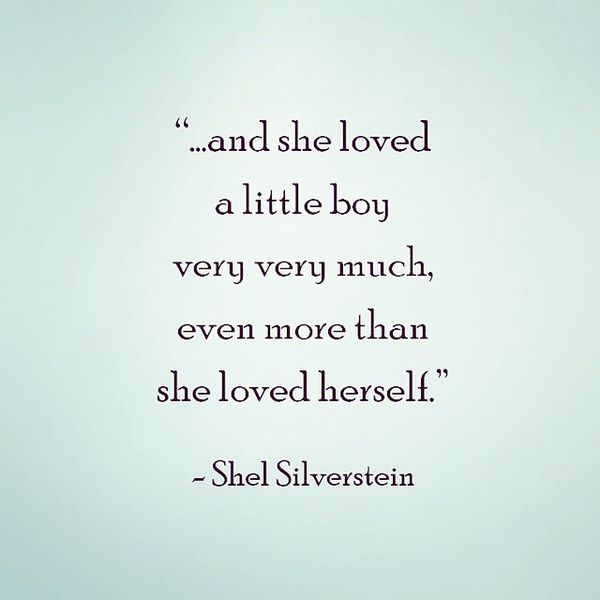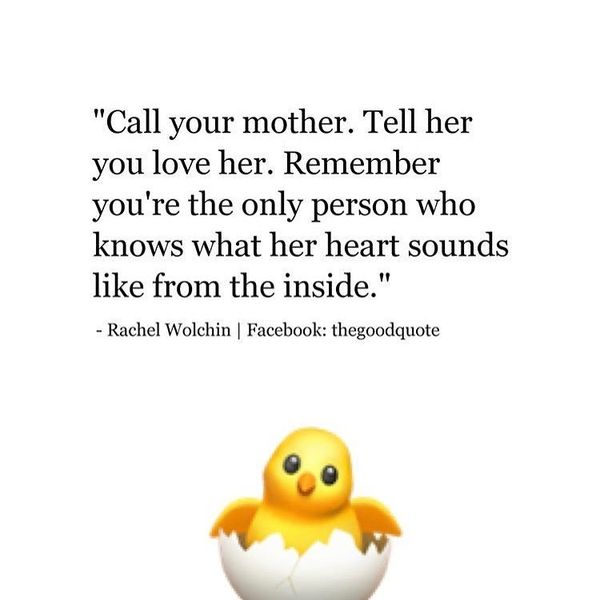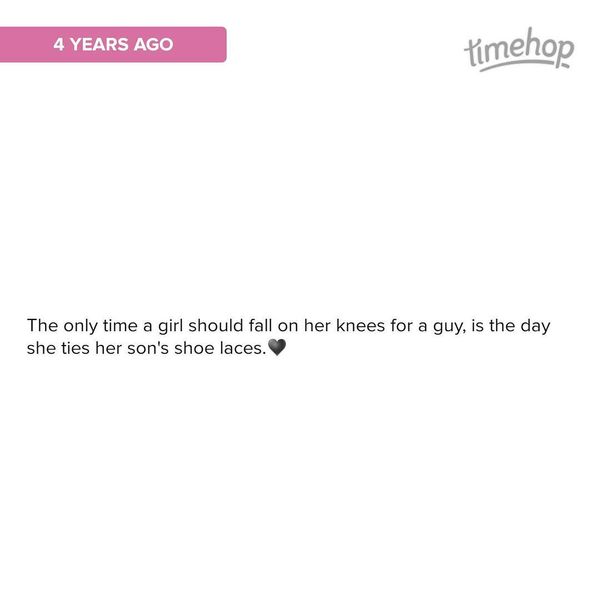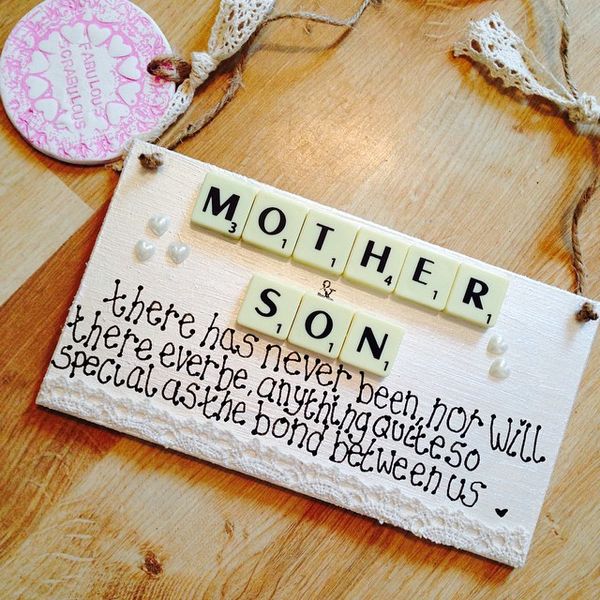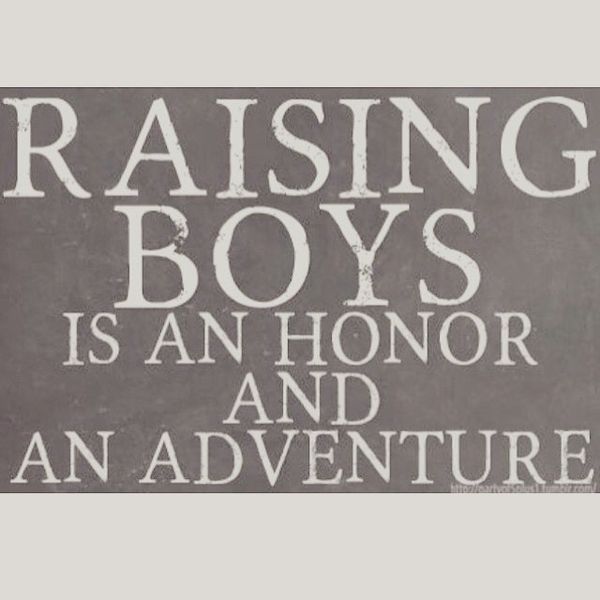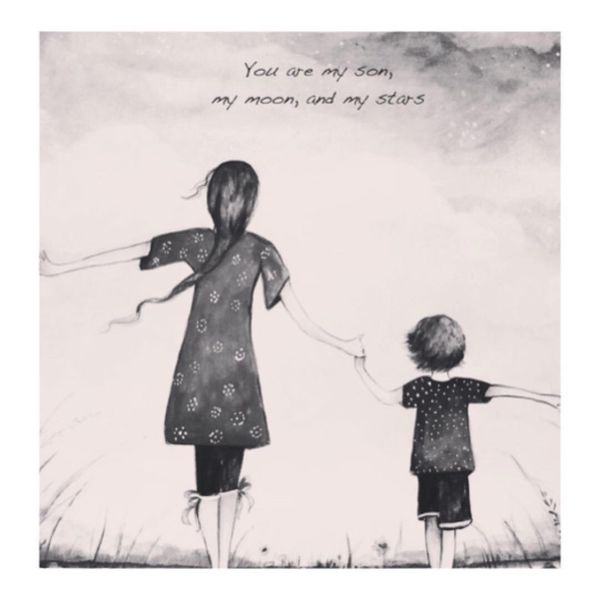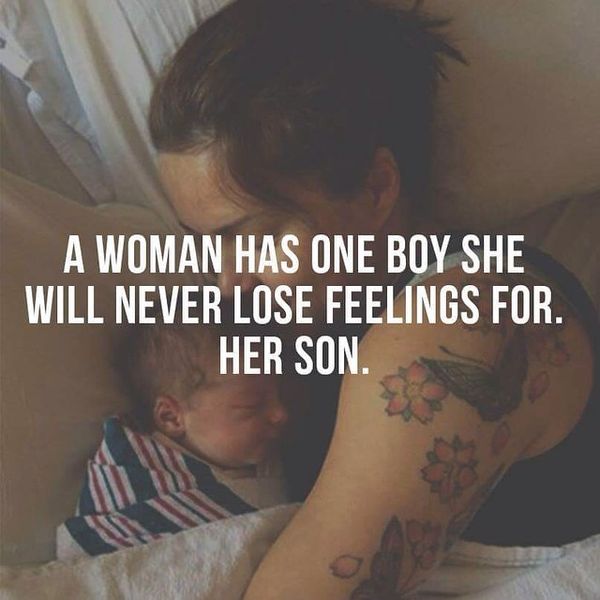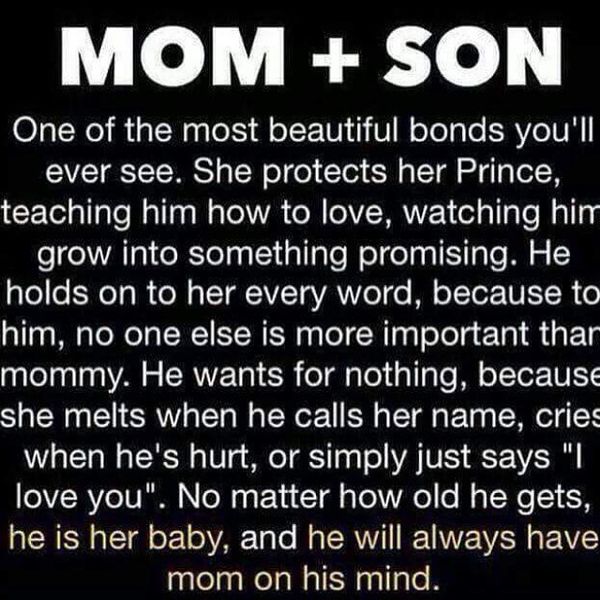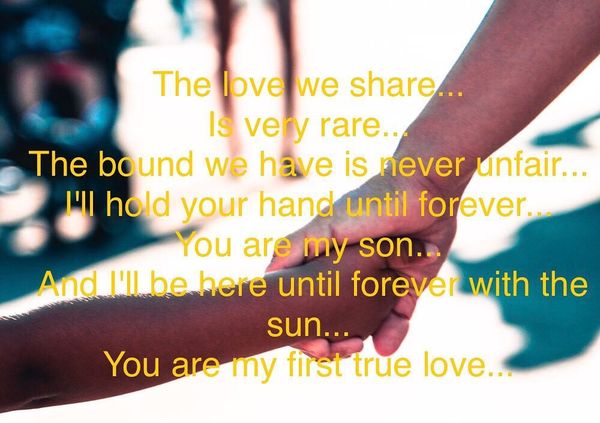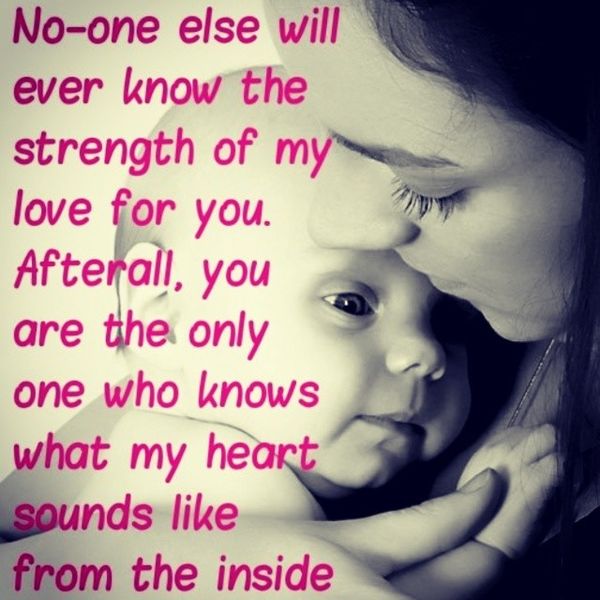 You may also like:
Happy Birthday Mommy Quotes
68 Mom and Daughter Quotes with Images
Beautiful Poems for Moms