When it comes to holidays, there's almost always a special meaning behind them to consider when celebrating. On Independence Day, we consider our forefathers' fight for freedom and how that fight continues today. Thanksgiving, which began as a harvest festival, allows us to consider what's important in our life, including those friends and family who surround us and fill our hearts with love. And Memorial Day, observed annually on the last Monday in May, celebrates the lives and the memory of those who died while serving in the United States Armed Forces. The holiday is often considered the unofficial beginning of summer, with many given a full three-day holiday on which to gather with friends, arrange memorials for friends and family whom they have lost, and above all, honor the sacrifice given by American troops in battle.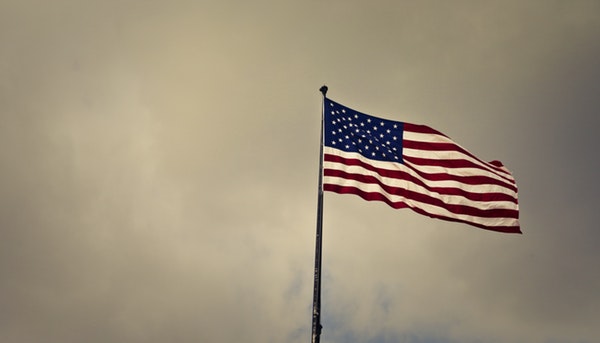 Despite current events, Memorial Day celebrations will still be held around the country. No matter what your plans for this weekend entail, you'll want to make sure you take photos to mark the occasion. Memorial Day is a great photo opportunity, especially if you just got a new phone with an exceptional camera. Whether you're shooting with a phone or a dedicated DSLR, you're bound to take some amazing photos this weekend.
Instagram has become the go-to place to share photos, making it easy to link from Instagram to Facebook or Twitter. With a large audience, Instagram Story features, and the ability to add captions, Instagram is one of the best ways to make sure your photos stay collected in one place. If you're looking for the right caption for your photo, you've come to the right place. Here are some great captions anyone can add to their Instagram photos or Instagram Story for Memorial Day.
Famous Quotes
Perhaps more than any other holiday, Memorial Day is the perfect time to break out some famous quotes to remember your fallen friends, family members, and others who have served in the past. Quotes from past presidents, ex-military personnel, and other famous leaders allow us to consider the sacrifice of the men and women who have helped to keep our country safe, secure, and free. Using any of these famous quotes allows you to capture the solemn feelings of the holiday, giving your photo a serious, respectful atmosphere. These are some perfect quotes for your Memorial Day photos.
"As we express our gratitude, we must never forget that the highest appreciation is not to utter the words, but to live by them." – John F. Kennedy
"Those who have long enjoyed such privileges as we enjoy forget in time that men have died to win them." – Franklin D. Roosevelt
"For love of country they accepted death, and thus resolved all doubts, and made immortal their patriotism and their virtue." – James A. Garfield
"It is foolish and wrong to mourn the men who died. Rather we should thank God such men lived." – Gen. George S. Patton
"They loved their country so deeply, so profoundly, that they were willing to give their lives to keep it safe and free." – Barack Obama
"To find yourself, think for yourself." – Socrates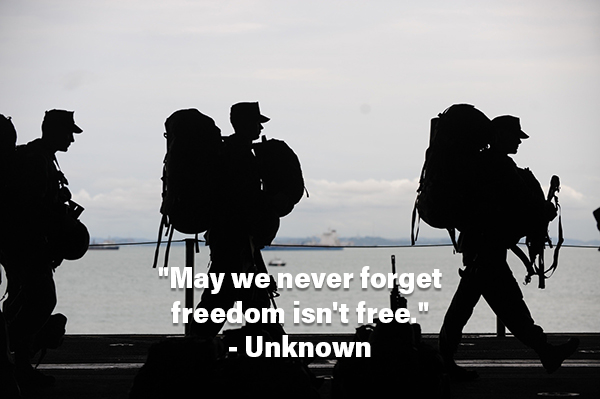 "Heroism doesn't always happen in a burst of glory. Sometimes small triumphs and large hearts change the course of history." – Mary Roach
"Our flag does not fly because the wind moves it. It flies with the last breath of each soldier who died protecting it." – Unknown
"May we never forget freedom isn't free." – Unknown
"Never was so much owed by so many few." – Winston Churchill
"In memory of many, in honor of all." – Unknown
 "America without her soldiers would be like God without His angels." – Claudia Pemberton
Patriotic Remembrances
At its core, Memorial Day is just one of the three major holidays in the United States that celebrate service, freedom, and the call to duty, with the other two following throughout the summer. If you're looking to mark your photos with a sense of patriotism without using a direct quote from someone who served in the military or the government, here are some excellent captions to help boost your photos' appeal.
This land was made for you and me.
We don't know them all, but we owe them all.
We come not to mourn our dead soldiers, but to praise them.
From every mountainside, let freedom ring.
Patriotism is like charity. It begins at home.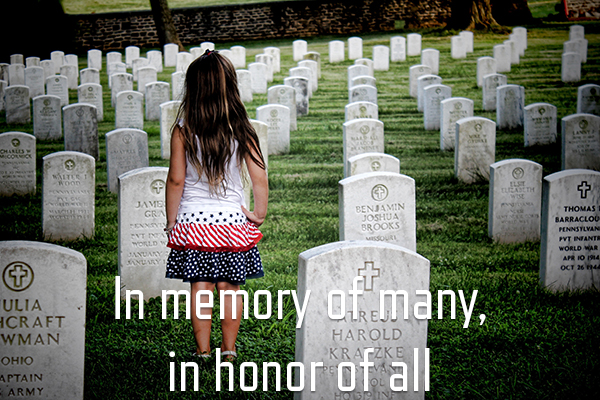 Courage is contagious. When one brave soul takes a stand, the spines of others are stiffened.
Who kept the faith and fought the fight; the glory theirs, the duty ours.
Bravery never goes out of fashion.
Leave no soldier behind. Leave no soldier unremembered.
Home of the free, thanks to the brave.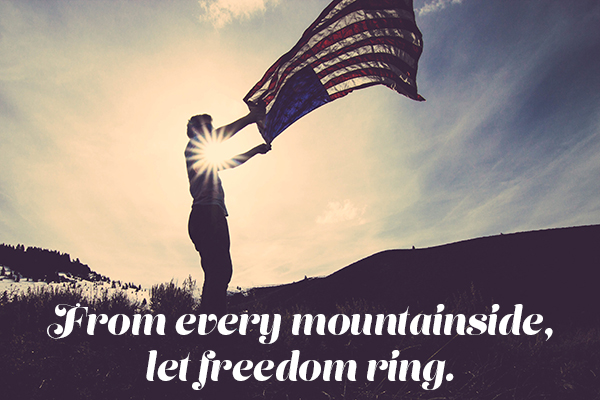 All gave some, some gave all.
This nation will remain the land of the free only so long as it is the home of the brave.
Remember all those who made the ultimate sacrifice.
Everyone knows someone who gave for their country.
Soldiers died to save your right to vote, to speak, to learn, and to be free.
Cookout and Beach Captions
After you arrive home from your town's local parade or the ceremony at a nearby cemetery, you might play host or be invited to a cookout with friends and family. Memorial Day marks the beginning of summer for many, with Labor Day in September often marking the winding down of America's favorite (or at least, warmest) season. Whether you're grilling hamburgers by the pool, watching baseball with your dad, or just hanging out with your significant other, Memorial Day marks the first time of the year you can throw on some sandals, crack open a cold drink, and hang out under the sun. Here are some perfect captions for marking the beginning of summer.
Life is better when you're under the sun.
The kickoff to summer begins now.
Living for this sunshine.
Time to seas the day.
Comfort is key for a barbecue.
Don't worry, beach happy.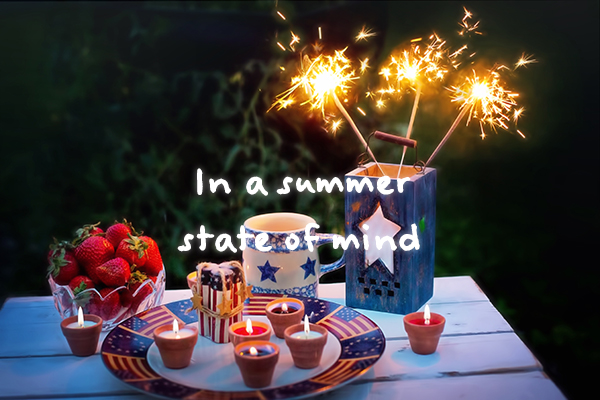 Throw up your feet and chill; it's a long weekend.
In a summer state of mind.
Where there is a home, there is a barbecue.
Red, white, and brew, all weekend long.
Having fun out in the sun.
Summer lovin', it happened so fast.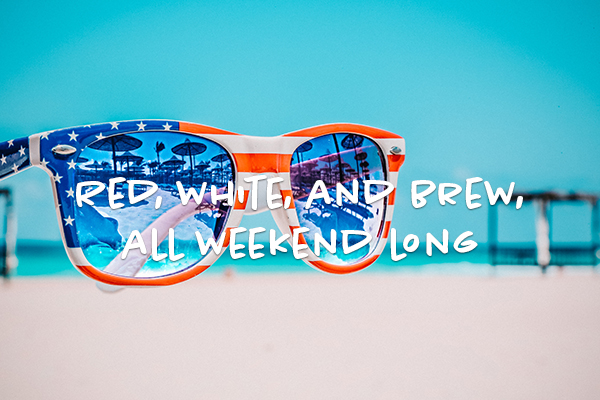 Barbecue, beers, and tacos. That's eating."
Good times and tan lines.
Celebrating Memorial Day the only way I know how: grilling up some burgers.
Chill out with your grill out.
Red, white, and buzzed.
Hanging out with my Yankee Doodle Doggy.
***
Memorial Day isn't just the kickoff to summer. It's also a time to remember those in your life who have served and paid the ultimate price. Some of us have a family member—an aunt or an uncle, a grandparent, or perhaps even our own parents—who joined the Armed Forces, only to fall while serving. Some of us have friends whose family members were lost in the act of duty.
In some way, the chances are high that you or someone in your life has been changed by the sacrifice paid by someone else. These captions help to catch the spirit of the weekend, celebrating and honoring the lives of those who have given everything while simultaneously enjoying the long weekend that marks the holiday. Let us know in the comments what captions you loved!