Whether you love country and western music or are just a fan of good Southern cooking, Nashville,  Tennessee (also known as the Athens of the South) is a choice destination vacation. Nashville is a hub of amazing dining and even more well-known as the heart of the country music world. You can explore famous venues like the Country Music Hall of Fame, visit the full-scale replica of the Parthenon, or just cruise the local restaurants and bars. When you visit Nashville, you're going to want to take a lot of pictures for your Instagram feed, and that means you need a lot of captivating captions to go along with them! Here are some of our favorite Nashville captions to inspire you.
Nashville Love
Love Nashville like a local with one of these catchy captions.
"Nashville feels like a big little town to me." – Ricky Schroder
I believe in Nashville.
I love you all the way to Nashville and back.
NashVegas!
She's whiskey in a teacup.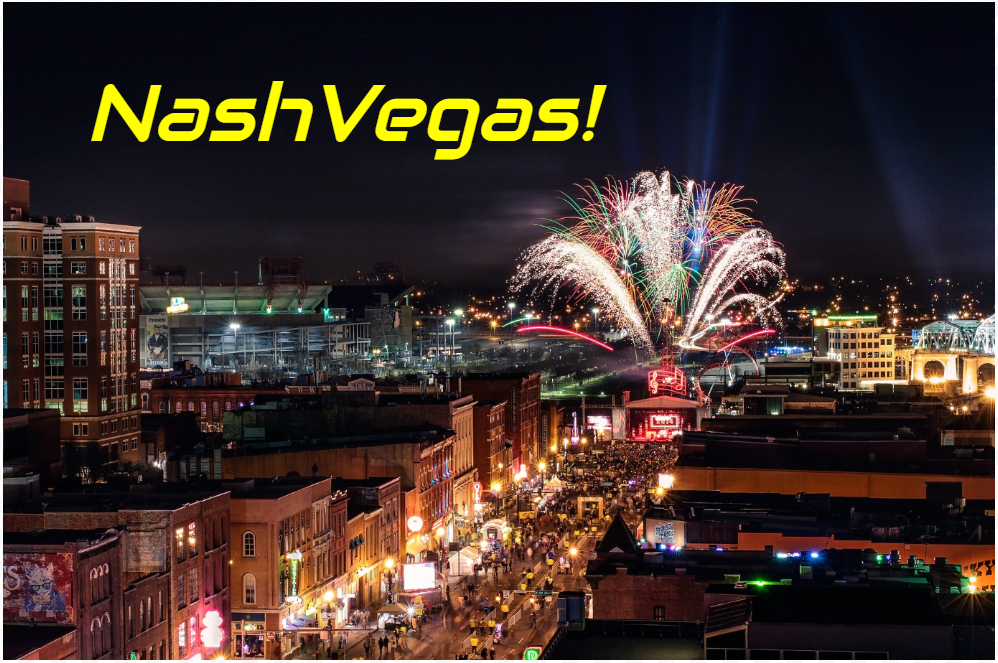 The Nashville Way.
Born and bred in Nashville.
I'm a Nashville man.
Buckle of the Bible Belt
Cashville!
Celebrity Quotes
There are a lot of great celebrity quotes about Nashville – feel free to borrow some!
"Nashville has always felt perfect." – Jack White
"It's the best part of America." – Nicole Kidman
"It's a holy city for music." – Hugh Laurie
"I belonged to Nashville before I belonged to anyone." – Brandi Carlile
"Since I was a kid I just wanted to be in Nashville." – Keith Urban
"Nashville, man. That's the place to be." – Willie Geist
Music Scene
Because let's be honest, this is why you're really here.
"I love Nashville. It seems like everywhere you walk, there's great music coming out of every wall." – Imelda May
"Music gives a soul to the universe." – Plato
"Music is life. That's why our hearts have beats." – Cecily Morgan
Smashville!
Music City, USA!
Live on the Green (LOTG)
Bonnaroo!
Life without music? I just can't…
Music is the medicine of the mind.
Without music, life would be flat.
That Southern Feeling
No one can say "fun" quite like a Southerner.
Athens of the South
Honky Tonkin'
Get your honky tonk on.
Got my boots and my beer, what else could I need?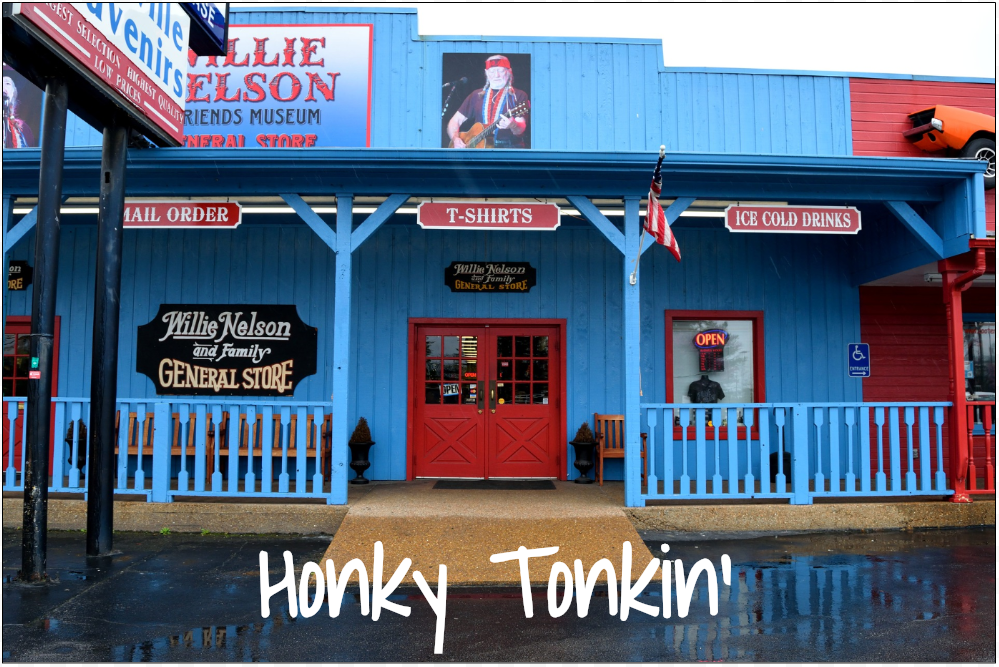 Loving Tennessee 'til the cows come home.
Feeling as pretty as a peach.
Heavens to Betsy it's Nashville!
Well butter my butt and call me a biscuit, I'm in Nashville, Tennessee!
Places to Be
Check out the Nashville staples and share them with friends.
Bluebird Lounge
Tootsie's Orchid Lounge
Robert's Western World
Frothy Monkey
Hattie B's Hot Chicken
Ascend Amphitheater
Losers Bar
The Food
You might have come for the music, but what you'll take away (literally) is the food.
"All you need is love. But a little chocolate now and then doesn't hurt."          ,
"What I say is that, if a man really likes potatoes, he must be a pretty decent sort of fellow." – 
"I cook with wine, sometimes I even add it to the food."
"I know what I want. I want it all. I want to try everything once." – 
"The only time to eat diet food is while you're waiting for the steak to cook." – 
"Part of the secret of success in life is to eat what you like and let the food fight it out inside."
"Your body is not a temple, it's an amusement park. Enjoy the ride." – 
"Everything in excess!"
Nashville Artists
Words of wisdom from artists who got their start in Nashville.
"I'm so miserable without you, it's almost like you're here." – Billy Ray Cyrus
"All I want to know is how far you want to go." – Kings of Leon
"You made me cry. When you said goodbye." – Pat Boone
"Be yourself unapologetically." – KeSha
"I just want to make you dance." – Florida Georgia Line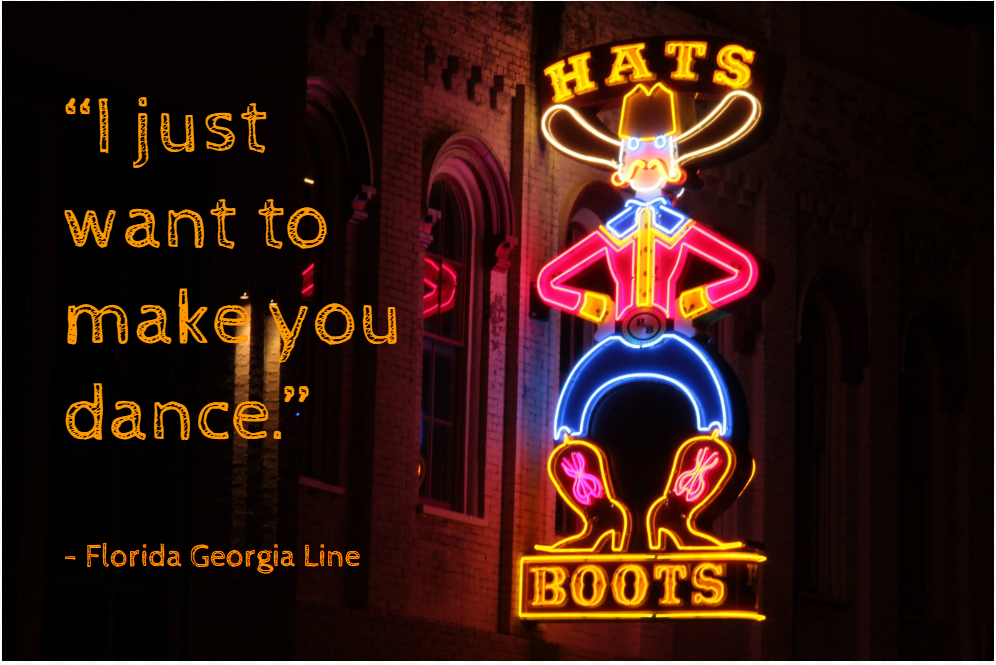 "Wishing you'd come sweeping in the way you did before." – Lady Antebellum
"That couldn't have been the radio, 'cause it had that honky-tonk sound. " – Kitty Wells
The South
Not even Nashville can stand alone – it's a part of the American South.
"There are no ideas in the South, just barbecue." – 
"In the South, history clings to you like a wet blanket." – Tim Heaton
"Southern women like their men religious and a little mad." – 
"You learn to forgive (the South) for its narrow mind and growing pains because it has a huge heart." – Amanda Kyle Williams
"Puttin' on a cowboy hat & a pair of boots doesn't make you country." – Kellie Elmore
The Show
Fan of the series? Don't worry. We didn't forget about you.
"I don't live in some fantasy world where artistic integrity comes without a price." – Alyssa
"I hope one day, for your sake, you can figure out how to search your soul on your own." – Scarlett
"We know everybody from Nashville sings!" – Lady
"I just want to make sure it's my life I'm living." – Rayna
"Life will deal you some strange hands." – Deacon
"I'm not great with normal." – Juliette
"The only validation I need for my music is to know that people like it." – Deacon
"I guess nice just ain't my color." – Juliette
"There's thinking about doing something and there's just doing it." – Deacon
Now all you need is a cowboy hat, some boots, and an acoustic guitar. You'll be touring the US in no time!
Want some more great Instagram captions? For the music lovers, we have Instagram captions for music shows. Visiting other places? We have Instagram captions for the zoo, along with captions for Las Vegas, captions for New York, and captions for visiting Disney World.