New York, New York:  One heckuva town.  When visiting the The Big Apple, aka the City that Never Sleeps, aka one of THE largest and most exciting cities in the world, it might feel like you're on an entirely different planet.  There's just so much to do and see!  In fact, rumor has it that there are around 27,000 restaurants in NYC alone.  Whether you've always lived in a New York state of mind, or your fresh off the plane with a map in hand, there's always something to take a picture of when you're wandering the streets of NYC. Naturally, you're going to need to document everything, and share all the best shots to Instagram.  Of course, you might find yourself wondering how to caption these photos in a witty, original way that really captures the depth of your experience! Try some of these creative, sassy, and inspirational captions to accompany your favorite shot.
For Travelers
For most of us, traveling is a beloved pastime that allows us to learn more about the world in which we live.  Once you've caught the travel bug, there's only one thing to do:  Travel more!  Here are some captions that are a great start to an album full of images from your visit to The Big Apple.
Wander lust and city dust.
Catch flights, not feelings.
Adventures are the best way to learn.
Never lose your sense of wonder.
The sky's the limit!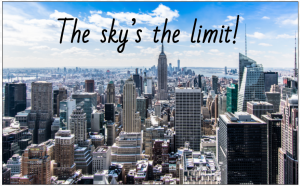 A different kind of escape.
Paradise found.
Live like a local.
Turn "no" into "hell yeah."
For the Love of the City
Sure, there are plenty of urban areas on this great planet of ours, but it's hard to argue that any of them compare to New York City.  There's just something truly unique about the hustle and the bustle in this nitty gritty city.  What better way to commemorate your time in the midst of it all than with some captions that celebrate city life?
My heart burns for the city lights.
Summer nights and city lights.
No sleep in the city.
I would choose city life over country life any day.
Forever a city girl.
Concrete jungle.
Let the city set you free.
Hello city!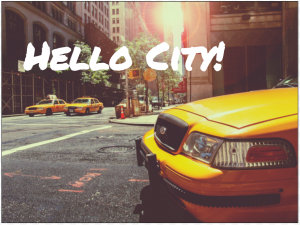 Uptown things and downtown dreams!
Swapped stars for skylines.
The Place Where Dreams Come True
New York City is historically a cultural hub of opportunity.  For the immigrants who arrived by boat in days gone by, the strong gaze of Lady Liberty was their first introduction to America.  They came to NYC to pursue their dreams, and this melting pot of cultures exists even today.  From treading the boards on Broadway to earning your first Michelin Star with a family recipe, NYC is truly a city where dreams can come true… it could happen to you!
Once upon a time in New York…
Meet me in New York.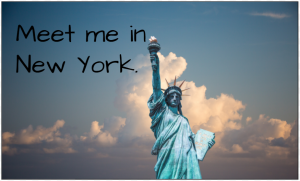 It's a beautiful day in the neighborhood.
I left my heart in New York City.
I fell in love. His name is New York City, and we're very happy together.
I want to live as many lives are there are in New York City.
Make sure your path runs through New York.
New York: Tolerant of your beliefs – judgmental of your shoes.
New York is always a good idea.
A New York minute.
When in New York…
Famous New York Sentiments
Anyone who's anyone knows a thing or two about Noo Yawk!  Perhaps you can borrow some wise words from those who have walked the streets before you!
"These lights will inspire you." – Alicia Keys
"New York is not a city – it's a world." – Iman (fashion icon)
"It's a city where everybody mutinies but no one deserts." – 
"Give me such shows – give me the streets of Manhattan." – Walt Whitman
"I love New York City – it's the loudest city on the face of the Earth. – Lewis Black
"There is something in the New York air that makes sleep useless." – Simone Beauvoir
"I love New York, even though it isn't mine, the way something has to be, a tree or a street or a house, something, anyway, that belongs to me because I belong to it." – 
"The most wonderful street in the universe is Broadway. It is a world within itself. High and low, rich and poor, pass along at a rate peculiar to New York, and positively bewildering to a stranger." – 
"I'm in love with cities I've never been to and people I've never met." – Melody Truong
"Give my regards to Broadway," – George M. Cohan
"Welcome to New York – it's been waiting for you." – Taylor Swift
"The city is like poetry; it compresses all life, all races and breeds, into a small island and adds music and the accompaniment of internal engines." – 
"City life is millions of people being lonesome together." – Henry David Thoreau
"All great art is born of the metropolis." – Ezra Pound
"If you can make it there – you'll make it anywhere." – Frank Sinatra
"It'll be a great place if they ever finish it." – O. Henry
"If man can live in Manhattan, he can live anywhere." – 
"I look out the window and I see the lights and the skyline and the people on the street rushing around looking for action, love, and the world's greatest chocolate chip cookie, and my heart does a little dance."  – 
"The true New Yorker secretly believes that people living anywhere else have to be, in some sense, kidding."  – 
"Skyscraper National Park." – Kurt Vonnegut
"On a New York subway you get fined for spitting, but you can throw up for nothing." – 
"Cities, like cats, will reveal themselves at night." – Rupert Brooke
"As for New York City, it is a place apart. There is not its match in any other country in the world." – 
"You can do what you like, sir, but I'll tell you this. New York is the true capital of America. Every New Yorker knows it, and by God, we always shall." – 
"I would give the greatest sunset in the world for one sight of New York's skyline." – Ayn Rand
"new york provides not only a continuing excitation but also a spectacle that is continuing." – 
"The glamour of it all! New York! America!" – Charlie Chaplin
"One belongs to New York instantly." – Tom Wolfe
"New York is the only city in the world where you can get run down on the sidewalk by a pedestrian." – Russell Baker
"If London is a watercolor, New York is an oil painting." – 
"New York is an exciting city where something is happening all the time – most unsolved." – Johnny Carson
"New York is made up of millions of different people, and they all come here looking for something" – 
"Once you have lived in New York and made it your home, no place else is good enough." – John Steinbeck
"One can't paint New York as it is, but rather as it is felt." – Georgia O'Keefe
"What's the use of a great city having temptations if fellows don't yield to them?" – 
"The wanderer in Manhattan must go forth with a certain innocence, because New York is best seen with innocent eyes." – Pete Hamill
"The city seen from the Queensboro Bridge is always the city seen for the first time, in its first wild promise of all the mystery and the beauty in the world." – 
"A middle finger is more New York than a corporate ambush. I bleed for my hometown, and I'd die for my fans." – 
"There is more sophistication and less sense in New York than anywhere else on the globe." – 
"So I went to New York City to be born again." – Kurt Vonnegut
"I carry the place around the world in my heart but sometimes I try to shake it off in my dreams" – 
"New York City is where specks of dust aspire randomly with all their cunning to become grains of sand." – 
"This is the city, and I am one of the citizens/Whatever interests the rest interests me"  – 
More New York Quotes
The thing about being one of the most famous cities in the whole wide world is that you get quite a reputation.  Read on for some key quotes about The Big Apple.  Even prior to becoming New York City in 1664, New Amsterdam was a key location, due to being an island conveniently located near the opening of the Hudson River.  Once you set foot there, you could make it anywhere!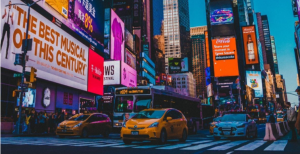 "That was the thing about New York: you always knew more about your neighbors' business than you wanted to." — Cassandra Clare
"There is no question that there is an unseen world. The problem is, how far is it from midtown and how late is it open? — Woody Allen
"Don't you love New York in the fall? It makes me want to buy school supplies. I would send you a bouquet of newly sharpened pencils if I knew your name and address." — Nora Ephron
"New York is the true capital of America. Every New Yorker knows it, and by God, we always shall." — Edward Rutherfurd
"New York gets godawful cold in the winter but there's a feeling of wacky comradeship somewhere in some streets." — Jack Kerouac
"New York is strange in the summer. Life goes on as usual but it's not, it's like everyone is just pretending." — Peter Cameron
"Cities have sexes: London is a man, Paris a woman, and New York a well-adjusted transsexual." — Angela Carter
"Practically everybody in New York has half a mind to write a book -and does." — Groucho Marx
"I love New York. You can pop out of the Underworld in Central Park, hail a taxi, head down Fifth Avenue with a giant hellhound loping behind you, and nobody even looks at you funny." — Rick Riordan
"America has only three cities: New York, San Francisco, and New Orleans. Everywhere else is Cleveland." — Tennessee Williams
"New York was a city where you could be frozen to death in the midst of a busy street and nobody would notice." — Bob Dylan
"People go to LA to find themselves", they come to New York to become someone new." — Lindsey Kelk
"In New York, most people don't have cars, so if you want to kill a person, you have to take the subway to their house." — George Carlin
"I love New York on summer afternoons when everyone's away." — F. Scott Fitzgerald
"New York is made up of millions of different people, and they all come here looking for something." — Lindsey Kelk
"Yet, as only New Yorkers know, if you can get through the twilight, you'll live through the night." — Dorothy Parker
"The shortest unit of time in the multiverse is the New York Second, defined as the period of time between the traffic lights turning green and the cab behind you honking." — Terry Pratchett
"London is satisfied, Paris is resigned, but New York is always hopeful. Always it believes that something good is about to come off, and it must hurry to meet it." — Dorothy Parker
"That's the problem with living in New York. You've got no New York to run away to." — Amor Towles
"A middle finger is more New York than a corporate ambush. I bleed for my hometown, and I'd die for my fans." — Lady Gaga
"…for in that city there is neurosis in the air which the inhabitants mistake for energy." — Evelyn Waugh
There's a reason so many writers and musicians have paid tribute to the Big Apple. It's your turn to tell others how you feel about this exciting and strange metropolis. Borrow from the words above or come up with a few of your own.
We've got a lot more Instagram captions for you world travelers!
Here's our list of Instagram captions for Nashville.
Of course, we have Instagram captions for Austin.
If you're on the Strip, you'll want our Instagram captions for Las Vegas.
We've got Instagram captions for Washington, DC.
And there's always Instagram captions for San Francisco!