Paris is one of the most visited cities in the world, with over 20 million visitors every year. It has countless miraculous experiences to offer, and you will never have time to explore them all.
If you love art, Louvre should be your first stop. It is one of the world's most visited museums, and in 2018 it took the top spot with over 10 million visitors. But this is just one of the great museums in Paris. Even just roaming the streets could be enough for history lovers who want to connect with the past.
Whether you are there as an exchange student, a tourist, or someone looking for a new home, you are going to take a great number of pictures. And every good picture needs a caption so you can post it on social media.
Your job is only to take some breathtaking photos in Paris, which shouldn't be difficult. We already prepared the captions to save you the trouble.
Paris Captions for Facebook and Instagram
People still use Facebook to share photos with their friends and family, but Instagram is definitely where you should be if you want your pics to receive the appreciation they deserve. You can add many filters to your stories and posts. But if you want to leave an impression, the thing you need the most is fun or clever comment to accompany the photo.
Coming up with captions on the spot can be quite challenging, which is why you will get some help here. First of all, you need a little bit of inspiration. It will come naturally when you think about Paris, which can be linked to so many things.
Paris is known as the City of Light, and this is for several reasons. It was the most prominent city in the Age of Enlightenment. The more literal reason is that Paris has been very well illuminated since the middle of the 19th century. The view is still one of the most stunning ones in the world.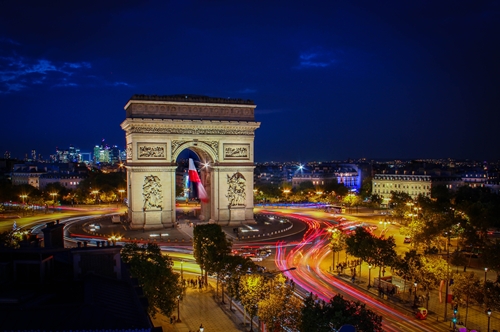 General Captions about Paris
Here are some Paris captions that apply to any situation:
Remember that time when we were at the Eiffel tower? It felt like we were at the top of the world.
When you add a few letters to Paris, it spells out paradise. I see no lies in that description.
Crepes, croissants, and Paris afternoons. Three things I live for.
Hemingway said that you can be happy at two places in the world, at your home and in Paris.
Eiffel for Paris at first glance.
Bonjour ma Cherrie, how's it going in Paris?
Taking in Paris, one sunset at a time.

On a rainy day, coffee and croissants are all I need.
Do you know what President Jefferson thought about Paris? He said that if you walk around in this city, you will get a lesson in beauty, history, and the very point of existence.
There are no worries in Paris.
Breathing in Paris, nourishing my soul.
There is no such thing as boredom in Paris.
The purpose of Paris is to serve as a reminder that dreams are real.
Honore de Balzac said that one can't know elegance if they don't frequently visit Paris. I'm just getting started with the lessons.
Watching Amelie, remembering the beauty of Paris.

Top Paris Love Captions
Not only is Paris the City of Light, but it is also the City of Love. There is no more romantic place on earth and you are lucky if you get to visit it with your significant other. Romance won't spark just between the two of you, you will fall for Paris as well. Here are some captions for all the Paris lovers out there:
At least we'll always have Paris. (If you haven' watched Casablanca, do it right now!)
God, I Louvre this city.
Paris is like a perfect relationship, you never want to leave it.
I'm enamoured with the City of Love.
Paris is a city for dreamers and artists, for long walks and lovers in springtime.
You can never forget your first love, and mine will forever be Paris.
If there's just one thing you have to see before you die, it is the lights of Paris.
In all of Paris, I abandon myself and away I fly.
Our love is like the Notre-Dame cathedral, and we will rebuild it as many times as it takes.

You Will Always Have Paris
The first visit to Paris is certainly the most magical, but the magic never goes stale in this city. You will catch yourself dreaming about going back over and over again. Did our captions help you remember Paris? Or are you thinking of seeing it for the first time? Let us know in the comments below.