One of the jewels of America's deserts, Phoenix sees more sun each year than any other city in the world. Once the home of little more than cattle ranches, citrus and cotton farms, and copper mines, today's Phoenix is a city filled with high-tech companies and fascinating architecture.
Like its mythical namesake, Phoenix is in the middle of a resurgence following the Great Recession of 2007-2010. It has a fast-growing art scene, over 200 golf courses, and loads of parks, not to mention being the primary starting point for visiting the nearby Grand Canyon.
There are plenty of chances to take a special picture and improve it immeasurably with a fitting caption. It's a task easier said than done, which is why we've come up with a few ideas to get your creative juices flowing.
The Desert
Phoenix is as dry as the Sahara Desert. For about a third of the year, residents don't see temperatures below triple digits (in Fahrenheit). After all, it's a city built in a desert, and people call it Sun City for a reason.
Take advantage of this, America's biggest kick of sand into nature's eyes, by contrasting the stark beauty of the desert with the paradoxically green, rolling fields of the city's golf courses and parkland.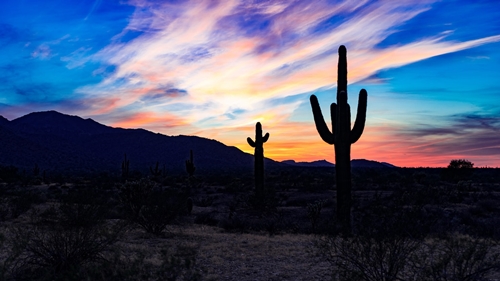 Desert Caption Ideas
"Mere miles from the city, dawn breaks silently over the sands and shrubs…"
"There's a reason Phoenix was so much smaller before they invented air con."
"It might be hard to find a golf ball out here."
"Breathtaking views just outside Arizona's capital."
Architecture
Phoenix's location has inspired a unique tradition of architecture, which makes for a city filled with fascinating and unconventional buildings. At times it feels as if you are walking through a 1960s vision of the future, and at others as if the city is trying to integrate itself into the desert around it.
The right caption for your street photography can help to express the feeling you are trying to capture and highlight just why this picture of a building is worth paying attention to.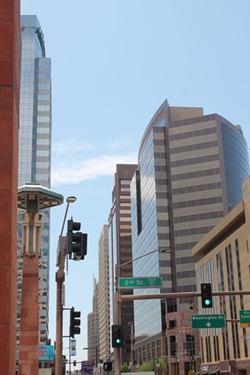 Architecture Caption Ideas
"Walking Phoenix's high street is like stepping into an old sci-fi flick."
"The flat lines and broad faces help to protect against the unending beating of the sun."
"Sandy hues show the desire to integrate rather than conquer."
"When there's this much natural light, you might as well use it!"
Fine Arts Scene
Fine arts have been on the rise in Phoenix in recent years, nowhere more so than downtown. Galleries have been opening up all over, and the Phoenix Art Museum has the largest collection of visual art in the South West. This was perhaps best demonstrated by the 2009 installation of the monumental net sculpture "Her Secret Is Patience" in the Civic Space Park downtown. It's like looking up at a piece of CGI straight out of Star Trek.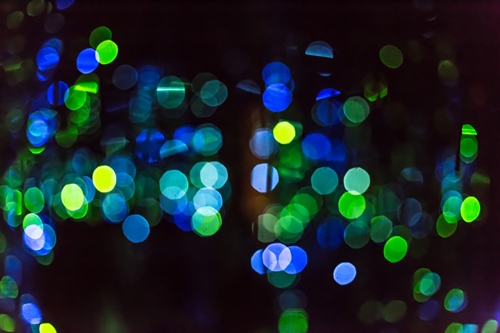 The city's name itself can serve as thematic inspiration for your artistic captions, seeing as the arts growth began as the city itself was in financial ashes.
Fine Arts Scene Caption Ideas
"You never quite know when you'll end up face to face with Phoenix's artistic undercurrent."
"It's hard to tell if I'm looking into a wormhole or if there was something extra in my drink…"
"If you want to look at something other than natural beauty, you're never far from a gallery."
"Downtown is where the Phoenix's art attack began."
Concerts and Gigs
Phoenix has a lively gigging scene and is a regular tour stop for bands of all shades. With a load of venues all across the city and even some of the sports arenas pulling double duty as performance spaces, you'll be spoiled for choice if you want to get some incredible shots of musicians doing their thing.
Your photos can be paired with captions that pick up on the energy and passion of the music. Punchy, evocative language can work in your favor here, along with more lyrical captions for more sophisticated performances.
Concert and Gig Caption Ideas
"Sweat fills our eyes, and for once it's not the sun's fault."
"A scorching performance making the desert even hotter."
"Calming classical tunes offer a musical breath of fresh air."
"Like the city's namesake, the band emerges from the smoke."

Out-Captioning the Competition
Phoenix is a city of contradictions, with well-watered stretches of grass-fringed by bone-dry desert. Don't let your photos feel as dry, and make sure to include a sharp caption and present your work in the best light.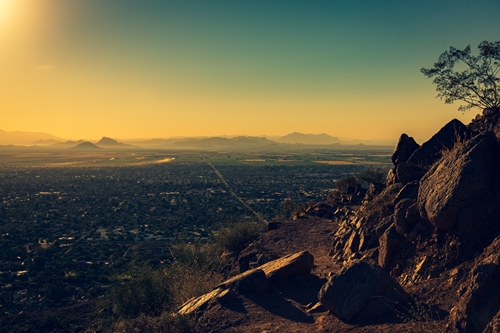 If you've got any great snaps with cool, Phoenix-inspired captions, share them with us in the comments below.