People came from water, and it is no wonder that we're impressed by larger bodies of it. Although it is fairly safe to say that most humans would love to live near the ocean, or at least at the seaside, the sad truth is that the majority of people on this planet do not have a body of water that large to enjoy.
Every country, on the other hand, and every populated location, has a river to boast. These beautiful slender lines of water wind between the hills and mountains and offer sights, views, and landscapes so various and diverse, you can rest assured that most Instagram folk would stop to check out and even snap a few photos for a post or story.
Knowing what caption to use or what description to write below the Instagram post is true art.
Wide-Shot Captions
Starting with the most obvious river posts, let's focus on landscape photos that show the unity of the river in question and its surroundings. These photos tend to evoke feelings of inspiration and serenity, so your captions should play along to that tune. Think big words of wisdom that tell the story about how we tend to get hung up on the trivial, while what matters is nature, humanity, and our planet Earth.
Wide-shot captions should evoke feelings of love and belonging, as well as send a message that reminds everyone of how important the nature that surrounds us is. Always keep in mind the vibe that goes best with a wide-shot photo – "The nature is more relevant than humans."

Caption Ideas:
"We are of the ocean. As long as you can find the river, you can find your way home."
"There is nothing more humbling than watching the river flow from up high."
"And to think that we take water for granted…"
"Watching [insert river name] meander is truly a piece of art."
Captions from the Bank
When you see a river, you will most likely get the chance to stand on the brink of one of its banks. This will give you a unique opportunity to snap a few close-up photos that are likely to turn out gorgeous, whether you're surrounded by buildings, mountains, or nothing but blue skies.
The captions that you should be going for here can focus on details that surround the river, even the animals that live near or in it. If the picture is taken within a city, remind your followers of the constant struggle between nature and technology here. If you're in the wild, focus on animal life, plant life, and anything natural that is related to the river you're standing next to.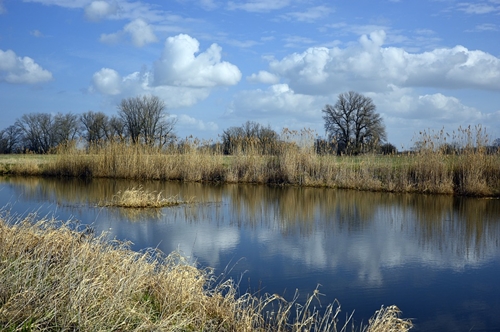 Caption Ideas:
"A friendly reminder that every city owes its life to its river."
"You don't have to take a dip in a river to feel refreshed by it."
"Did you know that it's called a "shoal" of fish? For example, this shoal of fish is absolutely gorgeous in this beautiful river."
"There's nothing like the fauna around a river. Even the mosquitoes are reasonable here!"
Captions from the River Itself
When near a beautiful river, you might decide to get your feet wet. You may even choose to take a dip if the weather is warm enough. It would be borderline blasphemous not to put a visual note of this on Instagram, and a cool caption goes hand-in-hand with it.
You might be kayaking, rowing a boat, or simply fishing; either way, photos of the river itself often turn out to be the most special ones.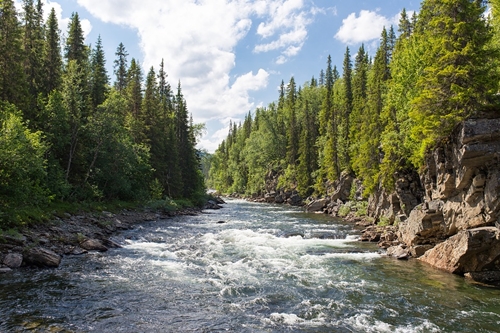 Caption Ideas:
"Talk about going with the flow!"
"Nothing beats a city's reflection taken from the river itself."
"There are three things I love about this city: the river, the river, and the river."
"Sometimes in life, you've got to stop rowing and bask in the view for a minute."
Bonus Quote Captions
Everybody loves quotes on Instagram. Turns out, there are plenty of river quotes to go around out there!
Caption Ideas:
"Just as a drop of water in the ocean cannot avail much; but if a great river runneth into it, that maketh a great commotion." – Jakob Bohme
"The river is one of my favorite metaphors, the symbol of the great flow of Life Itself. The river begins at Source, and returns to Source, unerringly. This happens every single time, without exception. We are no different." – Jeffrey R. Anderson
"If my ship sails from sight, it doesn't mean my journey ends, it simply means the river bends." – Enoch Powell
"We must begin thinking like a river if we are to leave a legacy of beauty and life for future generations." – David Brower
Passion for Rivers
If you have a true passion for rivers, you won't miss a chance to post pictures of them on social media. These caption ideas will hopefully give you something to start off when decorating your pictures and stories with witty words of wisdom and serenity.
Have you snapped a beautiful photo of a river that you want the whole world to see? Share a link to it along with your best river-themed caption in the comments below.