When it comes to exercising, there's nothing more classic than going for a nice jog. Running is a fantastic exercise that helps to build healthy hearts and lungs, while also working your leg muscles, burning calories faster than most other workouts, and being a whole lot of fun to boot. Very few sports allow anyone to jump in, but running and jogging both allow for anyone, regardless of their financial status, to get outside and start moving. As long as you have a pair of  sneakers and a trail to run on, you're good to go.
While you're out running through the city streets or are trail blazing down a forest pathway, you'll want to make sure you bring plenty of water and your phone to capture some snaps. Once you have those photos of your athletic achievements, you need to have some clever or meaningful captions so that you can share your victories with your Instagram followers. Next time you share a shot of yourself tearing down the track or jogging through the woods, pick a caption that expresses your passion. Let everyone know that you're a runner, and that you mean business.
(Is hanging out at the lake more your style? Check out our list of lake captions for Instagram, or if winter sports are your jam, our list of winter captions for Instagram has what you need. And of course, if you're more into the gridiron, our list of football captions has you covered!)
Running Definitions
Runderful (noun) – How you feel immediately after running.
Runcrastination (noun) – Having a million things to do and going for a run instead.
Grunpy (adjective) – How I feel when I can't run.
Rungry (adjective) – When you're so hungry from your run that you eat everything.
Runners High (noun) – The real reason runners run.
Self Deprecating
Running is a mental sport, and we are all insane.
My running style is best described as startled gazelle.
I thought they said rum.
Slow runners make fast runners look good. You're welcome.
A good run is like a cup of coffee – I'm much nicer after I've had one.
Please ignore the faces I make when I run.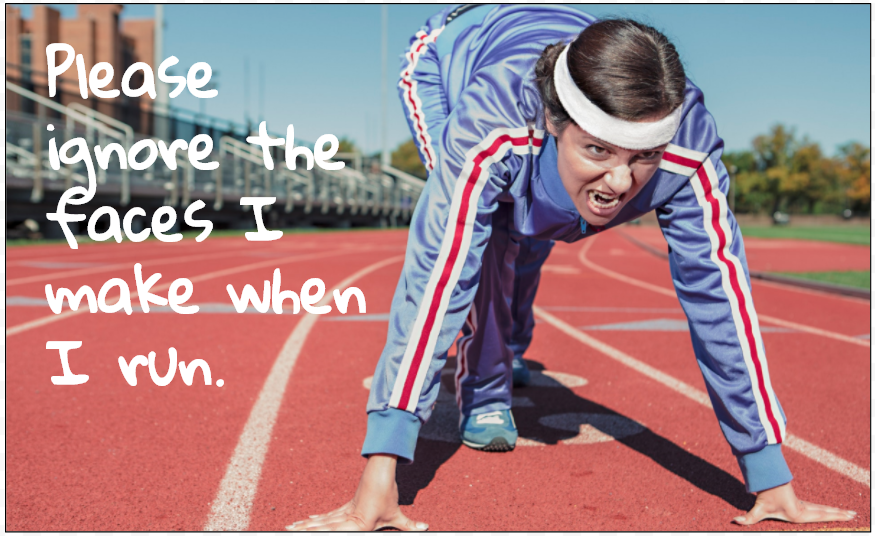 I run because I really like food.
I'm not slow; I'm just getting my money's worth from the entry fee.
For someone who runs all the time, I still manage to make it look like it's the first time I've ever tried.
7 more laps – then I can fall over and vomit.
Running is cheaper than therapy.
I'll be happy if running and I can grow old together.
Funny
I run better than the government.
I plan on having such an awesome run, Morgan Freeman should narrate it.
Run like there's a hot guy in front of you and a creepy guy behind you.
Running won't kill you – you'll pass out first.
Pain is temporary, but your finishing time posted on the internet is FOREVER.
Carb loading is an excuse to eat all the pasta you want before a race.
It's a lot like walking, only faster.
Run like you stole something.
My grandmother started walking five miles a day when she was sixty. She's ninety-seven now, and we don't know where the heck she is.
Serious Dedication
If you see me collapse, pause my watch.
It's just a hill; get over it.
Running is the answer. The question is irrelevant.
I don't run because I love it; I run because I love who I am when I'm through.
Me during running: Make it stop! – Me after running: Sign me up for the Olympics!
Shut up! I'm not almost there!
The pain of running relieves the pain of living.
I like running and maybe like four other people.
I've got 99 problems and I'm going to ignore them all for an hour.
To run or not to run: what a stupid question.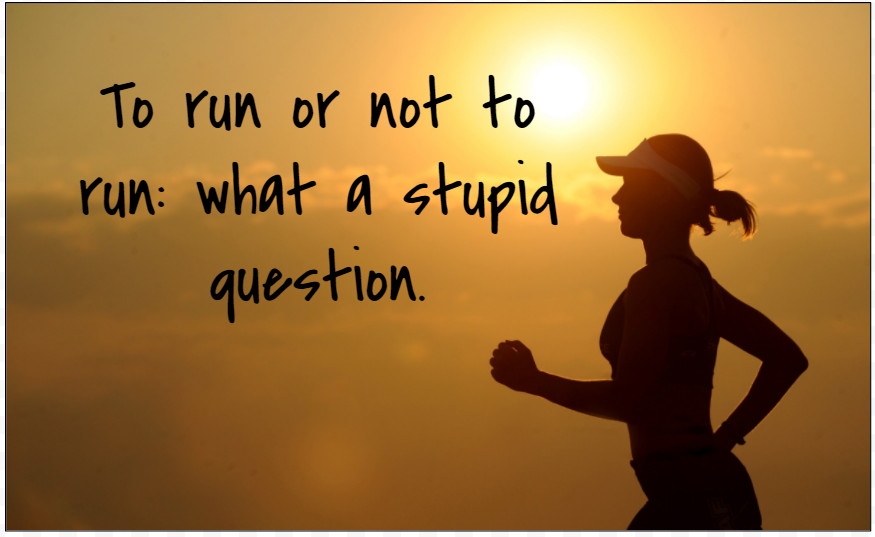 Runner's logic: I'm tired – I think I'll go for a run.
I don't stop when I'm tired. I stop when I'm done.
Pain is inevitable. Suffering is optional.
No one ever drowned in sweat.
Run until you fly!
On your good days, run hard. On your bad days, run as long as you need.
I don't run to add days to my life, I run to add life to my days.
If you don't have answers to your problems after a four-hour run, you ain't getting them.
Mind Over Matter
The most difficult part of training is training your mind.
Your body can stand almost anything. It's your mind you have to convince.
The real run begins the moment you forget you are running.
Don't think of them as hills; think of them as "mounds of opportunity."
A good laugh and a long run are the two best cures for anything.
Nothing, not even pain, lasts forever. If I can just keep putting one foot in front of the other, I will eventually get to the end.
What seems hard now will one day be your warm-up.
Yes, I am round. Yes, I am slow. Yes, I run as though my legs are tied together at the knees. But I am running. And that is all that matters.
Pain is temporary. Quitting lasts forever.
Running is nothing more than a series of arguments between the part of your brain that wants to stop and the part that wants to keep going.
The voice inside your head that says you can't do this is a liar.
Runners Pride
Some people don't have the guts for distance. The polite term for them is sprinters.
There will come a day when I can no longer run. Today is not that day.
Running is a sport where you compete against yourself.
Adversity causes some men to break; others to break records.
If you are losing faith in human nature, go out and watch a marathon.
There is magic in misery. Just ask any runner.
Other sports use our sport as a punishment.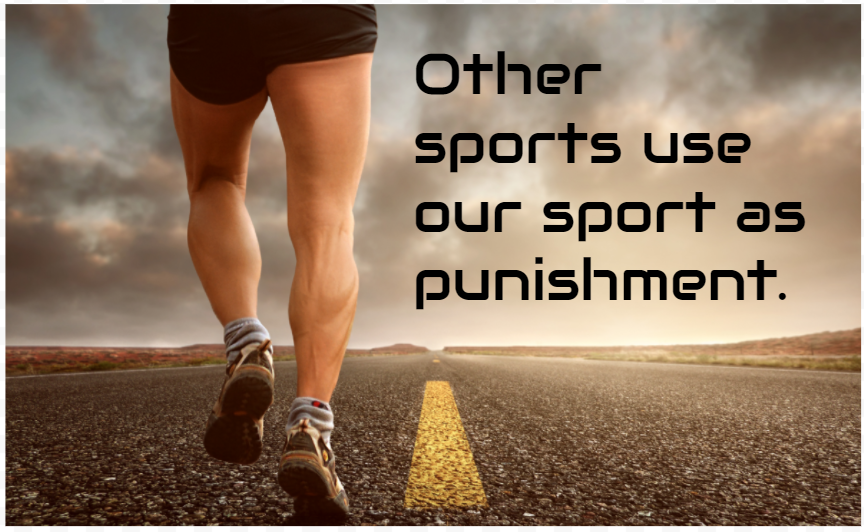 Running Gets Literary
Try some of these quotes from the literary lights of our time to class up your Instagram postings.
"Run when you can, walk if you have to, crawl if you must; just never give up." – Dean Karnazes
"The point is whether or not I improved over yesterday. In long-distance running the only opponent you have to beat is yourself, the way you used to be." – Haruki Murakami
"Crossing the starting line may be an act of courage, but crossing the finish line is an act of faith." – John Bingham
"Some seek the comfort of their therapist's office, other head to the corner pub and dive into a pint, but I chose running as my therapy." – Dean Karnazes
"Your body will argue that there is no justifiable reason to continue. Your only recourse is to call on your spirit, which fortunately functions independently of logic." – Tim Noakes
"There is something magical about running; after a certain distance, it transcends the body. Then a bit further, it transcends the mind. A bit further yet, and what you have before you, laid bare, is the soul." – Kristin Armstrong
"There is nothing so momentary as a sporting achievement, and nothing so lasting as the memory of it." – Greg Dening
"It was being a runner that mattered, not how fast or how far I could run. The joy was in the act of running and in the journey, not in the destination." – John Bingham
"What I've learned from running is that the time to push hard is when you're hurting like crazy and you want to give up. Success is often just around the corner." – James Dyson
"The trouble with jogging is that, by the time you realize you're not in shape for it, it's too far to walk back." – Franklin P. Jones
"Yes, I am round. Yes, I am slow. Yes, I run as though my legs are tied together at the knees. But I am running. And that is all that matters." – John Bingham
"Winning doesn't always mean getting first place; it means getting the best out of yourself." – Meb Keflezighi
"Never underestimate the heart of a champion!" – Doc Rivers
"There is about world-class athletes carving out exemptions from physical laws a transcendent beauty that makes manifest God in man." – David Foster Wallace
"Winning has nothing to do with racing. Most days don't have races anyway. Winning is about struggle and effort and optimism, and never, ever, ever giving up." – Amby Burfoot
"The reason we race isn't so much to beat each other… but to be with each other." – Christopher McDougall
"If it doesn't challenge you, it won't change you." – Fred DeVito
"Most people never run far enough on their first wind to find out they've got a second." – William James
"Persistence can change failure into extraordinary achievement." – Matt Biondi
"Run often, run long. But never outrun your love of running." – Julie Isphording
"The will to win means nothing without the will to prepare." – Juma Ikangaa
"Running is the greatest metaphor for life, because you get out of it what you put into it." – Oprah Winfrey
"Clear your mind of can't." – Samuel Johnson
Make your Instagram account a shrine to all things running and remind your followers of what it takes to be a true athlete and run on!