If you can't stand being away from your wife or girlfriend while she's at work, why not send her a nice text message to let her know how much you love and miss her? A heartfelt, flirty, or just plain funny short text is sure to put a sincere smile on her face and at least for a moment help her forget about her busy workday. Plus, she'll be more motivated to excel at work knowing that you'll be waiting for her at home in the evening with a big smile, a heart full of love, and maybe even a cozy candlelit dinner for two.
Are you looking for a perfect text message to send her at work? Here are 10 excellent ideas to consider.
Miss you already!
She's having her morning coffee and getting ready to start her shift, only to find this message waiting on her phone. What a great way to kick off the workday, knowing that someone's always thinking of her.
Hi honey, how's your day going?
Nothing says "I love you" like showing interest in how your other half feels and what she's up to. Ask her how her day is going, let her vent if she needs to, hear her out, and show understanding. It will mean more to her than any gift money can buy.
Thinking of you. I hope your day is going well.
Similar to the previous message, only this time it doesn't require an answer. This is perfect if you know she's too busy to text back and don't want her to feel guilty for not responding.
Hi honey, just making sure everything's okay at work.
Here's another variation on the previous two messages. If you haven't heard from her in a while, this is a good way to check in. She can respond with a smiley face or write a proper reply – it's all up to her.
Only 2 hours and 37 minutes until I see you again!
Can't wait to see her again after work? Why not send her a quick message to tell her that you're already counting down the minutes? Just make sure to get the time right, or else she might get some ideas.
Don't tire yourself at work today. Save some energy for later – you'll need it.
If you think about it, this message works three ways. Firstly, you are acknowledging that she's a hard worker and that you respect her for that. Secondly, you are sending her a reminder that, despite her strong work ethics, she still has to find some time to have fun. Finally – and perhaps most importantly – you are letting her know that you'll make all the arrangements so she can have some fun in the evening.
I can't wait to snuggle later.
Why beat around the bush when you can just tell her what's on your mind? Add a cute animal-themed gif to the message and you're sure to put a smile on her face.
Would you mind checking your purse very quickly? I think you took my heart with you when you left for work this morning.
Sure, this message might be a bit cheesy, but in a world where everyone is so serious all the time, a little light humor can go a long way. Add a winking face, and you'll surely provoke a chuckle.
I couldn't get any work done today because all I could think about was you.
This is another great way to tell her how much you love her. With all the work piled up on your desk, she's still the only thing you can think about. How romantic is that? Just try not to ignore work for too long, or you might have to look for a new job very soon – and surely neither of you would want that.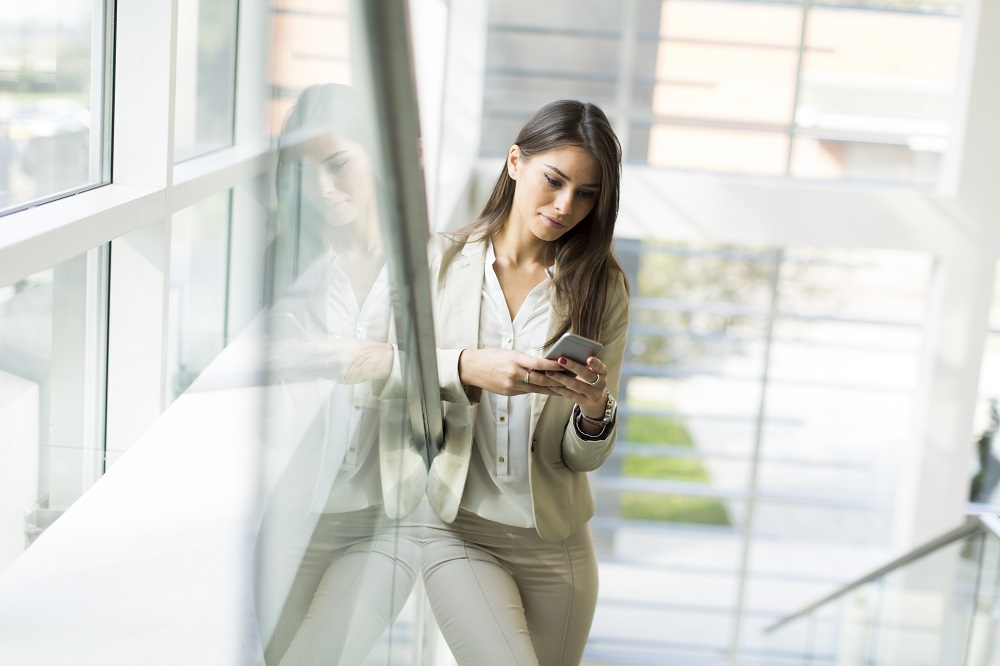 What Would You Write?
If you had to express your love and affection for your wife or girlfriend in 160 characters of fewer, what would you write? What message would you send to put a smile on her face during a busy day at work? How would you flirt with your crush via a text message?
Share your text ideas – safe for work, of course – in the comments below.