Few moments in life are sweeter than the moment when your beloved asks you to be their spouse, or the moment when your beloved says yes to your offer of marriage. Deciding that this is the person you want to spend the rest of your life with is a deeply significant event, and from the moment someone says "yes", your lives change forever. The coming months will be full of preparation and work, as you choose a venue, a date, and plan the event.
It's no surprise that many of us want to memorialize this special time in our social media feeds. Whether it's a post on Facebook or a story on Instagram, sharing this day with the people most important to us is a natural thing to do. You may even want to share every step of your journey with those closest to you. If you're looking to share the journey from engagement to marriage with your friends and followers on Instagram but you're having a difficult time coming up with good captions for your moments, we've got you covered.
Engagement Announcements
Announcing your engagement on social media is the easiest way to spread the news about your pending nuptials—or at least, it's easier than calling all your distant relatives to let them know. Posting on Instagram allows you to select multiple photos or videos in one post, share directly to other networks like Facebook and Twitter, and most importantly, include a caption to further explain your pictures. If you're looking for a cheeky caption to add onto your engagement announcement, or just want some ideas for what you could say, check out some of these captions below to really make your engagement post pop!
Does this ring make me look engaged?
Little things make big days.
Pop the champagne; I'm changing my last name.
We've decided on forever.
(S)he just got real.
Still falling for you, even harder than before.
He stole my heart, so I'm going to steal his last name.
And so, our adventure truly begins here.
Two souls, one heart.
He asked. I said "about time."
Finally, he put a ring on it!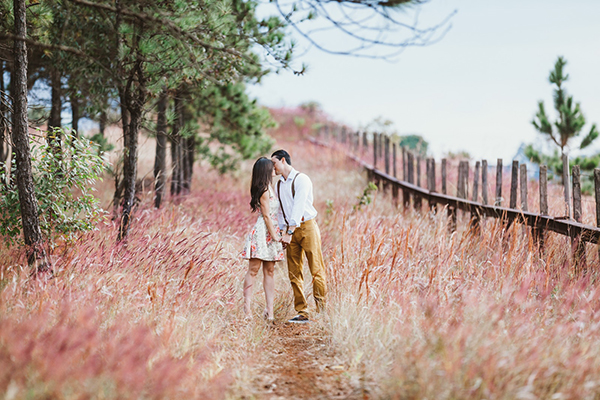 Keep calm, and put a ring on.
When I said I DO, I didn't mean laundry.
Pop the bubbly; I'm getting a hubby.
Level up.
Diamonds are forever, and so is this love.
The next stage of our life.
Dreams do come true. I found you.
Two less fish in the sea; one more lock and key.
I couldn't pick a weirder, more lovable person to spend the rest of my life with.
In the end, (he/she/they) was always the one for me.
Engagement is just trying to find someone with the same weirdness as you.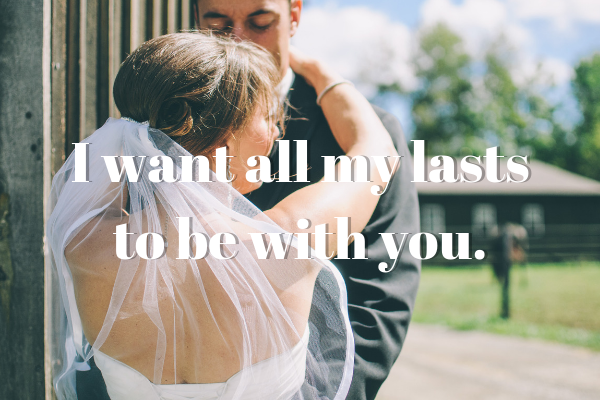 The greatest thing you'll ever learn is just to love and be loved in return.
True love stories never have endings but they have beginnings.
I want all of my lasts to be with you.
Engagement marks the end of a whirlwind romance and beginning of an eternal love story.
I cannot think of a reason not to ask you to marry me when I am filled with love for you.
When you realize you want to spend the rest of your life with somebody, you want the rest of your life to start as soon as possible.
My name sounds even cuter with your last name added to it.
Bridezilla? Who, me?
Wedding Sentiments
Once the big day arrives, you'll want some captions to mark the occasion. You're gonna have dozens of photos from the day, and you'll need some captions in order to properly post the images online. Whether it's of you and the love of your life, you and your bridesmaid or groomsmen, the wedding party in general, or candid photos and snapshots of your guests, you'll want to make sure you have a caption for every occasion. Here are some of our favorite wedding and marriage-themed captions. (And here are some general love captions.)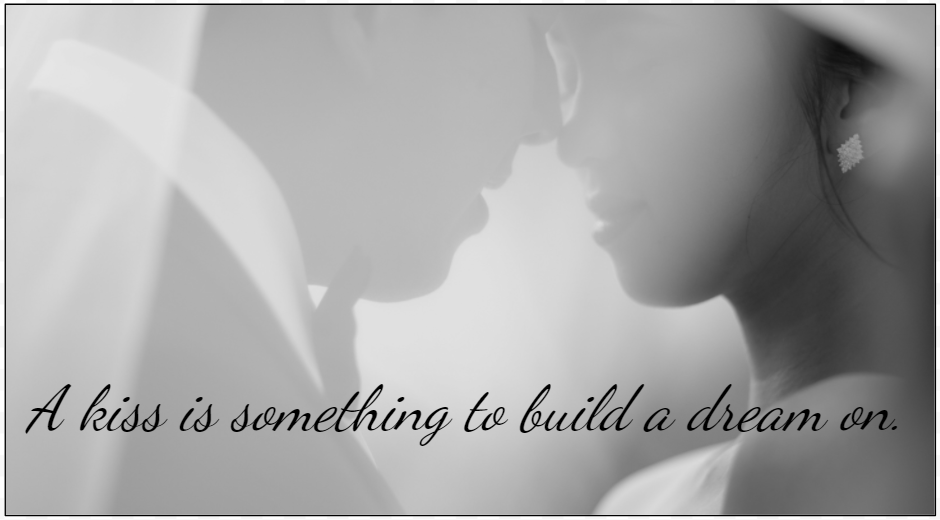 And the adventure continues…
Ready to get wed, white, and boozed with the love of my life.
Here's to love, laughter, and happily ever after.
Together is a beautiful place to be.
The best is yet to come.
And in one moment, our hearts become one.
A kiss is something to build a dream on.
My mother told me to pick the very best one, and I did.
I want the kind of marriage that makes our kids want to get married.
With my whole heart for my whole life
I found the one whom my soul loves.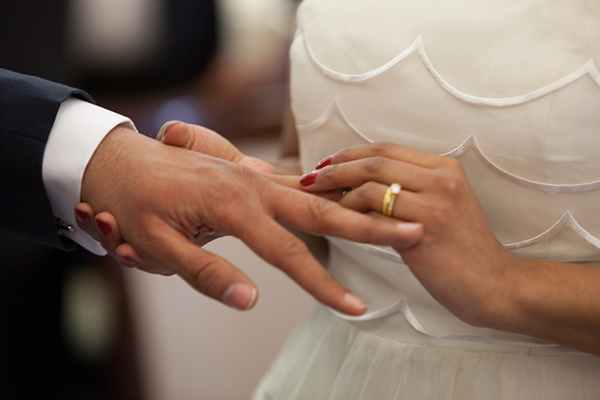 Achievement unlocked: Together Forever.
Every love story is beautiful, but ours is the best one.
I can't think of anyone I would want to spend my life with more than you.
I'll be there from when you wake up to when you lie your head down to rest.
You were love at first swipe.
Guess I'm living with a boy now.
The highest happiness on earth is marriage.
This photo was taken before I started crying.
Anyone can catch your eye, but it takes someone special to catch your heart.
Love is just a word until someone comes along and gives it meaning.
For it was not into my ear you whispered, but into my heart.
Starting Your Family Together
One of the best things about getting married is getting to start your own family with the person you love. How you do that is up to you—having kids, moving to a new location, or simply enjoying life together through work, vacation, weekends and more. Whatever you choose to make your family out of, consider some of these family-based captions for your wedding photos as a way to announce the world that you and your new partner have emerged as a team. (Ready to start celebrating your anniversaries? Check out these anniversary captions for Instagram.)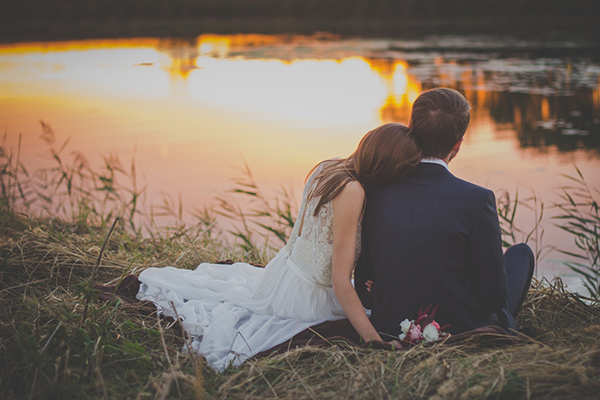 Together we make a family.
You are the family I choose.
Family: we may not have it all together, but together we have it all.
Families are like fudge: mostly sweet with lots of nuts.
You call it chaos; we call it family.
Sip, sip, hooray!
Family is like music; there are some high notes and some low notes, but it's always a beautiful song.
Happy marriages begin when we marry the ones we love, and they blossom when we love the ones we marry.
Walked down the aisle and started my forever.
To Your Special Someone
Dedicating your captions to the institution of marriage is great, but if you want to make it a little more personal, you can use this opportunity to dedicate your special day to your partner in crime, the person you love enough to spend the rest of your life with. After all, marriage isn't about the wedding itself but the promise you make to each other to spend the rest of your lives with one another.
We go together like cake and icing.
You are my today and all of my tomorrows.
Home is wherever I'm with you.
My love for you is a journey; starting at forever and ending at never.
Thank you for reminding me what butterflies feel like.
You are the butter to my bread.
I want to live my life with you.
My favorite fairytale is our love story.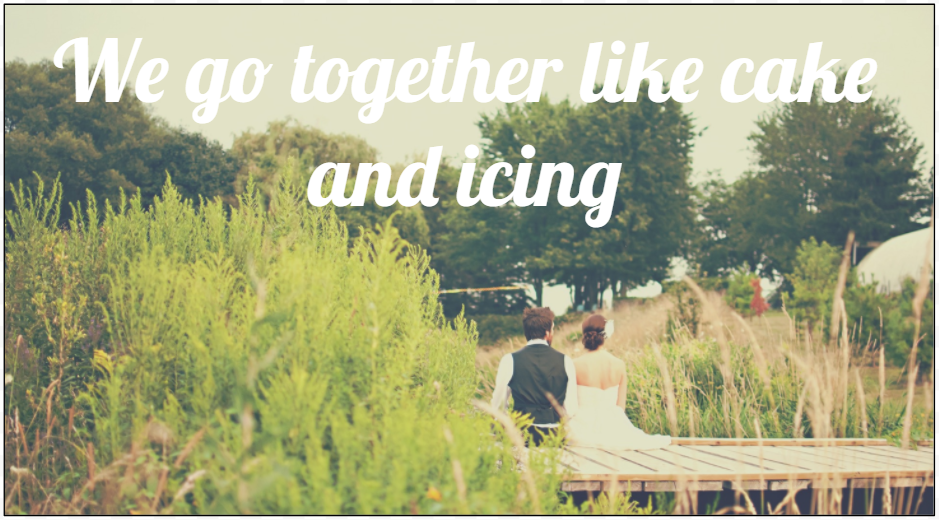 With you, I've forgotten my problems and learned to embrace love.
Meet my partner in crime, the love of my life.
I feel like everything in my life has led me to this, right now and right here.
I hope for as long as we stay together, that I always remain someone you wish to love relentlessly.
For the first time, I see what the rest of my life looks like. And it looks a lot like you.
Every love story is beautiful, but ours is my favorite.
I can't imagine not standing here right now, in this moment, holding your hand, waiting for the rest of our lives to start.
A successful marriage requires falling in love many times, always with the same person.
Literary Love
Standard captions are great, but punctuating an image or video with a famous quote about love truly helps to make your special moment feel a bit more elevated than any old quote. Here's a few of our favorites from some of the best literature, poetry, and songs to date. (And here are some more Instagram captions for couples.)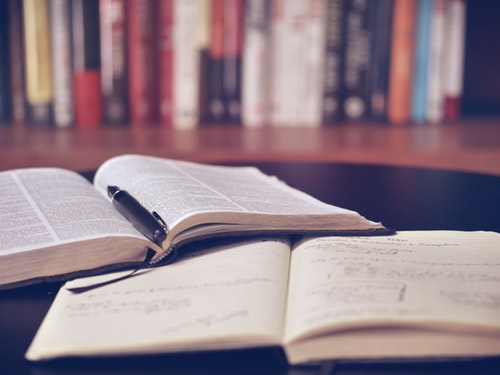 "I love you and that's the beginning and end of everything." – F. Scott Fitzgerald
"Any day spent with you is my favorite day." – A.A Milne
"The minute I heard my first love story, I started looking for you." – Rumi
"Love is composed of a single soul inhabiting two bodies." – Aristotle
"You know I dreamed about you for twenty-nine years before I saw you." – The National
"It's so great to find that one special person you want to annoy for the rest of your life." – Rita Rudner
"Now join your hands, and with your hands you heart." – William Shakespeare
"I swear I couldn't love you more than I do right now, and yet I know I will tomorrow." —Leo Christopher
"Can we always be this close forever and ever?" – Taylor Swift
"Love is the master-key that opens the gates of happiness." – Oliver Wendell Holmes
"To love and to be loved is to feel the sun from both sides." – David Viscott
"Whatever our souls are made of, his and mine are the same." – Emily Brontë
"Grow old with me! The best is yet to be." – Robert Browning
 ***
Your wedding day—and your engagement, for that matter—are all special moments in your life, so we hope that some of these captions helped to established the right mood and tone for your photos and videos showing off your love for the person you were lucky enough to marry. Whether you're looking for something funny, sweet, loving, or somewhere in the middle of all three, we hope our guide to marriage captions for Instagram helped you make the perfect post. Which of the captions on the list were your favorites? Let us know in the comments below, and make sure to check back for new captions every so often!
n love but not yet at the wedding stage? Try these love captions for Instagram.