The most precious thing in the entire world is your own child. Giving a birth to a child is the greatest achievement you can even do. It is so sad that children grow too fast. Today your baby can't hold his head and already tomorrow he is finishing his school. Even when your child is an adult man or woman, you will always treat them as children. This is the nature of all parents. When your child turns 18 years old, this is such a big occasion. Motivate your child to start his life as an adult without any sign of fear. Discover many wonderful 18th birthday quotes.
The Best Happy 18th Birthday Quotes
Now you are 18 years and you are mature enough to live your life according to your own philosophy. Spread your wings, our angel. Happy Birthday!
Happy 18th birthday! Don't worry about acting like an adult just yet. Today, we party like rock stars. Tomorrow, like mature adults, we pretend it never happened!
You are my best birthday gift. I congratulate you with 18th birthday. Enjoy your day, sweetheart!
Turning 18th years old is just the beginning of an adult life. Taste it and live as you like, without copying anyone else. Happy 18th birthday, my angel.
There are no limits on where you go after today, find happiness in all you do. Happy Birthday enjoy your journey.
I have a feeling that you were born just yesterday and already today we celebrate your 18th. You are a beautiful woman now with a pure heart. Happy Birthday, dear daughter!
Parents always feel bittersweet when their children turn into adults. I am so proud of you. Happy Birthday!
Welcome to the world of adulthood! Enjoy your special day and the great years ahead. Happy eighteenth birthday!
Baby, do not rush to grow. You will have time. Our best wishes to the most beautiful young lady in the world on 18th birthday!
Baby, welcome to adulthood. Enjoy your freedom, but remain responsible. Happy 18th birthday!
Funny Happy 18th Birthday Wishes
Don't get into too much trouble on your birthday. Remember, you're old enough to do time now!
I can't guarantee that your life after eighteen will be totally smooth. But as your friend, I guarantee that I will always stand by your side whether you are eighteen or eighty. Happy 18th birthday.
You're officially 18! Wow,and up until the last 16 years you couldn't even count that high!
Turning 18 is certainly a great reason to have a party. But remember to do it moderately. Do not act crazy for it might just spoil your birthday. Happy Birthday!
Happy 18th birthday! As your birthdays come and go, may you always remember that growing older doesn't mean growing up. Stay young (it's good for the heart).
For your 18th birthday I just wanted to remind you of all the great things that are headed your way: independence, career, voting, military options. Have fun with all the choices!
Welcome to the big '18'. I wish you the best and hope life treats you well, always. Happy birthday.
There are some things people don't publicly talk about that will interest you so much at this age, make sure you're polite about those things. Happy 18th Birthday to you.
18 years young and the best is yet to come! Happy birthday!!!
You're 18? Better start brushing up on those Age of Consent laws, kid.
Happy 18 Birthday Messages for a Boy
Dear son, even without saying you know how much I love you. But today is your 18th birthday and I want to show you all my love and care. You are my beloved son. Happy Birthday, my dear!
Being 18 means you have the judgement of a teenager combined with the legal rights of an adult. Good thing you're a lot smarter than I was at your age!
Now you are so mature. I am happy to see my son becoming such a wonderful and dynamic young man. This is our biggest pleasure to see you growing. You will achieve many great things. Happy Birthday, my love!
Today is such a special day both for you and your parents. May God bless you and always protect Happy 18th birthday!
Our dear son, we are the proudest parents in the world. Happy Birthday, honey!
I wish you the courage to grab all the opportunities that will come by you and I wish you the perseverance to live your life to the fullest. Happy 18th birthday!
Your parents welcome you into adulthood. However, you can still enjoy being a teenager. Do not rush to grow. Happy 18th birthday, our angel.
You bring us so much joy during these eighteen years. You re so special and you deserve the best. Happy Birthday, my love!
Dear son, always remember that your parents love you and will always protect, no matter how old you are. Please accept our warmest birthday wishes!
Now you have reached the age of complete freedom. Enjoy it! Your loving parents send you the sweetest birthday wishes!
Happy 18th Birthday Greetings for a Girl
Now, you are eighteen years old teenager. This is a wonderful transition to an adulthood. Best wishes on your 18th!
Two years past "sweet sixteen" but what a difference in maturity. I'm so proud of you!
Today your life is blooming and I really hope you will keep your innocence and purity all your life. Today you have a perfect for a birthday party with friends. Enjoy! Happy Birthday!
Your new year will be full of perspectives and bright opportunities because you enter the adulthood now. Stay wise and pure. Your parents love you. Happy Birthday, love!
Turning 18 years old will open your eyes and heart to new opportunities and life changes. Please be patient with life and stay consistent with following your dreams.
Little girl, Happy Birthday! Enjoy a new chapter of your life. We are proud to see how our little woman grows. Happy Birthday, sweetie!
Baby, eighteen years ago you changed our lives forever. This is a blessing to have a daughter like you. Hay Birthday, love!
My dear, your childhood was reckless, but today I am very proud of you. You are an adult lady and you will achieve great success. Happy Birthday, my angel.
Turning eighteen years you are no longer a child, but still a teenager. You can enjoy driving a car, but to enjoy a drink you still have to wait a bit. You are such a responsible girl. Welcome to adulthood – enjoy your youth! Happy Birthday, sweetheart!
You are the best daughter any parent could dream about. Happy Birthday!
Happy Birthday for Someone Who's Turning 18
Baby, I want to see you very successful and cheerful during all your life. Live your life to fullest. Happy 18th birthday, our angel.
Don't take this life thing too seriously. Enjoy every minute of what's to come. Happy 18th birthday.
Happy 18th birthday. It's finally the start to act like a grownup. So start now… bring out the booze and let's be merry until we're weary.
Happy 18th birthday! Now you only have one rule to follow: Don't piss off the bouncer or bartender at your favorite bar.
18 is no doubt a big milestone in a teenager's life because many life decisions are made at this age, because of their exigency. May you make the right decision every time you want. Happy birthday.
Every single day I pray God to protect you. Now, my little angel is 18 and I still can't believe this. Time flies so fast. Happy Birthday, my love!
You have just entered a very interesting period of your life. Advise you to balance between being a teenager and an adult. You will definitely succeed. Happy 18th Birthday!
Now it is time to become wiser and take the responsibility for your actions. This new period will be new and interesting. Happy 18 Birthday!
Today is your 18 party. Enjoy your day. You are an adult now and we have an official right to throw you from our house. Kidding. We love you and wish you the happiest birthday ever!
We pray for your life to be great and joyful. Happy 18th Birthday, honey!
Top Happy 18th Bday Messages
Baby, you are 18 and now you have the whole world in palms. Enjoy! Happy Birthday!
Congratulations on being old enough to really make a mess of things.
We are happy to see our small boy becoming a mature man. You can swipe a credit card, but do not forget to pay your bills. Happy Birthday!
We hope that your adult life will be full of excitement. Happy Birthday, dear!
As you turn eighteen I just want to say one thing to you – always cherish your friendships and never betray love that is true. Happy birthday.
I am a blessed parent to have such a sweet and smiling son. Now you are 18 and I start to feel very proud of the way you grow as a man. Happy Birthday my love!
Your future is like a blank page in a book. Here is a pen to record the new chapters in your life! Will it be a mystery or a romance? The choice is yours may it be filled with happiness.
After reaching the age of 18 you will have much more responsibilities and challenges. Do not be afraid both to fail and to succeed. Experiment as much as you can. Happy Birthday!
Now you are 18 and it is time to leave your parent's nest. Fly high, baby. Wishing you a wonderful birthday!
Your 18th birthday certainly calls for a one big celebration. You are now an adult and this is something you should be thankful of.
Cool Birthday Wishes for 18 Year Old Celebrant
The best moment is to see your smiling and laughing. I want you to be happy all the time. You are my main reason to live. Happy Birthday!
Happy 18th! You finally know what it feels like to be "legal." It's just like before, except you can now buy beer with an ID that actually has your photo on it.
Honey, I greet you with 18th! Congrats on becoming an adult. I love you!
Always remember, the more you give to people, the more you get in return. Happy 18th Birthday, my love!
Everyone says 18 is the age to grow up. As your best friend I say we are still teenagers and need to take advantage of it before our youth is up. Let's celebrate tonight as only a teenager could.
You have just reached the age of a big bot. Am happy to see you mature enough to enter the adulthood. Warm wishes for your 18th birthday!
Don't be scared to take on challenges, because they will come. Explore the world and enjoy yourself. You are more than you think you are. Happy 18th birthday, we love you always.
Your sweet childhood is over. Now build yourself into a mature man. Happy Birthday, my angel!
I am so proud and honored to be part of your special day, may this beautiful day usher into your life every good thing that you've always dream of. Happy 18th birthday buddy, have lots of fun.
Here's to another 18 years of pure fun and joy! Happy birthday to someone I love very much.
18 Years Old Birthday Sayings
Today is your 18th This is so amazing how fast you grow, but for us, you will be our little angel forever. Happy Birthday!
You can now vote, get a tattoo and buy a lotto ticket… though I highly recommend doing those things one at a time.
It is normal that you hurry to become an adult, but do not forget to enjoy your youth, because you will miss this period of your life a lot. Happy Birthday, sweetheart!
I am the proudest father, who just wants to see his child happy. Send you my warmest wishes for your 18th birthday! I love you.
You are entering a special time in your life when you are balancing right on the edge of adulthood. Enjoy your special 18th birthday and welcome to our world.
Laugh and enjoy your life as much as you can, my honey. Remain careful and wise, as you always are. You are eighteen just for once. Happy Birthday!
Today is really a magical birthday! You can do now so many things. Do not miss yourself. Happy birthday, my love!
After turning 18, you are in the club of adults. This life stocks a lot of interesting things. Enjoy! Happy Birthday!
Don't let them fool you, adulthood is full of hardship, work, broken dreams and crying kids- you sure you're really 18?
There is a famous saying, "Work hard, play hard". This should be the motto of your adult life. Happy Birthday!
Ideas for 18th Birthday Card Messages
The 18th birthday has arrived and it is time to prepare a nice gift and compose a greeting card made with all your love. The best wishes are the ones that go from the heart. The celebrant will keep this greeting card and it will be a great reminding of this day for him. Below, you will discover a huge variety of unique 18th birthday card greeting ideas. You will find also a lot of images for a perfect birthday card. So, pick up the best quotes for your beloved person.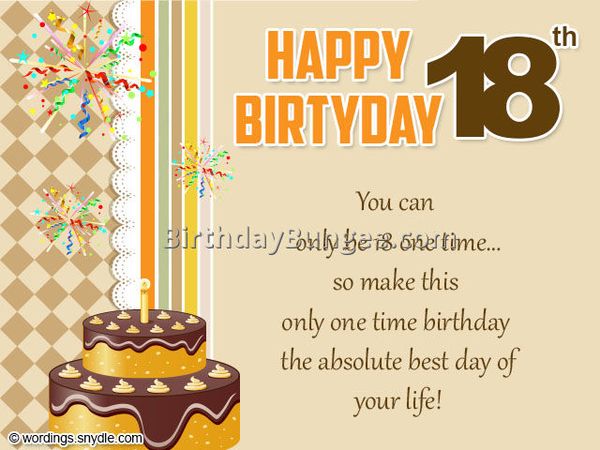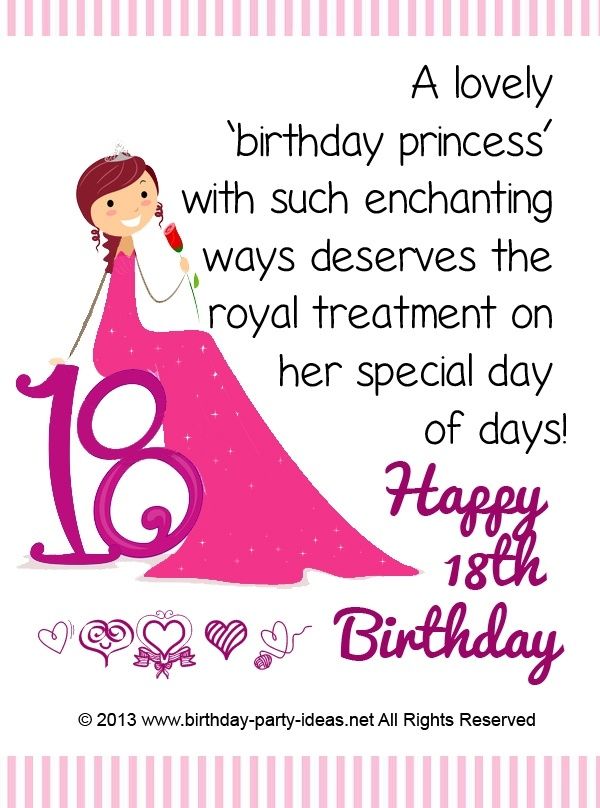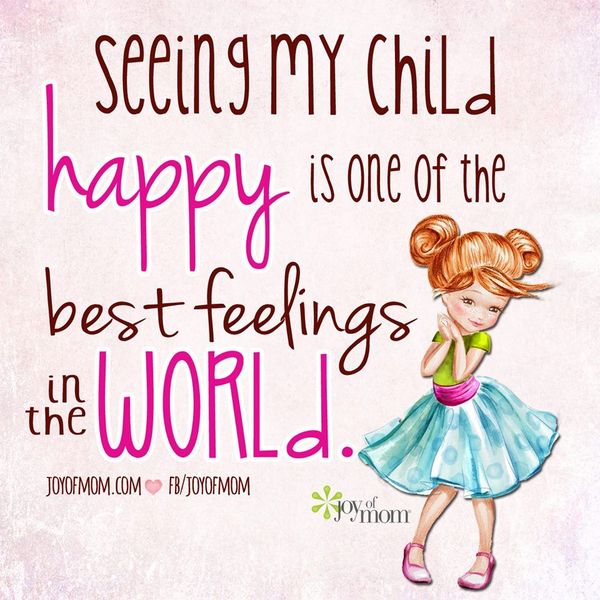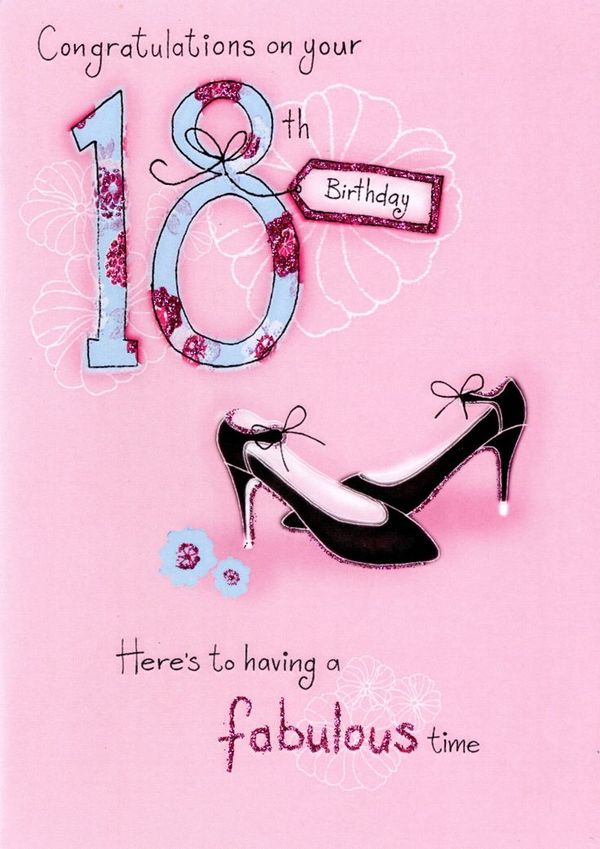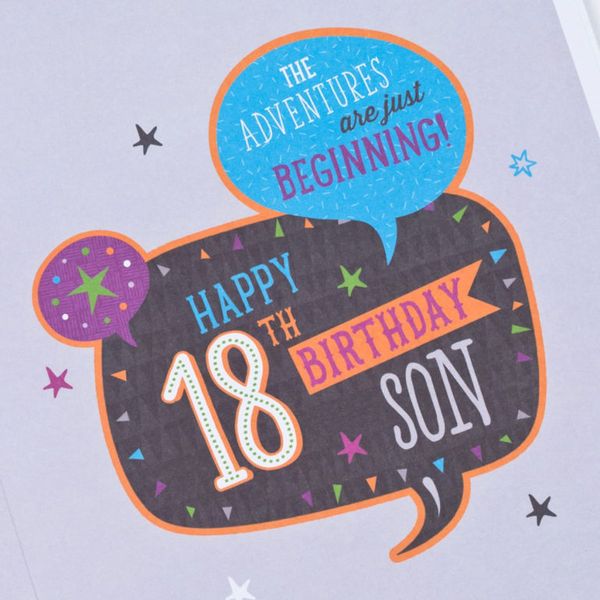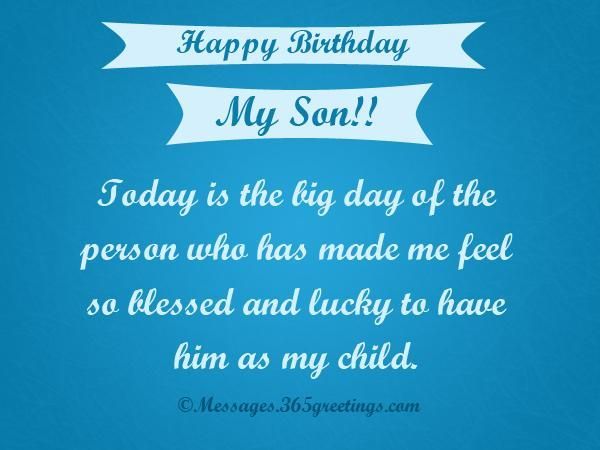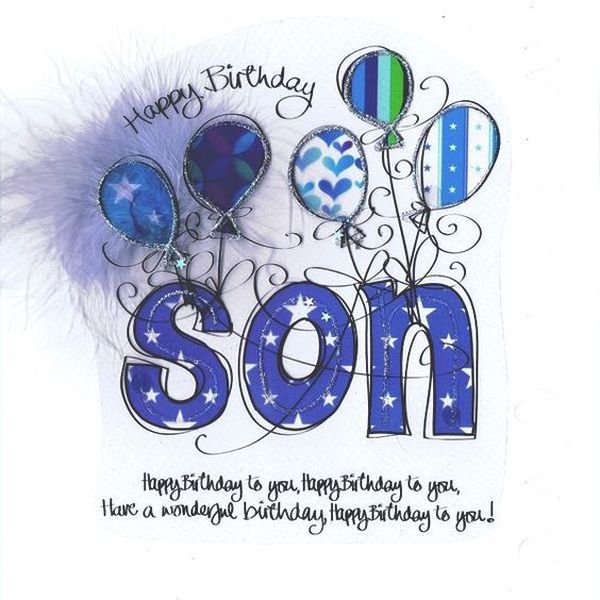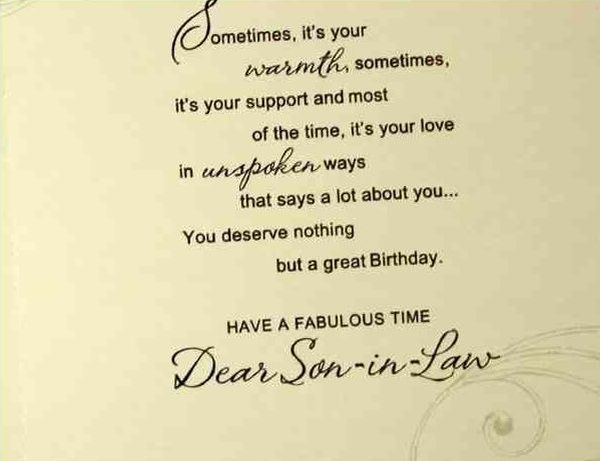 You may also read:
Best Happy Birthday Memes
Happy Birthday Wishes to My Daughter