Birthdays are happy occasions for most of us. Even though we are a year older, wiser, and grayer, it is nonetheless a special day when we hear from friends and family. When it is someone's birthday, you get to show them that you love them and care about them, that you think of them and are glad they are in your life. For that reason, we all try to make sure that we deliver birthday greetings to our friends, coworkers and family members. There are many times when we need to do this in advance, because the pressures of daily life mean that we won't be available on the day itself.
In this article, I will give you many pre-written birthday greetings that you can send to your friends and family in advance of their birth date. I will also share with you some tools to help you keep birthdays organized, so that you will never miss out on someone's special date. But first, I'm going to give you some organizational help to get your birthdays sorted out once and for all, so that you never miss a friend's birthday ever again.
Keeping Track of Birthdays
If you're going to wish people happy birthday in advance, then you need to know (and be alerted) to their birthdays ahead of time. There are a lot of ways to keep track of birthdays; I'm going to show you a couple of old-fashioned low-tech ways to do it, and a couple of high-tech modern ways to do it.
The Master List in the Weird Place
One extremely effective technique is to maintain a single master list of every important birthday, in date order…and then to keep that master list in an unusual place, but one which you visit frequently. For example, the list could be kept above the toilet in your bathroom, or it could be hanging in the pantry, or in your bedroom closet. The point is that it isn't tucked away in a drawer somewhere and never seen – you see it every day, so that not only do you get a head's up of upcoming birthdays, but you train your brain to start remembering everyone's birthday from sheer repetition. It's cheap, it's easy, and it works.
The Permanent Calendar
A step up in organizational complexity from the list, a permanent calendar is a book-format calendar that has all the dates of the year, but no days. That is, at the end of the year you simply flip from the last page to the first and start over; the calendar tracks dates but not days of the week. Permanent calendars are more compact than a list, and are also much easier to amend as you make new friends – you can just add their birthday to the calendar. Do be sure that you keep the calendar in a place where, like the list, it will be regularly accessible so that you see it frequently. Permanent calendars are available in most office stores, or you can download and print a free one here.
Google Calendar
Google Calendar is a powerful scheduling and time management service that makes organizing birthdays (and anything else) a snap. Just click on a date, create an event labeled with your friend's birthday information, and choose from a wide variety of alert preferences. You can get an email a week ahead of critical birthdays, or just a desktop alert popping up on the day and time for more casual celebrations. In addition, Google Calendar automatically syncs across devices, so you'll still get alerts if you're on the road, on a borrowed computer, or even entirely offline (so long as you have your smartphone with you).
Facebook
If you're a regular Facebook user, then you're already aware that Facebook does a pretty good job of tracking everyone's birthday (if they want it to) and then nagging you to wish them a happy natal anniversary on the appropriate day. While it's not a comprehensive online solution, since not everyone is ON Facebook, if your social circle uses Facebook heavily then it can do 90% of the job with 0% of the effort – just add a few Google Calendar reminders for those folks not Facebooking every day, and you'll be good to go.
Creative Happy Early Birthday Wishes for Best Friends
For everything else in my life, I'm admittedly always late. But your birthday is something that I would not miss. Here's to wishing my most fabulous friend the most fabulous birthday ever!
Everybody will remember to wish you on your birthday but only best friends like me will care to make you feel like a superstar even before it. Happy birthday in advance.
Have a nice celebration next week! I hope that your day will bring you lots of joy!
I'm sorry that I won't get to celebrate your big day with you, but that doesn't mean that I don't have anything special planned. Let this happy early birthday greeting remind you that you are in my thoughts, and that I'm looking forward to your birthday as well. Happy early birthday!
I will be travelling on your birthday but I want to make you a promise my dear friend. No matter where I am or what I am doing, I will raise a glass and think about you when the clock strikes midnight on your birthday. Happy birthday in advance.
I wish I could be there tomorrow for your special day, but I can't.. So I just wanted to say happy birthday in advance, I hope you have a great day, and may all your dreams and wishes come true!
I'm sure that so many people are already sending their happy early birthday greetings. I want to be one of those people. Advance happy birthday to you!
I don't care whether your birthday has arrived or not. I am going to wish you anyway because I love you a lot. Happy birthday in advance to someone who is a really great friend.
Even though I'm not going to be here when it's your Big Day, I thought I'd say a few words today. My friend, I wish you a great birthday, with lots of fun. May your day be filled with love and joy, wishing you all the best from all my heart!
The List of Advance Happy Birthday Wishes
You can be the first one to congratulate your best friend or your family member on their birthday. Use the following quotes and sayings and you will demonstrate how much you love this person and how much he/she means to you. Also, it is always better to greet a person a bit in advance than to forget and be too late with your greeting. Use the following happy early birthday quotes!
Since I think of you all the time, I might as well as wish you a little ahead of time. Happy birthday in advance.
Who says birthdays should only be celebrated on the day itself? We can celebrate every single day before or after! Here's my happy early birthday greeting for you!
I know your birthday is in a couple of days, but it is never too early to wish a happy celebration! Good luck on your special day.
I could have taken a day off on your birthday but since you don't pay my bills, I will unfortunately have to work and miss your party. Happy birthday in advance.
Your birthday is just too special to be celebrated once a year. Let me give this happy early birthday greeting now and we can celebrate it properly when I get back! Happy birthday, honey!
Generally I am always very forgetful, but when it comes to special friends like you I am the opposite – I remember in advance. Happy birthday.
You know I hate being late, so… Happy Birthday a day earlier! Love you!
Since to me, you are such an amazing friend, I am going to wish you before the countdown to your birthday ends. Happy birthday in advance.
Whenever your birthday comes around, just remember that you will not be this age again. Make the best memories! Happiest early birthday, sweetheart!
Good friends don't settle for just one greeting, instead, they shower you with lots and lots of greetings as the minutes draw closer to your special day. This is just the beginning. Happy early birthday!
Beautiful Quotes to Wish Happy Birthday In Advance
In case you think that congratulating someone with their birthday beforehand isn't very thoughtful, well, you are wrong. If late is better than never, then surely early is better than on time. Let these quotes be not only a helping hand in order to wish someone happy birthday in advance, but also your backup just in case.
Usually, I am always lazy and late, but when it is the birthday of my friend, I want to be the first who will greet him. Happy Birthday, sweetheart!
Unfortunately, I won't manage to visit your birthday party, but I send you all my love and admiration. We will meet soon and we will enjoy our own party. Happy Birthday in advance, my dear friend. I love you!
I do not care what date is today and your birthday has not arrived yet, I want to wish you all the best right now. I am proud to be your best friend. Happy Birthday in advance, buddy!
Very soon will be your birthday party. Even if I am not there, you should know that for a real friendship time and distance do not exist. Happy Birthday, rock the party for both of us!
Prepare for my biggest cuddle and kiss, because the will arrive very soon, even a bit in advance. You are a very special person and you deserve all the best. Happy Birthday, my angel!
I am so sorry not to be able to visit your birthday party. That is why I decided to send you my gift and greeting a bit in advance. This day I miss, but we will enjoy many parties in the nearest future. This I promise you. Happy Birthday in advance, sweetie!
You know, we should celebrate our birthdays every day. Every morning you wake up and this is a new birth. Life is very magical. Celebrate it every minute. I love you! Happy Birthday!
You know my legendary patience, which does not exist at all. That is why I send you my birthday greeting in advance, because I can't wait to tell you how much you mean to me. Happy Birthday!
Life is so short and it is not fair that we can celebrate our birthdays only once a year. I send you millions of hugs and kisses. They are on their way. Happy Birthday, my dear!
You are my dear person, whom I love so much, you can't even imagine. Your birthday is one of the most remarkable days and due to this special occasion I want to wish you all the best. May all your dreams come true. Happy early birthday, my love!
Happy Pre Birthday Text Messages  for People You Love
If you can't attend your friend's birthday party, you should send him or her your best wishes in advance. You can even meet a bit before a birthday to greet this person and present a birthday gift. Prepare a nice card, inserting one of the following pre-birthday wishes. Your friend will feel your love straight away, even if you are far away from him.
Sweetie, you take a special place in my life and my heart. I want to be the first who will wish you all the best for your birthday. Happy Birthday in advance.
I feel terrible to miss your birthday party. I just want you to know how much I appreciate our friendship. You are such a bright personality. I wish you happiness, strength and good mood for the rest of your life. Happy Birthday!
I like to be the first who will congratulate you with the birthday. I hope you know how much I love you. You are very special to me. Live happily and brightly. Happy Birthday!
I will not manage to visit your birthday party, but do not get too much excited. I will come back and we will celebrate it once again. This year you will have two birthday parties. Isn't it great? Happy Birthday, buddy!
I can't wait to greet you with your birthday. Well, maybe I am too impatient, but who said that friend can't congratulate their best friends in advance. Happy early birthday, sweetheart.
My dear friend, I have a habit to greet people I love in advance, because I want to be the first who will wish you all the best for the rest of your life. You are number one on the list I love and care about. Happy Birthday, bro!
Buddy, I am very impatient to wish you a fabulous birthday. This year will be very bright and special for you. Happy Birthday, my dear!
I feel how my heart breaks not to be able to visit your birthday super party. I want you to be always happy with all your dreams fulfilled. This is a new chapter of your life and you should prepare yourself to shine brightly. Happy Birthday!
I am used to doing everything in life before time, and your birthday is no exception. Happy birthday in advance.
It pains me to know that I will be missing that one special day out of the 365 days. I promise to make it up to you when I see you. For now, please accept this happy early birthday greeting that comes straight from my heart.
Happy Day Before Your Birthday Sayings
It's just a shame that we get to celebrate our birthday just once a year, right? Who said that you should follow this rule? If you want to, a one day celebration can turn into two, three days or even the whole birth week or month. So, even if you can't be with a birthday girl or birthday boy on the day of her/his birth due to work or some other reason, it's OK. Thanks to these awesome birthday sayings you will be able to wish your dear person a happy day before the actual birthday.
You may not know how much I value you in my life, and I want to show you that by greeting you way ahead of others.
Life is short, so I can't be bothered remembering your birthday forever. Here's a wish while I still do. Happy birthday.
To save myself the embarrassment of greeting you incredibly late, let me drop this happy early birthday greeting right now. I wish that you have a fantastic birthday!
Friends remember each others' birthday on time but the best friends remember each others' birthday in advance. So, Happy birthday in advance. Live long and stay healthy!
I was given an option between greeting you in advance or belatedly. Of course, I would greet you in advance. Beautiful birthday in advance.
I can't help but go away on a business trip, but that doesn't mean I don't value our friendship. I hate to be away on your birthday but it is not my choice. All my protests drowned out under my boss' angry voice. But I promise that we will have the biggest party once I am back in town, so don't let my absence spoil your birthday with a frown. Happy birthday in advance.
A few days from now, we will be celebrating the birthday of a wonderful person. Happy early birthday to you! I hope your birthday will be magical.
My heart aches, because I won't be there with you on your special day. You are really special to me, so I say "Happy Birthday" in advance, my dear friend! Better early than late!
I may miss the coolest party ever, but I will make up to you by being the first to greet you.
I am going to beat Facebook and my iPhone to wish you a happy birthday before they can give me reminders. xoxo
Happy Early Birthday Images
You can leave greetings for your friends and family on their birthday on their Facebook wall with one of these images.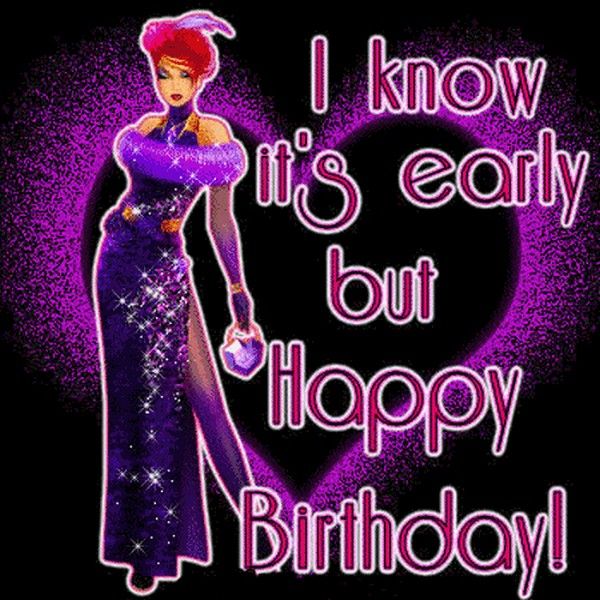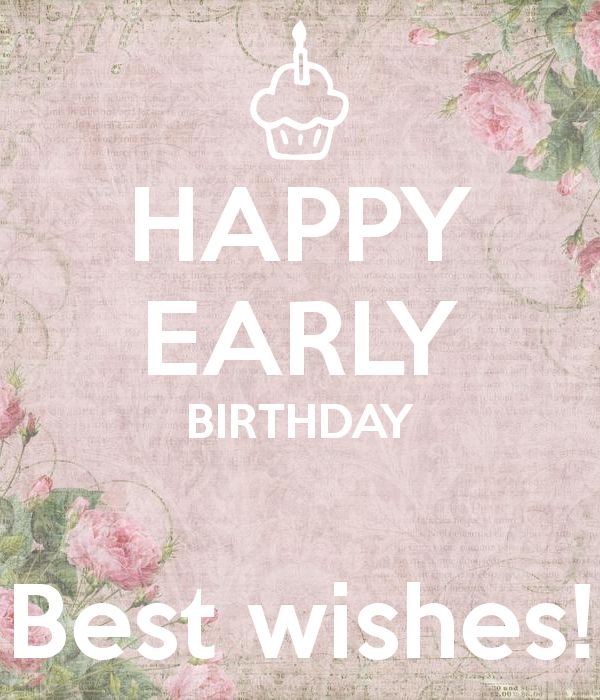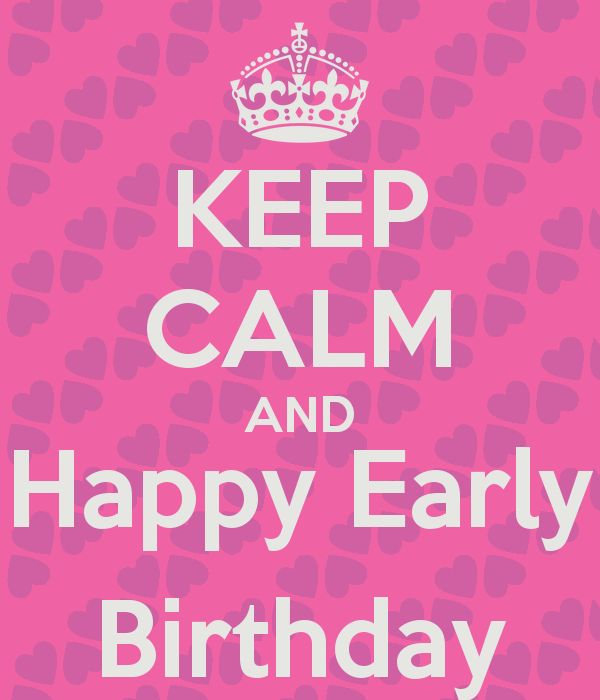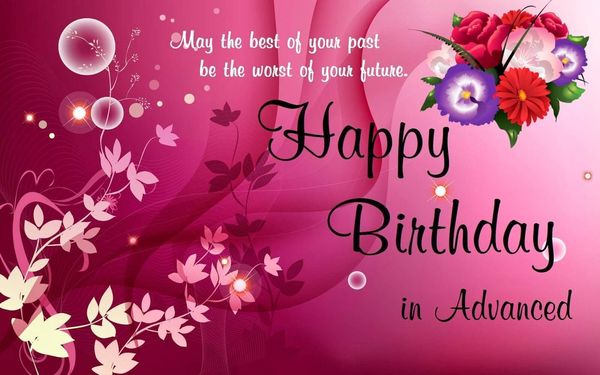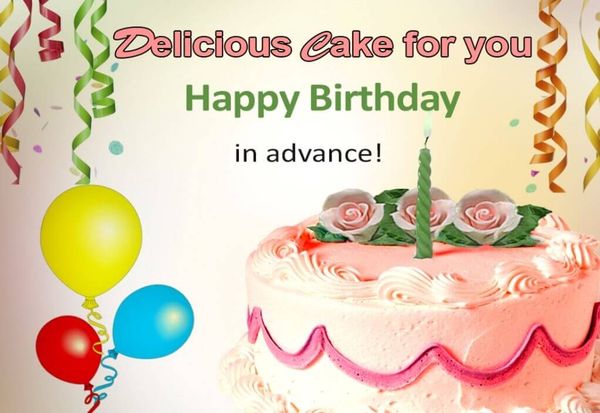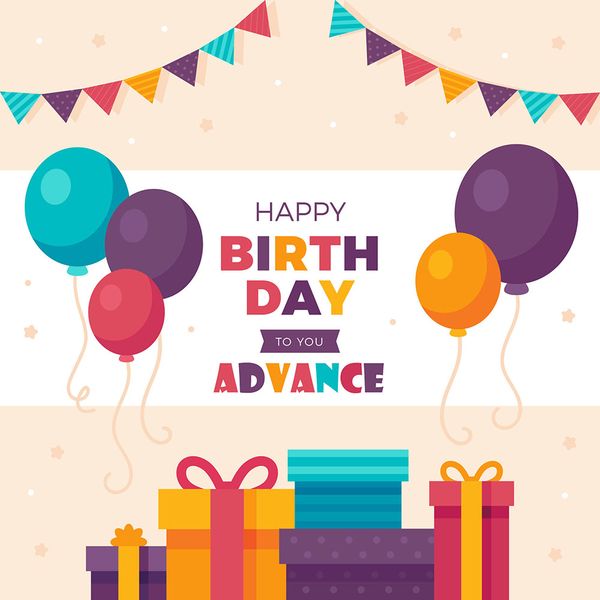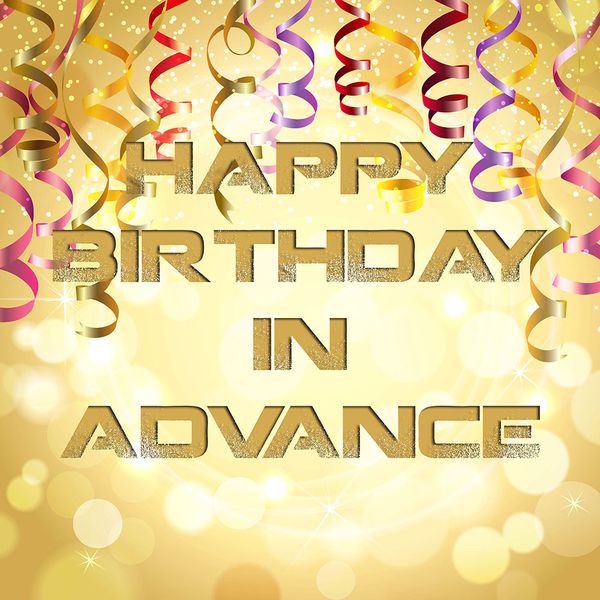 For more birthday ideas, inspirations, and messages, check out:
Happy Bday Jpg With Quotes
Happy Birthday Pics for Her
Happy Birthday Girl Meme
Happy Birthday To The Ground Gif
Birthday Greetings With Lovely Words