Walt Disney made films that are not only for children. The heritage of this genius includes a great variety of movies which are loved by all of us. Love is definitely the main theme in the majority of Disney cartoons. It can be love for a family member, a good friend or an amazing romantic love story between two charming characters.
The world of Disney includes the famous Disney characters like Belle, Ariel, Tarzan and many other heroes who express their love through words and songs. Many of these lines have become popular expressions and the quotes are frequently used by lovers who want to emphasize their feelings. You also can choose the best Disney love quote to show your sweetheart how dear he or she is for you. So, let's get in the romantic mood with the most well-known captions of Disney movies, perfect for Instagram or any other social network!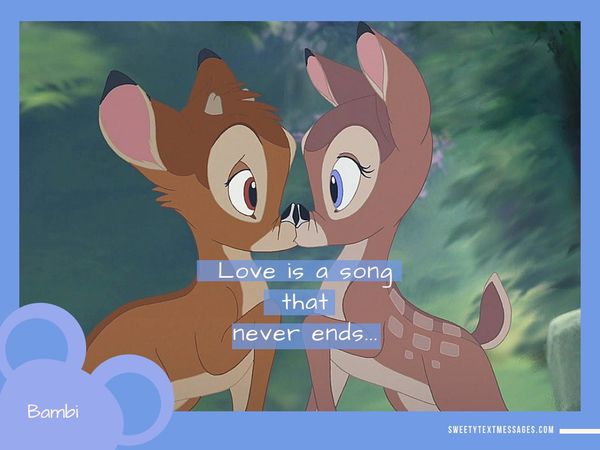 Timeless Love Quotes from Disney Movies
Have you noticed that each of Disney films is associated with everlasting love? It's at the core of each movie, which makes the whole story more intriguing and exciting. We know the majority of the famous Disney characters from our childhood, but now, being older and more experienced, we can really understand and appreciate the quotes about timeless love from Disney movies. So, don't waste your time and join this great company.
"I'd rather die tomorrow than live a hundred years without knowing you." – Pocahontas
"Love is a song that never ends." –  Bambi
"Yes, you'll be in my heart. From this day on, now and forever more." – Tarzan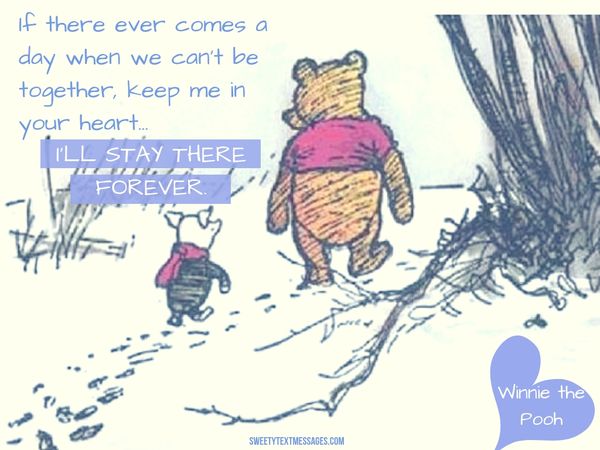 "If there ever comes a day when we can't be together, keep me in your heart. I'll stay there forever." – Winnie the Pooh
"Love is never wrong and so it never dies" – The Lion King 2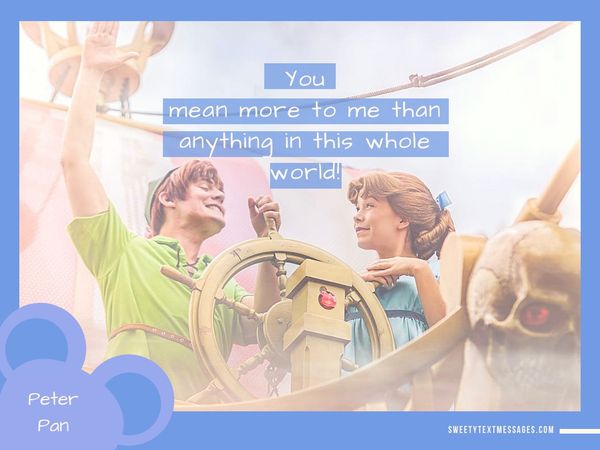 "You mean more to me than anything in this whole world!" – Peter Pan
"I wouldn't have nothing if I didn't have you." –  Monsters, Inc.
Cute Disney Movie Love Quotes for Wedding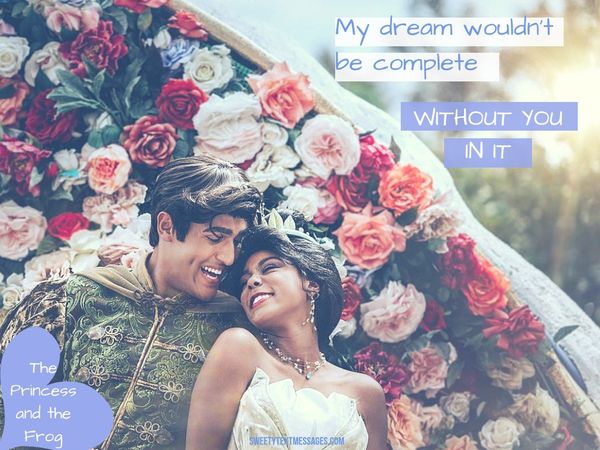 Are you going to get married in the near future? We'd be happy to help make your wedding ceremony outstanding with our fantastic list of cute Disney movie love quotes for a wedding. They will create a special atmosphere on this Big Day and leave unforgettable impressions on you and your guests. Incorporating these quotes into your celebration will give the guests that magical feeling of fairytale that only Disney can provide.
"I have just met you and I love you." – Up
"All at once everything is different, now that I see you" –  Tangled
"My dream wouldn't be complete without you in it." – The Princess and the Frog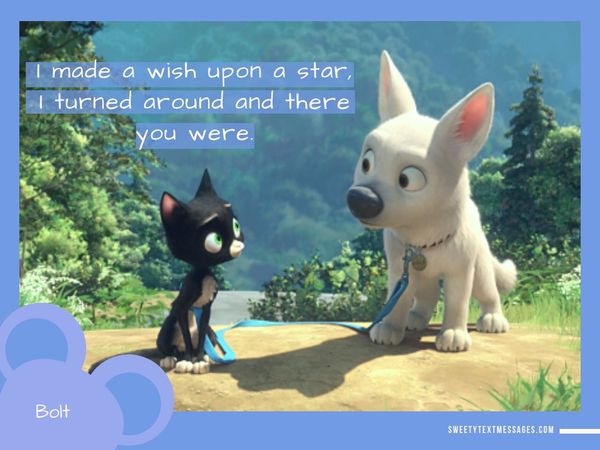 "I made a wish upon a star, I turned around and there you were." – Bolt
"You're the one, the one I've been looking for."– The Little Mermaid
"But when I'm way up here, it's crystal clear. That now I'm in a whole new world with you." –  Aladdin
"You love me at once, the way you did once upon a dream." –  Sleeping Beauty
Romantic Disney Love Quotes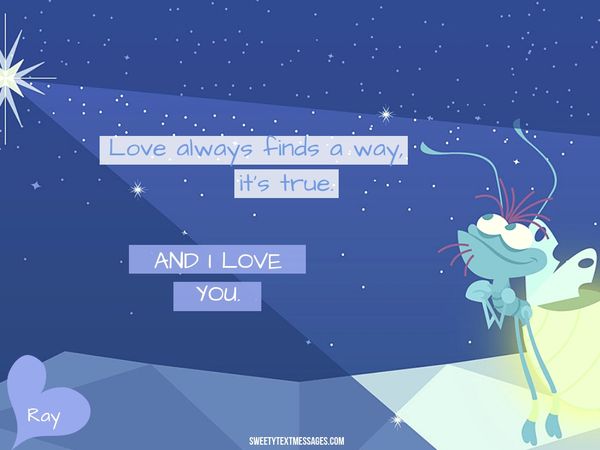 Disney movies teach us a lot, we take plenty of lessons while watching our favorite cartoons. We find out what is bad and what is good from Disney stories, we get to know what a real friendship is. And, of course, Disney teaches us to love! The countless Disney couples exemplified true love. If you are looking for some romantic quotes about love from Disney cartoons, then have a look at these incredible examples below.
"So this is love, so this is what makes life divine." – Cinderella
"Love always finds a way, it's true. And I love you."– Ray
"Can you feel the love tonight? You needn't look too far. Stealing through the night's uncertainties, love is where they are." – The Lion King
"I was hiding under your porch because I love you."– Up
"One song. My heart keeps singing, of one love, only for you." – Snow White and the Seven Dwarfs
"My heart has wings and I can fly" –  Cinderella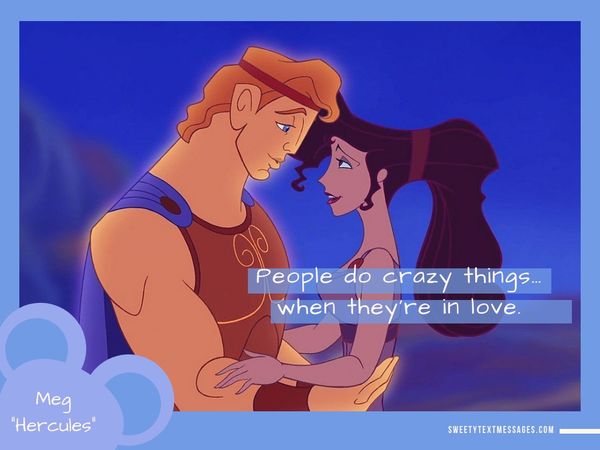 "People do crazy things … when they're in love." –  Meg/Hercules
The Best Disney Quotes about Love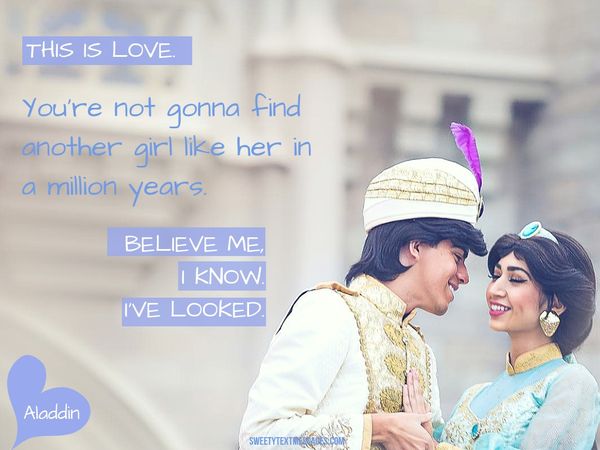 Disney movies have always attracted young and old alike. Disney romance is a crucial theme for most of the movies. It is showed as a pivotal moment of existence and each of the cartoons is packed with a good portion of fabulous quotes that are simply out of this world. Here are the best Disney quotes about love that can touch a soul and let your lover how much you love him or her.
"Somewhere in my secret heart, I know love will find a way." –The Lion King 2
"Side by side with your loved one, you'll find enchantment here. The night will weave its magic spell, when the one you love is near." –  Lady and the Tramp
"To face the future with another, who means more than any other, is to be loved."–  The Rescuers
"This is love. You're not gonna find another girl like her in a million years. Believe me, I know. I've looked." –  Aladdin
"If I know you, I know what you'll do, you'll love me at once, the way you did once upon a dream." – Sleeping Beauty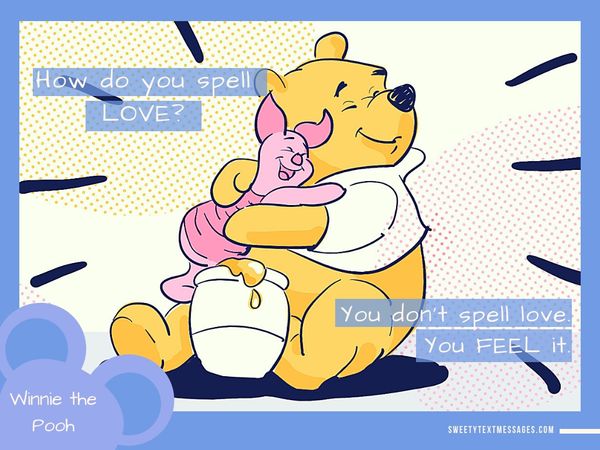 "How do you spell love?" – Piglet
"You don't spell love. You feel it." –  Winnie the Pooh        
Famous Walt Disney Quotes about Love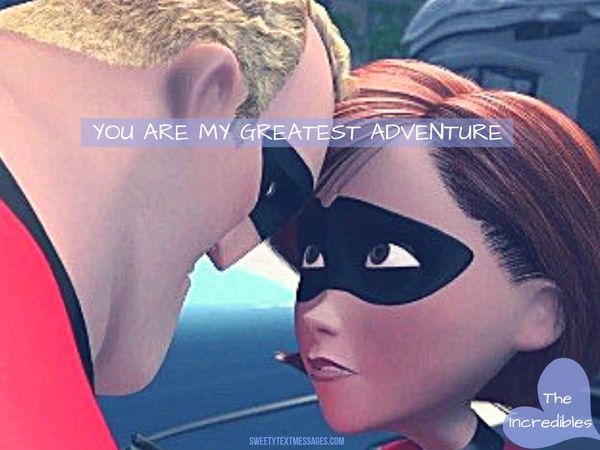 The idea that love is powerful is confirmed by a number of Disney movies. It can conquer greed, hate, fear and even change our beliefs. Despite the passing of time, Walt Disney's characters and cartoons continue being both relatable and inspiring. Do you want to please your sweetheart with the most famous quotes about love? Just take some time and choose the best quotations from this collection!
"You are my greatest adventure." – The Incredibles
"Trust your heart, and let fate decide." – Tarzan
"One song, my heart keeps singing, of one love only for you." – Snow White
"I knew at once that you were meant for me. Deep in my soul, I know that I'm your destiny."–  Mulan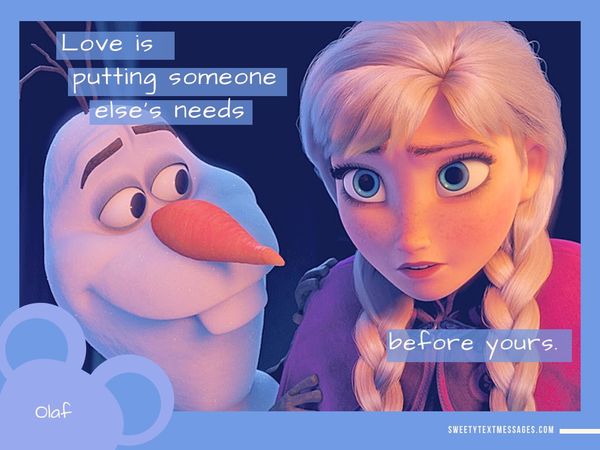 "Love is putting someone else's needs before yours."–  Olaf
"My name is Dug. I have just met you, and I love you" –Up
"You know that place between sleep and awake, that place where you still remember dreaming? That's where I'll always love you. That's where I'll be waiting." –  Peter Pan