Michael Fox once said, "Family is not important – it is everything". Even if your family relationships are completely ruined or start to become awful – there is always a chance to revive them. The blood ties are ones of the strongest in the world. In some countries, people pay as much attention to the relatives, as it is possible, without interference in their life. One can say that it is impossible to be a part of someone's life and do not bother him or her with your own advice and rules.
Well, the modern psychology is able to correct any personality, so why can't it give you some cool ideas of how to keep the contact with the dearest people and be independent? To be honest, there is no need in psychological approach at all: you can just use the experience of the previous generations, respect your parents and their parents, be thankful for everything that they gave to you, and remember that you have a family even if you severed the ties with it. To help you keep the proper relationships with the close people, we would like to offer some heartfelt family sayings, that you can use as quotes in the e-mails to your soulmates.
Family Love Quotes
No one will deny that there is nothing more influential than the atmosphere in the family. You can keep the positive one better if sending warm words to your relatives sometimes. Words like in the quotes presented below.
Happiness is having a large, loving, caring, close-knit family in another city.
You don't choose your family. They are God's gift to you, as you are to them.
You are born into your family and your family is born into you. No returns. No exchanges.
The most important thing in the world is family and love.
You leave home to seek your fortune and, when you get it, you go home and share it with your family.
The way you help heal the world is you start with your own family.
Work is work, but family is for life. That's what really matters to me.
The bond that links your true family is not one of blood, but of respect and joy in each other's life.
You can kiss your family and friends good-bye and put miles between you, but at the same time you carry them with you in your heart, your mind, your stomach, because you do not just live in a world but a world lives in you.
The family unit is the first group of people that you are a part of. While there are obvious exceptions, there's usually an intrinsic trust that is built in to your family.
When all the dust is settled and all the crowds are gone, the things that matter are faith, family, and friends.
You leave home to seek your fortune and, when you get it, you go home and share it with your family.
Rejoice with your family in the beautiful land of life.
My family is my life, and everything else comes second as far as what's important to me.
The only rock I know that stays steady, the only institution I know that works, is the family.
Impressively Strong Family Sayings
It is hard to restore something that was broken to pieces. However, you cannot break up with your family. These strong sayings can bring back your faith in the family ties.
The strength of a family, like the strength of an army, is in its loyalty to each other.
You can love and hate your family with equal measure, but the power of the bond you have to have with them, you can't really ever walk away.
Strangers are just family you have yet to come to know.
We must take care of our families wherever we find them.
A real man loves his wife, and places his family as the most important thing in life. Nothing has brought me more peace and content in life than simply being a good husband and father.
To us, family means putting your arms around each other and being there.
In family life, love is the oil that eases friction, the cement that binds closer together, and the music that brings harmony.
The family – that dear octopus from whose tentacles we never quite escape, nor, in our inmost hearts, ever quite wish to.
A home with a loving and loyal husband and wife is the supreme setting in which children can be reared in love and righteousness and in which the spiritual and physical needs of children can be met.
Our life journey is so much easier with the love and support of family and friends, but we often forget to take the opportunity to truly, deeply thank them and show our appreciation.
As the family goes, so goes the nation and so goes the whole world in which we live.
Home is where you are loved the most and act the worst.
It doesn't matter how much money you have. If you have family, you're rich. All the money in the world could never compare to the love of a family.
A loving family provides the foundation children need to succeed, and strong families with a man and a woman – bonded together for life – always have been, and always will be, the key to such families.
Short Good Family Quotes
Do more, talk less. These short quotes are aimed at reminding you that there is no need in silver tongue if you want to say something important. Even a few good words can show your true love to the family.
Seeing the family is a very important part of my weekend.
He'd learned long ago: perfection isn't what families are all about.
Family is the most important thing in the world.
Without a family, man, alone in the world, trembles with the cold.
Nothing is better than going home to family and eating good food and relaxing.
The family is link to our past, bridge to our future.
Family means no one gets left behind or forgotten.
We must take care of our families wherever we find them.
I am blessed to have so many great things in my life – family, friends and God. All will be in my thoughts daily.
A family doesn't have to perfect; it just needs to be united.
At the end of the day, a loving family should find everything forgivable.
Family is the heart of a home.
The family is one of nature's masterpieces.
Happiness is only real when shared.
Inspirational Family Quotes
If you have lost the appreciation of your family, please, do not think immediately that it is the family members' fault. It can be yours too. These quotes will inspire you to think about your behavior and failures towards your relatives.
There is no such thing as a "broken family." Family is family, and is not determined by marriage certificates, divorce papers, and adoption documents. Families are made in the heart. The only time family becomes null is when those ties in the heart are cut. If you cut those ties, those people are not your family. If you make those ties, those people are your family. And if you hate those ties, those people will still be your family because whatever you hate will always be with you.
Many men can make a fortune but very few can build a family.
Families are the compass that guides us. They are the inspiration to reach great heights, and our comfort when we occasionally falter.
My friends and family are my support system. They tell me what I need to hear, not what I want to hear and they are there for me in the good and bad times. Without them I have no idea where I would be and I know that their love for me is what's keeping my head above the water.
Call it a clan, call it a network, call it a tribe, call it a family: Whatever you call it, whoever you are, you need one.
You can't have a happy family if you don't have a happy marriage.
Govern a family as you would cook a small fish – very gently.
The bottom line: If you want a happier family, bring those skeletons out of the closet.
A man travels the world over in search of what he needs, and returns home to find it.
Few wealthy families devote the same intensity, energy, and commitment to their human assets – their family members – as they devote to their financial assets.
Family is a unique gift that needs to be appreciated and treasured, even when they're driving you crazy. As much as they make you mad, interrupt you, annoy you, curse at you, try to control you, these are the people who know you the best and who love you.
Feelings of worth flourish in an atmosphere where differences are appreciated, mistakes are tolerated, and communication is open; an atmosphere found in a nurturing family.
I think family is key, and if you have love for family, then you have love for others – and you have unity as a people.
That's what people do who love you. They put their arms around you and love you when you're not so lovable.
Family Is Always First Quotes
You should not put your family in the first place in your life; it is already there. Even if you forget about your folks – they always remember you. Even if you do not pay attention to them – they will pay attention to your absence in their lives. Think about it.
You need a strong family because at the end, they will love you and support you unconditionally. Luckily, I have my dad, mom and sister.
Family's first, and that's what matters most. We realize that our love goes deeper than the tennis game.
Family and God – that is what's important. Money, cars, those are things that come and go.
Families are like fudge—mostly sweet with a few nuts.
Happiness is having a large, loving, caring, close-knit family in another city.
You need to make time for your family no matter what happens in your life.
What is important is family, friends, giving back to your community and finding meaning in life.
Everyone needs a house to live in, but a supportive family is what builds a home.
The love of family and the admiration of friends is much more important than wealth and privilege.
The informality of family life is a blessed condition that allows us all to become our best while looking our worst.
It's very important to prioritize. I know, for me, my family comes first. That makes every decision very easy.
Family gives you the roots to stand tall and strong.
One's family is the most important thing in life. I look at it this way: One of these days I'll be over in a hospital somewhere with four walls around me. And the only people who'll be with me will be my family.
Life is not a matter of place, things or comfort; rather, it concerns the basic human rights of family, country, justice and human dignity.
Important Family Time Quotes
You should better spend a bit more time with your family, especially if you did not do this for a long period of time. They miss you so, and we are sure that you miss them too. Hang around with your parents or children today or at weekends!
I don't think quantity time is as special as quality time with your family.
If routines are about keeping our family from going off the rails, rituals are about infusing those routine days with meaning.
When you look at your life, the greatest happinesses are family happinesses.
Sticking with your family is what makes it a family.
The family is one of nature's masterpieces.
Family: an anchor during rough waters and the time you spend with it is the best.
You go through life wondering what is it all about but at the end of the day it's all about family.
I have learned that to be with those I like is enough.
The greatest pleasure is spending time with a family.
Other things may change us, but we start and end with the family.
Love your family. Spend time, be kind & serve one another. Make no room for regrets. Tomorrow is not promised & today is short.
I really savor the times of me and all my best friends and family members getting together.
I love spending time with my friends and family. The simplest things in life give me the most pleasure: cooking a good meal, enjoying my friends.
My family. I realized they are the most important part of my life. Throughout the year I had many challenges, but my family were always there offering support and encouragement.
Famous Quotes About Family
There are a lot of family bonding cases in the literature. Fortunately, there are many in real life, as the famous people tend to span the stories about the family deals with pleasure. Here are some of their heartfelt sayings.
Parents are like God because you wanna know they're out there, and you want them to think well of you, but you really only call when you need something.
The single most important factor in our long-term happiness is the relationships we have with our family and close friends.
Family life is a bit like a runny peach pie – not perfect but who's complaining?
My family was my guide to my reality.
The strength of a nation derives from the integrity of the home.
If you cannot get rid of the family skeleton, you may as well make it dance.
Life is beautiful. It's about giving. It's about family.
I think togetherness is a very important ingredient to family life.
My sense of personal strength has always come from my family.
You have to defend your honor. And your family.
A happy family is but an earlier heaven.
When everything goes to hell, the people who stand by you without flinching — they are your family.
I'm a minimalist. I don't really need much to enjoy a good holiday – just my family and the bare essentials.
Families are like branches on a tree. We grow in different directions yet our roots remain as one.
Perfect Family Is Everything Quotes
They know you, they support you, they love you. They are the members of your family – your one with wife and children, or those you were born in. The family is truly everything, because it knows everything about you and still loves you against all the odds.
Family is this very deep, complex thing that for most people becomes everything. It informs your entire life.
My family is everything. I am what I am thanks to my mother, my father, my brother, my sister… because they have given me everything. The education I have is thanks to them.
We may have our differences, but nothing's more important than family.
My family comes first. Maybe that's what makes me different from other guys.
Through devotion, your family cares become more peaceful, mutual love between husband and wife becomes more sincere, the service we owe to the prince more faithful, and our work, no matter what it is, becomes more pleasant and agreeable.
I would give everything, if I could only keep my family.
Family isn't blood. It's the people who love you. The people who have your back.
No matter how poor you think you are – if you have the family, you have everything.
We get married to feel the blissful belonging and love of family life, and we feel happy amid of our loved ones and children.
You know, all that matters is that the people you love are happy and healthy. Everything else if just sprinkles on the sundae.
Sometimes our hearts get tangled, and our souls a little off kilter. Friends and family can set us right, and help guide us back to the light.
Family life is too intimate to be preserved by the spirit of justice. It can be sustained by a spirit of love which goes beyond justice.
I am what I am thanks to my family, because they have given me everything.
Family time is sacred time and should be protected and respected.
Best Happy Family Quotes
Family happiness is a big deal. It can be achieved with the efforts from the side of every family member. Just believe that it is possible. These quotes will additionally assure you in this.
All happy families are alike; each unhappy family is unhappy in its own way.
My family is my strength and my weakness.
Family: A social unit where the father is concerned with parking space, the children with outer space, and the mother with closet space.
Happiness [is] only real when shared.
And that's where I'm finally at today – my life is about being with my family. This is what's important.
A happy family is but an earlier heaven.
To understand your parents' love, you must raise children yourself.
The greatest moments in life are not concerned with selfish achievements but rather with the things we do for the people we love and esteem.
There's nothing that makes you more insane than family. Or more happy. Or more exasperated. Or more… secure.
I didn't give you the gift of life, but life gave me the gift of you.
A happy family is but an earlier heaven.
A family is a place where principles are hammered and honed on the anvil of everyday living.
To maintain a joyful family requires much from both the parents and the children. Each member of the family has to become, in a special way, the servant of the others.
I believe that the greatest gift you can give your family and the world is a healthy you.
Bad Family Quotes and Phrases
There are details that can annoy you in your family. There are bad times and hard times in your relationships. But you still remember who you are, who are your relatives and how much you mean to each other. If you do not, check these phrases to recall this.
The capacity for friendship is God's way of apologizing for our families.
Youth cannot know how age thinks and feels. But old men are guilty if they forget what it was to be young.
You inherited a piece of everyone in your family, insult them, insult yourself.
Our family is just a tent away from a full-blown circus.
Family quarrels are bitter things. They don't go according to any rules. They're not like aches or wounds, they're more like splits in the skin that won't heal because there's not enough material.
Genes, I have learned, do not make a family.
Family is supposed to be our safe heaven. Very often, it's the place where we find the deepest heartache.
All parents damage their children. It cannot be helped. Youth, like pristine glass, absorbs the prints of its handlers. Some parents smudge, others crack, a few shatter childhoods completely into jagged little pieces, beyond repair.
They say blood is thicker than water, but I remember plenty of times when water was there and blood wasn't.
One day you will do things for me that you hate. That is what it means to be family.
The more dysfunctional, the more some family members seek to control the behavior of others.
Families are messy. Immortal families are eternally messy. Sometimes the best we can do is to remind each other that we're related for better or for worse…and try to keep the maiming and killing to a minimum.
Blood makes you related, loyalty makes you a family.
Touching Missing Family Quotes
We do not understand how much we have until the moment we lose everything that we love – even if just for a period of time. These quotes are aimed at reminding you that you should relish every minute that you have had with your family until it is not too late to realize this. Say that you miss your close people as often, as you can.
Human beings are the only creatures on earth that allow their children to come back home.
We sit around waiting for them to come home, hoping every day that they are okay and that they know how much we love them. Our heroes.
At the end of the day, a loving family should find everything forgivable.
Is this what family is like: the feeling that everyone's connected, that with one piece missing, the whole thing's broken?
The distance between us may be miles and years but it will not change the fact I hope you are missing me too.
The sad truth is we are missing someone and we are hoping they are missing us too.
I just want to come home.
When I go away from you the world beats dead like a slackened drum.
We don't call it homesick, we call it missing home. There's not a sickness involved, it's a state of mind.
Parents were the only ones obligated to love you; from the rest of the world you had to earn it.
Distance gives us a reason to love harder.
I miss the way I felt back home.
The distance between us may be miles and years but it will not change the fact I hope you are missing me too.
The love of a family is life's greatest blessing.
Amazing Family Over Everything Quotes
These quotes make us smile. They are so nice, kind and greatly powerful simultaneously. You can and even should send them to every family member to strengthen your ties; be sure that your close people will be happy to see such words from you.
I was angry and frustrated until I started my own family and my first child was born. Until then I didn't really appreciate life the way I should have, but fortunately I woke up.
What greater thing is there for human souls than to feel that they are joined for life – to be with each other in silent unspeakable memories.
There is no such thing as fun for the whole family.
I sustain myself with the love of family.
Family makes you who you are and aren't.
When everything goes to hell, the people, who stand by you without flinching – they are your family.
While at work, keep a picture of your family on your desk. This reminds you that there is another world of yours at home.
When trouble comes, it's your family that supports you.
Family and friendships are two of the greatest facilitators of happiness.
This was the trouble with families. Like invidious doctors, they knew just where it hurt.
I would prefer to have no money but to have a nice family and good friends around.
The family is the test of freedom; because the family is the only thing that the free man makes for himself and by himself.
Family and friends are hidden treasures, seek them and enjoy their riches.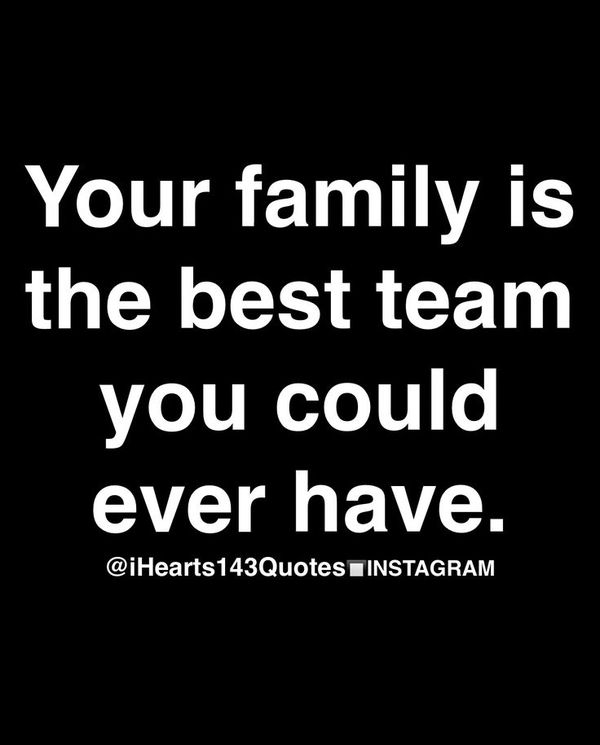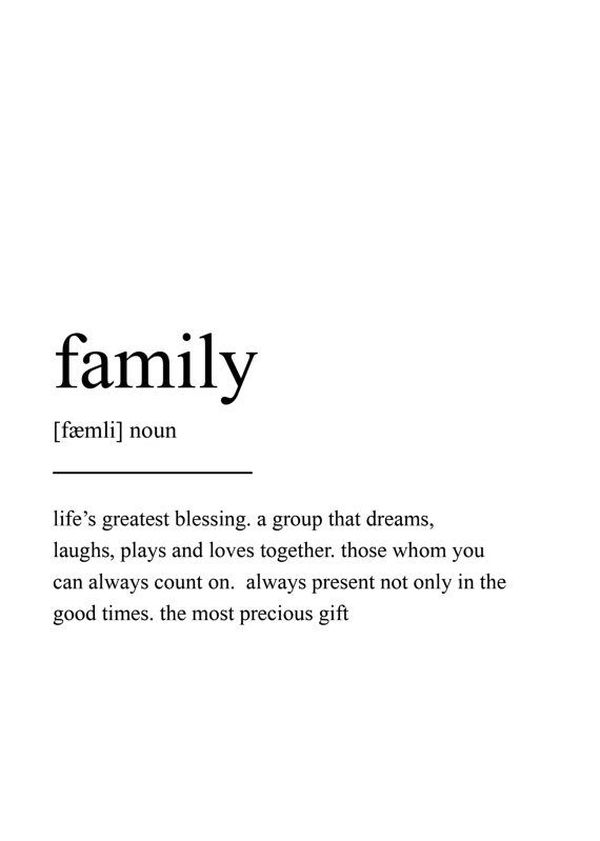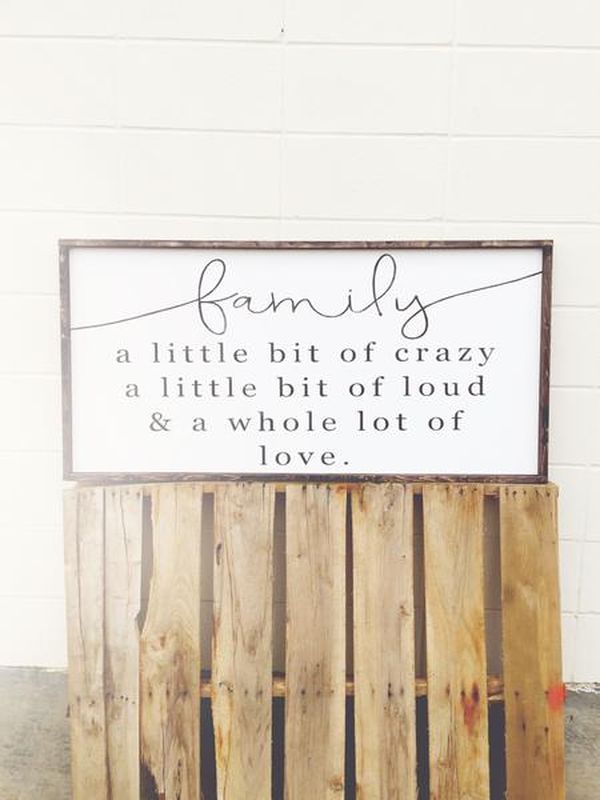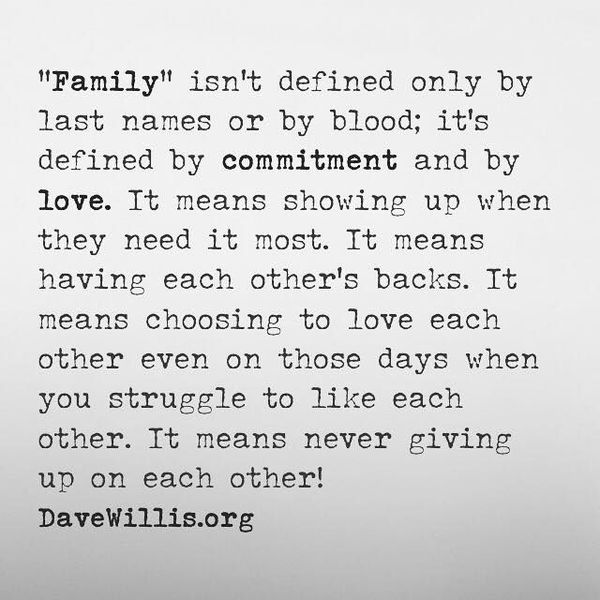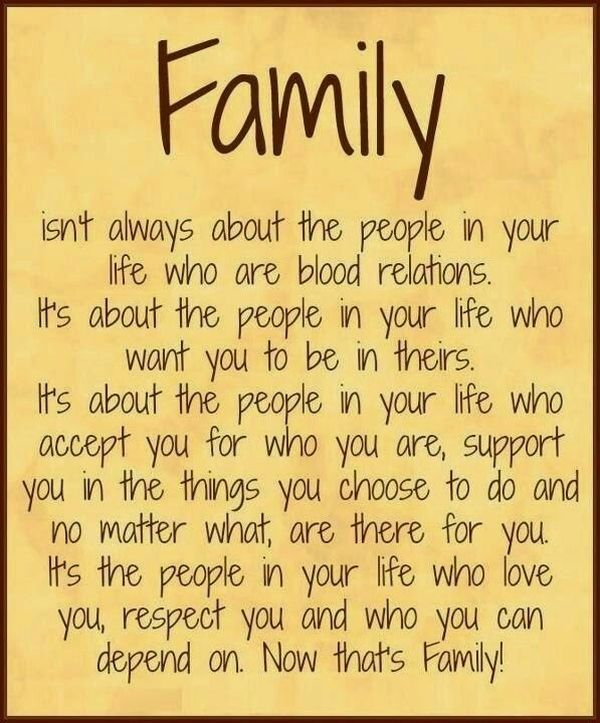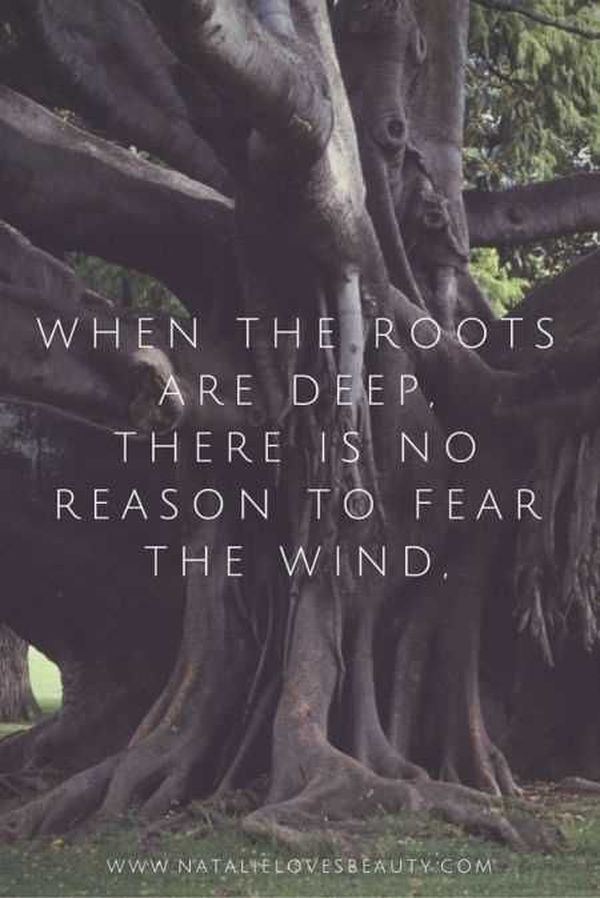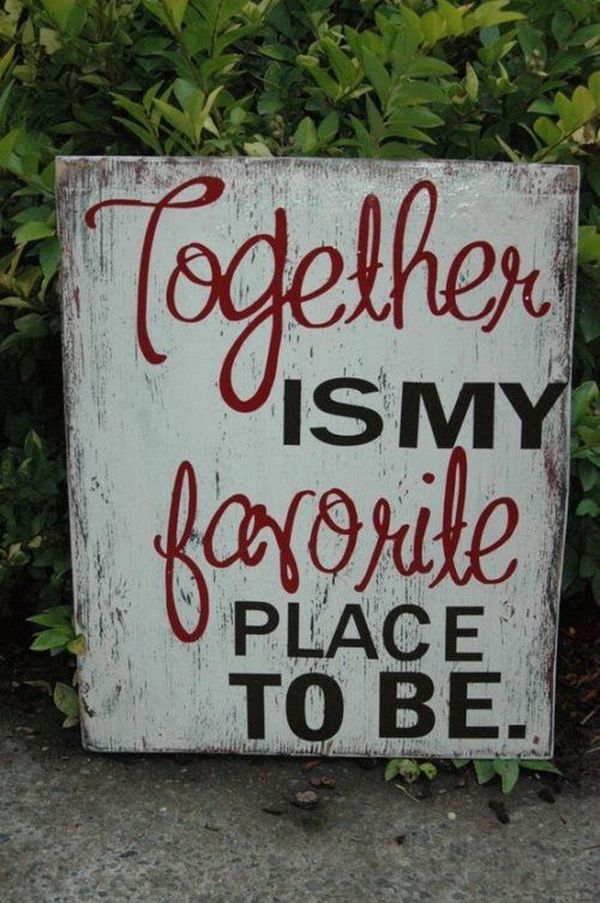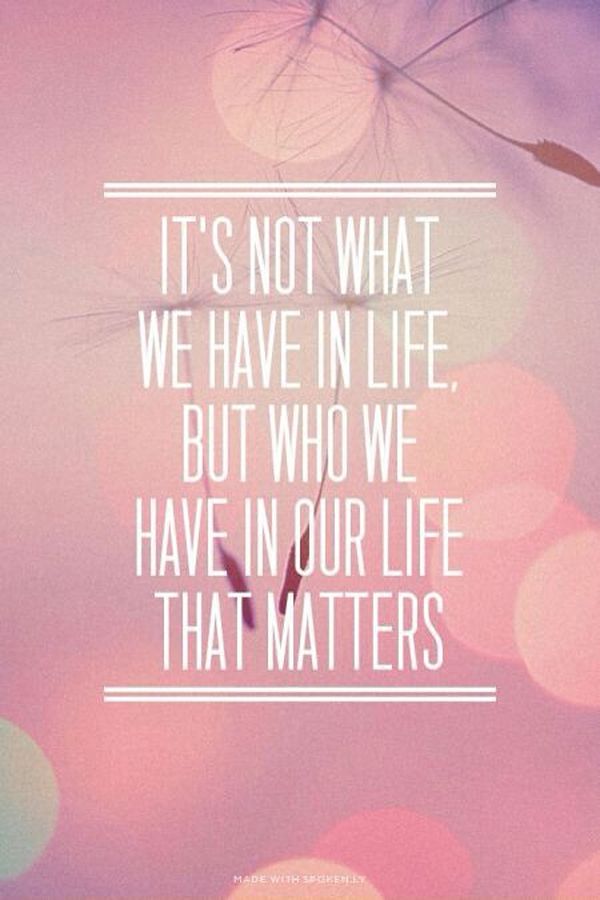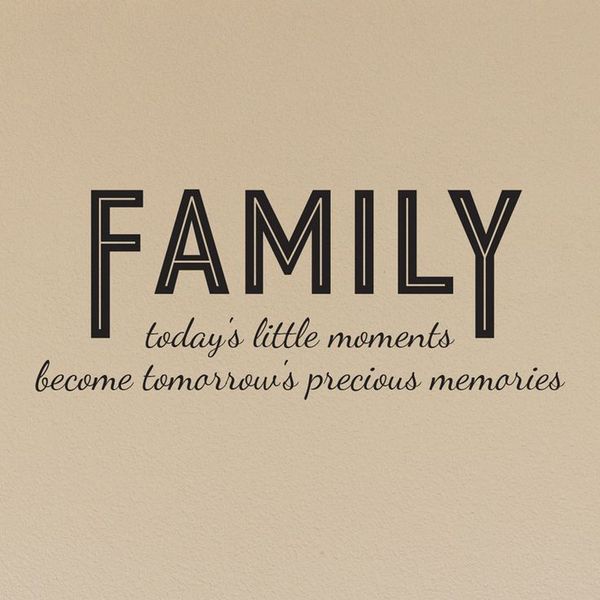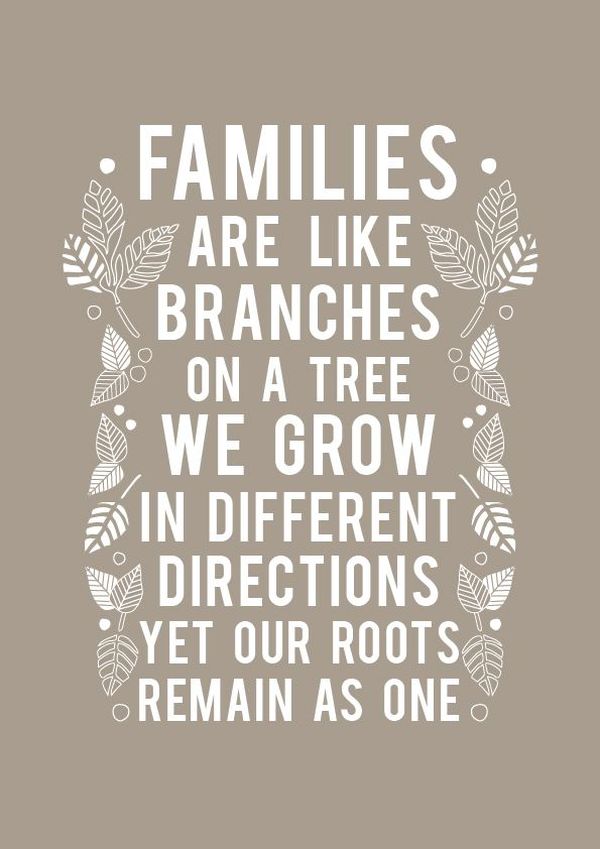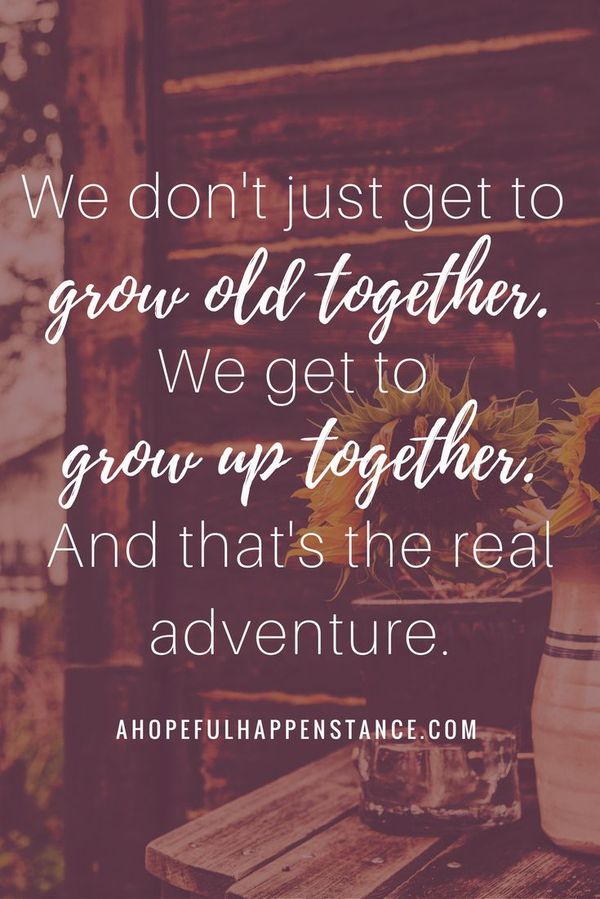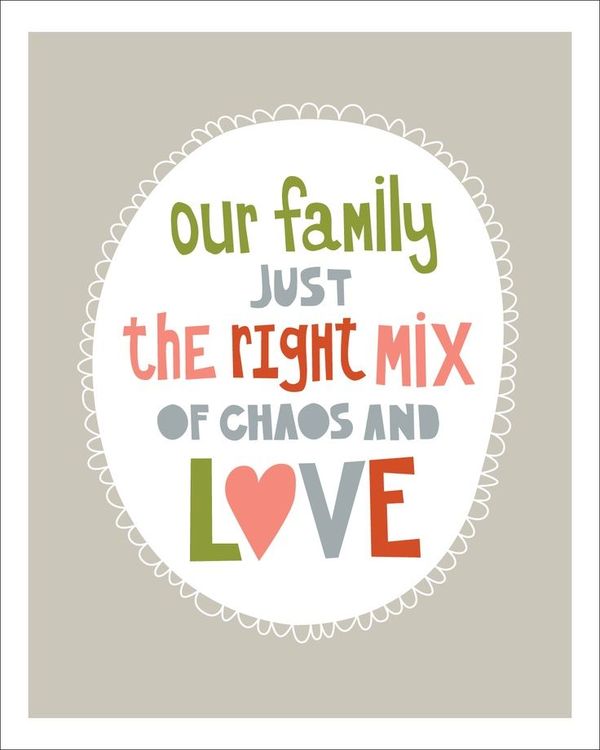 You may also like:
Sweet Quotes for Sons From Mom
Best Messages for Mother From Daughter
Quotes About Fathers and Daughters
Best Sibling Quotes
Short Father and Son Quotes