As young people, we are influenced by everything around us.  While we learn a great deal from our families, some of the most powerful influences in our lives are our teachers. Teachers devote each day towards guiding rooms full of young minds, and the lessons they impart can stay with us for the rest of our lives.  While we may not remember the fundamentals of Trigonometry as adults, we'll always remember the kind-hearted teacher who took time out of her personal life to stay after class to make sure we passed the final exam.
The task of a good teacher doesn't end in the classroom, either.  Teachers can provide us with emotional support during difficult times, help us stand up for ourselves in difficult situations, and coach us through all of the childhood experiences that form us as adults.  As such, many parents appreciate good teachers and feel it their duty to express their gratitude to them!
Appreciative parents will often send cards or emails to a teacher who has gone above and beyond the job description to assist a student in need, usually with a small token of their appreciation.  It may be difficult for a parent to choose just the right words to express their appreciation. If you are looking for a way to explain to a teacher how much you appreciate their actions, check out this list of notes to get you started- inspiration abounds!
Whether you're grateful for a preschool teacher or one in a high school, consider the following messages to get you started.  Regardless of how long you've been out of school, there's something about talking to a teacher that can leave us a little tongue-tied, or even type-tied, if you're sending an email!  While the details of your appreciation are all up to you, perhaps some of these notes will give you all the inspiration you need to thaw your emotions and start expressing gratitude!
What's in a Thank You?
To properly show appreciation, let's think about what it takes to express genuine gratitude. Although there is a list below for you to choose from if you'd like to personalize your note here are a few things to think about:
Personalization – Using your child's teacher name, your child's name or even a specific incident (such as helping through a difficult situation or a fun field trip) can make your gratitude more defined and personal. Rather than saying "Thanks for being a great teacher!" try something like "Your dedication to the education and comfort of [Child's name] has not gone unrecognized. As a parent, I truly cannot express how grateful I am that you were his/her teacher this year."
Express a positive outlook – We all know that teachers train the next generation. Use that to say thank you. For example, "I feel much more confident about the fourth grade knowing you were there to guide him/her this year."
Keep it simple – Teachers have a lot going on, even during the Summer months. Keep your note simple yet impactful. You don't need to write a Kindergarten biography, a simple; "I'm so glad you took the time to educate and care for my child beyond what was expected of you, we're really grateful…" will do.
Don't be afraid to use a little humor – Kids are strange little beings sometimes which results in incredibly awkward parent phone calls. If your child did something outrageous, don't be afraid to thank their teacher for sticking with it. Although it can cause a lot of stress and frustration for their teacher, it can be a source of light-hearted fun and comical relief. "I know my child didn't make this  year easy on you, especially when he climbed on your desk and started squealing like his pet pig (true story here) to make the entire class laugh, but you stuck with him/her through it, and that is exactly why I am so grateful that of all the teachers he could have had this year, it was you!"
Now that we've covered the basics of your "Thank You" note, let's move onto some ideas.
Sincere Thank You Note to Preschool Teacher from Parents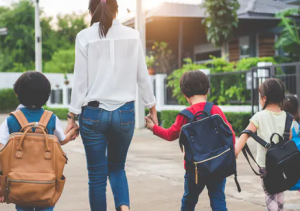 We are so happy that our child is enjoying preschool. It's not easy to send your first child to school, but seeing what a ball he/she is having makes it a breeze. We know we have you to thank for that. The activities you plan, the room you decorate, the friendships you help foster – it's all incredible, and it's helping our child (and us!) believe that school is fun, which is incredibly important.
Preschool years have now come to an end! We would like to thank you for all of the hard work, support, and encouragement that you have given our children during their 3 years in the elephant group. [Insert Child's Name] loved every minute of preschool and always came home full of enthusiasm and stories to tell. We can't thank you enough for making their years so happy.
As the parents of your students, we may be accountants, scientists, doctors, and engineers – but nothing contributes to the nation's development more than the sacrifices made by teachers like you. Thank you.
Thank You for Being a Great Teacher from High School Pupils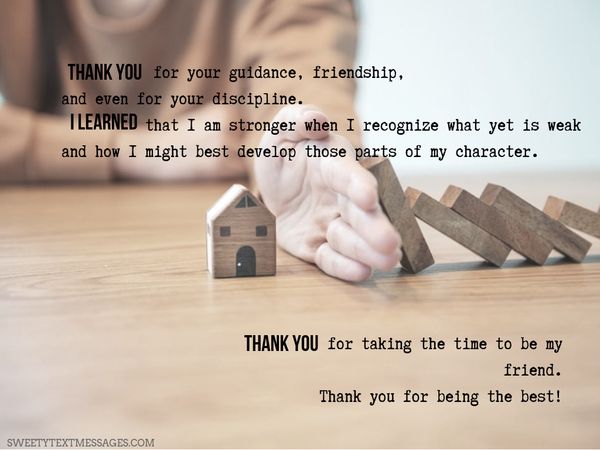 Thank you for your guidance, friendship, and even for your discipline. I learned that I am strongest when I recognize what yet is weak, and how I might best develop those parts of my character. Thank you for taking the time to be my friend. Thank you for being the best!
Thank you for being an excellent educator! We know teachers like you are not easy to find. We appreciate your time, your patience, your ability to make a dry subject interesting, and not least of all, your smile.
Inspiring. Empowering. Engaging. These three characteristics are just a few of that which you demonstrate to all of your students, including me, every single day. Thank you for being like you are, and for teaching us all how to follow your example!
Thank you for your patience. Thank you for your time.
Thank you for helping me with my homework.
Thank you for staying behind to help me,
When I know there are lots of other places you'd rather be.
Thank you for making me do my best.
Thank you for being the best influence on me.
Thoughtful Thank You Letter to Teacher from Parent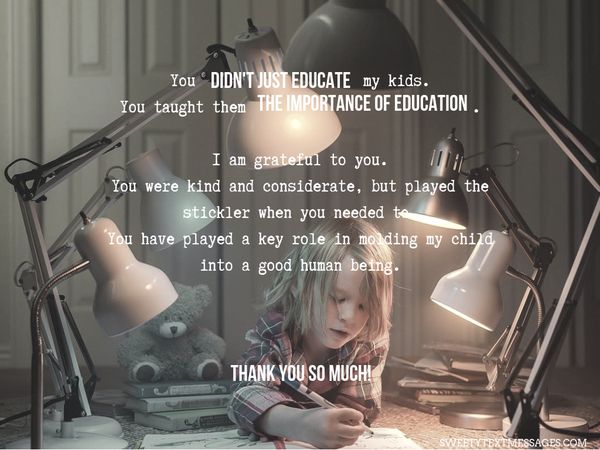 Parents have the easy job of raising our own kids. They are rewarded for all their sacrifices with the joy of watching their babies grow up into fine young men and women. Teachers have the tough jobs of working with a growing and sometimes stubborn mind. Their rewards are limited to the hope that their wisdom will make a tiny difference in the lives of children, helping them to be better human beings. Thank you for all your selfless sacrifices.
I want you to know how grateful we are to have you as the teacher of our children. Your teaching style really engages the kids and gets them pumped up and excited about learning. It's wonderful to see them coming home in a very happy mood, with wonderful things to say about you, and eager to share what they've learned in class that day. I appreciate all of your hard work, and the positive learning environment you provide for your students.
You didn't just educate my kids. You taught them the importance of education. I am grateful to you. You were kind and considerate, but played the stickler when you needed to. You have played a key role in molding my child into a good human being. Thank you so much!
The loving ways of teachers like you are the difference between teaching and educating. Thanks for teaching our children, educating them and empowering them. Classrooms can survive without iPads and computers, but never without inspirational teachers. Thank you for being the irreplaceable teacher that you are.
Light Thank You Messages for Teachers from Parents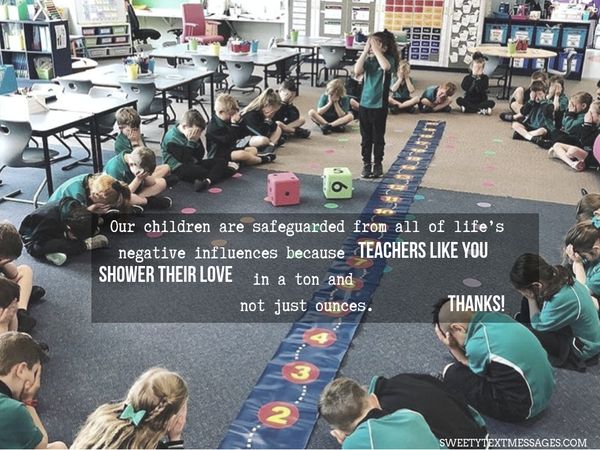 Our children are safeguarded from all of life's negative influences because teachers like you shower their love in a ton and not just ounces. Thanks.
Thank you. You have made a great difference for all of our children. Because you care so much about them, you have directed them to trust themselves in all that they do and to become all that they dream to be.
A good teacher is someone who can think like a student, look like a parent, and behave like a boss. You are the boss our kid is lucky to have. Thanks.
Just wanted to let you know how much we appreciate the work you do every day. I know we don't say it enough, but you're the best teacher our children could possibly have. Thanks!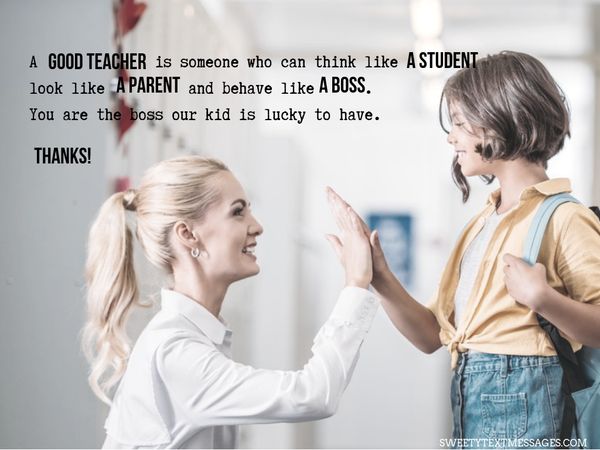 Thank You Note for Teacher with Appreciation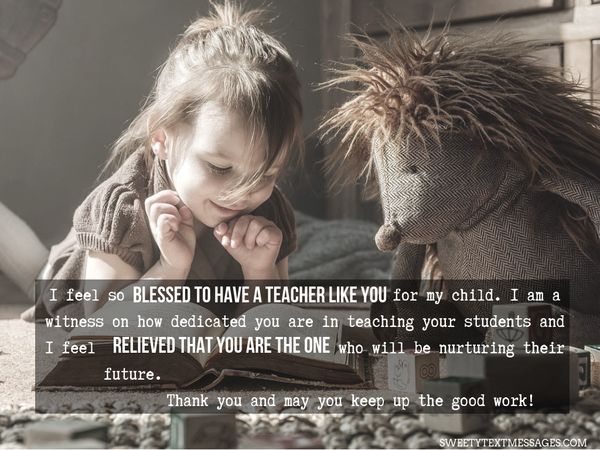 I hope you know what a wonderful teacher you are. We sure do, and we appreciate your ability more than words can say. Our children have gone through so many positive changes, and we know that a lot of it is due to your loving guidance. Please keep being yourself and doing what you do!
I want to express my appreciation for your excellent work caring for my children. The difference you're making in our lives is immeasurable. Thank you for everything you have done for my children in the last two years.
I feel so blessed to have a teacher like you for my child. I am a witness on how dedicated you are in teaching your students, and I feel relieved that you are the one who will be nurturing her/his future. Thank you and may you keep up the good work!
Thank you very much for being such a good teacher to my child. As a parent, I know perfect teachers are hard to find, but for me, you are the best teacher for my child. Thank you for your love and the care you are giving to my child each day. I truly appreciate that. Thank you!
Excellent Sample of Thank You Notes for Teachers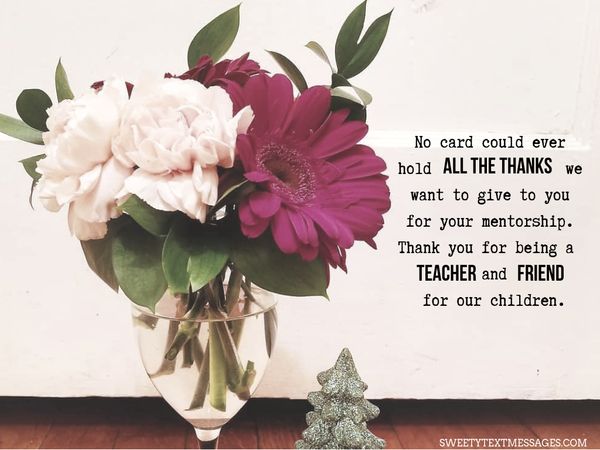 Thank you for all your hard work this year. Our child loves school and it's easy to see why. We hear all about the dynamic ways you deliver lessons and encourage participation.  We are very pleased that our daughter is learning so much, thanks to you.
No card could ever hold all the thanks we want to give to you for your mentorship. Thank you for being a teacher and friend for our children.
It's so comforting to see that someone like you is around to keep an eye on my child's safety and ensure that they are happy and entertained each day of the school year. Thank you so much for going above and beyond.
If all teachers were like you, every child would be well-educated, with proper values and conduct. Thank you!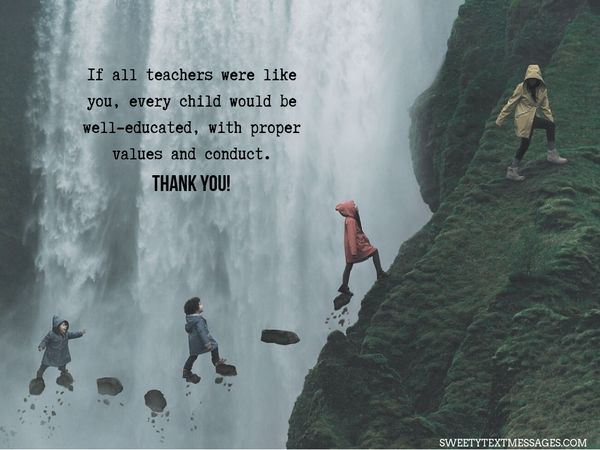 Popular Thank You Quotes to Teachers from Parents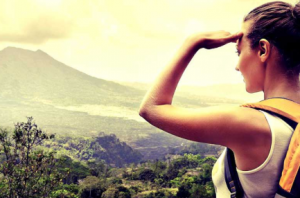 They say teachers plant seeds that grow forever. Thanks for being such a wonderful gardener to our children!
We are grateful to you because you are the person who has shown our children where to look, without telling them what to see.
Putting a child in a good school can never compare to finding a child a great teacher. We are so blessed that you've accepted our child as your student. Thank you!
We are grateful to you for what you have taught our children. We feel that those who educate children well are just as honorable as parents.  While parents give life, teachers help instill the art of living well.
Short Thank You Note to Teacher from Respectful Child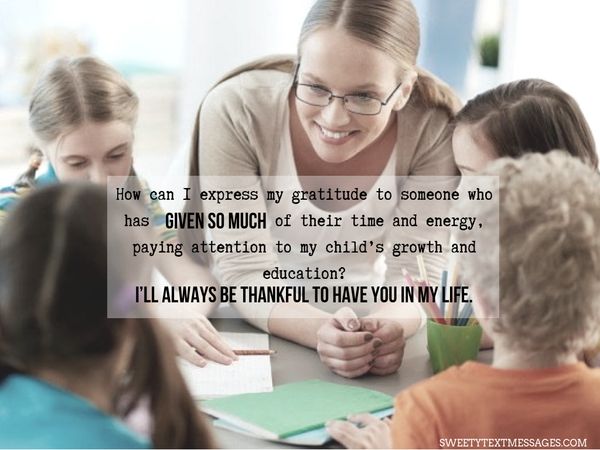 You are not only our teacher, you are our friend, authority, and guide, all rolled into one person. We will always be grateful to you for your support and kindness.
Dear teacher, thanks for not making us learn the way you wanted to teach, but teaching us the way we wanted to learn.
Kind Words of Appreciation for Teachers from Parents
How can I express my gratitude to someone who has given so much of their time and energy, paying attention to my child's growth and education? I'll always be thankful to have you in my life.
The school year has now come to an end. I'd like to express my gratitude for the endless dedication and patience you have provided to my kid during her/his school year in your class. Thank you!
We chose this special present because we wanted you to know,
That we're grateful for your hard work in helping our children to grow.
For your constant understanding and for always being there,
To tell them they can do it and to show them that you care!
We look back with appreciation to you as a brilliant teacher, and with gratitude to you, who touched and inspired the minds of our children. The curriculum is only so much necessary raw material, but the warmth you provide is the vital element for the growing minds and souls of them.