William Sattelberg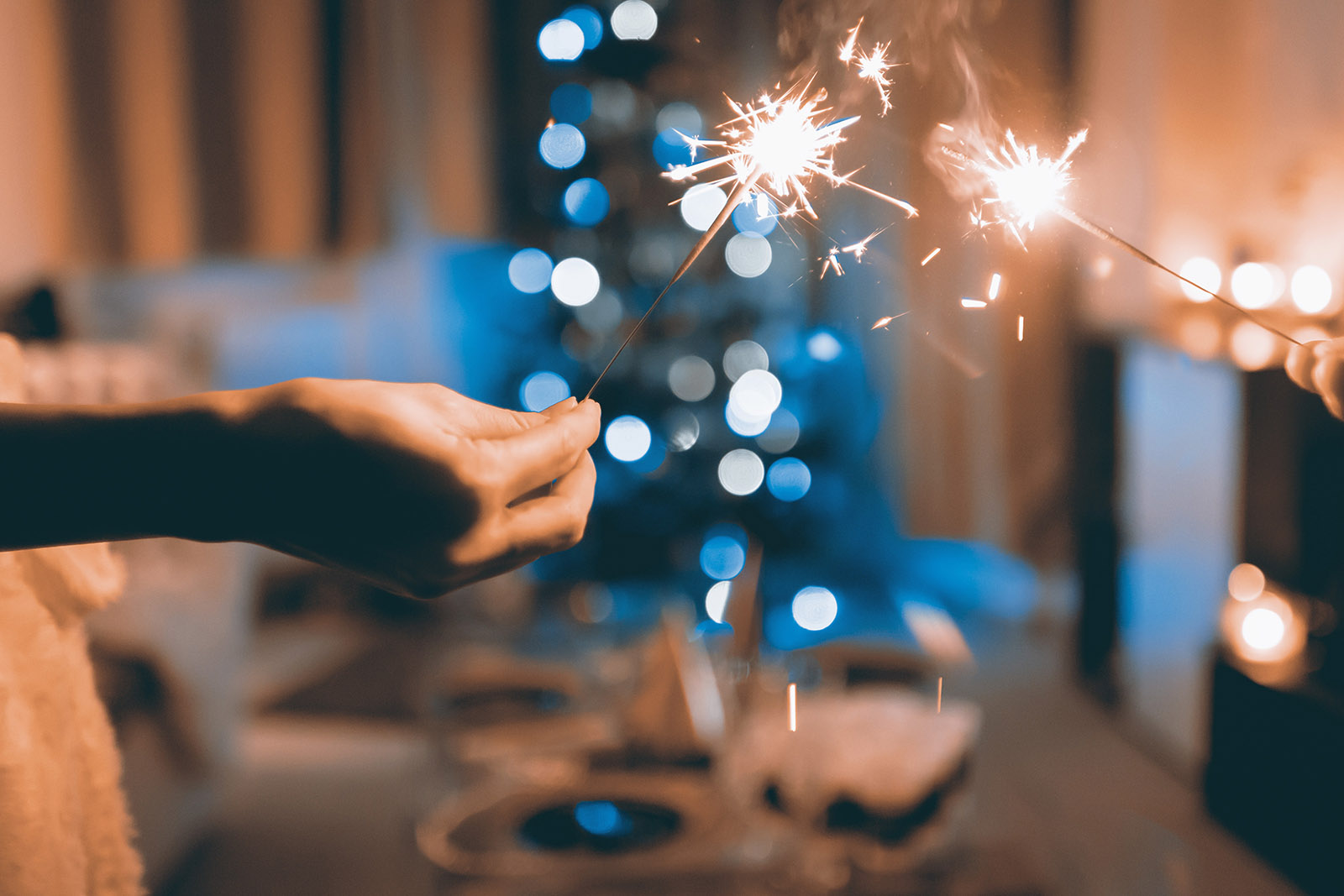 There's no event in the United States quite like Independence Day, casually known as the Fourth of July. There's no shortage of patriotic holidays in the United States, but there's something special about Independence Day that makes it an all-American classic. Whereas most other patriotic holidays in the US are focused around military service, like Memorial Day at the end of May or Veteran's Day at the beginning of September, Independence Day is celebrated by and in honor of America—and therefore Americans—itself. Marked as the day we claimed independence as a country from England, the day holds a massive amount of significance in the United States for many Americans, both as a day to celebrate the history of our country and the accomplishments we've made along the way.
Independence Day features a ton of activities and things to do, from barbecues by the poolside to fireworks displays at night. There are parades, parties, and not to mention wide-reaching holidays that almost everyone gets off. In some ways, the Fourth of July reminds us once more of holidays like Memorial Day or Labor Day, but with even more celebration. Even if this year's celebration feels smaller than last year, there's no reason to give up all of your plans just to stay inside. So, whether you're watching the fireworks online or having a pool party with a few close friends, you'll still need some captions for Instagram.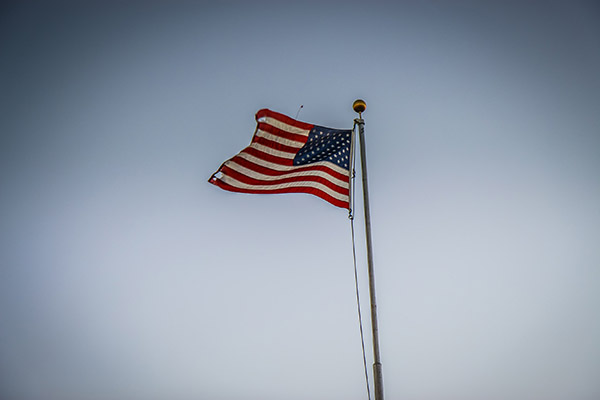 Famous Quotes
As you might imagine, a holiday with as much history as Independence Day—244 years of history!—means there's plenty of surrounding quotes around the day that make it easy to quote your favorite photos. From American leaders to American poets. writers to military members, there are plenty of options for anyone looking for some quotes for their photos on Instagram, and you can view them all below.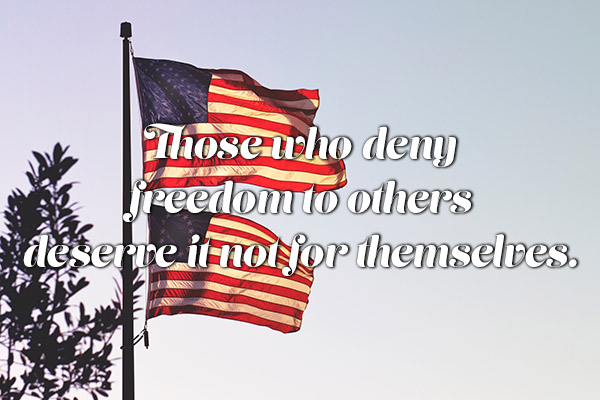 "Those who deny freedom to others deserve it not for themselves." – Abraham Lincoln.
"If liberty means anything at all, it means the right to tell people what they do not want to hear." – George Orwell.
"For to be free is not merely to cast off one's chains, but to live in a way that respects and enhances the freedom of others." Nelson Mandela.
"It is by the goodness of God that in our country we have those three unspeakably precious things: freedom of speech, freedom of conscience, and the prudence never to practice either of them." – Mark Twain
"If the freedom of speech is taken away then dumb and silent we may be led, like sheep to the slaughter." – George Washington
"I do not agree with what you have to say, but I'll defend to the death your right to say it." – Voltaire
"Better to die fighting for freedom then be a prisoner all the days of your life." – Bob Marley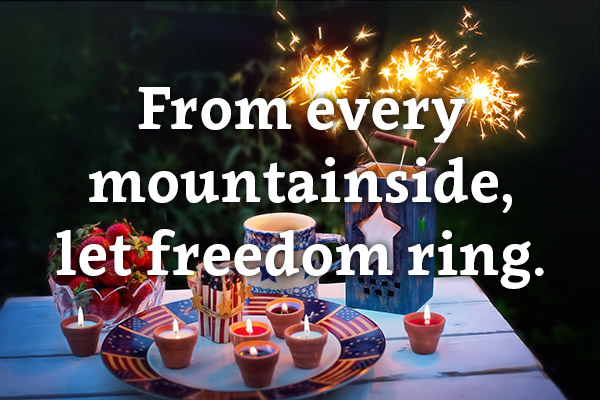 "Freedom is never voluntarily given by the oppressor; it must be demanded by the oppressed." – Martin Luther King Jr.
"From every mountainside, let freedom ring." – Martin Luther King Jr.
"For what avail the plough or sail, or land or life, if freedom fail?" – Ralph Waldo Emerson
"Four score and seven years ago our fathers brought forth on this continent a new nation, conceived in liberty, and dedicated to the proposition that all men are created equal." – Abraham Lincoln
"Where liberty is, there is my country." – Benjamin Franklin
"The American Revolution was a beginning, not a consummation." – Woodrow Wilson
"This land is your land, this land is my land / From California, to the New York Island / From the redwood forest, to the gulf stream waters / This land was made for you and me." – Woody Guthrie
Patriotic Phrases
Maybe you're looking for something with some serious patriotism for your photos of flags, sparklers, and burgers, but you want something without all the historical accuracy you get from the quotes above. There's no shortage of unattributed patriotic quotes to choose from, without having to actually quote a once-leaving leader of the United States. Check out our patriotic phrases below!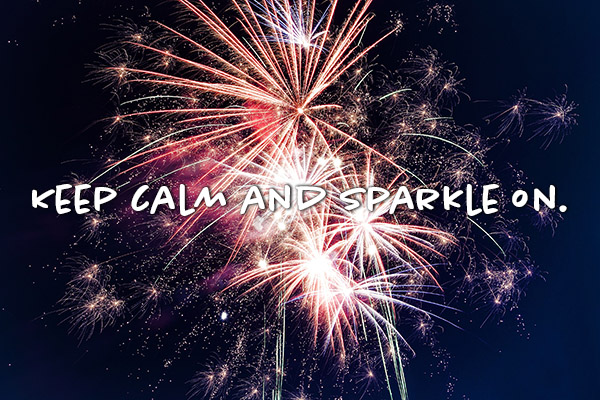 Bold stripes, bright stars, brave hearts.
"I'm mighty proud of the ragged old flag." – Johnny Cash
God Bless America!
"They're playin' my song, you know I'm gonna be okay — yeah, it's a party in the USA." – Miley Cyrus
Sorry, but I can't hear you over my freedom!
America, est. 1776
To me, America means freedom.
Made in America!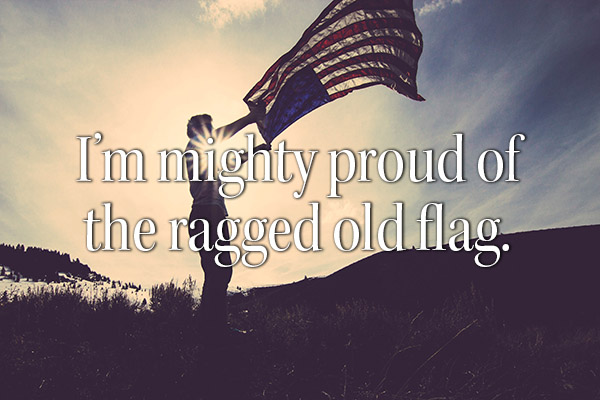 Keep calm and sparkle on.
Born in the USA!
Through thick and thin, I still have pride for my country.
I love my country, aside from most of the people in it.
Let freedom ring!
Red stands for hardiness and valor. White symbolizes purity and innocence. Blue represents vigilance, perseverance, and justice.
Unapologetically American.
Cookout Captions
Independence Day has so much food involved, from burgers to chips, hot dogs to cold drinks, and ice cream cones dripping down your hand, that it's nigh-impossible for the foodies out there to not attribute some quotes to their photos of food. If you're taking photos of your perfected burger—we recommend a fried egg with some bacon and avocado—you'll need some cookout captions for your photos of your delicious eats. Luckily, we have plenty for you below.
Red, white, and boozed.
Barbeque, beers, and tacos. That's eating.
A balanced diet is a burger in each hand.
Red, white, and brews, all weekend long.
Chill out with your grill out.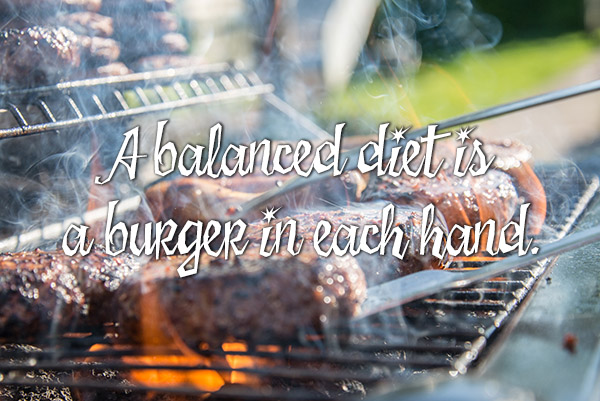 I'm headed to Flavortown!
Red, white, and buzzed.
Celebrating Independence Day the only way I know how: grilling up some burgers.
Comfort is key for a barbecue.
Burgers, hot dogs, and a cold one are all I need for a great Fourth of July.
Summer Sayings
Summer's been going strong since the Fourth of July, but around most of the United States, we've been having our first big heat wave in a couple months. Independence Day does a good job in representing a milestone in the summer, when the days are at their longest and the sun is at its hottest. Almost every activity surrounding the Fourth of July comes down to something you can do in the heat of summer, so it's a good time to snap some photos of the pool, the water park, the beach, or anything else summer related. And to go with those photos, here are some excellent captions.
Life is made of small moments like this.
Hot days and chill nights.
Love spending my nights with these people.
Sunsets and palm trees.
Good company and summer nights.
"Hot summer nights, mid July when you and I were forever wild." – Lana Del Rey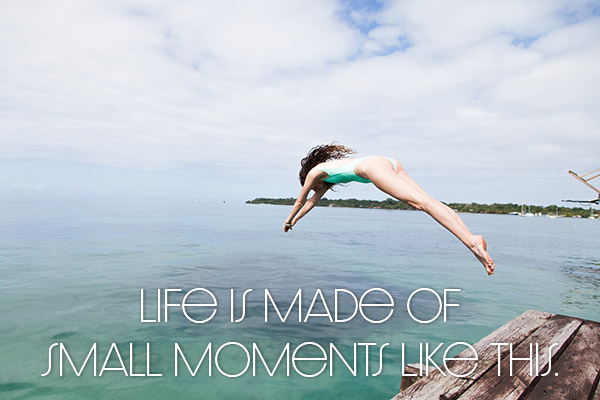 "Summer days drifting away, to uh-oh those summer nights." – Grease
I felt like summer had taken over me.
Let's have some fun in the sun.
Live by the sun, love by the moon.
Make summer your adventure.
Firework Snaps
Capturing a great photo of a series of Fireworks isn't easy; you need perfect precision and a good eye to snap photos of those explosions in the sky—not to mention a really fast lens. That said, it's totally possible with modern lenses, thanks to the speed and accuracy of the photos. Live Photos on the iPhone and Motion Photos on Android help to take small video clips while also capturing a photo, which means a moment can always become alive whenever you're ready to view it. And using the manual settings on your camera can help you crank up the speed of your lens, so long as your hands are steady enough to grab a photo that isn't blurry.
Once you have the perfect snap of your fireworks, here are some ideal captions to tag along with it. We promise we only used one Katy Perry lyric.
"You just gotta ignite the light, and let it shine /Just own the night like the Fourth of July" – Katy Perry
Snap, crackle, and pop!
Fireball and fireworks!
"Cause I see sparks fly whenever you smile" – Taylor Swift
"Because beautiful things never last. Not roses nor snow… And not fireworks, either" – Jennifer Donnelly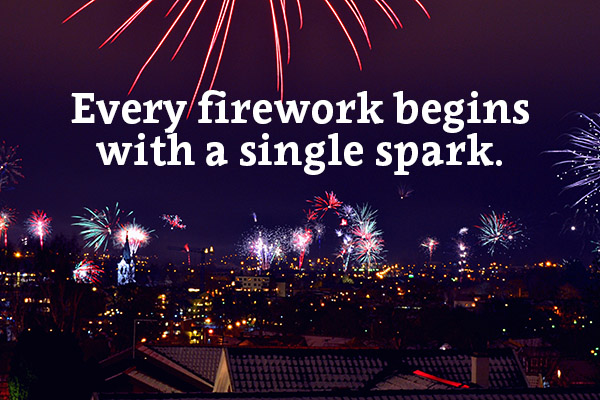 "Shine bright like a diamond" – Rihanna
Every firework begins with a single spark.
Let my glow guide you home.
From the smallest of sparklers to the biggest of explosions, my love for you shines brightest.
Make my heart burst like a firework.
***
Independence Day is truly a special holiday for those in the United States. It's a massive party, one where we celebrate the pride we have in where we live, and the joys of helping to build a tried and true democracy. It's not a perfect country, and it never will be, but there's something to be said about celebrating the anniversary of when we stopped being under the rule of someone else and finally entered under rule of ourselves. These captions help to catch and capture the spirit of the holiday, celebrating and honoring both the country itself, the pride and joy we have in our accomplishments, and remembering the mistakes we've made along the way. So, caption your photos and let us know in the comments what captions were your favorites of the bunch!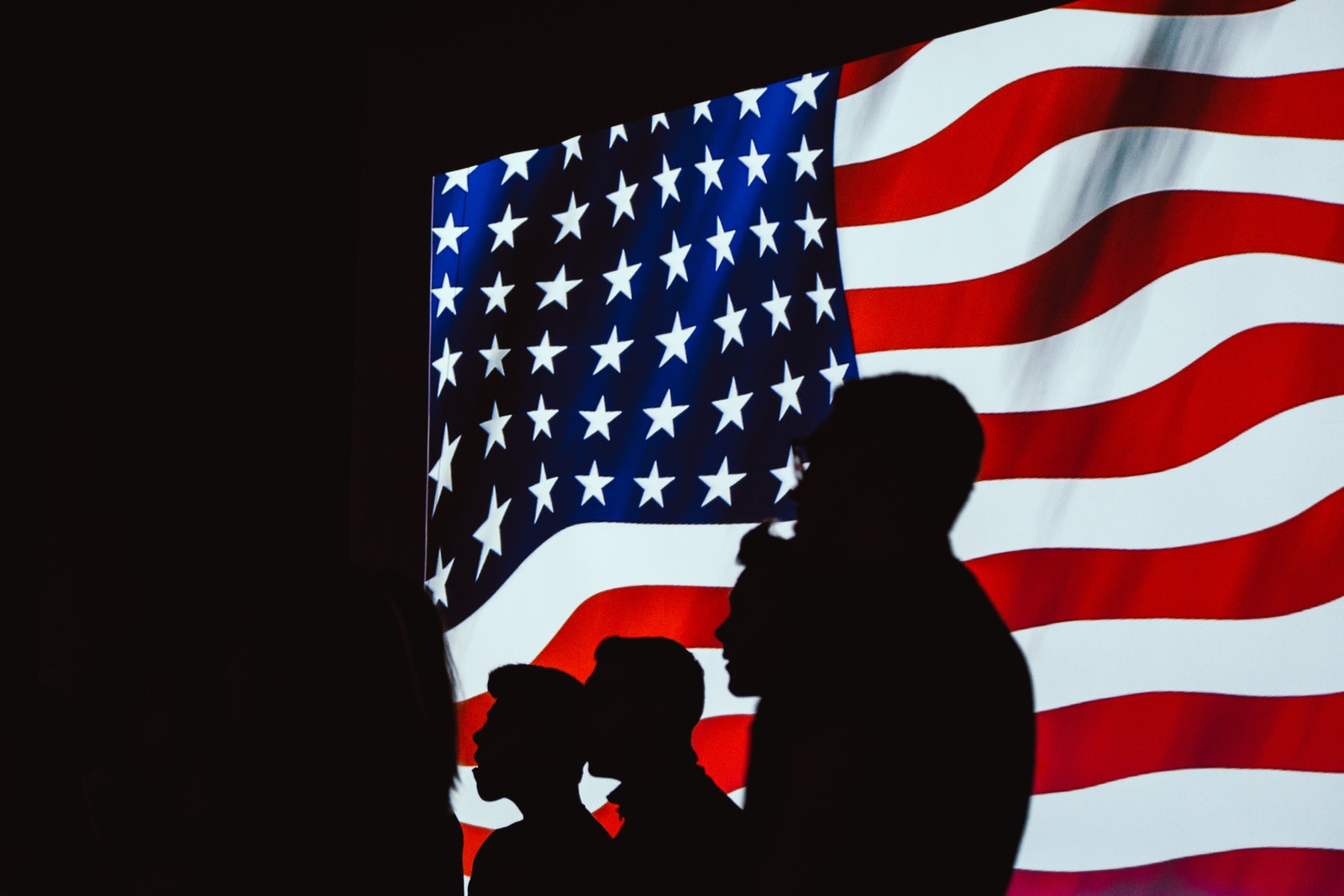 When it comes to holidays, there's almost always a special meaning behind them to consider when celebrating. On Independence Day, we consider our forefathers' fight for freedom and how that fight continues today. Thanksgiving, which began as a harvest festival, allows us to consider what's important in our life, including those friends and family who surround us and fill our hearts with love. And Memorial Day, observed annually on the last Monday in May, celebrates the lives and the memory of those who died while serving in the United States Armed Forces. The holiday is often considered the unofficial beginning of summer, with many given a full three-day holiday on which to gather with friends, arrange memorials for friends and family whom they have lost, and above all, honor the sacrifice given by American troops in battle.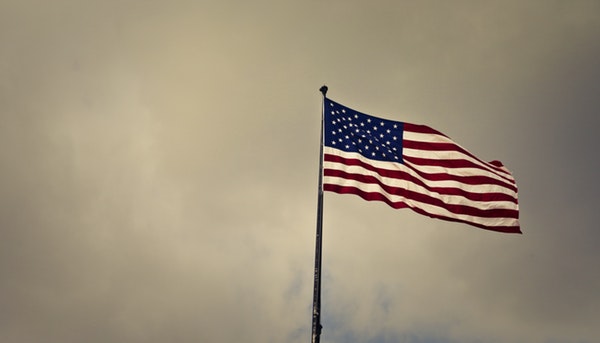 Despite current events, Memorial Day celebrations will still be held around the country. No matter what your plans for this weekend entail, you'll want to make sure you take photos to mark the occasion. Memorial Day is a great photo opportunity, especially if you just got a new phone with an exceptional camera. Whether you're shooting with a phone or a dedicated DSLR, you're bound to take some amazing photos this weekend.
Instagram has become the go-to place to share photos, making it easy to link from Instagram to Facebook or Twitter. With a large audience, Instagram Story features, and the ability to add captions, Instagram is one of the best ways to make sure your photos stay collected in one place. If you're looking for the right caption for your photo, you've come to the right place. Here are some great captions anyone can add to their Instagram photos or Instagram Story for Memorial Day.
Famous Quotes
Perhaps more than any other holiday, Memorial Day is the perfect time to break out some famous quotes to remember your fallen friends, family members, and others who have served in the past. Quotes from past presidents, ex-military personnel, and other famous leaders allow us to consider the sacrifice of the men and women who have helped to keep our country safe, secure, and free. Using any of these famous quotes allows you to capture the solemn feelings of the holiday, giving your photo a serious, respectful atmosphere. These are some perfect quotes for your Memorial Day photos.
"As we express our gratitude, we must never forget that the highest appreciation is not to utter the words, but to live by them." – John F. Kennedy
"Those who have long enjoyed such privileges as we enjoy forget in time that men have died to win them." – Franklin D. Roosevelt
"For love of country they accepted death, and thus resolved all doubts, and made immortal their patriotism and their virtue." – James A. Garfield
"It is foolish and wrong to mourn the men who died. Rather we should thank God such men lived." – Gen. George S. Patton
"They loved their country so deeply, so profoundly, that they were willing to give their lives to keep it safe and free." – Barack Obama
"To find yourself, think for yourself." – Socrates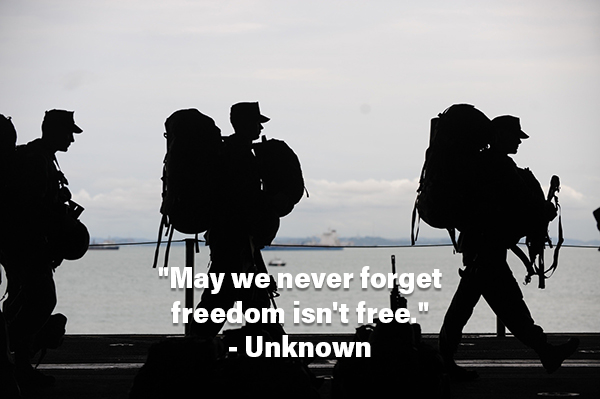 "Heroism doesn't always happen in a burst of glory. Sometimes small triumphs and large hearts change the course of history." – Mary Roach
"Our flag does not fly because the wind moves it. It flies with the last breath of each soldier who died protecting it." – Unknown
"May we never forget freedom isn't free." – Unknown
"Never was so much owed by so many few." – Winston Churchill
"In memory of many, in honor of all." – Unknown
 "America without her soldiers would be like God without His angels." – Claudia Pemberton
Patriotic Remembrances
At its core, Memorial Day is just one of the three major holidays in the United States that celebrate service, freedom, and the call to duty, with the other two following throughout the summer. If you're looking to mark your photos with a sense of patriotism without using a direct quote from someone who served in the military or the government, here are some excellent captions to help boost your photos' appeal.
This land was made for you and me.
We don't know them all, but we owe them all.
We come not to mourn our dead soldiers, but to praise them.
From every mountainside, let freedom ring.
Patriotism is like charity. It begins at home.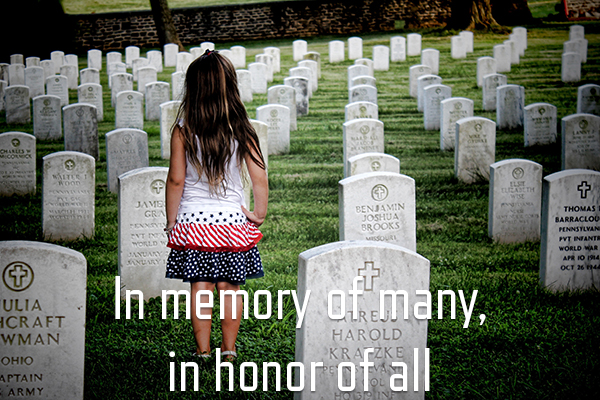 Courage is contagious. When one brave soul takes a stand, the spines of others are stiffened.
Who kept the faith and fought the fight; the glory theirs, the duty ours.
Bravery never goes out of fashion.
Leave no soldier behind. Leave no soldier unremembered.
Home of the free, thanks to the brave.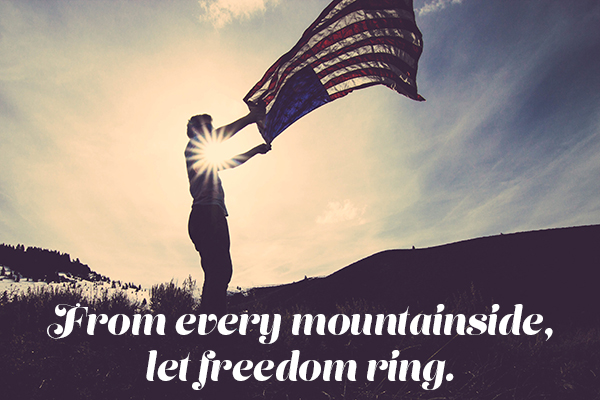 All gave some, some gave all.
This nation will remain the land of the free only so long as it is the home of the brave.
Remember all those who made the ultimate sacrifice.
Everyone knows someone who gave for their country.
Soldiers died to save your right to vote, to speak, to learn, and to be free.
Cookout and Beach Captions
After you arrive home from your town's local parade or the ceremony at a nearby cemetery, you might play host or be invited to a cookout with friends and family. Memorial Day marks the beginning of summer for many, with Labor Day in September often marking the winding down of America's favorite (or at least, warmest) season. Whether you're grilling hamburgers by the pool, watching baseball with your dad, or just hanging out with your significant other, Memorial Day marks the first time of the year you can throw on some sandals, crack open a cold drink, and hang out under the sun. Here are some perfect captions for marking the beginning of summer.
Life is better when you're under the sun.
The kickoff to summer begins now.
Living for this sunshine.
Time to seas the day.
Comfort is key for a barbecue.
Don't worry, beach happy.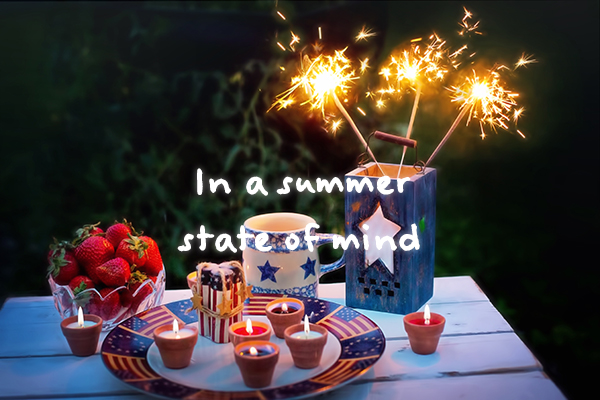 Throw up your feet and chill; it's a long weekend.
In a summer state of mind.
Where there is a home, there is a barbecue.
Red, white, and brew, all weekend long.
Having fun out in the sun.
Summer lovin', it happened so fast.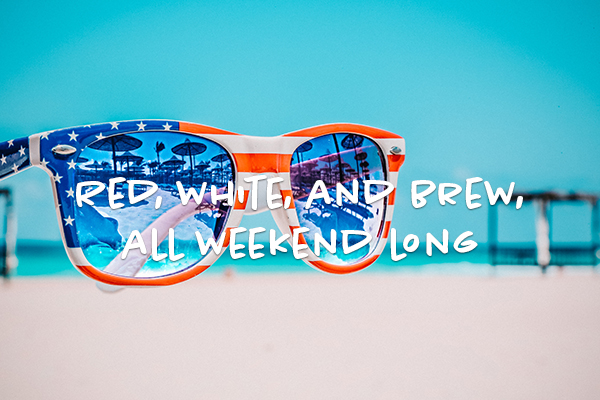 Barbecue, beers, and tacos. That's eating."
Good times and tan lines.
Celebrating Memorial Day the only way I know how: grilling up some burgers.
Chill out with your grill out.
Red, white, and buzzed.
Hanging out with my Yankee Doodle Doggy.
***
Memorial Day isn't just the kickoff to summer. It's also a time to remember those in your life who have served and paid the ultimate price. Some of us have a family member—an aunt or an uncle, a grandparent, or perhaps even our own parents—who joined the Armed Forces, only to fall while serving. Some of us have friends whose family members were lost in the act of duty.
In some way, the chances are high that you or someone in your life has been changed by the sacrifice paid by someone else. These captions help to catch the spirit of the weekend, celebrating and honoring the lives of those who have given everything while simultaneously enjoying the long weekend that marks the holiday. Let us know in the comments what captions you loved!