Sydney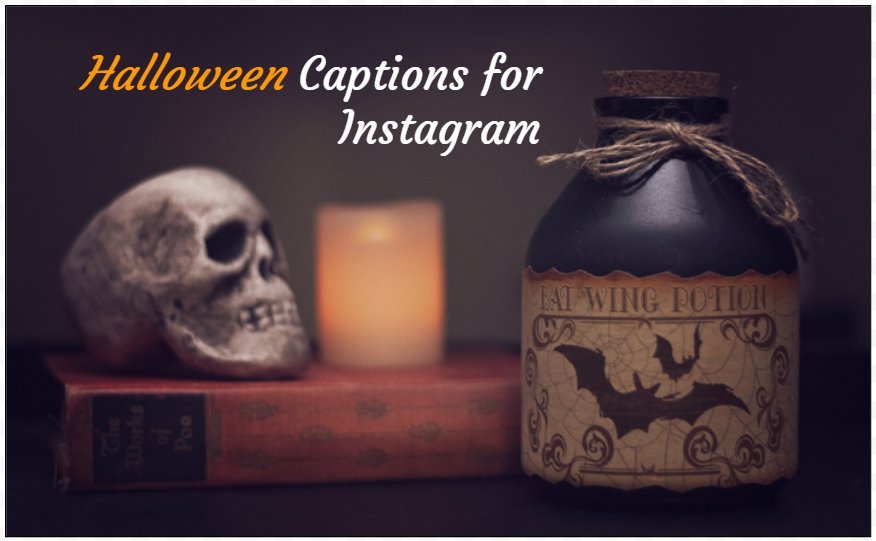 It's the holiday that kids love and grownups spend all year making elaborate plans for – whether you know it as Halloween, All Hallow's Eve, or even All Saint's Eve, it's definitely the spookiest holiday of the year.
It's already time to start upping your scary social media game. You're going to be posting ghoulish pictures and bewitching stories to your Instagram feed, and it's not too early to start thinking about what silly, sassy, or awe-inspiring captions and quotes you want to pair with your best photos.
Whether you're planning on being a creepy creature or ghastly ghost, we've got the right captions for you.
Witches
Everyone likes to be a little bit wicked at Halloween, and if you decide to take that literally and take part in the witching hour, you might want to try one of these on for size.
Happy Halloween, Witches!
Don't be a basic witch.
Bow down, witches.
Witch way to the candy?
Bewitched!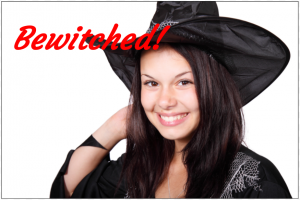 Be "witching" Halloween.
You say witch like it's a bad thing.
This witch can be bribed with chocolate.
Witch better have my candy.
My broomstick broke down, so I'm witch-hiking!
All About Boo!
For captions worthy of a ghostly costume, consider one of the following.
Boo-tiful
A boo-tiful night.
The boo crew.
I'm here for the boos.
Keep calm, and say boo.
My favorite kind of pie is boo-berry.
Eat, drink, and be scary!
Magical Mayhem
You don't need to be a Hogwarts graduate to use one of these mystical musings.
Everything's better with a little magic.
It's just a bunch of hocus pocus.
This is where the magic happens.
Magic is something you make.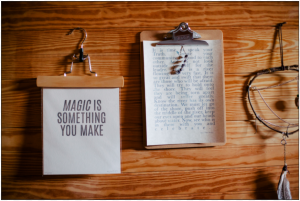 There is magic in the night when pumpkins glow by moonlight.
I put a spell on you.
I put a spell on you, and now you're mine.
On a magical mystery tour…
Trick or Treat
Don't forget the true meaning of Halloween: chocolate and sugar.
Tricks & Treats
Mischief managed.
Trick or Treat Yo'self!
Oh! I'm so sorry – I thought that was your costume.
Come as you aren't.
Carvin' out good times.
Extreme makeover.
Where do ghosts like to trick-or-treat? Dead ends!
Halloween Horror Night Captions
Get into the Halloween spirit (or spirits).
Something wicked this way comes.
Bubble, bubble, toil, and trouble.
Straight Outta Coffin.
Ghouls just wanna have fun!
Demons are a ghoul's best friend.
Creature feature
Bugs and hisses
The ghostess with the mostest.
Are you afraid of the dark?
Caution! Black cat crossing.
Enter at your own RISK.
Creepin' it Real!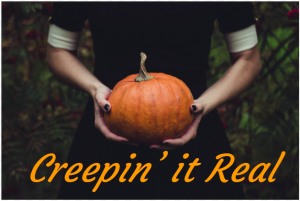 A haunting we will go.
Eat, drink, and be scary!
If you've got it, haunt it.
Fright Night
Chills & Thrills
Spookilicious
Let's get spooky!
Too cute to spook.
Monster-ific
Spooktacular
Howl-o-ween
Stay spooky!
It's a full moon tonight – that's when all the weirdos come out.
Fall Fever
Don't forget everyone's favorite festive season – the perfect backdrop for a scary night.
Pumpkin, spice, and everything nice.
A harvest of memories.
A festival of colors.
Fall into autumn.
Fall into Fall.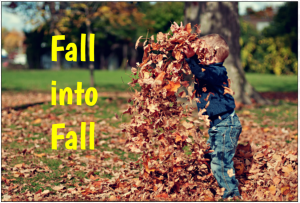 Cutest Pumpkin in the patch.
Falling for Fall.
Flavors of Fall.
Autumn delight.
Fall into fun!
Shades of autumn.
Sweater weather
Spooky Season Captions
Consider borrowing some amusing anecdotes from the funny and the profound.
A grandmother pretends she doesn't know who you are on Halloween. – Erma Bombeck
On Halloween, the parents sent their kids out looking like me. – Rodney Dangerfield
Halloween is huge in my house, and we really get into the "spirits" of things. – Dee Snider
Where there is no imagination, there is no horror. – Sir Arthur Conan Doyle
There are nights when the wolves are silent and only the moon howls. – George Carlin
Probably the scariest thing about cemeteries is that music they play in your head when you drive by one. – Demetri Martin
Clothes make a statement. Costumes tell a story. – Mason Cooley
October, tuck tiny candy bars in my pockets and carve my smile into a thousand pumpkins. – Rainbow Rowell
Double, double toil and trouble; Fire burn and caldron bubble. – Shakespeare
Halloween in Literature
"For some of us, Halloween is every day." — Tim Burton
"The farther we've gotten from the magic and mystery of our past, the more we've come to need Halloween. -Paula Guran
"Voices whisper in the trees, Tonight is Halloween!" — Dexter Kozenn
"leaves in the forest seemed to make even the ground glow and burn with light" — Malcolm Lowry
"For on all Hallow's Eve will the spirits come to play, and only the fruit of thy womb will satisfy their endless roaming." — Solange Nicole
"I wish every day could be Halloween. We could all wear masks all the time. Then we could walk around and get to know each other before we got to see what we looked like under the masks." — R.J. Palacio
"What would the public do when Halloween had come and gone but the monsters still remained?" — Kristen Painter
"Beware what dare crawls up your sleeve, For 'tis the night called Hallows Eve." — Richelle E. Goodrich
"Halloween is a day in which some people choose to wear a mask… while others finally feel safe to take theirs off." — Steve Maraboli
"On Halloween, I made us ghosts, but when we slipped on our costumes, we looked exactly the same." — Wildflower Veins
Coming Up With Your Own Captions
There are a lot of opportunities for great Halloween captions on Instagram. It's a fun and spooky holiday, so have fun with it! You can be a prankster, ominously creepy, or just fun.
One of the best ways to create unique captions is a play on words. Ghouls and girls sound similar and can be interchangeable depending on the context (but that one's easy so play with more words).
Another thing to think of including in your captions is something from pop-culture. In 2020, some of the more scary aspects you could use include Sardine Oil, Surgical Masks, and running low on toilet paper. If you're a prankster, this will certainly play to your advantage with your friends.
Next, tie in a great photo or video to really put everything together for your followers. Afterall, you're posting content for them to enjoy. Consider if they typically enjoy cute and funny posts, or if they appreciate something a little more clever and complex.
Prepare now to make your favorite scary holiday an Instagram success. Got any great suggestions for Instagram quotes? Share them with us below!
If you need to do your Halloween shopping we've got you covered with this link to the Amazon Halloween Store!
(You know what's coming up next, right? That's correct – Thanksgiving on Instagram!)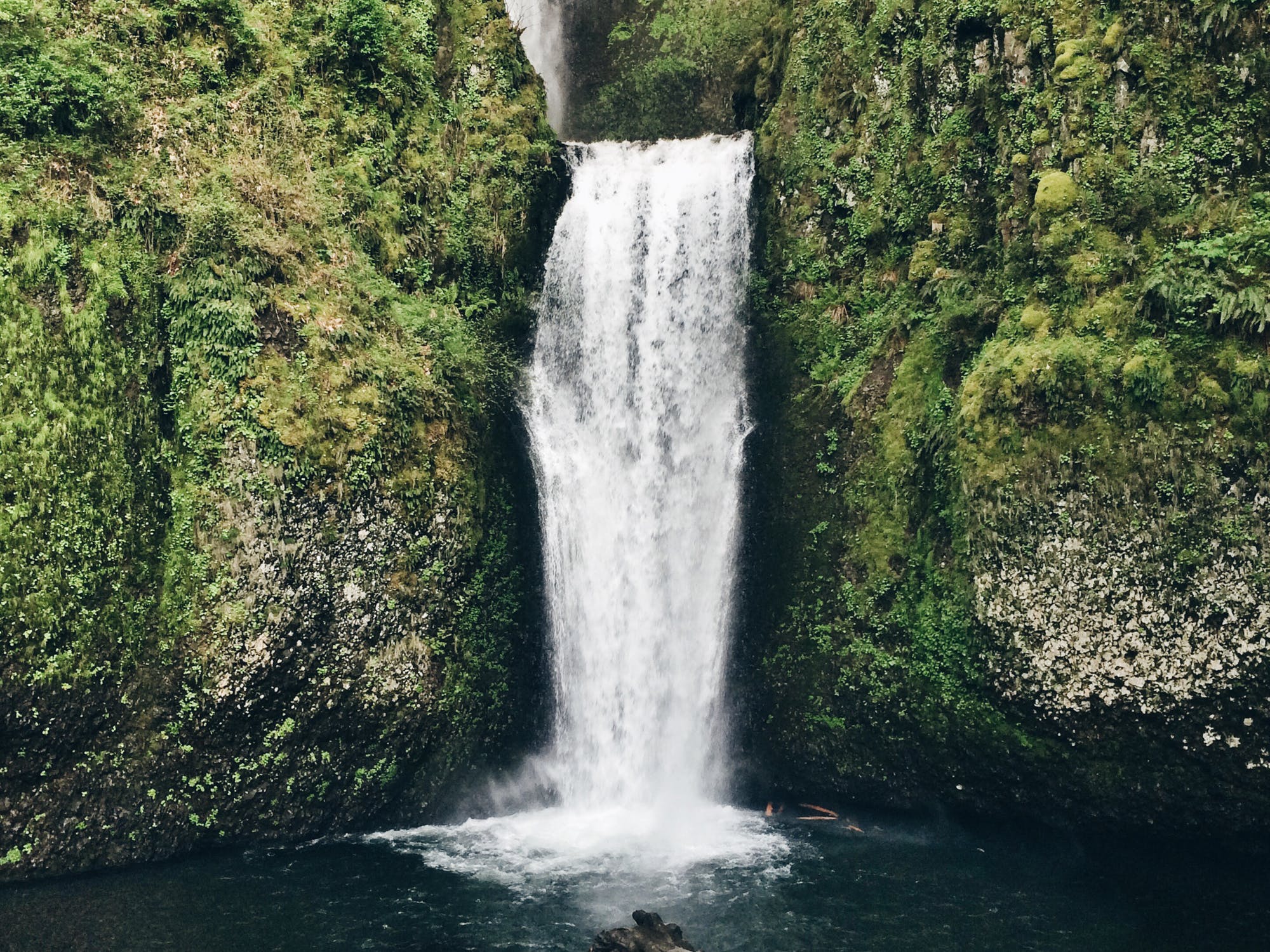 Waterfalls are one of the many wonders that our natural world holds. They are majestic and enticing; their beauty just demands to inspire awe. Being in the vicinity of waterfalls, one might feel overwhelmed by its marvelous presence.
There is no doubt that waterfalls make a wonderful backdrop for any photo or video, while also being beautiful subjects in their own right. You could be creating a spectacular GoPro aerial shot, or wading through the curtain of water. You could be standing triumphantly with your fists on your hips, or standing beneath it adoring its marvel. However you imagine your perfect picture would be with a waterfall, it would surely turn out amazing.
Being in the water, and especially being around the raw power of a waterfall is moving and sometimes difficult to capture. Luckily we have words as well as images to get our mood and feelings across.  Once you've taken the perfect shot, whatever it is, you don't want to waste it by giving it a weak caption – and now you don't have to. Pair your perfect snapshot with an ideal caption and share it over Instagram and watch the likes roll in.
Relaxed
"Just let go – and fall like a little waterfall." – Bob Ross
Get into the flow!
Go with the flow.
It's all water over the falls.
"Adopt the pace of nature." – Ralph Waldo Emerson
Paradise found.
Whatever floats your boat.
Always take the scenic route.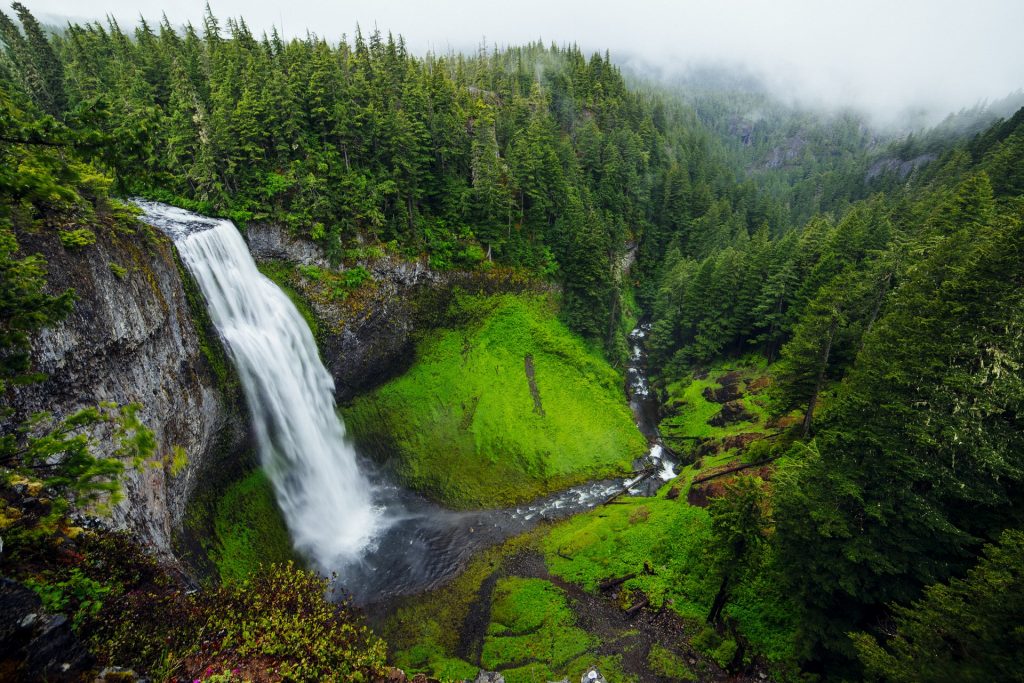 My happy place.
I am happiest when floating.
Home is where the water is.
Relax and enjoy the view.
Get lost in nature and you will find yourself.
Nature never goes out of style.
My definition of beautiful.
Grace is finding a waterfall when you were only looking for a stream.
Untamed
Life is like a waterfall – always moving.
I am like a waterfall – wild and free.
When it rains, it pours.
Happiness comes in rushes.
I am gushing with joy.
Nature's water slide.
Wild, beautiful, and free.
"No one ever steps into the same river twice." – Heraclitus
Catch me by the river.
Always on the move.
Move on.
Great things are over every fall and around every bend.
Life doesn't flow backward.
Leap of faith.
Wild like me.
All good things are wild and free.
There are no shortcuts to any place worth going.
Life is either a daring adventure or nothing at all.
The waterfall is nature's laughter.
The water is calling, and I must go.
"Run wild and free like a waterfall" – A
When water-falls, it flies.
"Do not seek water; get thirst." – 
And so the adventure begins!
Connected
Life is like a waterfall – in the end, we're all one.
"Eventually, all things merge into one, and a river runs through it." – Norman McLean
In one drop of water are found all the secrets of all the oceans.
I find myself in the water.
We start in different places, but we all meet in the ocean.
A river that forgets its source will surely dry up. – Yoruba Proverb
"When the moonlight and the waterfall come together, all other things fade from the scene!" – 
"Water does not resist. Water flows. When you plunge your hand into it, all you feel is a caress." – Margaret Atwood
"It is life, I think, to watch the water. A man can learn so many things." – 
Our lives flow like water in a waterfall.
"Praised be my Lord, for our sister water." – Francis of Assisi
Resilient
"If you are flexible, falling will not hurt you." – Mehmet Murat Ildan
"There's hope at the bottom of the biggest waterfall." – Patrick Ness
"Just keep swimming." – Finding Nemo
Water heals everything.
I'll be your bridge over troubled waters.
Water is where I regain my sanity.
Cry a river. Build a bridge. Get over it.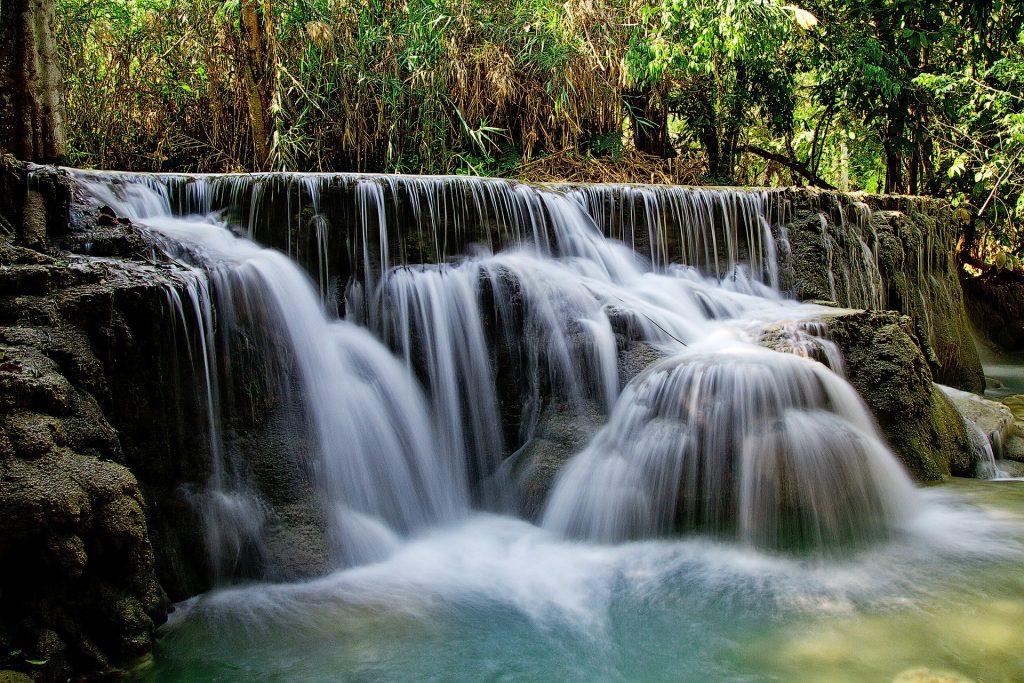 Keep moving, and you'll eventually get over it.
It's all downhill from here.
A river cuts through a rock, not because of its power but because of its persistence. – Jim Watkins
A river always knows where it's going.
I have a therapist; her name is NATURE.
Nature is cheaper than therapy.
"Do not feel sad for your tears, as rocks never regret the waterfalls." – M
"Water is the driving force in nature." – 
Water is the most perfect traveler because when it travels it becomes the path itself.
Humorous
Water you looking at?
I'm falling for you.
Get over it.
Canoe + waterfall = I don't go camping anymore. – Demetri Martin
Hey, water you up to?
You are mist!

Watery waiting for!
This river is too mainstream.
I'm not going to water this down for you.
Aquaholic
Nature's shower.
Good to the last drop.
I really have to get my plumbing fixed.
You don't always get the waterfall shortcut in Mario Kart. That's life. – Jack Barakat
Nature
"You can't cross the sea merely by standing and staring at the water." – Rabindranath Tagore
"Water is the driving force of all nature." – Leonardo da Vinci
There is a waterfall in every dream.
"Water is the perfect traveler because when it travels, it becomes the path itself!" –
"Look with open eyes, and you will see the beauty of the waterfall." – 
"Mist to mist drops to drops. For water thou art, and unto water shalt thou return." – 
Literary
Nature is the art of God. – Dante Alighieri
There's music in water. Brooks babbling, fountains splashing. Weirs, waterfalls, tumbling, gushing. – Julie Andrews
A waterfall is concerned only with being itself, not with doing something it considers waterfall-like. – Vernon Howard
As long as I live, I'll hear waterfalls and birds and winds sing. I'll interpret the rocks, learn the language of flood, storm, and the avalanche. I'll acquaint myself with the glaciers and wild gardens, and get as near the heart of the world as I can. – John Muir
With meditation, I found a ledge above the waterfall of my thoughts. – Mary Pipher
Romance often begins by a splashing waterfall and ends over a leaky sink. – Ellen DeGeneres
Experiencing the present purely is being empty and hollow; you catch grace as a man fills his cup under a waterfall. – Annie Dillard
Young leaves, the sound of a waterfall, heard from far and near. – Yosa Buson
A strong person and a waterfall always carve their own path.
The waterfall winks at every passerby.
Once we have tasted far streams, touched the gold, found some limit beyond the waterfall, a season changes, and we come back changed but safe, quiet, grateful. – William Stafford
You don't have the power to make rainbows or waterfalls, sunsets or roses, but you do have the power to bless people by your words and smiles You carry within you the power to make the world better. – Sharon G. Larsen
My mind is a raging torrent, flooded with rivulets of thought cascading into a waterfall of creative alternatives. – Mel Brooks
God is discovered entirely through creation – the brilliance of a sunset, the powerful roar of a waterfall, the symphony of sounds you hear in the heart of the forest, or the vastness of space and its countless stars. – Benjamin F Sullivan
More Literary
"Once we have tasted far streams, touched the gold, found some limit beyond the waterfall, a season changes, and we come back changed but safe, quiet, grateful." – William Stafford
"Sometimes, it's hard to tell how fast the current's moving until you're headed over a waterfall." – Kimberly McCreight
"… the river is everywhere at once, at the source and at the mouth, at the waterfall, at the ferry, at the rapids, in the sea, in the mountains, everywhere at once, and that there is only the present time for it, not the shadow of the past, not the shadow of the future." – Hermann Hesse
"They say that people who live next to waterfalls don't hear the water." – Jonathan Safran Foer
"There is a waterfall in every dream. Cool and crystal clear, it falls gently on the sleeper, cleansing the mind and soothing the soul." – Virginia Alison
"Water is the perfect traveler because when it travels, it becomes the path itself!' — Mehmet Murat ildan
"Emerald slopes became so tall they touched the clouds, and showers painted diamond waterfalls that sluiced down cliff sides." – Victoria Kahler
"And when you hear the sound of the waterfall coming nearer and nearer, tidy up the boat, put on your best tie and hat, and smoke a cigar right up till the moment you go over. That's a triumph." – Ray Bradbury
"As long as I live, I'll hear waterfalls and birds and winds sing." – John Muir
"I shift an infinitesimal movement towards him. It is like the leap from a waterfall. I do not know, until then, what I am going to do." – Madeline Miller
"Then something Tookish woke up inside him, and he wished to go and see the great mountains, and hear the pine-trees and the waterfalls, and explore the caves, and wear a sword instead of a walking-stick." – J.R.R. Tolkien
"Many a calm river begins as a turbulent waterfall, yet none hurtles and foams all the way to the sea." – Mikhail Lermontov
"For an instant, silence, noisier than a waterfall." – Salman Rushdie
"Mountain-rose petals, Falling, falling, falling now…Waterfall music — Matsuo Basho
"I need waves. I need waterfalls. I want rushing currents." – Tahereh Mafi
"Do not feel sad for your tears as rocks never regret the waterfalls — Munia Khan
My desert soul erupts with turquoise water, floods and cascades and waterfalls rushing in around my rocky parts, pushing and reshaping and filling every hidden dark spot." — Kiersten White
"There is a hidden message in every waterfall. It says, if you are flexible, falling will not hurt you! — Mehmet Murat ildan
"I feel like water that transforms from a flowing river to a tranquil lake to a powerful waterfall to a freshwater spring to a meandering creek to a salty sea to raindrops gentle on your face to hard, stinging hail to frost on a mountaintop, and back to a river again." — María Virginia Farinango
Waterfall Thoughts
"I keep my kindness in my eyes
Gently folded around my iris
Like a velvety, brown blanket
That warms my vision
I keep my shyness in my hair
Tucked away into a ponytail
Looking for a chance to escape
On a few loose strands in the air
I keep my anger on my lips
Just waiting to unleash into the world
But trust me; it's never in my heart
It evaporates into words
I keep my dignity upon my chin
Like a torch held up high
For those who have betrayed me
Radiating a silent, strong message
I keep my gratitude in my smile
A glistening waterfall in the sun
Gently splashing at that person
Who made me happy for some reason
I keep my sensitivity in my hands
Reaching out for your wet cheek
Holding you, with all the love
The love I want to share and feel
I keep my passion in my writing
My words breathing like fire
Screeching against an endless road
As I continue to be inspired
I keep my simplicity in my soul
Spread over me like a clear sky
Reflecting all that I am
And all that's ever passed me by
And I hope you will look
Beyond my ordinary face
My simple, tied hair
My ordinary tastes
And I hope you will see me
From everyone…apart
As I keep my beauty
in my heart."
― Sanober Khan
Hashtags
Here are some popular and relevant waterfall hashtags for your perfect waterfall caption, which can help increase your followers and number of likes.
#chasingwaterfalls
#wanderlust
#waterfallphotography
#waterscape
#waterfalllovers
#travelphotography
#naturelover
#adventuretime
#scenic
#naturelovers
#beautifulnature
#adventurer
#earthoutdoors
#explorenature
#naturevibes
#waterfalling
#waterfallhunting
#naturejunkie
#bestwaterfalls
#waterfallselfie
Now, if only you could find a caption that says you're carefree but determined, spirited but zen, and wild but responsible. I guess you'll have to post a few more pics to get the message across.
You can't have a waterfall in your home – or can you? Check out this beautiful and highly-reviewed cascading tabletop fountain – a classy way to bring the beauty of the waterfall to your table, desk, counter, or shelf.
We've got the nature-themed captions you need for your Instagram feed!
If you're a water lover, you'll also enjoy these beach captions for Instagram as well as these swimming and pool captions!
Are you going to see the animals? You'll want our list of Instagram captions for the zoo.
If you're pining for the fjords, it's our list of Iceland captions for Instagram that you want.
As the sun goes down, check out our list of Instagram captions for sunsets.
It's a winter wonderland with our list of Instagram captions for wintertime.
If you're 'gramming for the holidays, be sure to see our list of Instagram captions for Memorial Day.
Here we have some beautiful happy Sunday quotes for your family.
Of course, we have a lovely collection of mountain captions for Instagram.
Are you getting Fido his 15 minutes of fame? Be sure to capture that with Instagram captions that capture your dog's personality.
Running fans will love our Instagram captions for runners.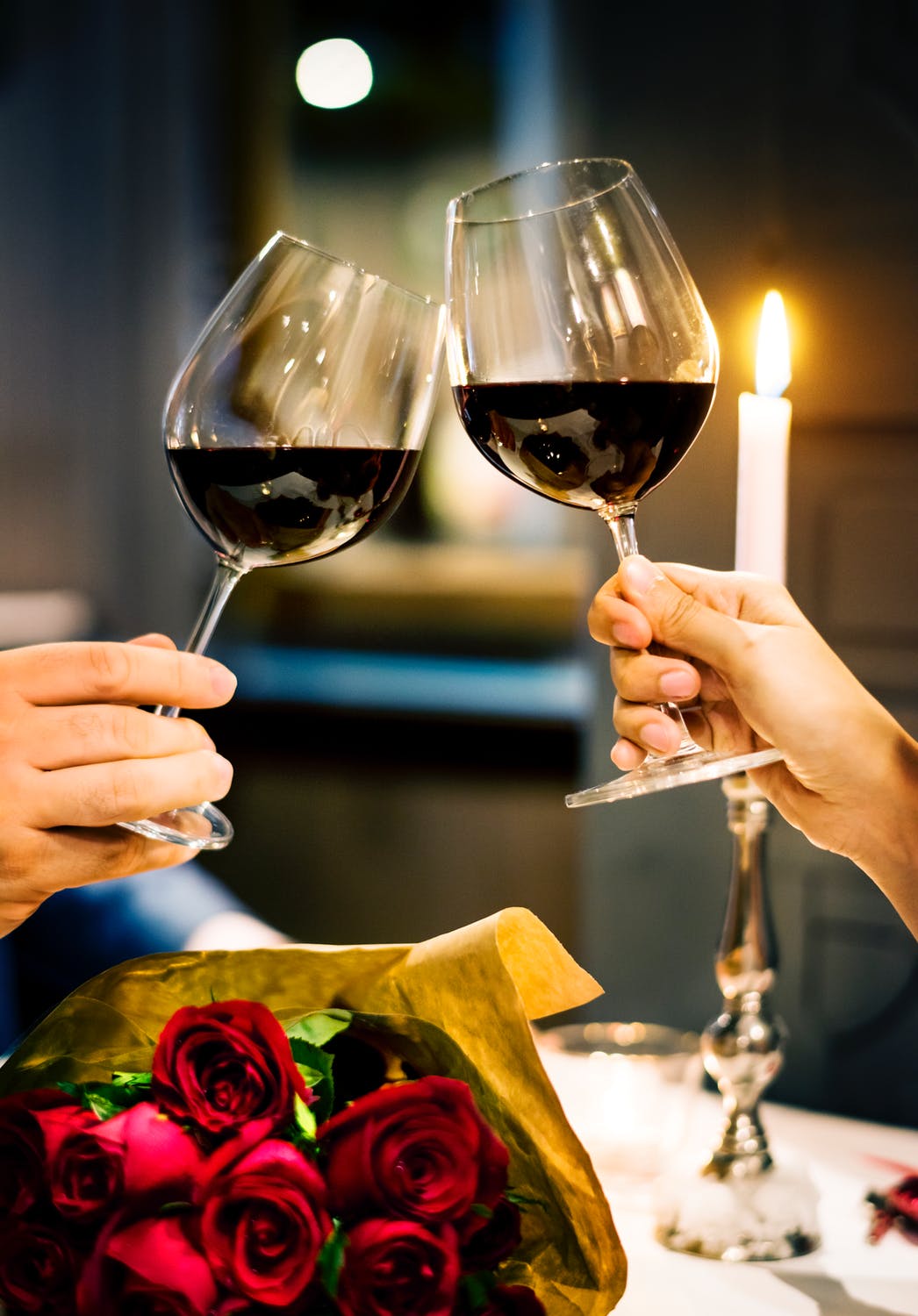 Anniversaries are milestones in every relationship, and they always call for a celebration. During anniversaries, couples find it a perfect occasion to express their feelings and rekindle their love and passion as another year unfolds. In the world of social media, we often find couples share photos and posts about their relationship. It's a perfect way of shouting to the world how much they love each other.
As one of the world's leading social media platform, Instagram has the ability to share multiple photos and videos with lovely filters. Thus, it is an ideal platform for sharing important milestones like anniversaries, birthdays, weddings, and any other special occasions.
Anniversaries are a special kind of milestone, one observes love growing and becoming more and more wonderful with the passing of the years. When you post that Instagram snap or video of you and your special someone, you want a caption that is just as special. Here are some cute, funny, romantic, and sweet Instagram captions to inspire you.  Surely you'll find just the perfect caption that will help you express how you feel about your partner!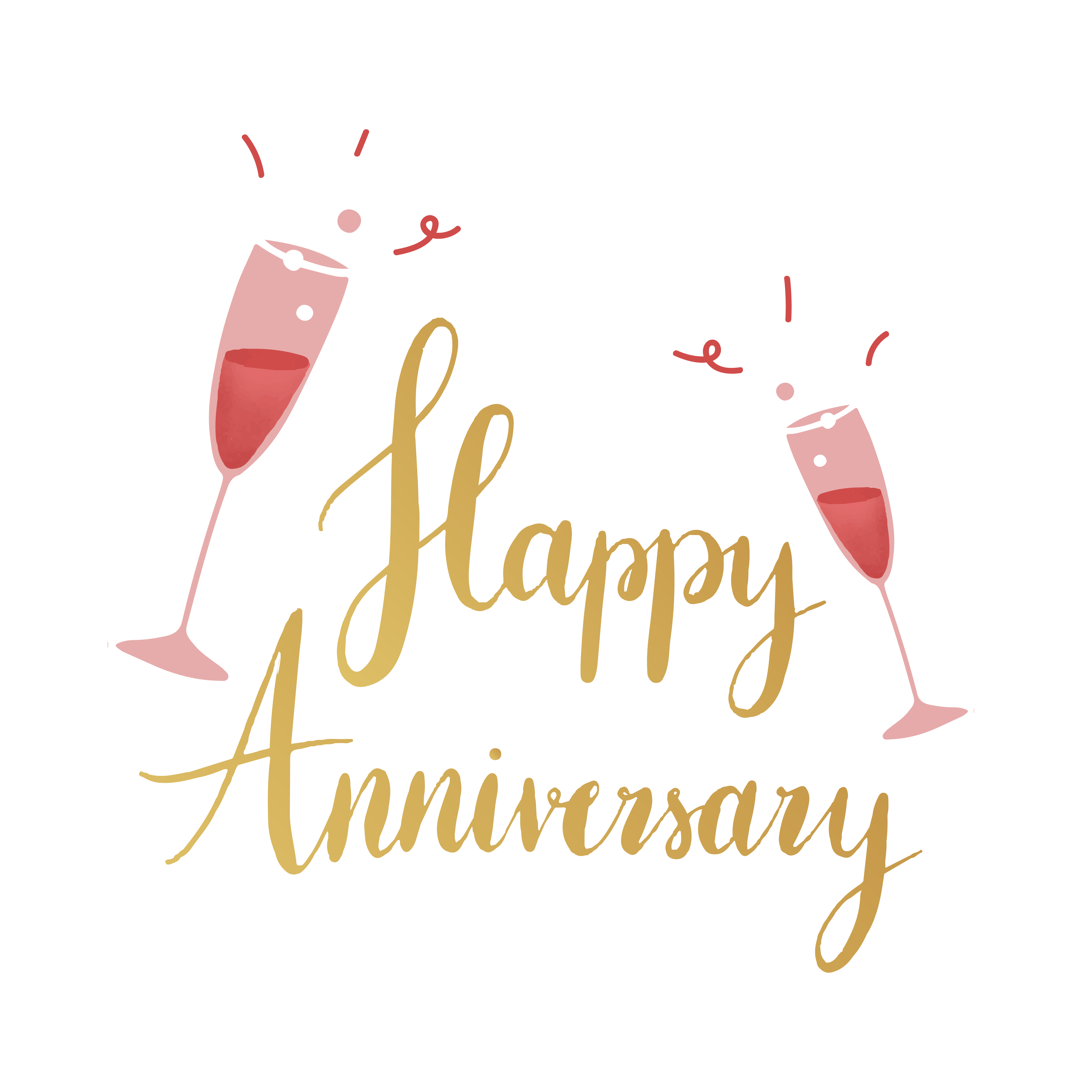 First Year
The first year of a relationship or marriage is always the most special.  Chances are good that you've been through a lot- the good, the bad, the discoveries, and you've made a bunch of memories along the way.  These quotes help celebrate a full year of love.
One year, 365 opportunities.
One year down, forever to go.
This year, I laughed a little harder, cried a little less, and smiled a lot more, because of you.
The first of many years to come.
One year ago you kissed me goodnight for the first time.
Thank you for 365 days of smiles.
This has been the luckiest year of my life.
Oh, the adventures we had in one year! Can't wait for more.
Marriage
After being married for awhile, couples tend to become… shall we say, "quirky?"  These captions can celebrate your unique relationship with each other.
OMG, we're still married?!
You might call me crazy, but I'm not the one who married me.
Turns out I kind of like having you around.
Today we celebrate the best decision you ever made.
Congratulations on another year of losing arguments to me.
Happy anniversary! We've been through a lot together, and most of it was your fault.
Today we celebrate another year of you surviving me.
"Whatever our souls are made of, yours and mine are the same." – Emily Brontë
Happiness is only real when shared.
Well, we made it another year without one of us ending in jail.
It's remarkable how love we've tolerated each other.
Here's to keeping our shit together for another year!
Thinking of my life without you makes me think of a calm life. But that would be so boring. Happy Anniversary!
No One Else
One of the best ways to make your partner feel loved is by announcing to the world that there's not another soul you'll love as much as them. The best feeling is to know that someone loves you like no one else. Your anniversary is the perfect time to be sweet and romantic.
My favorite place in the world is next to you.
When I first met you, I didn't realize how important to me you would become.
You stole my heart- please keep it.
And suddenly, all of the songs were about you.
You're my addiction.
After all this time, nothing else warms me like your smile.
We are two souls with a single mission.
My heart only beats for you.
If I had my life to live over again, I would find you sooner.
Loved you yesterday, love you still, always have, always will.
Forever is a long time, but I wouldn't mind spending it with you.
In all the world, there is no heart for me like yours. In all the world, there is no love for you like mine." – Maya Angelou
"There is nothing more admirable than when two people who see eye to eye keep house as man and wife, confounding their enemies and delighting their friends." – 
"A good marriage is where both people feel like they're getting the better end of the deal." – 
After all this time, you are still amazing to me. You will always be. Happy anniversary.
You will always be my forever.
Through Love's Eyes
These captions are perfect for those super-mushy, emotional posts. After all, anniversaries are those days when lovers feel overwhelmed with all the passion they feel for each other.
You make the good things in life greater.
So many smiles have begun with you.
Your smile kick starts all my own.
There are so many reasons to be happy, but you're my favorite.
You have shown me what true love is. I never want to lose you. You are the sunshine of my life.
Happy anniversary to the person I want beside me every day of my life.
In all the world, there's no heart for me like yours.
Everyday I discover that I love you even more.
You are my best friend, my human diary, and my other half.
"To be fully seen by somebody, then, and be loved anyhow – this is a human offering that can border on miraculous." – E
You are the poem I never knew how to write, and this life is the story I've always wanted to tell.
Transformations
Being in a relationship requires commitment, trust, loyalty, communication, and compromise.  Sometimes, a little love is just what's needed to make you feel whole. Finding the right person for you transforms your heart to make it whole.
In each year we've been together, you've somehow made me a better and better person.
I'm so much more me when I'm with you.
Your heart is beautiful and it made mine beautiful too.
I'm lucky to have fallen in love with you. You changed my life more than I could ever have asked for.
"As we grow older together,  as we continue to change with age, there is one thing that will never change… I will always keep falling in love with you." – Karen Clodfelder
Change is good, especially when you learn to change together.
"Become the kind of person the kind of person you would like to marry would like to marry." – 
With you by my side, my life became so beautiful.
Thank you for coming into my life and making me happy and smile like crazy.
The day my life changed forever was the day I first saw you.
I can't imagine what my life would have been like if I hadn't met you.
To the Future
What's better than this anniversary?  Your next anniversary!  Looking to the future is a way to cement for your partner that you will always be together.
"I never want to stop making memories with you." – Pierre Jeanty
"You are my today and all of my tomorrows." – Leo Christopher
"Grow old with me; the best is yet to be." – Robert Browning
"Real love stories never have endings." – Richard Bach
Forever sounds nice next to you.
When our lips touch, it feels like the rest of my life.
I would say that I couldn't love you more than I do right now, but I know I will tomorrow.
We deserve a happy ending to every day, every month, and every year.
Everything I've never done, I want to do with you.
"Love grows more tremendously full, swift, poignant, as the years multiply." – Zane Grey
I'm done. I don't need anything more out of life. I have you, and that's enough.
"If I know what love is, it is because of you." – Herman Hesse
I just want to thank you for being my reason to look forward to the next day.
Keeping it Simple- Hashtag Style
Sometimes, you just want to leave things to the imagination, especially in public.  These quick hashtags let everyone know how you feel… without giving away the sordid details.
#youandme
#illneverletgo
#Thebest
#mylove
#loveisperfect
#loveisreal
#myforever
#happyanniversary
#iwakeupwiththis
#bae
#happyloveday
#myonetruelove
#bestanniversaryever
#iloveyou
Putting In the Effort
A relationship is never easy, and when you celebrate your anniversary, it's important to be honest with how important it is that you both put in the effort to make your love last.
"We're gonna have to work at this everyday, but I want to do that because I want you." – Nicholas Sparks
"If I get married, I want to be very married." – 
"The best I can ask for is that this love, which has been built on countless failures, will continue to grow." – 
"To keep your marriage brimming, with love in the wedding cup, whenever you're wrong, admit it; whenever you're right, shut up." – 
"Love without sacrifice is like theft" – 
"Love is an act of endless forgiveness; a tender look which becomes a habit." – 
"Marriage is a partnership, not a democracy." – 
"Love seems the swiftest, but it is the slowest of all growths. No man or woman really knows what perfect love is until they have been married a quarter of a century." – 
"When you give each other everything, it becomes an even trade. Each wins all." – 
Making a Little Fun
You can't be serious all the time- even in a relationship!  Having a little fun on your anniversary is perfect if you and your partner have silly personalities.  What a great time to remember all the good times!
"Some people claim that marriage interferes with romance. There's no doubt about it. Anytime you have a romance, your wife is bound to interfere." – 
"Marriage is a fine institution, but I'm not ready for an institution." – 
"Do you know what it means to come home at night to a woman who'll give you a little love, a little affection, a little tenderness? It means you're in the wrong house, that's what it means." – 
"An archaeologist is the best husband a woman can have. The older she gets, the more interested he is in her." – 
"I was married by a judge. I should have asked for a jury." – 
"I am" is the shortest sentence in the English language. And "I do" is the longest.
"My wife and I were happy for twenty years. Then we met." – 
"Bigamy is having one wife too many. Monogamy is the same." – 
"I love being married. It's so great to find that one special person you want to annoy for the rest of your life." – 
"They say all marriages are made in heaven, but so are thunder and lightning." – 
"Keep your eyes wide open before marriage, half shut afterwards." – 
"Not only is love blind, it's a little hard of hearing." – 
Love Analogies
Maybe your love reminds you of something sweet… or perhaps something savory!  Whether you want to hint at anniversary dinner, or comment on the perfect pair that you are, these analogies can do the trick!
We go together like cupcakes and frosting.
We go together like milk and cookies.
We go together like pepperoni and cheese.
You are the salt to my pepper.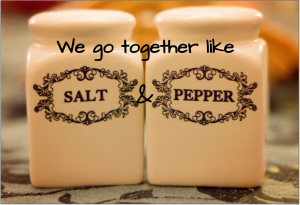 You are the bacon to my eggs.
You are the Chandler to my Monica.
You are the cheese to my macaroni.
You are the salsa to my chips.
You are the charger to my smartphone.
It's Just about Love
What's love, if not a joining of two souls?  Well, a lot, actually, but the celebration of a deep and true love is always a glorious occasion!
"For it was not into my ear you whispered, but into my heart. It was not my lips you kissed, but my soul." – Judy Garland
"Love one another but make not a bond of love: Let it rather be a moving sea between the shores of your souls." – Kahlil Gibran
Love's about finding the one person who makes your heart complete.
The only way love can last a lifetime is if it's unconditional.
Love and Marriage Quotes
When you've got a love that's stood the test of time, you might want to share your advice and thoughts with others. Thankfully, these famous quotes have done the hard part for you.  Now you just need to quote them warmly and accurately on your Instagram post!
"The point of marriage is not to create a quick commonality by tearing down all boundaries; on the contrary, a good marriage is one in which each partner appoints the other to be the guardian of his solitude, and thus they show each other the greatest possible trust." — Rainer Maria Rilke
"And she's got brains enough for two, which is the exact quantity the girl who marries you will need." — P.G. Wodehouse
"When in a relationship, a real man doesn't make his woman jealous of others, he makes others jealous of his woman." — Steve Maraboli
"It is a truth universally acknowledged, that a single man in possession of a good fortune, must be in want of a wife." — Jane Austen
"Happiness [is] only real when shared." — Jon Krakauer
"You can measure the happiness of a marriage by the number of scars that each partner carries on their tongues, earned from years of biting back angry words." — Elizabeth Gilbert
"After all these years, I see that I was mistaken about Eve in the beginning; it is better to live outside the Garden with her than inside it without her." — Mark Twain
"A short story is a love affair, a novel is a marriage. A short story is a photograph; a novel is a film." — Lorrie Moore
"Is not love not unlike the unlikely not is is unlikened to?"  Leon Phelps
"I want all of you, forever, everyday. You and me… everyday." — Nicholas Sparks
"It is not a lack of love, but a lack of friendship that makes unhappy marriages." — Friedrich Nietzsche
"I ask you to pass through life at my side—to be my second self, and best earthly companion." — Charlotte Brontë
"You know it's never fifty-fifty in a marriage. It's always seventy-thirty, or sixty-forty. Someone falls in love first. Someone puts someone else up on a pedestal. Someone works very hard to keep things rolling smoothly; someone else sails along for the ride." — Jodi Picoult
"Tell him yes. Even if you are dying of fear, even if you are sorry later, because whatever you do, you will be sorry all the rest of your life if you say no." — Gabriel García Márquez
"I love you more than I hate everything else." — Rainbow Rowell
"To say that one waits a lifetime for his soulmate to come around is a paradox. People eventually get sick of waiting, take a chance on someone, and by the art of commitment become soulmates, which takes a lifetime to perfect." — Criss Jami
"Stand together, yet not too near together: For the pillars of the temple stand apart, And the oak tree and the cypress grow not in each other's shadow." — Kahlil Gibran
"By all means marry; if you get a good wife, you'll become happy; if you get a bad one, you'll become a philosopher." — Socrates
"Be thine own palace, or the world's thy jail." — John Donne
"Sometimes I wonder if men and women really suit each other. Perhaps they should live next door and just visit now and then." — Katharine Hepburn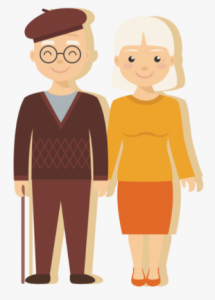 Hopefully these quotes and sayings will put you and your special someone in a romantic mood! We have other articles here at TechJunkie with captions for lovers – captions for your boyfriend, for couples, and – if things didn't work out – we even have captions for your ex.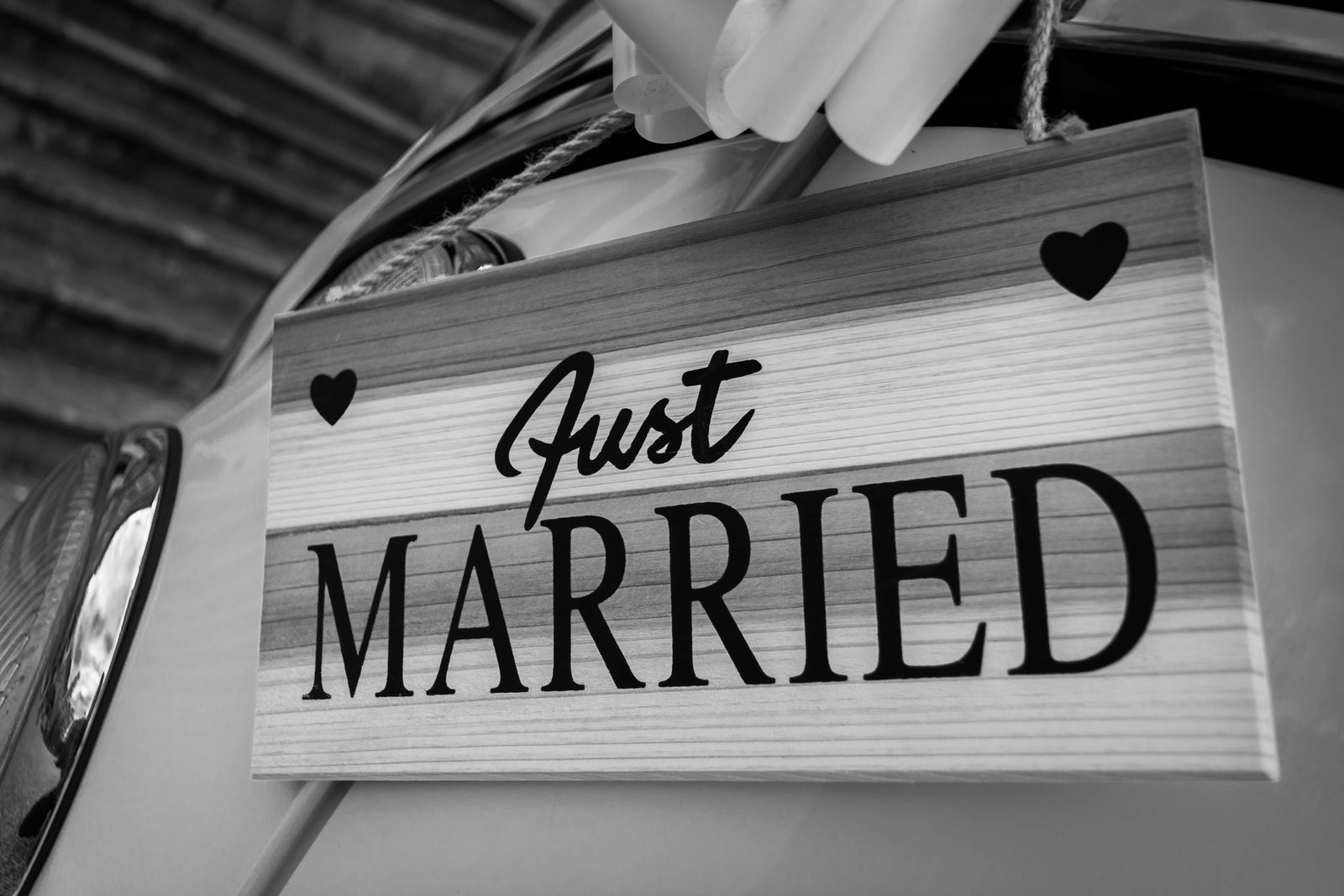 Few moments in life are sweeter than the moment when your beloved asks you to be their spouse, or the moment when your beloved says yes to your offer of marriage. Deciding that this is the person you want to spend the rest of your life with is a deeply significant event, and from the moment someone says "yes", your lives change forever. The coming months will be full of preparation and work, as you choose a venue, a date, and plan the event.
It's no surprise that many of us want to memorialize this special time in our social media feeds. Whether it's a post on Facebook or a story on Instagram, sharing this day with the people most important to us is a natural thing to do. You may even want to share every step of your journey with those closest to you. If you're looking to share the journey from engagement to marriage with your friends and followers on Instagram but you're having a difficult time coming up with good captions for your moments, we've got you covered.
Engagement Announcements
Announcing your engagement on social media is the easiest way to spread the news about your pending nuptials—or at least, it's easier than calling all your distant relatives to let them know. Posting on Instagram allows you to select multiple photos or videos in one post, share directly to other networks like Facebook and Twitter, and most importantly, include a caption to further explain your pictures. If you're looking for a cheeky caption to add onto your engagement announcement, or just want some ideas for what you could say, check out some of these captions below to really make your engagement post pop!
Does this ring make me look engaged?
Little things make big days.
Pop the champagne; I'm changing my last name.
We've decided on forever.
(S)he just got real.
Still falling for you, even harder than before.
He stole my heart, so I'm going to steal his last name.
And so, our adventure truly begins here.
Two souls, one heart.
He asked. I said "about time."
Finally, he put a ring on it!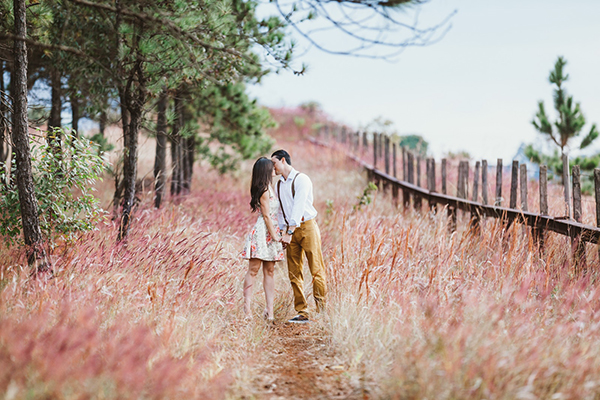 Keep calm, and put a ring on.
When I said I DO, I didn't mean laundry.
Pop the bubbly; I'm getting a hubby.
Level up.
Diamonds are forever, and so is this love.
The next stage of our life.
Dreams do come true. I found you.
Two less fish in the sea; one more lock and key.
I couldn't pick a weirder, more lovable person to spend the rest of my life with.
In the end, (he/she/they) was always the one for me.
Engagement is just trying to find someone with the same weirdness as you.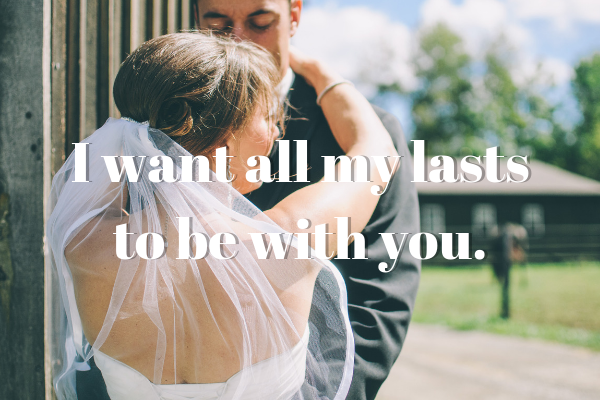 The greatest thing you'll ever learn is just to love and be loved in return.
True love stories never have endings but they have beginnings.
I want all of my lasts to be with you.
Engagement marks the end of a whirlwind romance and beginning of an eternal love story.
I cannot think of a reason not to ask you to marry me when I am filled with love for you.
When you realize you want to spend the rest of your life with somebody, you want the rest of your life to start as soon as possible.
My name sounds even cuter with your last name added to it.
Bridezilla? Who, me?
Wedding Sentiments
Once the big day arrives, you'll want some captions to mark the occasion. You're gonna have dozens of photos from the day, and you'll need some captions in order to properly post the images online. Whether it's of you and the love of your life, you and your bridesmaid or groomsmen, the wedding party in general, or candid photos and snapshots of your guests, you'll want to make sure you have a caption for every occasion. Here are some of our favorite wedding and marriage-themed captions. (And here are some general love captions.)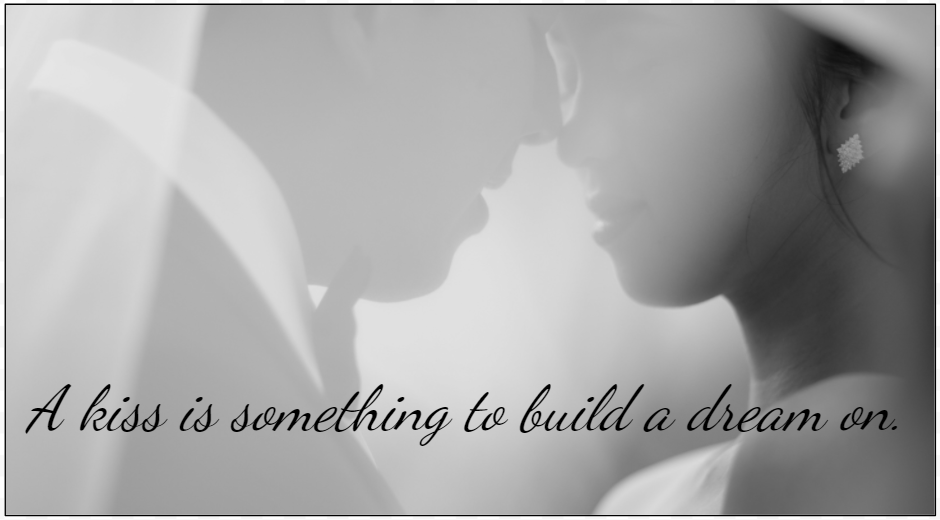 And the adventure continues…
Ready to get wed, white, and boozed with the love of my life.
Here's to love, laughter, and happily ever after.
Together is a beautiful place to be.
The best is yet to come.
And in one moment, our hearts become one.
A kiss is something to build a dream on.
My mother told me to pick the very best one, and I did.
I want the kind of marriage that makes our kids want to get married.
With my whole heart for my whole life
I found the one whom my soul loves.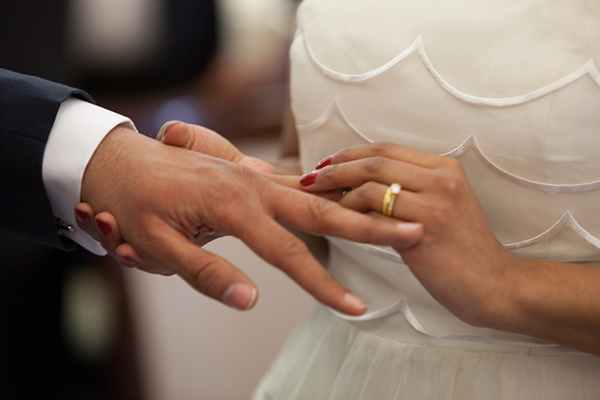 Achievement unlocked: Together Forever.
Every love story is beautiful, but ours is the best one.
I can't think of anyone I would want to spend my life with more than you.
I'll be there from when you wake up to when you lie your head down to rest.
You were love at first swipe.
Guess I'm living with a boy now.
The highest happiness on earth is marriage.
This photo was taken before I started crying.
Anyone can catch your eye, but it takes someone special to catch your heart.
Love is just a word until someone comes along and gives it meaning.
For it was not into my ear you whispered, but into my heart.
Starting Your Family Together
One of the best things about getting married is getting to start your own family with the person you love. How you do that is up to you—having kids, moving to a new location, or simply enjoying life together through work, vacation, weekends and more. Whatever you choose to make your family out of, consider some of these family-based captions for your wedding photos as a way to announce the world that you and your new partner have emerged as a team. (Ready to start celebrating your anniversaries? Check out these anniversary captions for Instagram.)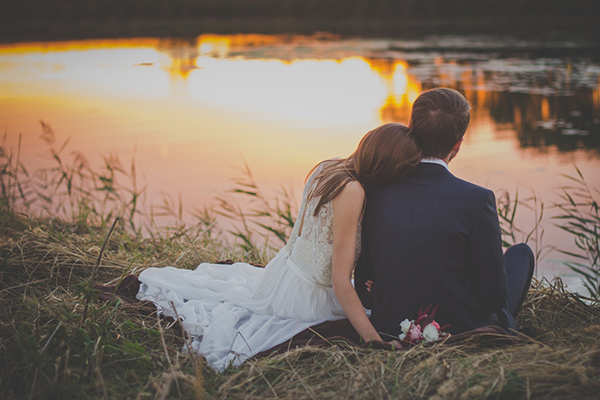 Together we make a family.
You are the family I choose.
Family: we may not have it all together, but together we have it all.
Families are like fudge: mostly sweet with lots of nuts.
You call it chaos; we call it family.
Sip, sip, hooray!
Family is like music; there are some high notes and some low notes, but it's always a beautiful song.
Happy marriages begin when we marry the ones we love, and they blossom when we love the ones we marry.
Walked down the aisle and started my forever.
To Your Special Someone
Dedicating your captions to the institution of marriage is great, but if you want to make it a little more personal, you can use this opportunity to dedicate your special day to your partner in crime, the person you love enough to spend the rest of your life with. After all, marriage isn't about the wedding itself but the promise you make to each other to spend the rest of your lives with one another.
We go together like cake and icing.
You are my today and all of my tomorrows.
Home is wherever I'm with you.
My love for you is a journey; starting at forever and ending at never.
Thank you for reminding me what butterflies feel like.
You are the butter to my bread.
I want to live my life with you.
My favorite fairytale is our love story.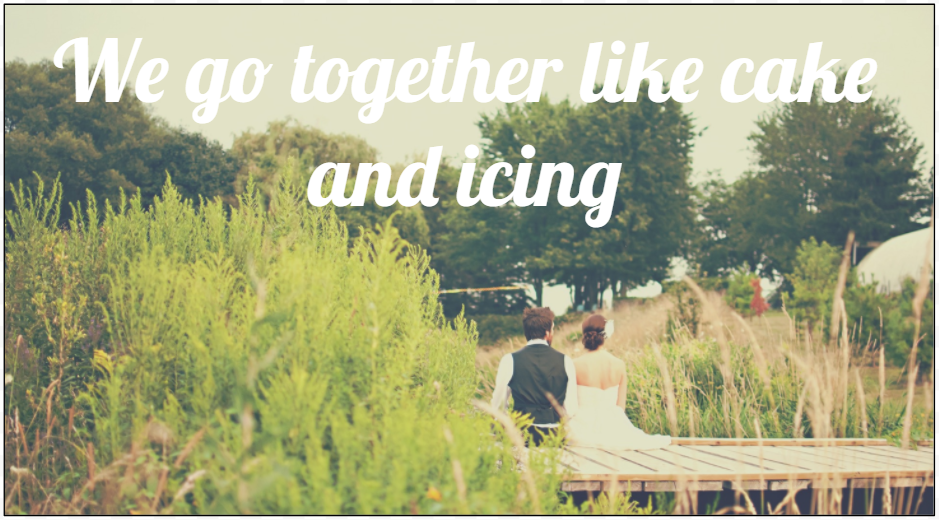 With you, I've forgotten my problems and learned to embrace love.
Meet my partner in crime, the love of my life.
I feel like everything in my life has led me to this, right now and right here.
I hope for as long as we stay together, that I always remain someone you wish to love relentlessly.
For the first time, I see what the rest of my life looks like. And it looks a lot like you.
Every love story is beautiful, but ours is my favorite.
I can't imagine not standing here right now, in this moment, holding your hand, waiting for the rest of our lives to start.
A successful marriage requires falling in love many times, always with the same person.
Literary Love
Standard captions are great, but punctuating an image or video with a famous quote about love truly helps to make your special moment feel a bit more elevated than any old quote. Here's a few of our favorites from some of the best literature, poetry, and songs to date. (And here are some more Instagram captions for couples.)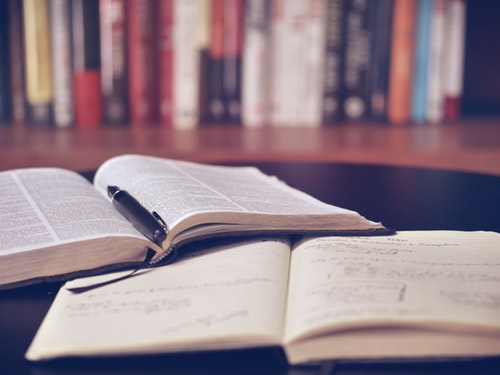 "I love you and that's the beginning and end of everything." – F. Scott Fitzgerald
"Any day spent with you is my favorite day." – A.A Milne
"The minute I heard my first love story, I started looking for you." – Rumi
"Love is composed of a single soul inhabiting two bodies." – Aristotle
"You know I dreamed about you for twenty-nine years before I saw you." – The National
"It's so great to find that one special person you want to annoy for the rest of your life." – Rita Rudner
"Now join your hands, and with your hands you heart." – William Shakespeare
"I swear I couldn't love you more than I do right now, and yet I know I will tomorrow." —Leo Christopher
"Can we always be this close forever and ever?" – Taylor Swift
"Love is the master-key that opens the gates of happiness." – Oliver Wendell Holmes
"To love and to be loved is to feel the sun from both sides." – David Viscott
"Whatever our souls are made of, his and mine are the same." – Emily Brontë
"Grow old with me! The best is yet to be." – Robert Browning
 ***
Your wedding day—and your engagement, for that matter—are all special moments in your life, so we hope that some of these captions helped to established the right mood and tone for your photos and videos showing off your love for the person you were lucky enough to marry. Whether you're looking for something funny, sweet, loving, or somewhere in the middle of all three, we hope our guide to marriage captions for Instagram helped you make the perfect post. Which of the captions on the list were your favorites? Let us know in the comments below, and make sure to check back for new captions every so often!
n love but not yet at the wedding stage? Try these love captions for Instagram.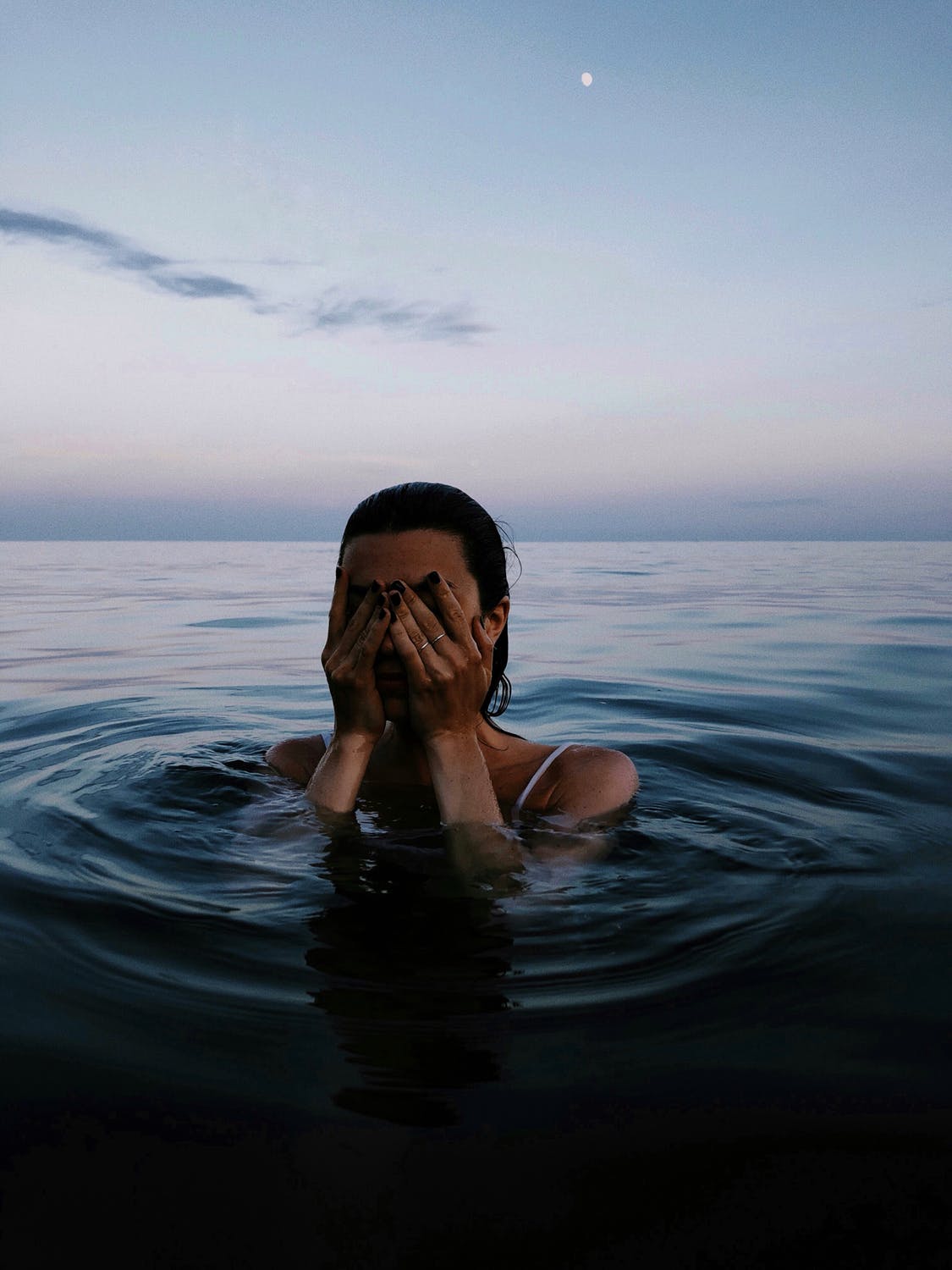 Planning to spend more time in (or near) the water this year? Well, then, you're going to be having a lot of fun taking pictures of yourself and your friends at pool and beachside! And of course those hot snaps are going to need some hot captions to go with them. After all, how will you show your friends how much fun and sun you're getting if you don't post a few well-captioned pics? Consider one of the following to match your summer swimming style.
On the Beach
Great vibes on the tides.
The land of endless summer.
I need vitamin Sea.
Seek to sea more.
How do you get a beach body? Go to the beach!
Beach please!
Resting Beach face,
B.E.A.C.H (Best Escape Anyone Could Have)
The ocean is calling and I must answer.
Stay salty.
By the Pool
Life is cool by the pool.
Home is where the pool is.
Life is better by the pool.
I'm one pool kid.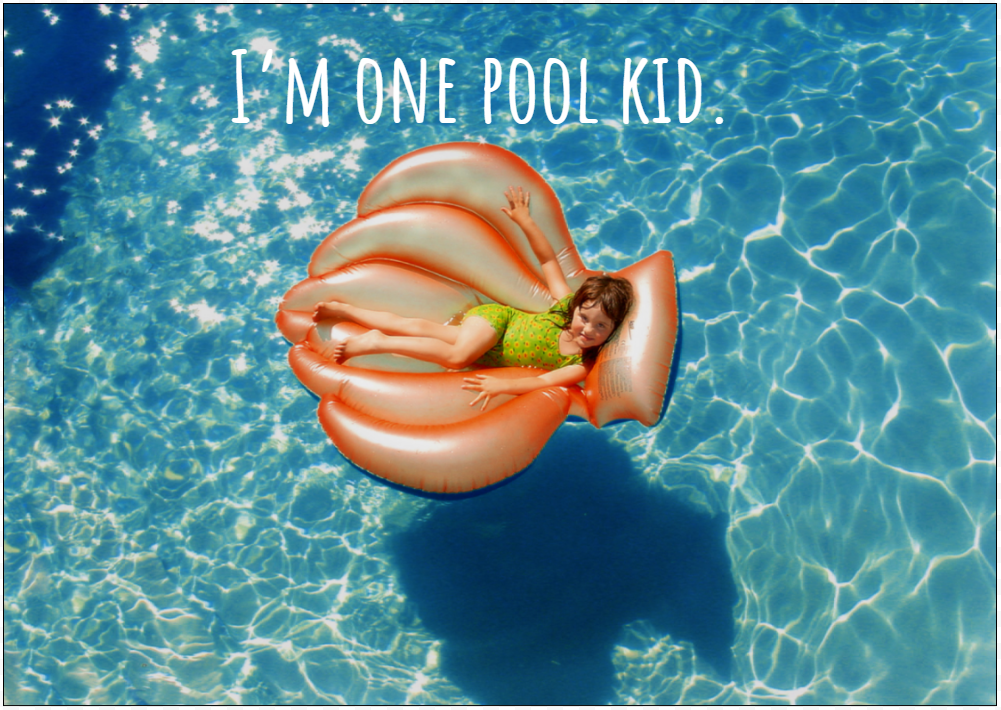 Chlorine is my perfume.
The best sunrises are over swimming pools.
Swimmers rule in the pool.
Splashing
A splashing good time!
A splishin' and a splashin'!
Splashtastic!
Splashing the day away.
Splash Zone
Mermaids
Be a mermaid and make waves.
There are a million fish in the sea, but I'm a mermaid.
Mermaid off-duty.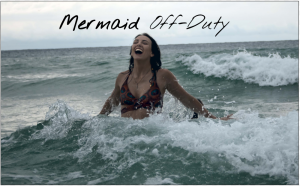 Drink like a pirate. Dance like a mermaid.
Mermaid kisses and starfish wishes.
You are mermazing!
Pretty sure I was a mermaid in my past life.
Swimming Enthusiasm
Just keep swimming.
Just dive in.
You never regret a swim.
Oxygen is overrated.
Aquaholic
We swim not to escape life, but so that life doesn't escape us.
I swim therefore I am.
Be the fish.
I don't come from the sea, but I live in the water.
Back in the swim of things.
Forget the glass slippers – this princess wears flippers.
Penguins have so much fun time in the water, they don't even want to fly!40
Swimming Therapy
You're only one swim away from a good mood.
All my troubles wash away in the water.
Keep calm and swim on.
Swimming is my therapy.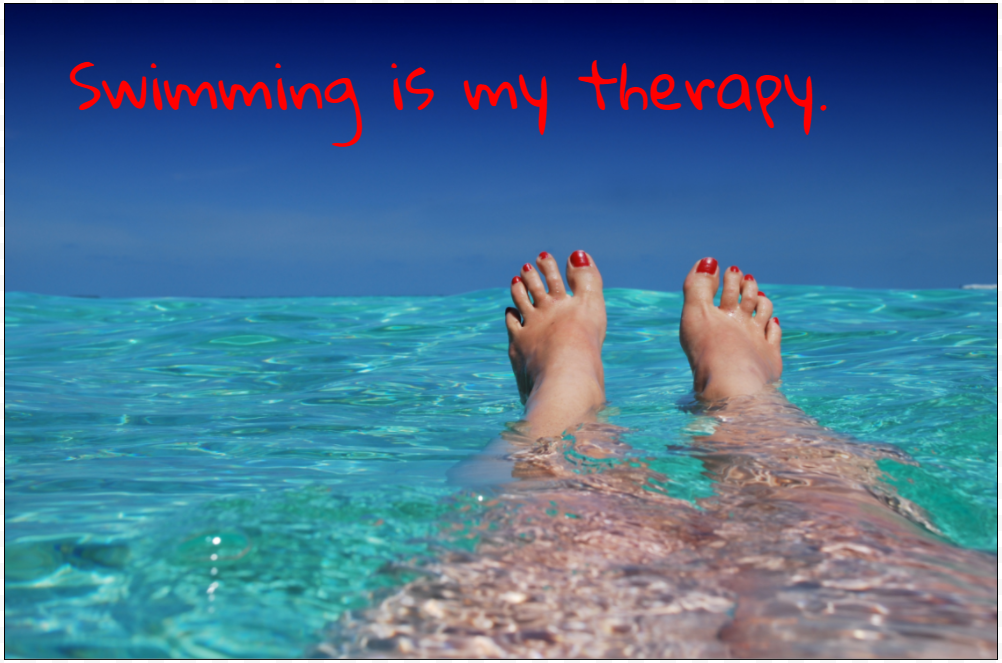 Water is purifying.
In the water, my body becomes a river.
The ocean cleanses the body and frees the mind.
Swimming is cheaper than therapy.
An ocean breeze puts a mind at ease.
Swimming is dancing under the water.
River Swimming
You don't swim in a river – it takes you places.
Rivers know there isn't any hurry.
Every time you swim in a river, it's a brand new experience.
Rivers take my troubles downstream.
Rivers are nature's way of saying, "Let go."
Scuba Diving
In my other life, I was a fish.
I breathe easier down here.
Take only pictures. Kill only time. Leave only bubbles.
Dive for the ultimate peace of mind.
Just call me Jacques Cousteau.
No grit, no pearl.
The only good suit is a wet suit.
Competitive Swimming
If you have a lane, you have a chance.
Want seconds? Follow me!
Building a tradition one stroke at a time.
Real athletes swim – the rest play games.
In the water, your only enemy is the clock.
Eat my turbulence.
Eat my bubbles.
Motivational Quotes
"Make each day your masterpiece." – John Wooden
"Being happy outside the pool means fast swimming in the pool." – Eric Shanteau
"For the woman who swelters in her kitchen or lolls in a drawing room, for the man who sits half his life in an office chair, an occasional swim does as much good as six months' vacation." – 
"The man who is swimming against the stream knows the strength of it." – Woodrow Wilson
"When you walk in the mountains or swim in the sea, again, you set yourself free." – 
"The water doesn't know how old you are." – Dara Torres
"Some fish love to swim upstream. Some people love to overcome challenges." – Amit Ray
"Swimming is simply moving meditation." – 
"Swimming is my salvation." – 
"We'll figure this out, I promise. I won't let you sink." – 
"Seventy-five percent of the world is water. Can you swim?" – 
"I ache to swim again. Walking's for mammals." – 
"The key to success―keep swimming." – 
"Most men will not swim before they are able to." – 
Ocean Quotes
"There's nothing more beautiful than the way the ocean refuses to stop kissing the shoreline, no matter how many times it's sent away." – 
"I am the shore and the ocean, awaiting myself on both sides." – 
"Those who live by the sea can hardly form a single thought of which the sea would not be part." – 
"Your heart is like the ocean, mysterious and dark." – 
"I have seafoam in my veins, I understand the language of waves." – 
"I go to the ocean to say goodbye." – 
Whether you're a competitive swimmer, an avid scuba diver, or a mermaid at heart, you've now got everything you need to make a few friends jealous and grab a few more likes.
Want more Instagram captions for your adventures? Check out our Instagram captions for waterfalls, our captions for your beach photos, or our list of captions for beautiful sunsets.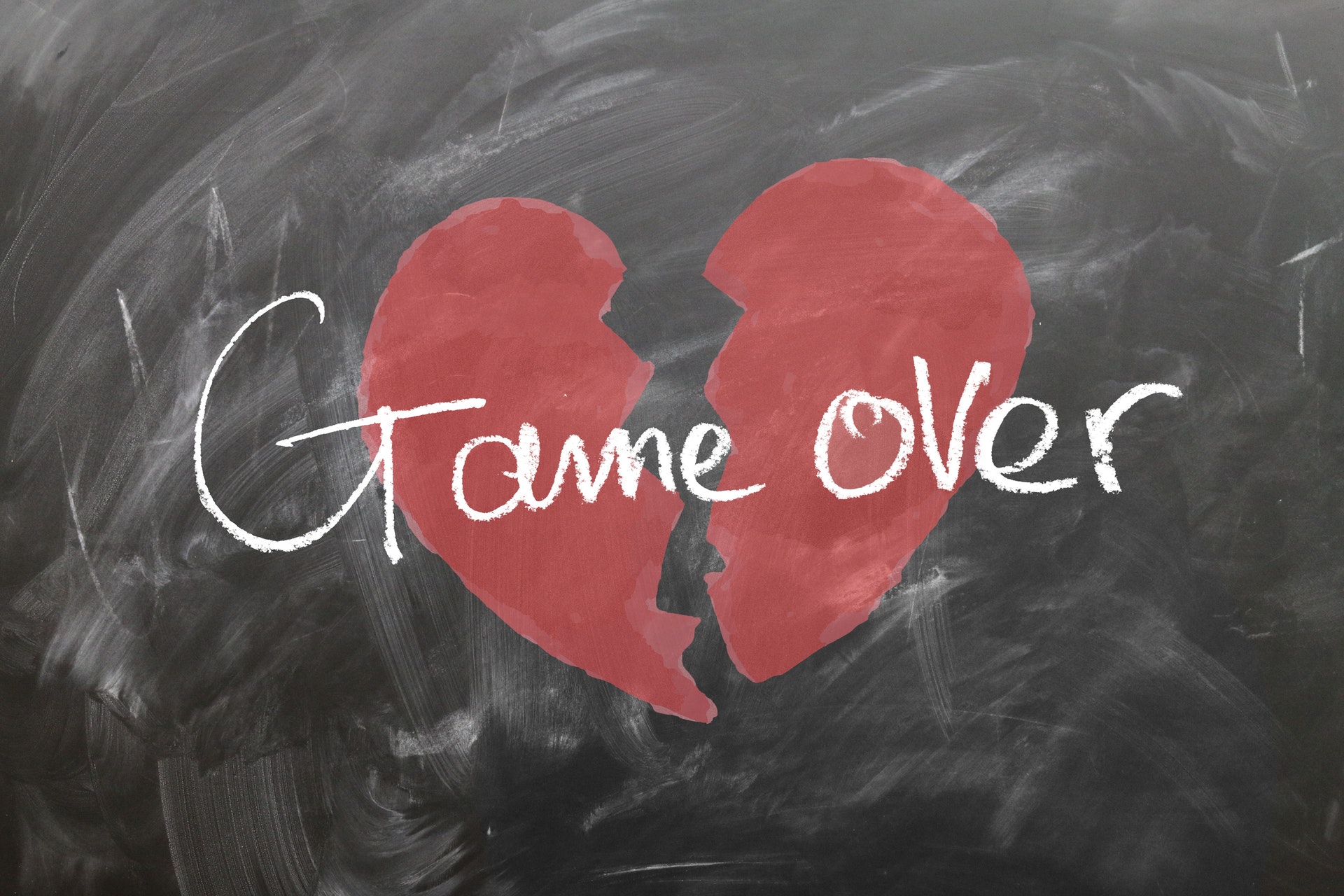 It's never been easy to break up, and it's gotten even worse in the social media era. Everything that happens in our lives goes public, sometimes whether we like it or not. The songs tell us that breaking up is hard to do – and now you get to do it while your ex is posting their incessant status updates about new friends and new partners. The temptation can be very strong to crawl under a rock, pull up the blankets and binge-watch romance movies on Netflix. However, it might be healthier to engage with social media instead of shunning it. You've got your own life to live and your own selfies to post to Instagram. This article is full of great Instagram captions for your post-breakup self. It's time to kiss your old life goodbye and embrace your sassy and sadder-but-wiser new life.
(Still have a partner? Check out these Instagram captions for couples, or these captions for weddings.)
A Message to Your Ex
The real reason I'm over you is because now I see who you really are.
Don't be sorry. Trusting you was my mistake, not yours.
I was better than your ex. I'll be better than your next.
You let go of a diamond. Good luck collecting rocks.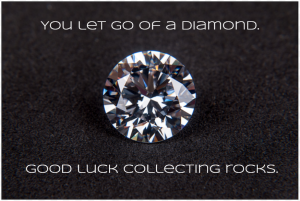 If I treated you the way you treated me, then you would hate me.
Why is my sanity paying the price for your mistakes?
You will search for me in another person, I promise.
I tried. You didn't. I'm done.
Don't get herpes this summer trying to make me jealous.
You turned into everything you said you'd never be.
Karma has no menu. You get served what you deserve.
You cannot destroy me.
I hope you step on a Lego.
You were dumb enough to walk away; I was smart enough to let you go.
About the Breakup
Our breakup was due to religious differences; she thought she was God and I didn't.
Jennifer Aniston got over Brad Pitt. I can get over you.
I like my relationships like I like my eggs — over easy.
Say goodbye and get yourself free.
It's not you. It's that I finally realized you're terrible.
The best revenge is to smile and move on.
Roses are red, violets are blue, we're breaking up because I never loved you.
If you love someone, set them free. If they come back to you, set them on fire.
My girlfriend said she wanted me to be more like her ex. So I dumped her.
I'm so miserable without you, it's almost as if you're here!
Sometimes good things fall apart so better things can come together.
Sometimes, letting go can make you stronger.
Love is unconditional. Relationships are not.
Someday it's gonna make sense.
Stars only shine in the darkness.
Philosophical Thoughts
I don't miss him. I miss who I thought he was.
"Love is a grave mental disease." – Plato
Love is unconditional, relationships are not.
As soon as forever is through, I'll be over you.
Never love that which you cannot keep.
"The hottest love has the coldest end." – Socrates
Stars can't shine without darkness.
"No man is rich enough to buy back his past." – Oscar Wilde
"The heart will break, but broken live on." – Lord Byron
Sharp are the arrows of a broken heart.
"When trees burn, they leave the smell of heartbreak in the air." – Jodi Thomas
Grief is the price we pay for love.
The heart was made to be broken.
Sometimes, not getting what you want is a stroke of luck.
"We must be willing to let go of the life we've planned, so as to have the life that is waiting for us." – Joseph Campbell
"Remember that sometimes not getting what you want is a wonderful stroke of luck." – The Dalai Lama
Can't Let Go
What do you do when the person who broke your heart is the only one who can fix it?
When one door closes another door opens; but we so often look so long and so regretfully upon the closed door, that we do not see the ones which open for us.
The hottest love has the coldest end.
"Only time can heal his heart, just as only time can heal his broken arms and legs." – Miss Piggy
Moving on is easy. It's staying moved on that's trickier.
I think it's important to realize you can miss something, but not want it back.
About Your Ex's New Love
You can't make me jealous of your man. If he was worth keeping, I would have.
Be that hot ex-girlfriend that your ex-boyfriend's new girl constantly stalks on social media.
Oh, you're dating my ex? Cool. I'm eating a sandwich – want those leftovers too?
Are you dating my ex? I thought the five second rule only applied to food I dropped.
Forgiveness is the final act of love.
Nostalgic Sentiments
Sometimes you miss the memories, not the person.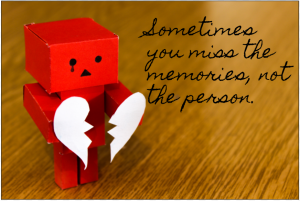 It's sad when people can walk past you and pretend you were never a big part of their life.
Regret you? Nah. At one point you were exactly what I needed.
You can never "just be friends" with someone you fell in love with.
One makes mistakes; that is life. But it is never a mistake to have loved.
Seeing Things Clearly
Ever look at your ex and wonder if you were drunk the entire relationship?
You learn more about someone at the end of a relationship than at the beginning.
My ex is living proof of how stupid I can be.
Never let an old flame burn you twice.
When They Ask You Back
When your past calls, don't answer. (It has nothing new to say).
They always come back, especially when you've moved on.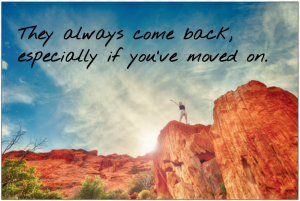 As soon as your ex sees you smiling, that's the minute they want you back.
Taking your ex back is like trying to put poop back into your butt.
If you start to miss me, then remember that I didn't walk away – you let me go.
If an ex tells you they miss you, that means they failed to replace you.
Landing On Your Feet
Sometimes a man's purpose in a woman's life is to help her become a better woman…for a different man.
No boyfriend – no problems.
Whatever, I'll just date myself.
If you're happy and you know it, thank your ex!
Every time your heart is broken, a doorway cracks open to a world full of new beginnings, new opportunities.
"Sadness flies away on the wings of time." – Jean de La Fontaine
I don't know where I'm going, but I'm on my way.
Listen to the Experts
"Now you're just somebody that I used to know." – Gotye
"Ex boyfriends are just off limit to friends. I mean that's just the rules of feminism." – Mean Girls
"Loving a man shouldn't have to be this rough" ―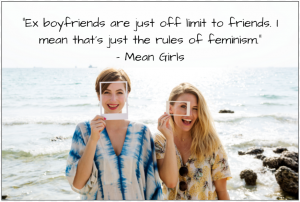 "Sometimes good things fall apart so better things can fall together." – Marilyn Monroe
"Never underestimate a man's ability to make you feel guilty for his mistakes." – Rihanna
"There's something wrong with your character if opportunity controls your loyalty." – Sean Simmons
Literary
"I cannot compromise my respect for your love. You can keep your love, I will keep my respect." – Amit Kalantri
"Like some wines our love could neither mature nor travel." – Graham Greene
"If you truly want to be respected by people you love, you must prove to them that you can survive without them." – Michael Bassey Johnson
"You fell in love with a storm. Did you really think you would get out unscathed?" – Nikita Gill
"He needs 'space' and 'time,' as if this were physics and not a human relationship." – Kathryn Stockett
"Somehow everything I own smells of you, and for the tiniest moment it's all not true."
"That feeling you get when you want to tell some one you love them, and there is no one there." – Melody Carstairs
"He brought out the worst in me, and was the best thing that ever happened to me." – Coco J. Ginger
"To me our love was everything and you were my whole life. It is not very pleasant to realize that to you it was only an episode." – W. Somerset Maugham
"His lips would never be able to reply to the words she could not say." ― Jamie Weise
"There is an ocean of silence between us… and I am drowning in it." – Ranata Suzuki
"I think perhaps I will always hold a candle for you – even until it burns my hand." ― Ranata Suzuki
Let the Music Play
"If you're gonna let me down, let me down gently. Don't pretend that you don't want me. Our love ain't water under the bridge." – Adele
"So I would choose to be with you. That's if the choice were mine to make. But you can make decisions too, and you can have this heart to break." – Billy Joel
"Falling for you was my mistake." – The Weeknd
"I could put my arms around every boy I see, but they'd only remind me of you." – Sinead O'Connor
"Some things a heart won't listen to, I'm still holding out for you." – 
"Once upon a time I was falling in love. Now I'm only falling apart. There's nothing I can do. Total eclipse of the heart." – Bonnie Tyler
"..And now you've lost the only thing that ever made you feel alive" – 
Of course, if you really want to make your ex jealous, consider not posting anything about him or her at all. Instead, just make sure you have some hot new shots of your and your friends living it up. Nothing says "I'm over you" like not giving someone the time of day.
Need more captions? We've got you covered.
Lighten up the mood with these funny Instagram captions.
Enjoy some natural beauty with these Instagram captions for waterfalls.
Get clever with these clever Instagram captions.
Get in touch with your animal side with these Instagram captions for the zoo.
Hitting the land of the mouse? Check out our Instagram captions for Disney.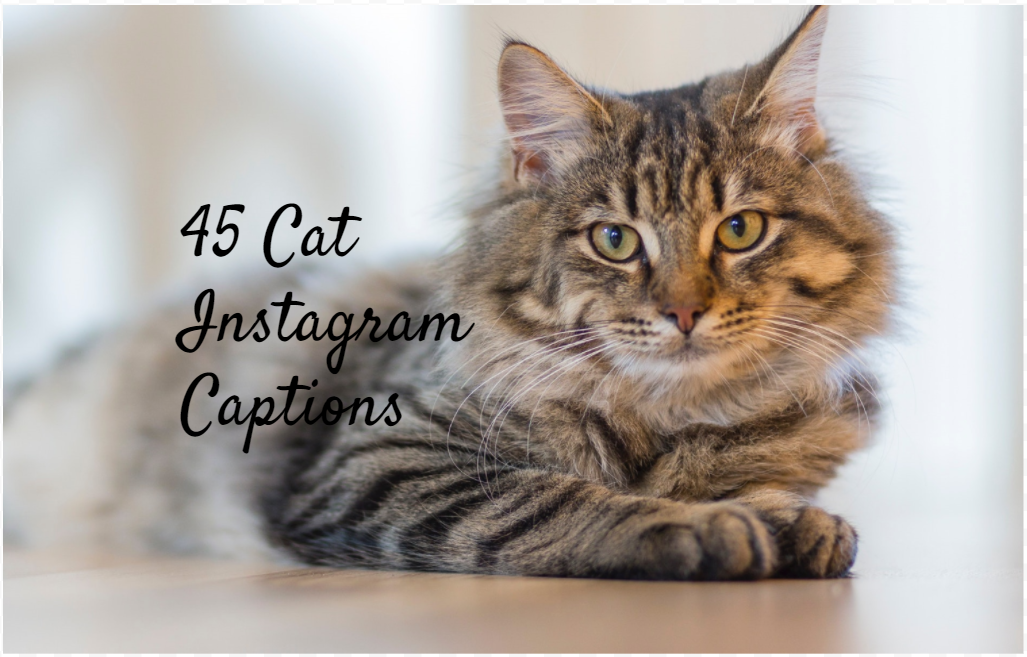 There was a time when the Internet was used to share research results between university scientists and to send e-mail, but one day someone discovered the True Purpose of this global network of telecommunications equipment:  The Internet is for CATS. LOLCats, Keyboard Cat, Nyan Cat… even I Can Has Cheeseburger was launched by a cat.  Then came celebrity cats:  Grumpy Cat and Lil' Bub (may they rest in peace), Monty, Venus, and so many more.  It turns out, the general population has a thirst for cats that only the internet can feed!
These days, people do most of their picture sharing on Instagram, one of the largest and most successful social media sites out there. Instagram is of course a haven for cat-related posts of all sorts.  The Internet and Instagram have become the perfect place for cat lovers to meet and share the joy inspired by our four-legged companions, with collections of hashtags that lead users to treasure troves of videos and photos of cats and kittens being adorable, engaging in hilarious hijinx, being ultra wild, and being slothfully mild.
If you have a cat, chances are very good that you're already sharing photos of your furry feline friends on Instagram.  But sometimes, you might not be able to come up with that purr-fect caption that helps you truly capture the love you feel for your little buddy.  Fear not- we've got quite a few captions in mind to help you really get your followers "feline" the love!
(Hey maybe you're more of a dog person…if so, no worries, we've still got you covered.)
Purrfect Puns
Many cat pictures are super sweet.  You can practically feel the snuggles from the other side of the screen.  Consider an adorable pun to accompany these tender moments.
I love you meow and furever.
Sometimes you have to paws the world.
Happy Caturday!
You gotta be kitten me!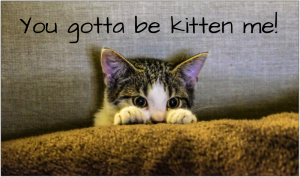 Live long and pawspurr.
Impawssible!
Meow chika meow meow.
The purrfect afternoon.
This kitty is fur-midable! RAWR!
I've got this loving feline…
The pawsabilities are endless!
He's gone cat-atonic.
The angriest little cat in hisstory.
Maximum happiness, mewnimum effort.
Cat Jokes
So, maybe they read a little more like Dad Jokes, but hey, who doesn't love a great, clean, corny joke?
Did you hear about the mama cat who ate a whole ball of yarn? She gave birth to a litter of mittens!
What's the official name for a pile of cats? A meowntain.
If my cat gets everything she wants, is it because she's purrsuasive?
Why does your cat always jump up on your keyboard? Because he's looking for the mouse!
What do you call a cat who commits crimes? A purrpetrator.
Did you hear about the guy who wouldn't spay his cat? He got arrested for littering.
Why don't cats play poker? Too many cheetahs.
What did the kitten have for breakfast?  Mice Krispies!
Cats vs. Dogs
Nearly everyone will agree that cats and dogs are entirely different creatures, in every possible way!  While dogs tend to be lovable extroverts who love showing off tricks and providing relentless companionship, cats are more introspective, independent, and equipped with a purring mechanism that can rattle the walls when they are pleased.  Some of the luckiest of us are owned by both critters, and we dedicate these captions to these mixed-species families!
Dogs have owners; cats have staff.
"Dogs come when they're called. Cats take a message and get back to you later." – Mary Bly
"Women and cats will do as they please, and men and dogs should relax and get used to the idea." – Robert Heinlein
Cats rule, and dogs drool.
""Meow" means "woof" in cat." – George Carlin
"Dogs eat. Cats dine." – Ann Taylor
"Cats are smarter than dogs. You can't get eight cats to pull a sled through snow." – Jeff Valdez
"Dogs are not like cats, who amusingly tolerate humans only until someone comes up with a tin opener that can be operated with a paw." – Terry Pratchett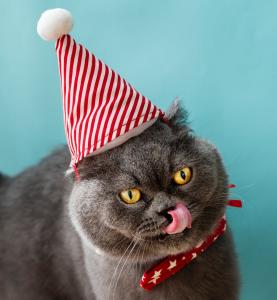 Cats and Food
Cats are famous for their relentless appetites.  Anyone who has felt a hungry cat drag its whiskers across their face in the middle of the night can attest that it's impossible to ignore a hungry cat.  From endless meows, to the "paw and pounce" approach, cats are very talented at sharing their need for feed.
"Smelly cat. Smelly cat. What are they feeding you?" – Phoebe Buffay
There is no snooze button on a cat that wants breakfast.
Hungry cat is hungry… always.
"Cats ask plainly for what they want."  – 
"One of my biggest fears is that I'm going to die alone in my home, and my cats will eat me because I am too dead to open their food cans." –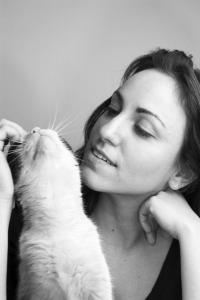 For the Love of Cats
Cats would be frustrating, if they weren't so darned endearing.  Once you've fallen in love with one cat, it's inevitable that you'll keep falling in love for the rest of your life.  What better way to share that feeling that with a serious Feline Appreciation post on your Instagram feed.  Consider these quotes and sayings to accompany your post.
"What greater gift than the love of a cat." – Charles Dickens
"The smallest feline is a masterpiece." – Leonardo da Vinci
"I love cats more than I love most people." – Amy Lee
"Time spent with a cat is never wasted." – Sigmund Freud
Cats make a house a home.
I fall in love with every cat I see.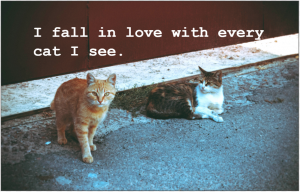 All you need is love and a cat.
"A meow massages the heart." – Stuart McMillan
Crazy cat lady confirmed.
"A woman hath nine lives like a cat." – 
Through the Eyes of a Cat
It's clear that cats have a different reality than us basic humans.  What if we could live like cats?  Furthermore, what if cats could post to Instagram?  How would they caption their selfies?
So exhausted. I've only slept 15 hours today.
It's mouse hunting season.
Basking in the glory of my internet fame.
Strut…pause…strut…pause.  Lick my tail, and… POSE!
I am not amused.  I am never amused.  I am a cat.
I'll fetch if I feel like it.
The reason I sleep all day is because my human has poor taste in binge watching.
We cats have websites where they upload videos of humans trying to open Tyvek envelopes and start lawn mowers… except we don't have thumbs, so we never watch them.
In the Mind of a Cat
Cats probably have very complicated minds.  They're house-sized, domestic predators with extremely packed schedules.  After all, they have to sleep fifteen hours, leave hairballs in your shoes, prepare for meals hours ahead of time, hunt insects and other small prey, and knock things off shelves.  That's a lot of planning!  So what goes on in that little furry head?
What do cats think about?  Probably world domination… and strategies for tripping humans on the stairs.
"Cats are intended to teach us that not everything in nature has a purpose." – Garrison Keillor
"Cats are the connoisseurs of comfort." – James Herriot
"The cat does not offer services; the cat offers itself." – William S. Burrows
You don't own cats. They own you.
"If cats could talk, they wouldn't." – Nan Porter
I'm glad my cat can't talk; he knows too much.
There is no such thing as an ordinary cat.
Cat's aren't that mysterious. With a cat, you always know what you're getting.
You can teach a cat to do anything that they feel like doing.
"Cats tell me without effort all that there is to know." – 
"In my head, the sky is blue, the grass is green and cats are orange." – 

Best Cat Quotes
Over the ages, cats have won over the hearts of lots and lots of people.  When searching for the perfect caption for your cat posts on Instagram, why not borrow a saying from some of the most famous cat connoiseurs?
"In ancient times cats were worshipped as gods; they have not forgotten this." – Terry Pratchett
"A cat determined not to be found can fold itself up like a pocket handkerchief if it wants to." – Louis J. Camuti
"Cats are intended to teach us that not everything in nature has a function." – Garrison Keillor
"I would like to see anyone, prophet, king or God, convince a thousand cats to do the same thing at the same time." – Neil Gaiman
"When I play with my cat, how do I know that she is not passing time with me rather than I with her?" – Montaigne
"An ordinary kitten will ask more questions than any five year old." – Carl Van Vechten
"A cat's got her own opinion of human beings. She don't say much, but you can tell enough to make you anxious not to hear the whole of it." – Jerome K. Jerome
"There are two means of refuge from the misery of life — music and cats." – 
"Cats are a mysterious kind of folk." – 
"Cats have it all – admiration, an endless sleep, and company only when they want it." – 
Little Cats and Big Cats
Though house cats generally seem quite tame, many of them have never forgotten their wild roots… just ask anyone who has had their sofa clawed to pieces by their five-pound pet!  Celebrate their wild heritage with these Big Cat captions.
A cat is a lion in a jungle of small bushes.
Little cats are big cats at heart.
At night house cats become house leopards.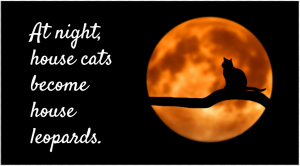 Even a cat is a lion in her own lair.
The kitten of the jungle.
Wild at heart.
Ignoring the Haters
Not everyone loves cats.  We have no explanation for this phenomenon, but we do have some words of wisdom that you can share with them via your Instagram captions!
People who hate cats will come back as mice in their next lives.
Cats are like music. You can't explain their worth to people who don't understand.
A rose has thorns just as a cat has claws. Certainly, they're both worth it?
I had to get rid of my husband. He was allergic to my cat.
More Cat Quotes
Here are some additional quotes from famous cat fiends.  These adequately capture all of the various emotions and thoughts that come with the feline experience.
While the rest of the species is descended from apes, redheads are descended from cats. – Mark Twain
Cats can work out mathematically the exact place to sit that will cause most inconvenience. – Pam Brown
How you behave toward cats here below determines your status in Heaven. – Robert A. Heinlein
When a man loves cats, I am his friend and comrade, without further introduction. – Mark Twain
I'm a cat. We aren't required to make sense. – Seanan McGuire
A home without a cat — and a well-fed, well-petted and properly revered cat — may be a perfect home, perhaps, but how can it prove title? – Mark Twain
A cat understands how to be pleasant in the morning. He doesn't talk. – Tamora Pierce
I gave my cat a bath the other day…they love it. He sat there, he enjoyed it, it was fun for me. The fur would stick to my tongue, but other than that… – Steve Martin
My cat is not insane, she's just a really good actress. – P.C. Cast
Cats, as you know, are quite impervious to threats. – Connie Willis
I am the Cat who walks by himself, and all places are alike to me. – Rudyard Kipling
The problem with cats is that they get the same exact look whether they see a moth or an ax-murderer. – Paula Poundstone
No matter how much the cats fight, there always seem to be plenty of kittens. – Abraham Lincoln
Books. Cats. Life is Good. – Edward Gorey
If toast always lands butter-side down, and cats always land on their feet, what happens if you strap toast on the back of a cat and drop it? – Steven Wright
To err is human, to purr is feline. – Robert Byrne
'Oh, you can't help that,' said the cat. 'We're all mad here.' – Lewis Carroll
No animal has more liberty than the cat, but it buries the mess it makes. The cat is the best anarchist. – Ernest Hemingway
Ignorance killed the cat; curiosity was framed! – C.J. Cherryh
Curiosity killed the cat, and satisfaction brought it back. – Eugene O'Neill
Cats aren't the only awesome subjects for our Instagram caption library!
If you're taking a lot of family snaps, then you definitely want to see our list of Instagram captions for cousins!
What happens in Vegas stays in Vegas – unless you take a picture of it and use one of our great Instagram captions for Las Vegas!
Visiting NYC? Then you definitely need our captions for the Big Apple!
If the mouse is more your style, then you'll want to look at our list of captions for Walt Disney World!
Did all this traveling break up your LTR? No worries – we've got a list of captions for your ex-boyfriend or girlfriend!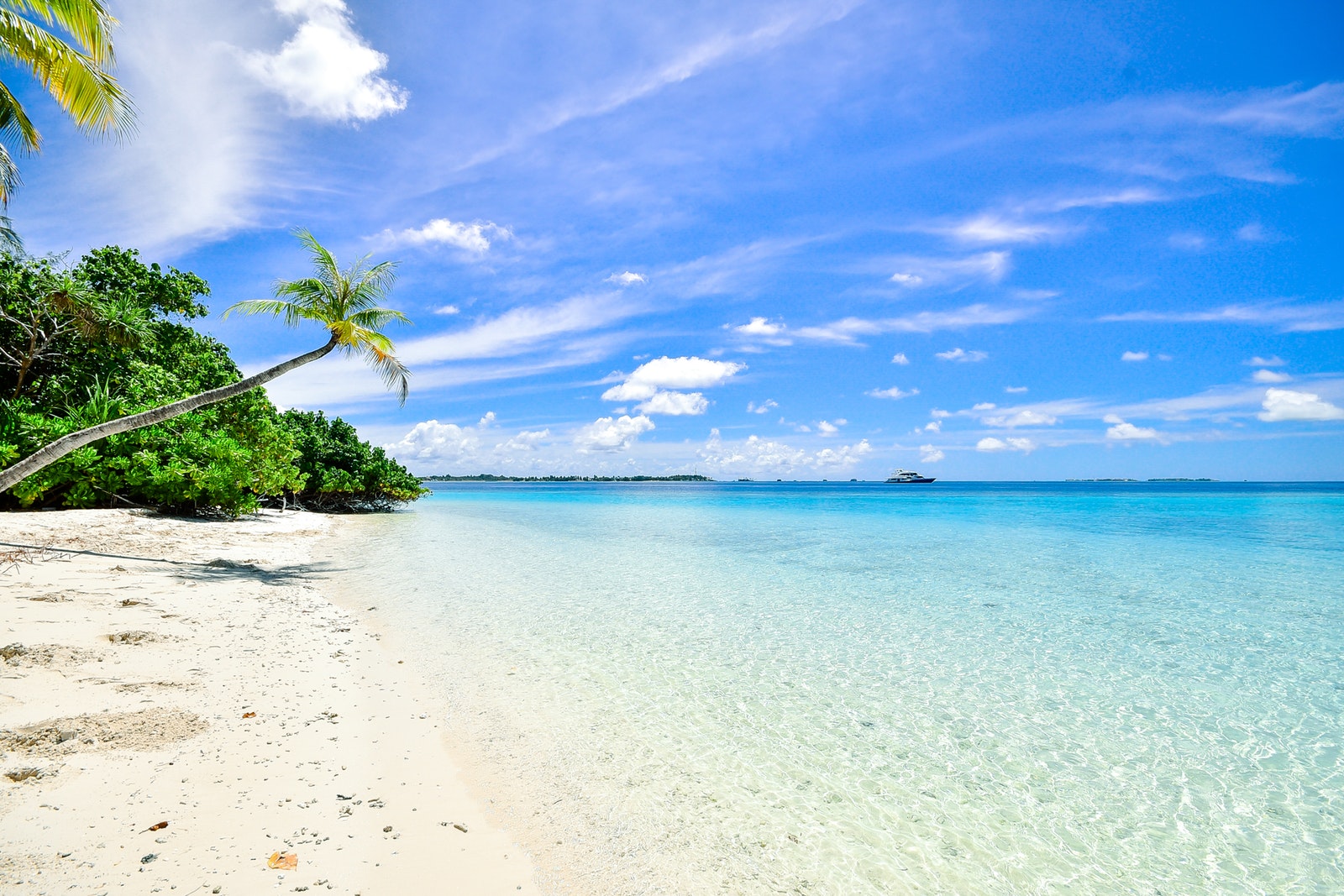 Is there anywhere better than the beach? In the dog days of summer, or even in mid-winter if you're lucky in your climate choices, locals and visitors both find themselves attracted to this wonderful intersection of sand, sky, and sea. Swimming pools have their own charm, but there's just something about setting up that big picnic towel on a stretch of sand and soaking in the sun.
You can bet that come summertime, thousands of people will flock to the same beach spots, looking for a place to swim away from their troubles and get some relaxation time in. If you're looking to hang out with your friends, enjoy some time with your significant other drinking margaritas in the sun, or you just want to enjoy the view and feel the water on your feet, heading out to a day at the beach is one of the favorite pastimes of people around the world. And of course you can bet it's one of the best places to take photos of you and your friends relaxing, swimming, and having a good time.
Once you have those photos of the beach to remember your time in the sun and in the water, posting those images on Instagram is a must. However, you might worry that your caption game isn't quite on point. If you don't know what you should caption your pictures, don't worry: we have you covered. Whether you're looking for a classic joke, a pun-filled comment to accompany your statements, or something a little bit more sentimental, these are some of our favorite beach-themed captions for when you travel to the sandy shore—or for when you're missing the feeling of sand between your toes. Let's take a look.
Pun-filled Excursions
Look, not everyone loves puns, and that's okay. Wordplay that makes you roll your eyes can be hilarious, groan-worthy, or something that falls in between. Everyone reacts differently to a good pun, but almost everyone has some amount of appreciation for them, and that's what makes them work paying attention towards. Every caption below has a whimsical pun to accompany your photos, and while it may make your friends and family use the eyeroll emoji more than they'd like, it'll get a reaction—and likely a laugh—all the same.
Girls Just Want to Have Sun!
Seas the Day!
Tropic like its hot.
Resting Beach Face.
Aquaholic.
If there's a will, there's a wave.
Shell we dance?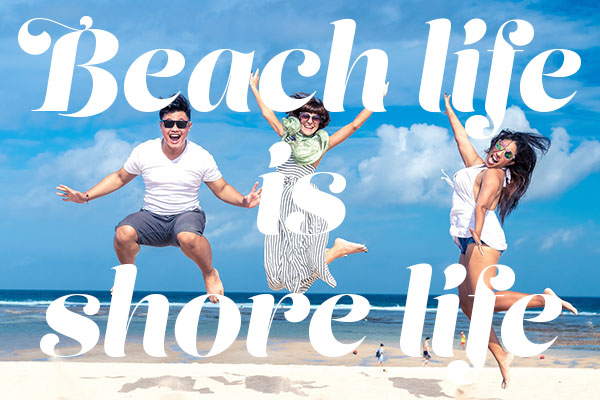 Beach life is shore perfect.
Adios beaches!
Water we doing here?
Beach you to it.
You used to call me on my shellphone.
The beach gives me porpoise.
Water we waiting for!
Beach Time Rhymes
Puns definitely aren't everyone's sense of humor, so if you're looking for something that might fit your style a bit more than these, check out some of the rhyming captions below. By using rhyming and alliteration, they serve up a sense of fun that won't have anyone sneering at your pun-fueled jokes. Plus, they come attached with a fun sense of poetry, something you can't say for every random post on Instagram. Check out some of our favorite rhyming captions for beaches below!
The lower the latitude the better the attitude.
Let the sea set you free.
An ocean breeze puts the mind at ease.
Let the waves hit your feet and the sand be your seat.
Sandy toes. Sunkissed nose.
Don't need a man if you've got a tan.
Palm trees and 80 degrees.
You, me, a drink and the sea.
Palm trees. Ocean breeze.
A pineapple a day keeps the worries away.
The sun and the sand and a drink in my hand.
Fun and Sun
If we clear the puns and we clear the rhyming, we're left with some classic humor to fill in the blanks. Sometimes you don't want a gimmick for your post; you just want some good old-fashioned humor to help people have a laugh when sliding through your feed. And that's okay too! Even if puns aren't your thing, and rhyming leaves you whining (sorry), we think you'll enjoy some of these captions below.
Gone to the beach. Be back never.
I'll have a side of beach with my morning coffee.
How to be a beach body: 1. Have a body 2. Go to the beach.
Currently pretending I'm at the beach.
Life, love, and the pursuit of the next beach trip.
Eat. Beach. Sleep. Repeat.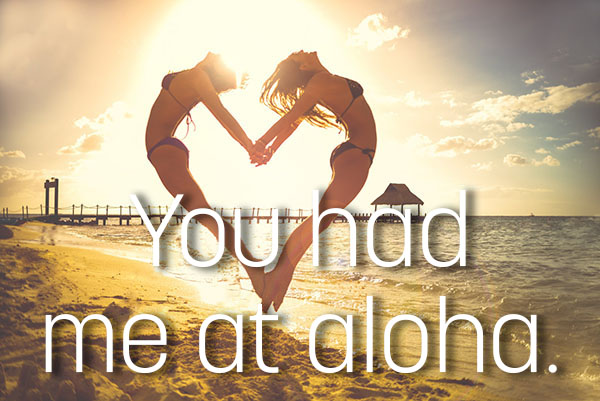 You had me at aloha.
Beach more – worry less.
Life is better in a bikini.
More salty than the sea.
I think we're all agreed: Monday out. Beach in.
Fin-spirational Quotes
Moving away from humor altogether, we have some inspirational and artistic quotes for you to consider. While posting humor may be some people's thing, adding a bit of flair to the caption or posting text within the image on the display can really help anyone looking for some calming and soothing content for their posts. Not everyone has to try and be a comedian, and if that's not your thing, here's the best way to spread some inspiration using your Instagram feed.
Life is a beach, I'm just playing in the sand.
Salt water cures all wounds.
Even filled with clouds, this beach can't bring me down.
Dreams are made of sun and sand.
Memories are made in flip flops.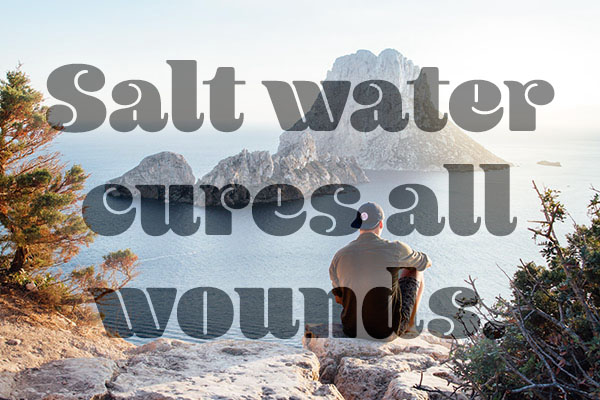 You can shake the sand from your shoes but not from your heart.
The tans will fade but the memories will last forever.
Life's a wave – catch it!
I want to run the beach's length, because it never ends.
The beach is calling, and I must go.
It was love at first sight the day I met the beach.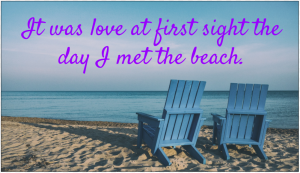 Live by the sea. Love by the moon.
B.E.A.C.H = Best Escape Anyone Can Have
Do you want to build a sandcastle?
Time seems different at the beach. All too fast, yet somehow, all too slow.
Part of Your World
Here we have something a bit unique to the beach and the joy of swimming along through the ocean. There's nothing more related to the beach and the ocean than the idea of mermaids, mythical creatures romanticized through recent history as lovesick creatures floating below the surface. Using mermaid iconography and some inspiration from films like The Little Mermaid or Aquamarine, you too can pretend to be a mermaid swimming deep below the ocean surface. So if the captions above don't float your boat (again, sorry), maybe these will help serve you just a bit better. Let's take a look.
Mermaid vibes.
Mermaids only.
There are a million fish in the sea, but me? I'm a mermaid.
Every girl deserves to feel like a princess, but I want to feel like a mermaid.
You can't swim with us.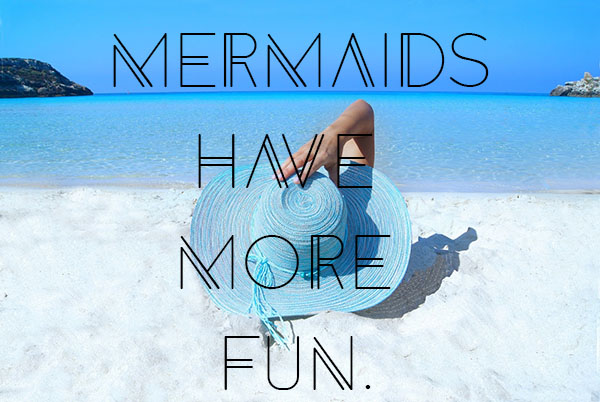 There are plenty of fish in the sea, but I'm a mermaid.
Be a mermaid, and make waves.
Someday I'll be / part of your world.
Always be yourself. Unless you can be a mermaid. Then always be a mermaid.
Mermaids have more fun.
If your thighs touch, you are one step closer to being a mermaid.
A smooth sea never made a skilled mermaid.
Literary
Lots of writers have waxed poetic about the beauty of sand and surf, and nobody will say anything if you file off a couple of serial numbers and "adapt" their words to your snaps.
Dreams are shores where the ocean of spirit meets the land of matter. Dreams are beaches where the yet-to-be, the once-were, the will-never-be may walk awhile with the still are. – David Mitchell
For me there was-is-nothing better than walking on the beach late at night. It feels like you could walk forever, like the whole night is yours and so is the ocean. When you walk on the beach at night, you can say things you can't say in real life. In the dark you can feel really close to a person. You can say whatever you want. – Jenny Han
On the seashore of endless worlds children meet. – Rabindranath Tagore
My God, if your love were a grain of sand, mine would be a universe of beaches. – William Goldman
There is no place like the beach… where the land meets the sea and the sea meets the sky. – Umair Siddiqui
I could taste the salt on her lips, each kiss like a summer wave breaking on an empty beach. – Michael Faudet
In the morning there was a big wind blowing and the waves were running high up on the beach and he was awake a long time before he remembered that his heart was broken. – Ernest Hemingway
One cannot collect all the beautiful shells on the beach. – Anne Morrow Lindbergh
It's only the sea,' said Moomintroll. 'Every wave that dies on the beach sings a little song to a shell. But you mustn't go inside because it's a labyrinth and you may never come out again.' – Tove Jansson
This time of year, I live and breathe the beach. – Maggie Stiefvater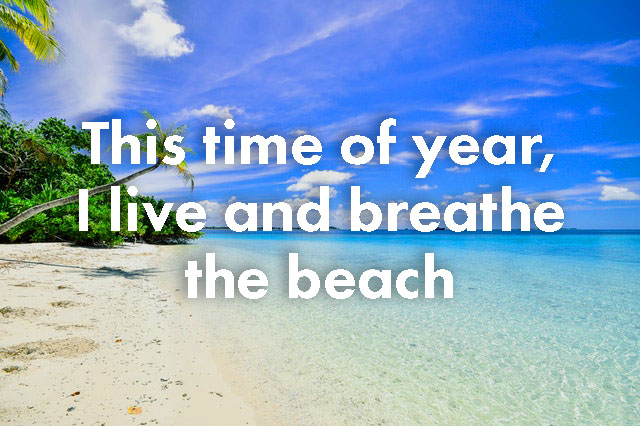 Every time we walk along a beach some ancient urge disturbs us so that we find ourselves shedding shoes and garments or scavenging among seaweed and whitened timbers like the homesick refugees of a long war. – Loren Eiseley
I bought salvation from a man on the street. He said, "Go down to the beach and let the waves wash your feet. – Gabriel Rheaume
The beach is not a place to work; to read, write or to think. – Anne Morrow Lindbergh
On these magic shores children at play are for ever beaching their coracles. We too have been there; we can still hear the sound of the surf, though we shall land no more. – J.M. Barrie
A kiss on the beach when there is a full moon is the closest thing to heaven. – H. Jackson Brown Jr.
In every outthrust headland, in every curving beach, in every grain of sand there is the story of the earth. – Rachel Carson
When you walk on the beach at night, you can say things you can't say in real life. – Jenny Han
This is how the entire course of a life can be changed: by doing nothing. – Ian McEwan
I have the world's largest collection of sea shells. I keep it scattered on beaches all over the world. Maybe you've seen some of it. – Steven Wright
To myself I am only a child playing on the beach, while vast oceans of truth lie undiscovered before me. – Isaac Newton
***
Some people simply don't like the beach, and you'll likely find that no matter how witty, hilarious, or unique your captions are that they'll be won over by the sun and surf. Hopefully your images, combined with the captions we've shared above, help to get your friends out to the beach a bit more often, even if it takes some persistence and persuasion on your part to get them there. Remember, the beach is a place of love, joy, happiness, and above all, warmth, so have an excellent time while working on your tan and remember not to let the stresses of everyday life bring you down.
See a caption you really like, or do you have a personal beach favorite? Let us know in the comments below, and check back regularly for updates with more of our favorite beach captions!
We've got lots of other caption options for your Instagram needs!
Visiting Texas? We've got Instagram captions for Texas!
There's nothing more beautiful than a waterfall – so be sure to look at our captions for waterfalls!
Memorial Day inspires a lot of great photographs – here's our list of Memorial Day captions to go with them!
When you're rocking a concert, you don't have to time to write captions, so we've got a list of captions for concerts.
Let the animal inside out and visit the zoo – and be sure to use our list of Instagram captions for the zoo!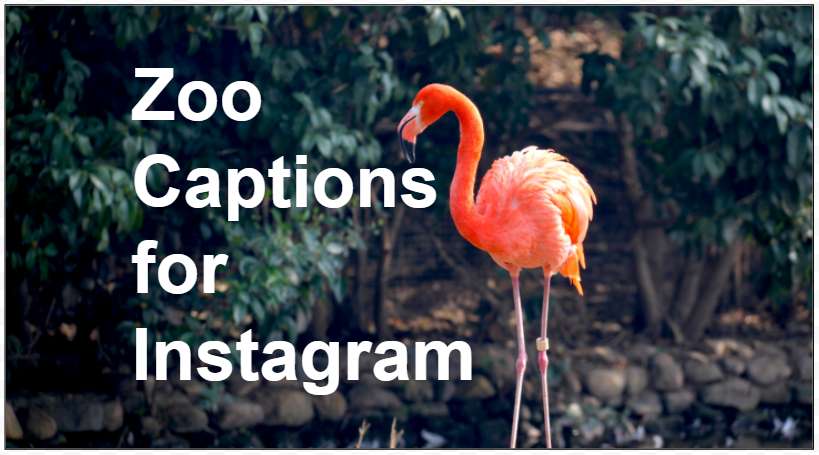 There's only one destination that has it all:  a wild side, a mild side, some major laughs, and a lot of learning.  Where is this magical place?  The zoo, of course!  Tourists and locals alike flock to the zoo to learn more about their favorite wild creatures, to support conservation efforts, to get some exercise in the fresh air, and of course, to take plenty of pictures.  Who doesn't want to flood Instagram with lions and elephants?
The zoo is a good place spend some time outside with friends and family, and taking pictures of the animals is always fun. When you share those photos with your Instagram followers, you're going to want to add a caption that is just as educational and entertaining as the zoo itself.  The whole idea is to bring the experience of the zoo to your followers! If you're not sure where to start, not to worry – we've got a whole menagerie of suggested captions for you to try!
Start With the Basics
If you're looking for something catchy to get you started, the following captions just might be the ticket.  These captions make great titles for a multi-slide album.  Follow up the caption with a description of who was there, what you saw, and some interesting facts about the animals you captured in the shots (especially the human animals)!
A Day Among The Animals
A Wild And Crazy Place
All Creatures Great And Small
Come On A Safari With Me
Don't Feed The Animals
Going Wild
It's A Jungle Out There
Safari Hunt
Oh, the huge Manatee!
So What Are You In For?  Being too wild?
Suburban Safari
Urban Safari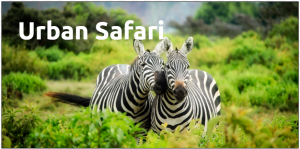 This Place Is A Zoo
Walk On The Wild Side
It's UnBEARable!
Watch Out Zoo, Here We Come
What A Zoo!
Let's Get Wild!
The Zoo: An excellent place to study the habits of human beings.
Every Zoo is a Petting Zoo if You're Brave Enough.
Are We Watching Them or Are They Watching Us?
The Facts of Animal Life
Who Knew There's So Much To Do at the Zoo
Try Getting Specific
Have a particular furry (or scaly) friend in mind? Try to work that into your caption, too.  A little witty banter with a wild critter never hurt anyone, right?
Here, kitty, kitty, kitty
Horsin' Around
I'm Going Ape!
Monkey See Monkey Do
Monkeying Around
A Trunk Full of Fun
A Long Came a Giraffe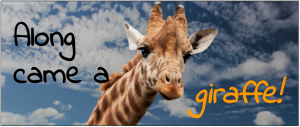 I'm Getting Butterflies!
This Dingo Got My Baby
Just Another Internet Cat.
Try Something Punny
For those who are feeling especially silly, a pun might be the best bet.  With the rise in Dad Jokes in social media, a nice groan-worthy pun is an excellent way to start off your zoo day post.
A "Zoo"per Day

A Zoo-tiful Day

Everybody's Zooing It
No Lion, The Zoo Was Grrreat!
Our Trip Was ZOO-pendous!
Zippitty "Zoo" Da
Zooperstars
Welcome to Zoorassic Park
Your opinion is IrrELEPHANT
Grin and "Bear" it!
Please, Hold Your Appaws
Here's Looking at Zoo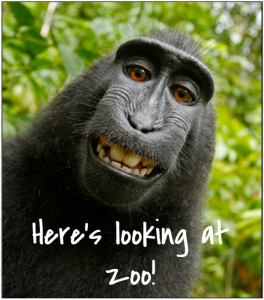 Don't Listen to Him; He's Lion.
All This Fun is Making My Voice a Little Horse
These Animals are so Cute it's Un-bear-able
So much fun it should be Ill-EAGLE
Hawkward!
Giraffing Me Crazy!
Owl Hafta Make Another Trip to the Zoo
What are Your Koalafictions?
How Emusing!
Awww, Get Otter Here!
All About Alliteration
Alliteration is a literary device in which a consonant sound is repeated.  It sounds catchy, which is why it works so very well for getting the attention of readers and followers!  Just a little alliteration might be a great way to caption your animal closeups, letting the majesty of these Beautiful Beasts speak for itself!
Critter Country
Zany Zooventure
Furry Fiesta
Snake City
Monkey Mania
Super Safari
Grumpy Gorillas
Chilling with Chinchillas
Peacock Party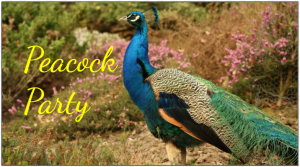 Hanging with Hippos
Frog Fiesta
Leaping Lizards
Popular References
Combine your love of the zoo with your love of music, movies, and literature.  Plenty of people love learning about animals, and plenty of people love a good reference to popular culture.  These captions tie in with some of your favorites.
Animal House
Doctor Dolittle
Welcome To The Jungle
Where The Wild Things Are
Born To Be Wild
Call Of The Wild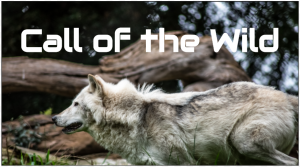 Wild Thing:  You Make My Heart Sing
Lions and Tiger and Bears- OH MY!
Duck…Duck…GOOSE!
Pride Rock
I got the moves like Jaguar.
Pet Sounds
Fill In The Blank…
The following captions give you a little room to fill in the animal of your choice… humans included, of course.
I'm Wild About…
Me and… down by the zoo yard.
My spirit animal is a…
My milkshake brings all the… to the yard.
Cultured Creatures
Want a caption that's a little more highbrow to impress your followers with your literary 'sense and sensibility?' Try some of these animal quotes to express your domesticated spirit.
"You can judge the heart of a man by his treatment of animals." – James Beverly
"Animals don't hate, and we're supposed to be better than them." – Elvis Presley
"Animals are such agreeable friends―they ask no questions, they pass no criticisms." – George Eliot
"You can judge a man's true character by the way he treats his fellow animals."  – Paul McCartney
"Animals are born who they are, accept it, and that is that. They live with greater peace than people do." – Gregory Maguire
"If having a soul means being able to feel love and loyalty and gratitude, then animals are better off than a lot of humans." – James Herriot
"The smaller the creature, the bolder its spirit." – Suzy Kassem
"Intelligence is the capacity to know what we are doing and instinct is just instinct. The results are about the same." – Will Cuppy
"Besides love and sympathy, animals exhibit other qualities connected with the social instincts which in us would be called moral." – Charles Darwin
"We humans may be brilliant and we may be special, but we are still connected to the rest of life." – Patricia MacConnell
"Clearly, animals know more than we think, and think a great deal more than we know." – Irene Pepperberg
"To be able to laugh and to be merciful are the only things that make man better than the beast" – Ruskin Bond
"Animals are my friends…and I don't eat my friends." – George Bernard Shaw
"Our perfect companions never have fewer than four feet." – Colette
"A few alligators are naturally of the vicious type and inclined to resent it when you prod them with a stick. You can find out which ones these are by prodding them." – Will Cuppy
"Only someone who'd never been an animal would put up a sign saying not to feed them." – Jonathan Safran Foer
"I think he just loved being with the bears because…they just let him be who he was." – Michael Thomas Ford
"There is no folly of the beasts of the earth which is not infinitely outdone by the madness of men." – Herman Melville
"The wild things of this earth are not ours to do with as we please. They have been given to us in trust, and we must account for them to the generation which will come after us and audit our accounts." – William T. Hornaday
"Some people talk to animals. Not many listen though. That's the problem."  – A.A. Milne
"People who really appreciated animals always asked their names." – Lilian Jackson Braun
"If ever you feel like an animal among men, be a lion." – Criss Jami
"Animals, like us, are living souls. They are not things. They are not objects. Neither are they human. Yet they mourn. They love. They dance. They suffer. They know the peaks and chasms of being." – Gary Kowalski
"And the fox said to the little prince: men have forgotten this truth, but you must not forget it. You become responsible, forever, for what you have tamed." – Antoine de Saint-Exupery
"An animal's eyes have the power to speak a great language." – Martin Buber
"Animals don't lie. Animals don't criticize. If animals have moody days, they handle them better than humans do." – Betty White
"Until one has loved an animal, a part of one's soul remains unawakened." – Anatole France
"They are all beasts of burden in a sense, made to carry some portion of our thoughts." – Thoreau
"Love the animals: God has given them the rudiments of thought and joy untroubled." – Fyodor Dostoyevski
Zoo Quotes for You
"All animals are equal, but some animals are more equal than others." — George Orwell
"The clearest way into the Universe is through a forest wilderness." — John Muir
"The greatness of a nation and its moral progress can be judged by the way its animals are treated." — Mahatma Gandhi
"I am fond of pigs. Dogs look up to us. Cats look down on us. Pigs treat us as equals." — Winston S. Churchill
"We humans are more complicated than animals, and we love through the imagination." — George Moore
"Like a wild animal, the truth is too powerful to remain caged." — Veronica Roth
"Of all the animals, man is the only one that is cruel. He is the only one that inflicts pain for the pleasure of doing it." — Mark Twain
"There's nothing more embarrassing than to have earned the disfavor of a perceptive animal." — Michael Chabon
"The animals of the world exist for their own reasons. They were not made for humans any more than black people were made for white, or women created for men." — Alice Walker
"Just because an animal is large, it doesn't mean he doesn't want kindness." — A.A. Milne
"He who is cruel to animals becomes hard also in his dealings with men. We can judge the heart of a man by his treatment of animals." — Immanuel Kant
"Four legs good, two legs bad." — George Orwell
"Compassion for animals is intimately associated with goodness of character, and it may be confidently asserted that he who is cruel to animals cannot be a good man." — Arthur Schopenhauer
"If a dog will not come to you after having looked you in the face, you should go home and examine your conscience." — Woodrow Wilson
"'You know, sometimes the world seems like a pretty mean place.' 'That's why animals are so soft and huggy.' — Bill Watterson
"Man is the only animal that blushes. Or needs to." — Mark Twain
"I think we cry to release the animal parts of us without losing our humanity." — Veronica Roth
"The early bird gets the worm, but the second mouse gets the cheese." — Willie Nelson
"It is hard to be brave, when you're only a Very Small Animal." — A.A. Milne
"Man is the only animal for whom his own existence is a problem which he has to solve." — Erich Fromm
"Never call anyone a baboon unless you are sure of your facts." — Will Cuppy
"animals never worry about Heaven or Hell. neither do I. maybe that's why we get along." — Charles Bukowski
Now you'll know exactly what to say when sharing that photo of you and your Alpaca pal. Thanks to some catchy captions, your zoo adventure will go down in the annals of Instagram history as a, dare we say, "zoorific."
Looking for more Instagram caption ideas?
Check out this list of funny Instagram captions.
We've got a great list of cat captions for Instagram.
Here's our list of captions for beautiful sunsets.
We've got captions for waterfalls!
And of course we have captions for a beautiful happy Sunday!
Visiting the Mouse? Here are our captions for Disney World!
Big Island fans will want to see our captions for Hawaii!
On the water? Check out our captions for rivers!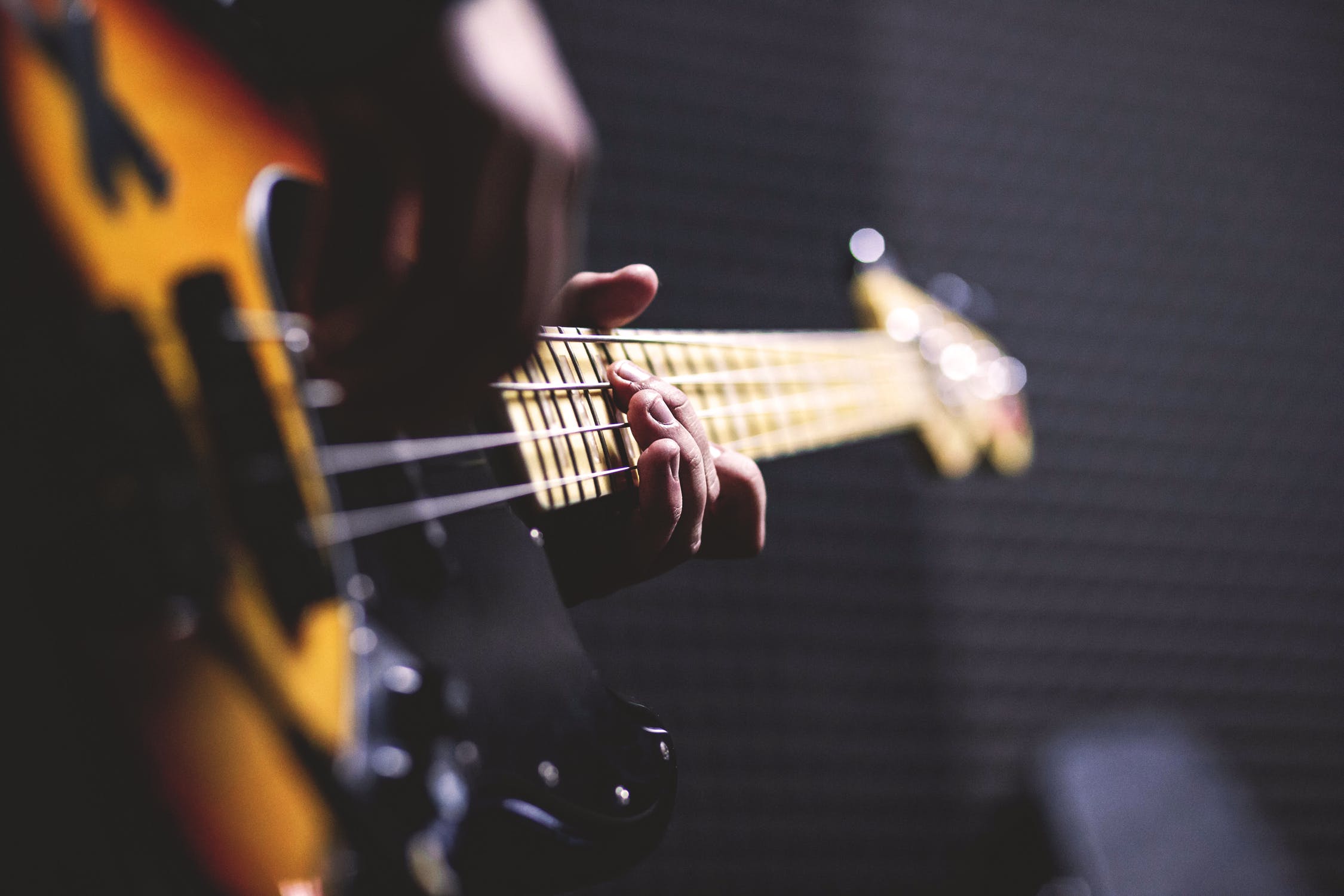 Everybody loves to rock out to some live music, whether that means diving into a mosh pit at the club or singing along to your favorite folk artist at the outdoor amphitheater. When you're a music fan, nothing is better than spending time with your fellow fans at a show listening to your favorite artists perform. There is nothing like living in that moment and, of course, you're going to want to take some snaps and videos to immortalize your experience…and then you're going to want a perfect caption to put the final touch on what you're sharing on Instagram. That's where we come in! We've created or found a huge collection of music-themed captions for you to enjoy. You can use these as-is or take them as inspiration for your own musings.
For the Love of Music
We drift deeper into the sound.
It's more than just music.
When the whole crowd sings to the band in unison.
Music is the strongest form of magic.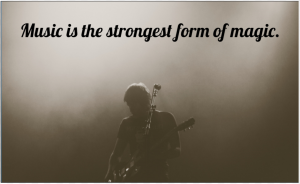 Exist loudly.
Feeling the bass pounding in your chest.
Why be moody when you can shake yo booty?
Music is life. That's why our hearts have beats.
Life every day like its a Warped Tour.
I believe in using songs to say things.
All it takes is one song to bring back a thousand memories.
Long live rock n' roll.
For the Love of the Moment
Life is made of small moments like this.
Good music. Good Friends. Good Vibes.
Always find time for the things that make you happy to be alive.
I wish some nights lasted forever.
Three minutes of music. Years of memories.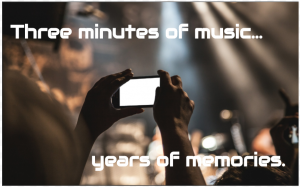 This is where I feel alive.
Breath and ask yourself if it will ever get better than tonight.
Let it all out.
You can't download a live musical experience.
Just the Ticket
Life is short. Buy the damn concert tickets.
Shortest horror story ever: Sold Out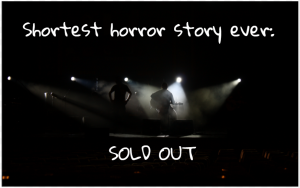 I just want money for plane tickets, concert tickets and clothes.
I want a boyfriend that will buy me concert tickets….or maybe just the concert tickets.
A moment of silence for all the concerts we miss because we can't afford the tickets.
Money can't buy you happiness, but it can buy you concert tickets.
Lyrical Sentiments
"It's only rock n'roll, but I like it." – Rolling Stones
"We will rock you." – Queen
"One good thing about music – when it hits you, you feel no pain." – Bob Marley
"Only the good die young." – Billy Joel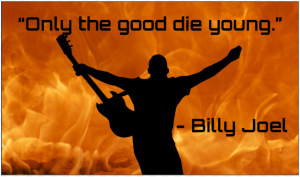 "Give me the beat boys to free my soul." – Doobie Brothers
"Oh my my, oh hell yes – honey put on that party dress." – Tom Petty
"It's a beautiful day. Don't let it get away." – U2
Non-lyrical But Famous Nonetheless
"It's a place where we can forget about our problems for a little while." – Vic Fuentes
"As long as we don't die, this is going to be one hell of a story." – John Green
"Music gives a soul to the universe, wings to the mind, flight to the imagination, and life to everything." – Plato
Love is All You Need
I want to meet someone who makes me feel the way music does.
Turn up the love.
I just want someone who will take me to a concert instead of a fancy dinner.
It's crazy how music can connect souls.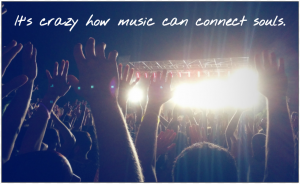 Ultimately, I just want someone who knows which songs not to talk over.
Behind every girl's favorite song is an untold story.
Feeling Like a Lone Wolf
Where the dreamers go.
I don't follow the crowd – I move through them.
Music is the only way to run without leaving home.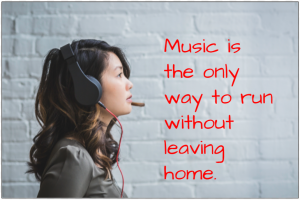 Here's to the kids who care more about music than popularity.
When you get really excited about a concert but no one else cares because they haven't heard of the band.
Sometimes I need to be alone with my music.
Concert Junkie
There is no such thing as going to too many concerts.
I used to sleep at night.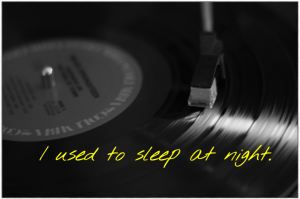 If you can't get up the next morning, you know it was a good show.
I got the mic and you got the mosh pit.
It's more than just a band.
You can't overdose on music.
Music Quotes
"Music is the strongest form of magic." – Marilyn Manson
"Because when he sings…even the birds stop to listen." – Suzanne Collins
"Everything in the universe has a rhythm, everything dances. " – Maya Angelou
"Music is the universal language of mankind." – Henry Wadsworth Longfellow
"Music, once admitted to the soul, becomes a sort of spirit, and never dies." – Edward Bulwer Lytton
"The music is not in the notes, but in the silence between." – Wolfgang Amadeus Mozart
"It is said by the Eldar that in water there lives yet the echo of the Music of the Ainur more than in any substance that is in this Earth; and many of the Children of Ilúvatar hearken still unsated to the voices of the Sea, and yet know not for what they listen." – J.R.R. Tolkien
"We are the music makers, and we are the dreamers of dreams." – Arthur William Edgar O'Shaughnessy
"I like beautiful melodies telling me terrible things." – Tom Waits
"Without music, life would be a blank to me." – Jane Austen
"If I should ever die, God forbid, let this be my epitaph: THE ONLY PROOF HE NEEDED FOR THE EXISTENCE OF GOD WAS MUSIC" – Kurt Vonnegut
"We should consider every day lost on which we have not danced at least once." – Friedrich Nietzsche
"All the good music has already been written by people with wigs and stuff." – Frank Zappa
"People haven't always been there for me but music always has." – Taylor Swift
"Music in the soul can be heard by the universe." – Lao Tzu
"Life is like a beautiful melody, only the lyrics are messed up." – Hans Christian Andersen
"One good thing about music, when it hits you, you feel no pain." – Bob Marley
"Music is my higher power" – Oliver James
"Where words leave off, music begins." – Heinrich Heine
"If music be the food of love, play on." – William Shakespeare
"Music is the wine that fills the cup of silence." – Robert Fripp
"Jazz isn't dead. It just smells funny." – Frank Zappa
"The only truth is music." – Jack Kerouac
"Without music, life would be a mistake." – Friedrich Nietzsche
"And, in the end, the love you take is equal to the love you make." – Paul McCartney
Lyrics About the Power of Music
We've included some song lyrics in the sections above…but here some lyrics that are about music itself.
"I was just thinking how we don't have a song" – Taylor Swift, Our Song
"It's a world that is always within" – Abbey Lincoln, The Music is the Magic
"I was raised on rock, I got rhythm in my soul, I was born to love the beat, I was made for rock and roll" – Elvis Presley, Raised on Rock
"And here's to my new song I'm singing loud" – Leaf, New Song
"I believe that I, was born with a song inside of me" – Zac Brown Band, Day That I Die
"Old does not mean dead, new does not mean best" – Slipknot, All Out Life
"Now there are things that I believe in, I'd never sell my soul" – Joan Jett, Good Music
"Because I fell in love with the girl at the rock show" – Blink 182, Girl At The Rock Show
"You drive us wild, we'll drive you crazy" – Kiss, Rock n Roll All Night
"You can still rock in America" – Rock in America, Night Ranger
"Now, I've heard there was a secret chord, That David played, and it pleased the Lord" – Leonard Cohen, "Hallelujah"
"We'll be happy, and we'll dance, we're gonna dance our blues away" – The Doobie Brothers, Listen to the Music
"So listen to the radio, remember where we used to go" – The Corrs, Radio
"Guess there are times when we all need to share a little pain" – Elton John
"Music is the universal language, and love is the key, to peace, hope and understanding, and living in harmony" – Mac Davis, I Believe in Music
"They say one time around is all you get, but I'm still dancin' so you lost your bet" – Aerosmith, Let the Music Do the Talking
"Oh you will set the world babe, you will set the world on fire" – David Bowie, Set the World On Fire
"We learned more from a three-minute record, baby, than we ever learned in school" – Bruce Springsteen, No Surrender
"The power of a love song, it can change everything" – Tate Stevens, Power Of A Love Song
"I'll sing you one more song for keeping us going on" – The Kelly Family, One More Song
"With my arms out wide I open my eyes and now all I wanna see, is a sky full of lighters" – Bruno Mars and Eminem, Lighters" – Bad Meets Evil
"It don't mean a thing, if it ain't got that swing" – Duke Ellington, It Don't Mean a Thing
"I like to dream, yes yes, right between the sound machine, On a cloud of sound I drift in the night, any place it goes is right" – Steppenwolf, Magic Carpet Ride
"Adios rock band that we loved the most, this is a toast to what you did" – Weezer, Eulogy For a Rock Band
"Music makes the people come together" – Madonna, Music
Now if you're ever lucky enough to get pulled up on stage or to support your favorite singer as he rides the waves of the crowd, you'll know exactly what to say to help others understand the moment that you and so many strangers shared.
Of course we have a lot more articles full of great Instagram captions! Here are our funny and witty captions and some captions that are musical lyrics. Country music fans should look at our captions for Nashville, or maybe you're more of an Elvis fan and want to Viva Las Vegas!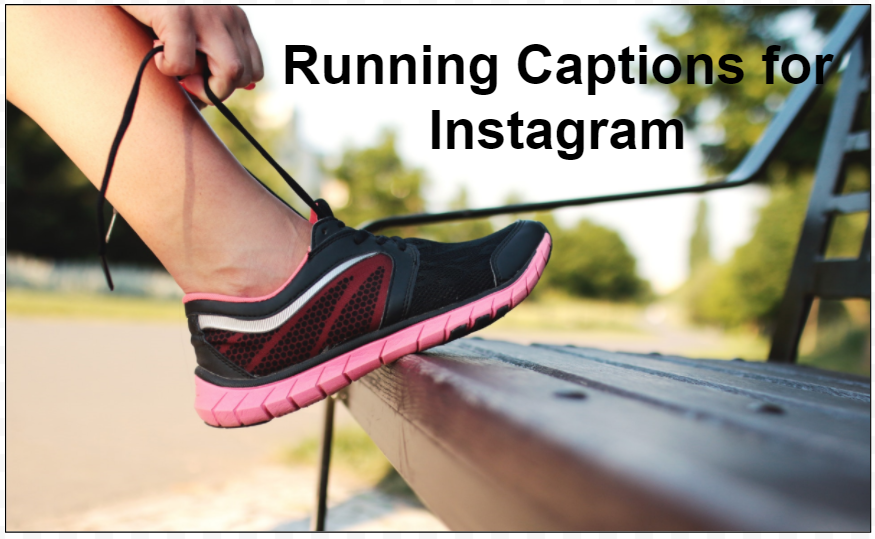 When it comes to exercising, there's nothing more classic than going for a nice jog. Running is a fantastic exercise that helps to build healthy hearts and lungs, while also working your leg muscles, burning calories faster than most other workouts, and being a whole lot of fun to boot. Very few sports allow anyone to jump in, but running and jogging both allow for anyone, regardless of their financial status, to get outside and start moving. As long as you have a pair of  sneakers and a trail to run on, you're good to go.
While you're out running through the city streets or are trail blazing down a forest pathway, you'll want to make sure you bring plenty of water and your phone to capture some snaps. Once you have those photos of your athletic achievements, you need to have some clever or meaningful captions so that you can share your victories with your Instagram followers. Next time you share a shot of yourself tearing down the track or jogging through the woods, pick a caption that expresses your passion. Let everyone know that you're a runner, and that you mean business.
(Is hanging out at the lake more your style? Check out our list of lake captions for Instagram, or if winter sports are your jam, our list of winter captions for Instagram has what you need. And of course, if you're more into the gridiron, our list of football captions has you covered!)
Running Definitions
Runderful (noun) – How you feel immediately after running.
Runcrastination (noun) – Having a million things to do and going for a run instead.
Grunpy (adjective) – How I feel when I can't run.
Rungry (adjective) – When you're so hungry from your run that you eat everything.
Runners High (noun) – The real reason runners run.
Self Deprecating
Running is a mental sport, and we are all insane.
My running style is best described as startled gazelle.
I thought they said rum.
Slow runners make fast runners look good. You're welcome.
A good run is like a cup of coffee – I'm much nicer after I've had one.
Please ignore the faces I make when I run.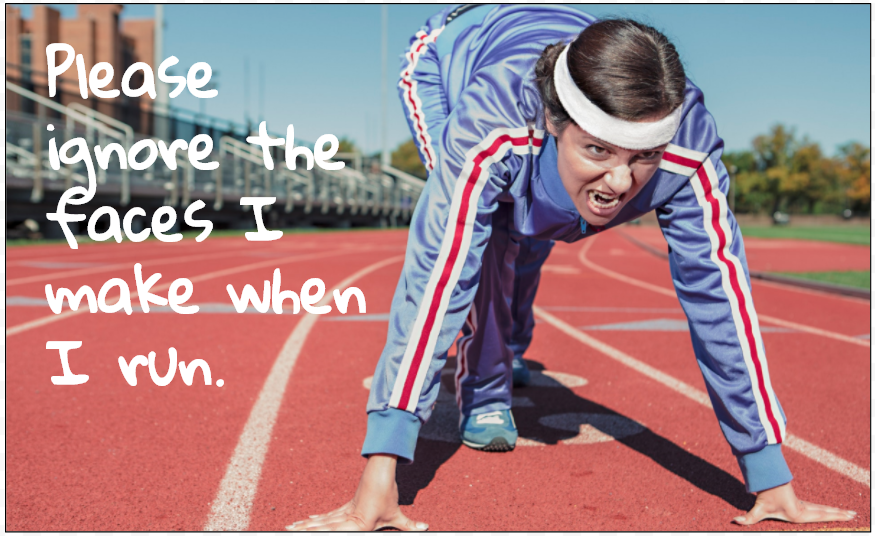 I run because I really like food.
I'm not slow; I'm just getting my money's worth from the entry fee.
For someone who runs all the time, I still manage to make it look like it's the first time I've ever tried.
7 more laps – then I can fall over and vomit.
Running is cheaper than therapy.
I'll be happy if running and I can grow old together.
Funny
I run better than the government.
I plan on having such an awesome run, Morgan Freeman should narrate it.
Run like there's a hot guy in front of you and a creepy guy behind you.
Running won't kill you – you'll pass out first.
Pain is temporary, but your finishing time posted on the internet is FOREVER.
Carb loading is an excuse to eat all the pasta you want before a race.
It's a lot like walking, only faster.
Run like you stole something.
My grandmother started walking five miles a day when she was sixty. She's ninety-seven now, and we don't know where the heck she is.
Serious Dedication
If you see me collapse, pause my watch.
It's just a hill; get over it.
Running is the answer. The question is irrelevant.
I don't run because I love it; I run because I love who I am when I'm through.
Me during running: Make it stop! – Me after running: Sign me up for the Olympics!
Shut up! I'm not almost there!
The pain of running relieves the pain of living.
I like running and maybe like four other people.
I've got 99 problems and I'm going to ignore them all for an hour.
To run or not to run: what a stupid question.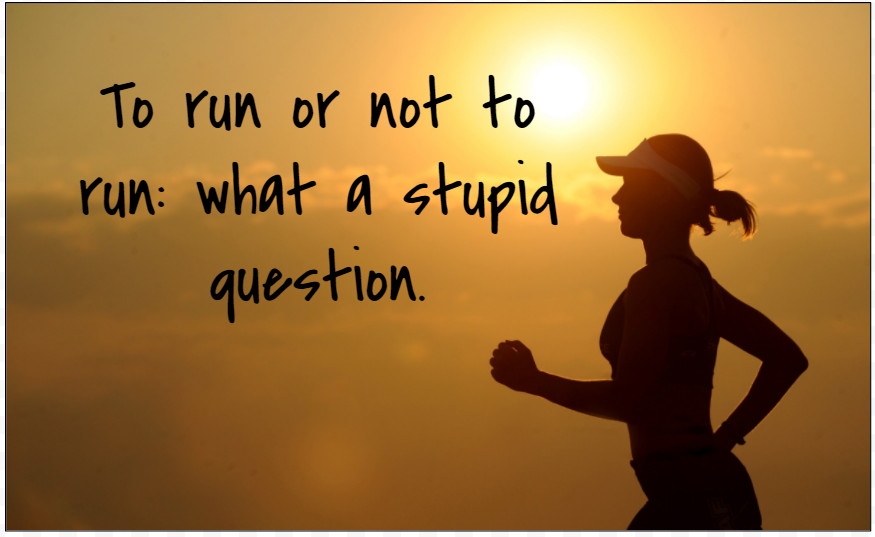 Runner's logic: I'm tired – I think I'll go for a run.
I don't stop when I'm tired. I stop when I'm done.
Pain is inevitable. Suffering is optional.
No one ever drowned in sweat.
Run until you fly!
On your good days, run hard. On your bad days, run as long as you need.
I don't run to add days to my life, I run to add life to my days.
If you don't have answers to your problems after a four-hour run, you ain't getting them.
Mind Over Matter
The most difficult part of training is training your mind.
Your body can stand almost anything. It's your mind you have to convince.
The real run begins the moment you forget you are running.
Don't think of them as hills; think of them as "mounds of opportunity."
A good laugh and a long run are the two best cures for anything.
Nothing, not even pain, lasts forever. If I can just keep putting one foot in front of the other, I will eventually get to the end.
What seems hard now will one day be your warm-up.
Yes, I am round. Yes, I am slow. Yes, I run as though my legs are tied together at the knees. But I am running. And that is all that matters.
Pain is temporary. Quitting lasts forever.
Running is nothing more than a series of arguments between the part of your brain that wants to stop and the part that wants to keep going.
The voice inside your head that says you can't do this is a liar.
Runners Pride
Some people don't have the guts for distance. The polite term for them is sprinters.
There will come a day when I can no longer run. Today is not that day.
Running is a sport where you compete against yourself.
Adversity causes some men to break; others to break records.
If you are losing faith in human nature, go out and watch a marathon.
There is magic in misery. Just ask any runner.
Other sports use our sport as a punishment.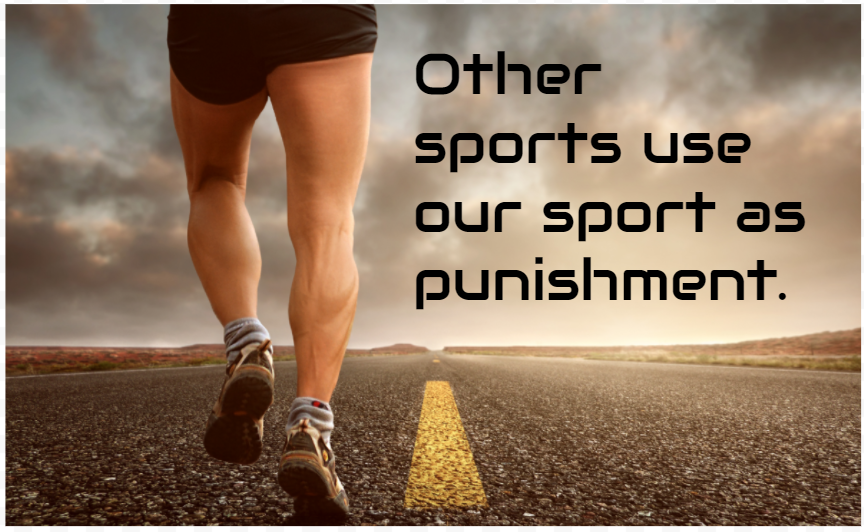 Running Gets Literary
Try some of these quotes from the literary lights of our time to class up your Instagram postings.
"Run when you can, walk if you have to, crawl if you must; just never give up." – Dean Karnazes
"The point is whether or not I improved over yesterday. In long-distance running the only opponent you have to beat is yourself, the way you used to be." – Haruki Murakami
"Crossing the starting line may be an act of courage, but crossing the finish line is an act of faith." – John Bingham
"Some seek the comfort of their therapist's office, other head to the corner pub and dive into a pint, but I chose running as my therapy." – Dean Karnazes
"Your body will argue that there is no justifiable reason to continue. Your only recourse is to call on your spirit, which fortunately functions independently of logic." – Tim Noakes
"There is something magical about running; after a certain distance, it transcends the body. Then a bit further, it transcends the mind. A bit further yet, and what you have before you, laid bare, is the soul." – Kristin Armstrong
"There is nothing so momentary as a sporting achievement, and nothing so lasting as the memory of it." – Greg Dening
"It was being a runner that mattered, not how fast or how far I could run. The joy was in the act of running and in the journey, not in the destination." – John Bingham
"What I've learned from running is that the time to push hard is when you're hurting like crazy and you want to give up. Success is often just around the corner." – James Dyson
"The trouble with jogging is that, by the time you realize you're not in shape for it, it's too far to walk back." – Franklin P. Jones
"Yes, I am round. Yes, I am slow. Yes, I run as though my legs are tied together at the knees. But I am running. And that is all that matters." – John Bingham
"Winning doesn't always mean getting first place; it means getting the best out of yourself." – Meb Keflezighi
"Never underestimate the heart of a champion!" – Doc Rivers
"There is about world-class athletes carving out exemptions from physical laws a transcendent beauty that makes manifest God in man." – David Foster Wallace
"Winning has nothing to do with racing. Most days don't have races anyway. Winning is about struggle and effort and optimism, and never, ever, ever giving up." – Amby Burfoot
"The reason we race isn't so much to beat each other… but to be with each other." – Christopher McDougall
"If it doesn't challenge you, it won't change you." – Fred DeVito
"Most people never run far enough on their first wind to find out they've got a second." – William James
"Persistence can change failure into extraordinary achievement." – Matt Biondi
"Run often, run long. But never outrun your love of running." – Julie Isphording
"The will to win means nothing without the will to prepare." – Juma Ikangaa
"Running is the greatest metaphor for life, because you get out of it what you put into it." – Oprah Winfrey
"Clear your mind of can't." – Samuel Johnson
Make your Instagram account a shrine to all things running and remind your followers of what it takes to be a true athlete and run on!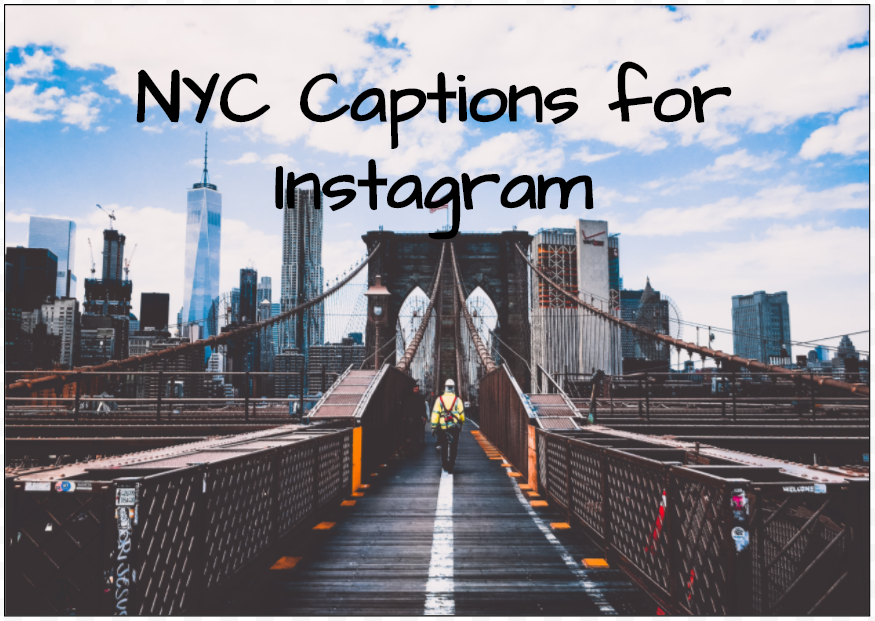 New York, New York:  One heckuva town.  When visiting the The Big Apple, aka the City that Never Sleeps, aka one of THE largest and most exciting cities in the world, it might feel like you're on an entirely different planet.  There's just so much to do and see!  In fact, rumor has it that there are around 27,000 restaurants in NYC alone.  Whether you've always lived in a New York state of mind, or your fresh off the plane with a map in hand, there's always something to take a picture of when you're wandering the streets of NYC. Naturally, you're going to need to document everything, and share all the best shots to Instagram.  Of course, you might find yourself wondering how to caption these photos in a witty, original way that really captures the depth of your experience! Try some of these creative, sassy, and inspirational captions to accompany your favorite shot.
For Travelers
For most of us, traveling is a beloved pastime that allows us to learn more about the world in which we live.  Once you've caught the travel bug, there's only one thing to do:  Travel more!  Here are some captions that are a great start to an album full of images from your visit to The Big Apple.
Wander lust and city dust.
Catch flights, not feelings.
Adventures are the best way to learn.
Never lose your sense of wonder.
The sky's the limit!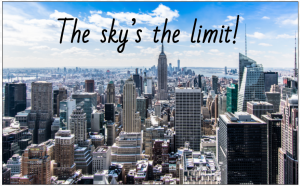 A different kind of escape.
Paradise found.
Live like a local.
Turn "no" into "hell yeah."
For the Love of the City
Sure, there are plenty of urban areas on this great planet of ours, but it's hard to argue that any of them compare to New York City.  There's just something truly unique about the hustle and the bustle in this nitty gritty city.  What better way to commemorate your time in the midst of it all than with some captions that celebrate city life?
My heart burns for the city lights.
Summer nights and city lights.
No sleep in the city.
I would choose city life over country life any day.
Forever a city girl.
Concrete jungle.
Let the city set you free.
Hello city!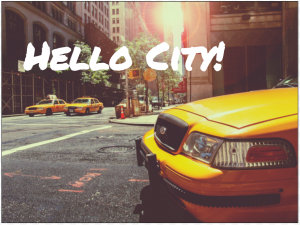 Uptown things and downtown dreams!
Swapped stars for skylines.
The Place Where Dreams Come True
New York City is historically a cultural hub of opportunity.  For the immigrants who arrived by boat in days gone by, the strong gaze of Lady Liberty was their first introduction to America.  They came to NYC to pursue their dreams, and this melting pot of cultures exists even today.  From treading the boards on Broadway to earning your first Michelin Star with a family recipe, NYC is truly a city where dreams can come true… it could happen to you!
Once upon a time in New York…
Meet me in New York.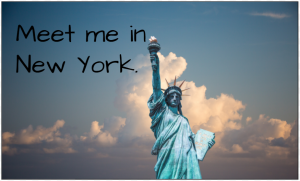 It's a beautiful day in the neighborhood.
I left my heart in New York City.
I fell in love. His name is New York City, and we're very happy together.
I want to live as many lives are there are in New York City.
Make sure your path runs through New York.
New York: Tolerant of your beliefs – judgmental of your shoes.
New York is always a good idea.
A New York minute.
When in New York…
Famous New York Sentiments
Anyone who's anyone knows a thing or two about Noo Yawk!  Perhaps you can borrow some wise words from those who have walked the streets before you!
"These lights will inspire you." – Alicia Keys
"New York is not a city – it's a world." – Iman (fashion icon)
"It's a city where everybody mutinies but no one deserts." – 
"Give me such shows – give me the streets of Manhattan." – Walt Whitman
"I love New York City – it's the loudest city on the face of the Earth. – Lewis Black
"There is something in the New York air that makes sleep useless." – Simone Beauvoir
"I love New York, even though it isn't mine, the way something has to be, a tree or a street or a house, something, anyway, that belongs to me because I belong to it." – 
"The most wonderful street in the universe is Broadway. It is a world within itself. High and low, rich and poor, pass along at a rate peculiar to New York, and positively bewildering to a stranger." – 
"I'm in love with cities I've never been to and people I've never met." – Melody Truong
"Give my regards to Broadway," – George M. Cohan
"Welcome to New York – it's been waiting for you." – Taylor Swift
"The city is like poetry; it compresses all life, all races and breeds, into a small island and adds music and the accompaniment of internal engines." – 
"City life is millions of people being lonesome together." – Henry David Thoreau
"All great art is born of the metropolis." – Ezra Pound
"If you can make it there – you'll make it anywhere." – Frank Sinatra
"It'll be a great place if they ever finish it." – O. Henry
"If man can live in Manhattan, he can live anywhere." – 
"I look out the window and I see the lights and the skyline and the people on the street rushing around looking for action, love, and the world's greatest chocolate chip cookie, and my heart does a little dance."  – 
"The true New Yorker secretly believes that people living anywhere else have to be, in some sense, kidding."  – 
"Skyscraper National Park." – Kurt Vonnegut
"On a New York subway you get fined for spitting, but you can throw up for nothing." – 
"Cities, like cats, will reveal themselves at night." – Rupert Brooke
"As for New York City, it is a place apart. There is not its match in any other country in the world." – 
"You can do what you like, sir, but I'll tell you this. New York is the true capital of America. Every New Yorker knows it, and by God, we always shall." – 
"I would give the greatest sunset in the world for one sight of New York's skyline." – Ayn Rand
"new york provides not only a continuing excitation but also a spectacle that is continuing." – 
"The glamour of it all! New York! America!" – Charlie Chaplin
"One belongs to New York instantly." – Tom Wolfe
"New York is the only city in the world where you can get run down on the sidewalk by a pedestrian." – Russell Baker
"If London is a watercolor, New York is an oil painting." – 
"New York is an exciting city where something is happening all the time – most unsolved." – Johnny Carson
"New York is made up of millions of different people, and they all come here looking for something" – 
"Once you have lived in New York and made it your home, no place else is good enough." – John Steinbeck
"One can't paint New York as it is, but rather as it is felt." – Georgia O'Keefe
"What's the use of a great city having temptations if fellows don't yield to them?" – 
"The wanderer in Manhattan must go forth with a certain innocence, because New York is best seen with innocent eyes." – Pete Hamill
"The city seen from the Queensboro Bridge is always the city seen for the first time, in its first wild promise of all the mystery and the beauty in the world." – 
"A middle finger is more New York than a corporate ambush. I bleed for my hometown, and I'd die for my fans." – 
"There is more sophistication and less sense in New York than anywhere else on the globe." – 
"So I went to New York City to be born again." – Kurt Vonnegut
"I carry the place around the world in my heart but sometimes I try to shake it off in my dreams" – 
"New York City is where specks of dust aspire randomly with all their cunning to become grains of sand." – 
"This is the city, and I am one of the citizens/Whatever interests the rest interests me"  – 
More New York Quotes
The thing about being one of the most famous cities in the whole wide world is that you get quite a reputation.  Read on for some key quotes about The Big Apple.  Even prior to becoming New York City in 1664, New Amsterdam was a key location, due to being an island conveniently located near the opening of the Hudson River.  Once you set foot there, you could make it anywhere!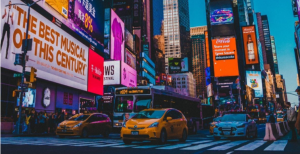 "That was the thing about New York: you always knew more about your neighbors' business than you wanted to." — Cassandra Clare
"There is no question that there is an unseen world. The problem is, how far is it from midtown and how late is it open? — Woody Allen
"Don't you love New York in the fall? It makes me want to buy school supplies. I would send you a bouquet of newly sharpened pencils if I knew your name and address." — Nora Ephron
"New York is the true capital of America. Every New Yorker knows it, and by God, we always shall." — Edward Rutherfurd
"New York gets godawful cold in the winter but there's a feeling of wacky comradeship somewhere in some streets." — Jack Kerouac
"New York is strange in the summer. Life goes on as usual but it's not, it's like everyone is just pretending." — Peter Cameron
"Cities have sexes: London is a man, Paris a woman, and New York a well-adjusted transsexual." — Angela Carter
"Practically everybody in New York has half a mind to write a book -and does." — Groucho Marx
"I love New York. You can pop out of the Underworld in Central Park, hail a taxi, head down Fifth Avenue with a giant hellhound loping behind you, and nobody even looks at you funny." — Rick Riordan
"America has only three cities: New York, San Francisco, and New Orleans. Everywhere else is Cleveland." — Tennessee Williams
"New York was a city where you could be frozen to death in the midst of a busy street and nobody would notice." — Bob Dylan
"People go to LA to find themselves", they come to New York to become someone new." — Lindsey Kelk
"In New York, most people don't have cars, so if you want to kill a person, you have to take the subway to their house." — George Carlin
"I love New York on summer afternoons when everyone's away." — F. Scott Fitzgerald
"New York is made up of millions of different people, and they all come here looking for something." — Lindsey Kelk
"Yet, as only New Yorkers know, if you can get through the twilight, you'll live through the night." — Dorothy Parker
"The shortest unit of time in the multiverse is the New York Second, defined as the period of time between the traffic lights turning green and the cab behind you honking." — Terry Pratchett
"London is satisfied, Paris is resigned, but New York is always hopeful. Always it believes that something good is about to come off, and it must hurry to meet it." — Dorothy Parker
"That's the problem with living in New York. You've got no New York to run away to." — Amor Towles
"A middle finger is more New York than a corporate ambush. I bleed for my hometown, and I'd die for my fans." — Lady Gaga
"…for in that city there is neurosis in the air which the inhabitants mistake for energy." — Evelyn Waugh
There's a reason so many writers and musicians have paid tribute to the Big Apple. It's your turn to tell others how you feel about this exciting and strange metropolis. Borrow from the words above or come up with a few of your own.
We've got a lot more Instagram captions for you world travelers!
Here's our list of Instagram captions for Nashville.
Of course, we have Instagram captions for Austin.
If you're on the Strip, you'll want our Instagram captions for Las Vegas.
We've got Instagram captions for Washington, DC.
And there's always Instagram captions for San Francisco!